Unlocked Nokia Lumia 930 picks up minor firmware update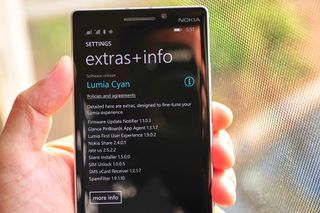 For those using the new Nokia Lumia 930, you may want to check to see if you have an update waiting. Of course it is not Lumia Cyan, as the Lumia 930 comes with that already on board, but it is an update to it, likely fixing and improving various aspects of the hardware.
Version xxxxx.xxxx.14252.51003 of the firmware is the latest version, up from the previous 51002 build.
If, however, you are looking for a detailed changelog, you will be sorely disappointed. Then again, this most likely some minor improvements to some facets of the phone's hardware, including the display, buttons or telephony functions. Besides our review unit, another person in our forums also has an update, which wasn't available yesterday.
To check to see if you have an update, head into Settings > Phone update > Check for update to force it. Since this update is firmware, the download size should be relatively small. Not all Lumia 930s are eligible for the update, as it firmware is dependent upon the device's region (determined by previous firmware) and carrier deployment, if applicable.
If you want to learn more about the Lumia 930 or have questions, please jump into our Lumia 930 forums to discuss this update or anything else.
Windows Central Newsletter
Get the best of Windows Central in your inbox, every day!
Daniel Rubino is the Editor-in-chief of Windows Central, head reviewer, podcast co-host, and analyst. He has been covering Microsoft since 2007 when this site was called WMExperts (and later Windows Phone Central). His interests include Windows, laptops, next-gen computing, and for some reason, watches. Before all this tech stuff, he worked on a Ph.D. in linguistics, watched people sleep (for medical purposes!), and ran the projectors at movie theaters because it was fun.
Good news for 930 users! I hope the bug fixes spread to the other WP 8.1 devices if they are not 930 specific fixes.

Like the ones they probably fixed with this tiny update

What's up with your username?. Please explain.

What's up with it? What's up with yours? lol

There's an annoying purple tint affecting the lighter greys on the phone (the one Microsoft uses on the menus). You can correct it with the colour profile on settings but it's a bit annoying.

Oh, so you got one❓....:-o

Of course. The 930 is, after all, Nokia's last phone (for now, I think...and hope...;P)

Before deal, there was some phones in production under Nokia. So maybe two or three models. But when it will launch it has Nokia by Microsoft. :(

There's no proof on the existence of such a brand as "Nokia by Microsoft". And since Microsoft killed the only phones they could use the Nokia brand in, even less likely it is for future Lumias to have any Nokia branding.

No, it's the same as a Nokia 1520 just upgraded internals. Might not have Nokia's name on it (I believe it will,) regardless it's still Nokia designed phone.

Thanks, I thought my eyes were not working as I see it a lot (fading from gray to purple and then the other way around).
By the way, sunlight visibility improver sucks on mine (over-saturated colors), is it on purpose?
And... I know it's not the right place for questions, but if you're using 4G, does your 930 switch to 2.5G when in a call as well, instead of 3.xG? Anyone?

It's not your eyes. It's a software problem that affects specially the low brightness. You can sort of diminish the problem by adjusting the colour profile. I don't fully understand your complaint about the sun readability. And I can't answer the 4G question as I don't use 4G.

Got it on mine a few hours ago. Not sure but maybe the screen is even better now? :P

Yeah, could be to fix the purple tint issue some were having and/or battery life.

i had this version already installed on my 930 when i bought it yesterday *UK unlocked* still get that purple tiny so unlikely a fix for that.

Where is that purple tint supposed to appear? I don't have that on mine :)

It doesn't affect all of them. Some Icons were really bad with it. Some barely noticeable. Most were fine out of the box. Not surprised they didn't get it solved on the 930.

You only notice it on low light greys. If you're not using any kind of grey or not using low light settings, you probably won't notice you have it ;)

Where is tha 1520 update at

The purple tint is down to the glass. Nit sure an update will help much.

There are two seperate issues, I'm pretty sure you are referring to the front camera purple flare. Most of the talk about purple tint is about the OS where some light greys are shown as purple. This can be manually fixed in the Lumia color profile thing, but still more the customer should do with a brand new smartphone :P

Indeed! Not just a purple tint, but now your 930 comes in solid purple! Enjoy the amazing Windows Phone 8.1 OS in the dazzling highest energy band of the visible spectrum!

Wich country do u live becose i dint get it

I haven't got anything but then again, I just flashed my unlocked 930 with Deutsche Telekoms software today so...

Because of the exclusive dark grey tiles they have on their phones. Since Microsoft refuses to give us an accent colour wheel, I have no choice but to put a carrier software on my phones (I can't stand the brightful colours available).

You know you can just use a solid color background image, right?

You know accent colours affect more things in the OS than just the tiles, right?

Ah, sorry, sou said tiles. Understandable though.

What other colours are there? I only have the normal ones plus the bright green

There are a few others that are carrier exclusives. Deutsche Telekom (and by extension, T-Mobile) has a dark grey one, Telefónica has a dark blue one and Verizon has a special red one. These are the 3 that now come to mind but I think there are others.

Personally, I loved the old cobalt accent. No clue why Microsoft ruined it. Now I use cyan :/

Yeah I hated the change to the cobalt too!

I agree with you on that. They should provide us a colour wheel or a colour slider already. Then I could manage to find that old cobalt somehow. But I also feel that there might not be much demand for this requirement. There are certainly more important tasks that Microsoft *seems* busy in solving, for WP.

Sorry but I don't have to ruin features of the phone just because Microsoft is stubborn in not giving us an accent colour picker.

Will do manual flash stock rom also factory reset the phone?
Of just update it?
Don't want to setup the 930 again..
001 NL now, but I downloaded the 003 UK rom.

It's shameful how slow and inefficient microsoft works...

This purple has been a problem on the Icon ever since it was released. So yea, sloooooooooooowwwww

You just went full retard,man.
Never go full retard

I wonder what the "what?" n "full retard" is for, its quite true MS is slow.

But it's not related to the current article right now,is it? considering they just pushed out a firmware update.

1. Make your own os
2. Updates every day of the week
3. ????
4. PROFIT!!!!

Underpants gnomes is that you?

How can i see if my phone is unlockt ? Becose i cant find any update for 930

Settings -> About. Then check under "Model". The carrier branding is there. If you have an unlocked device it will show CV and then the country you bought the phone in.

Ok tx i got cv nl. But still not getting the update ?? Any idea

You have the Country Variant Netherlands. But no idea about the update. It may be regarding some regional thing though. Or they could be launching it as a test...no idea.

I noticed im still on the 51001 build, no update here yet though

Be nice if my 925 would get the update.

Well than, they are for sale ....

I want this phone. Broke my 920 and 925, stuck on a stupid 520.

Yooouuuu how could youuuu? You'll be cursed because you could break a Nokia

One..it happens. Two, wow.

You should consider anger management first... Lol

This is probably what's delaying the Telstra release.

Telstra release is delayed cause Nokia added extra hardware module without telling telstra ( changed chip or something ) , which was not on test models provided. So they testing again hence the delay !

What extra hardware module? I'd say that it's this firmware update considering it's only affecting CV models at this stage.

You may be right .. they say hardware update made ( not sure its firmware or different chip / speaker who knows ) http://exchange.telstra.com.au/2014/07/01/nokia-lumia-930-and-635/ "15 July: important update on availability Hi All, Thanks for your patience while we work through the launch date for the Lumia 930. To ensure our customers have a great mobile experience on our network we have a policy of always testing the coverage performance, stability and data throughput performance of each mobile phone model before offering it to customers. There was a minor hardware update made after we tested and approved the Lumia 930 that we were only recently made aware of. This has meant that we have needed to re-test the device to check it meets our performance benchmarks before putting it in the hands of our customers. The testing is currently underway and we promise to complete this as quickly as possible. As soon as we can confirm the revised pre-order and launch dates we will update you. - Andy Volard"

"Hardware update" in this case is more than likely referring to this firmware update. The timing is way too convenient.

I know it doesn't affect my AT&T Lumia 1020, but I still checked for updates nonetheless. :P

I hope this is the fix for the purple tint!

Still no cyan for 920 DP? Well done microshit

Cyan is a Firmware update. It won't come through the DevP. For that you're still stuck to your CV or carrier.

I don't think that anyone is forcing you to use a Windows Phone device.

What canon dslr is that in the reflection?

I wonder why do they use a DSLR when they have the beautiful Lumia 1020.

Dude, our photos with a Nikon D700 crushes the 1020, not even close.

Why not a comparison article or something? Wonder what crushes the 1020...

As great as the 1020 is, a good DSLR is still miles better, obviously.

Did the 930 make it to the states yet?

Nope! Just the Icon on Verizon.

Yes. Months ago. It's called "Lumia Icon" there. Verizon exclusive.

Just got this phone yesterday. Just want to say this is how all windows phones should be! Its fast, its smooth, screen size I perfect. Only thing really lacking is an sd card slot. Best wp I've used yet. Coming from 920-1520-925-1020

Bring on the android apps I say. Will seriously complete this platform!

+930 Indeed an excellent phone I have ever used. Best windows phone yet, just lacking the expansion for memory. Keep bringing those apps MS. Need my Clash of Clans fix.

Got the 930 yesterday as well in UK. Fantastic phone. Nokia really has refined WP devices to near perfect. SD card would be good. And WP8.1 really brings the operating system on a par with Android and Apple. Let's hope the buy out by Microsoft doesn't change the development and bog it down in Redmond bureaucracy.

My Lumia 930 from norway only has 51001.

Myne at Netherlands to dunno why we dont get the update

Yeah, mine in Denmark doesn't get it either

Got a question i saw something about bitlocker problems on this link http://m.wpcentral.com/microsoft-users-windows-phone-81-preview-develope... so i dont have bitlocker on my phone but i want to restore my phone can i use the recovery tool on that link ???

Yes, you can. The bitlocker issue was about getting an error while trying to update to Cyan with 8.1 DP.

In other words, nothing to do with your phone.

I was wondering what that was, yesterday. I think it might've fixed the purple tint issue since I really didn't notice it today. I have a CV-France 930 in the USA using a Cricket SIM. Great phone and the perfect size!

Not available yet in Australia?

Yep, bought an orange one today at Domayne :)

I've got firmware version 51006....so does that mean 51003 is not the latest?

Not necessarily. The 51006 could be a carrier specific firmware.

My firmware sits ate 51001

Your firmware ate 51001 of what? Bytes?

Apparently, I got firmware #51001.

No updates in WP's second largest market....in India! How to expect increase in sell of Microsoft products?

My 930 came with this firmware already on it. I'm having problems where the phone gets very hot, especially when using a wireless charger (I have 2 and it's the same on both). Given the processor is so much more powerful than any of my apps need I didn't expect this.
Also my normally excellent Audible app is cocking up. It syncs to a certain point in my book then won't play,pause,skip etc. Have uninstalled reinstalled and factory reset the phone. It's ruining new phone week for me.

New feature? No time to read all other comments, but it seems it enabled the visual voicemail feature on my 930. Was not available before with Sosh/Orange (FR). Edit: version 51003 here...

#51001 here, hope this addresses the purple tint..

My purple tint wasn't fixed with this. Daniel anyway of directly letting MS know?

50001 here too @Finland and no updates found as yet. Maybe thei do the roll out little by little. I have sudden heat problem that starts by it self. A little like onld Win PCs when porcessess got stuck and started to overload the CPU. Might be it has something to do with encryption. BitLocker as its enabled (company policy).

There's no update in this side of the world. United Arab Emirates. Mine is still 51002. I found something interesting though. Build Creation Date: says June 30, 2014. Does that means my phone was created just 20 days ago?

my Uk 930 unlocked, come with 51003

Just go it on Nokia 930 ee

Still no update for my 930 at Netherlands

Laaten we hopen dat hij snel komt :)

I must be lucky to have the 930 without purple screen and without its getting hot. I come from an Iphone, wanted to try WP and bought a Samsung Ativ S, which is a great device. But i didnt like the camera and missed a great audioplayer like Mix Radio... So I decided to buy the NL 930 last saturday and Im in love with this phone! Great camera, good speakers, nice design and very beautiful bright screen. I will never go back to Iphone anymore, I will never buy an Android phone, WP is here to stay :)

The 3 numbers after the 51 do not refer to an update, it refers to the region for a specific 930. Ie HK is 51001, some UK are 51003, 51003 is not any different than 51001, just means its for a different country or carrier

Anybody know if I do manual firmware flash with Nokia care app (xda forum) the phone will update of return to stock? Factory reset..
I have the 001 firmware, but I have the full rom with 003 firmware.
Ready to flash, but don't want to setup the phone again. Thanx!! Holland CV-NL 930.

You will have to restore your phone after you flash, but remember 500001 is no different than 500003 or 500006, they are just country/carrier specific versions of the same thing

The 003 update have some bug fixes I think?
But u mean by restore after flash, the phone is completely clean and reset to stock.. So new setup is required?
Possible to make a full back up of the phone now? Thanx.

I think this may region or carrier specific. It hasn't arrived on my unlocked hk-based 930 yet. Still on 51001,

Got my unlocked 930 a few days ago from Germany (CV DE). Firmware included is 51002 and there's no update available. I have the overheating issue. Hopefully this will be addressed soon :/

Phone two days old. Overheating. Phone going back as its obviously faulty.....