FB Pages Manager now available for Windows 8, helps you keep up with your Facebook pages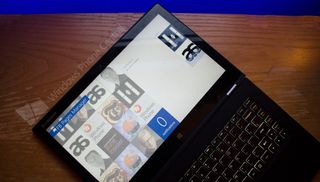 Facebook may have an official app for Windows 8.1 but they haven't yet released an app to manage your Facebook Pages. Luckily, Imagination Overflow has FB Pages Manager. Does that name ring a bell? That's because they make the popular Windows Phone app. Now the company has released a Windows 8 app by the same name and it is quite useful for managing content on the fly with your Windows 8 tablet.
Why have an app dedicated to one park of Facebook? Mostly because Facebook Pages are a pretty big deal on the social network. Facebook Pages give brands, organizations, products, services, celebrities, and individuals to create public facing profiles for fans to interact with. They look quite a bit like a dedicated Facebook profile, but they have a few power features to make them handy for their role on the social network. Another different between a regular profile and a Facebook page? A profile can have up to 5,000 friends on the network, while a Facebook Page can have an unlimited number of "likes". Which is why we need a dedicated app and where FB Pages Manager for Windows 8 comes in handy.
The application itself includes abilities to update your pages status, manage older statuses, respond to messages, and comment on your page's posts. FB Pages Manager even allows you to view page insights and notifications. The developers describe the capabilities of the application stating that "pretty much everything on your pages that you do on your PC" can be done using this app.
The application can be grabbed now from the Windows 8 Store for free. To visit the application's download page in the Windows Store, simply click here (opens in new tab). (Need the app for Windows Phone? Grab this link.)
Do you have a page you are managing on Facebook? Share it with us!
Source: Windows Store (opens in new tab); via Winbeta
Windows Central Newsletter
Get the best of Windows Central in in your inbox, every day!
Good to see this on Windows 8. Would love to see a Pages app for WP8.

There is. By the same company!

Didn't you read the article?

Read before going full re____

Would be nice if this were part of the official app, wouldn't it?

We've been using this to manage our fb pages: Board Meeting: http://fb.me/boardmeetingapp
EDUC8 apps: http://fb.me/educ8me
CAVEDIGITAL's company fb page: http://fb.me/cavedigital It works like a charm. We started using it from Windows Phone and it is now a pretty-much-can't-go-without tool :) Cheers!

Thanks for the feedback. :)

I have been using it on my Lumia 920 since it came out...i only have the free version, buy I'm not gonna buy it. I have had nothing but issues with it. I try to check messages with it, and it never shows my messages, just says "an error has occurred" not sure if messages are a paid feature or not, but I am seriously considering abandoning the windows phone ecosystem that I love so much, just so I can use 1st party apps like Facebook manager from facebook

Hi, I'm the dev of the app. The 1.7 version introduced a bug on the messages we already submitted a new update solving the issue, it should be online in a few days. You can always reach us when you have problems with the app, we always try to solve the problems. Thanks for the info ;) Best Regards

It'd sure be nice to be able to post a picture on one of my FB pages from my phone...

The app lets you do that ;) Everyday more than 10k photos are uploaded using our app :D Are you having any problems ?

Great app! One small issue, I changed my pages cover photo through the app only to get on my computer to see the quality of the photo was really bad! Will there be a fix for this?

I can see why you would have many likes lol

It would be nice if Imagination Overflow (the devs who make this app) would fix the issues in the WP8 version before they spread themself thin on having done an app for W8.1. I use thier app (paid version) for WP8 and it is slow at giving notifications, sometimes doesnt even give notifications (specially when you get a large number of likes and replys in a short timreframe it really goes to hell, probably only an issue for those of us who have popular higher volume facebook pages for our business), doesnt let you set a custom tone and overall is very basic and could use more. I won't be looking at the W8.1 anytime soon. PLEASE FIX the WP app Imagination Overflow! BTW my company is www.OneBuckCondoms.com if anyone from Imagination Overflow is reading this.

I use the paid version as well. I agree the notifications are sporadic and sometimes nonexistent. Sometimes I get the Same notification over and over again after I checked it..

Yep i have had that issue too! We live in a day and age on instant and now it is expected and required not maybe sometimes not others. I love that Imagination Overflow made this app because fb doesn't want to support us WP8 users but i hate that it is half baked and they are now splitting thier time between other apps. And on the repeated notifications it almost made me turn off notifications because it got so bad.

Totally agree! We have about 860 likes on our page so the notifications aren't too bad but when I get them it does repeat from time to time.. The app is good overall, not to many problems for me. They are pretty good about updates hopefully they can keep it up now that they have two apps. Check us out! Facebook.com/MDBGG

We are just over 1600 likes but experienced a recent boom of likes and I then noticed the weaknesses of the app. Btw our Facebook is www.facebook.com/OneBuckCondoms check us out too!

Just checked yours out too. Good work buddy!

Hi The notifications were just remade on the last 1.7 version, its much more stable that they used to but not everything happens to our beta testers before we go to public. We already submitted a new update fixing this last issues that were reported (being the repeatable notifications one of them) and the lack of notifications as well. The lack of notifications or the delay of them exist due to two things, first windows phone only allows an app to run on background every 30 minutes, causing the delay that you guys were talking about. The no notifications issue can be happening because the app doest have permission to run on background, this can happen when you guys have many applications that run on background (you can check if the app has permission on on the settings). We are currently testing our servers to serve you guys with push notifications, meaning that it wont be any delay at all with the notifications ;) The last issue stated here about we dividing our work on both apps it's not true at all, we made the win8 version because so many users ask for it, our full time job is supporting this app and you guys can expect the normal updates (2-3 updates a month) on both apps now. We really apreciate your feedback, thanks Best Regards

Hey can u pls give us a feature to manage admins

Facebook doesn't allow third party apps to manage Admins yet, we will surely add that feature as soon as Facebook allows that.

I am running the latest version 1.7.0.3 and am still experiencing these issues, what version was supposed to fix things? Edit - forgot to add i did check and permissions is given to this app. and the every 30 min theory doesn't hold water either as i would goto bed wake up 6 hours later having gotten a hundred likes (of the company not post likes) and your app would show i added like 23. It is like it gets to a point and then breaks by overload or something like that. In the last day i have gotten maybe 10 new likes or so(again company likes not post likes) and it hasnt popped one time, though it did pop for post likes today as i got those (but i only got 2 i think today so it didnt overload maybe)

There is a newer version coming soon.

Cool...I can start using this to help manage my band's page. Though we are a local, independent band just getting started, being able to have a social presence is key. Excited to have an app on my Win8 machine that can get there directly: http://fb.me/cityofnationsband

I use there phone app. I may look at this. I do use the browser alot more on my PC.

Thanks for the reply DVDPT... I will have to use the app more often, it seems to work for most people...i will buy it for sure if I can view the messages...looking forward to the update...thanks for all the support

Very sneaky developer. If you try to pin the live tile you're asked to pay for the app. 79p, ok! Then you find out that all the adverts are still there and it's £1.49 more to buy the app! 79p only lets you pin the live tile. Misleading and sneaky, horrible developer.

I think WP Friends is better.
Windows Central Newsletter
Thank you for signing up to Windows Central. You will receive a verification email shortly.
There was a problem. Please refresh the page and try again.