Unofficial Dropbox app for Windows Phone now allows automatic camera uploads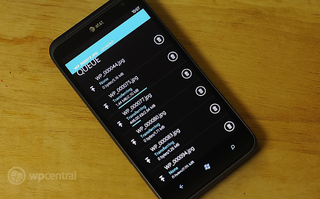 We last wrote about Boxfiles for Dropbox back in December. The app comes into two flavors (a free version and a paid one) and has undergone numerous updates since then.
The latest just hit the Marketplace and it brings a really neat feature that many of you may enjoy: automatic camera uploads to your Dropbox account.
This is very useful and desirable because although Windows Phone can do this for Skydrive, it re-scales images automatically leaving you with a "just good enough for the web" sized memory. That's a problem though if, like us, you want to back up your photos to "the cloud" but at their full resolution. Even more so if you have a device like the Titan II with a 16MP camera and photos averaging around 2MB in size.
Version 3.6 of Boxfiles brings this feature but we should point out that it's not entirely 100% automatic meaning you snap a shot and off it goes. Instead you do need to open the app for a few seconds as it will scan your camera directory on the phone and upload and new pics to your Dropbox account.
But once the queuing takes place (usually just a few seconds) you can close the app as it will upload the photos in the background, so you don't need to babysit the app. It's basically a one-touch app to upload all your latest camera shots.
You can also choose a specific directory (or create a new one) to upload the photos too and pick if you want WiFi-only or both WiFi/Cellular data usage. Our favorite part though is how it allows you to browse your photos via thumbnails in addition to just the obscure files-names. Finally, Boxfiles also integrates with your Skydrive account giving you the choice to manage those files from within the app. A nice bonus.
So far only the paid version has been bumped with this feature though we imagine the free one will get it at some point too. What can we say? Of all the Dropbox apps on the Marketplace, we happen to like this one the most and this new auto-upload features makes backing up and sharing our pics easier.
Pick up Boxfiles for Dropbox here in the Marketplace for $1.29 with a free trial.
Update: For those of you in Europe, the app is currently in certification so you'll have the update within a few days. Sit tight.
Daniel Rubino is the Editor-in-chief of Windows Central, head reviewer, podcast co-host, and analyst. He has been here covering Microsoft since 2007 when this site was called WMExperts (and later Windows Phone Central). His interests include Windows, Microsoft Surface, laptops, next-gen computing, and for some reason, watches. Before all this tech stuff, he worked on a Ph.D. in linguistics and ran the projectors at movie theaters, which has done absolutely nothing for his career.
Wish Dropbox would just up and make an app already


That'd be nice, agreed. On the other hand, like a lot of cases, my bet is 3rd parties will offer more options and features. You can also look forward to an official SugarSync app sometime.

So can you set up the syncing for SkyDrive in the same way with this app to get your full size images on there? I've been manually uploading full size images to SkyDrive as I prefer it over dropbox (more storage, better WP integration, all my other photos and docs already live there)

No, you cannot. Not sure why but I assume it has to do with APIs with Dropbox having more.

That can't be the reason. The FotoMovr app already has this option of uploading the full size photos to SkyDrive. So technically it is possible with the existing API:s.

From the Picture Hub go to settings and select the option to "Automatically upload photos to SkyDrive". Photos are then sync to the "Camera Roll" folder

Right. My pics are re-sized to stamp sized but that's what I'm trying to avoid here ;-)

I'm have a Finnish Marketplace account with device set to English and it states app not available for my device? Device SW is up to date.

For SkyDrive semi-automatic photos upload, check SkyManager (http://skymanager.jdbpocketware.com)

Yeah that's a great app, wasn't aware it did that though. Interesting.
Edit: Eh, still not good though. Evidently Skydrive as a service won't allow full size photos either. My Titan II's photos would be reduced by half in size even with that app ;-/ Still a nice app though.

SkyDrive does allow full size uploads through the SkyDrive app and through windows live photo gallery on the pc. I've just uploaded over 700 photos at 10.2 megapixels each from a DSLR all in glorious full size adding up to 4GB of space. Whatever restricts the size on windows phone is to do with the software of that app.

Not the software, the API on the server. Its a stupid limitation, but exists.
On the official SkyDrive you can upload any size but the problem is you need to pick them one by one... tap, scroll, pick, upload, multiplied by the number of photos.

Yes it's an API limitation, hope MS removes it soon. Max size is 2048x2048, for me its fine since it does keep the original quality and I don't actually need to print any posters :)

eh, I have reservations using my login details with a 3rd party app, honestly.

The app doesn't see the login, you go thru the mobile site which grants permission to that app for access. Its the official, safe and agreed upon method.

Ah interesting. Well I'll give it a closer look then!

Hm, I'm a paranoid person so I see it goes to a website with all the Windows Live logos etc, but I can't see the URL so I don't know if it's just a trick or not =/

Yessss... I can't stand how SkyDrive downsizes photographs. I stopped using it, that makes it essentially useless.

Besides OneNote, which has voice memos and somewhat auto cloud uploading, what about videos?

Apparently, the Nordic (EU?) version is only at 3.2?
Why are they only updating the US version?
You guys are at 3.6 now...!?

The version at the Singapore marketplace is also 3.2. Are the rest of the world going to get latest version?

Why oh why, aren't they updating it for the rest of the planet?

It's in certification for ROW so it'll be a few days but then you'll get the update.

Dropbox have screwed themselves by not getting an official app out there. I used to use Dropbox, but moved over to Skydrive due to the functionality with WP... and I haven't looked back. I'm sure other people have done the same.

I quit using Dropbox because of there ever-changing and confusing terms of service. Don't they have the right to use any photo (or doc) you upload as they see fit? It's ridiculous but for now backing up photos continues to be a manual process for me on Windows Phone.

Not available in Germany. This really pisses me off. We're still stuck on v3.2 here. The free app is 3.4 though.

Apparently everyone, who's not american, is on 3.2

Which sucks big time as we all paid for the app. So we should all get those updates.

As noted in the post, the European version is in certification at the moment. Update is very near for Europe.

Till SkyDrive integrates with the desktop explorer like Dropbox, I find SkyDrive less useful. Dropbox works perfectly on my iPhone and windows phone.

Yeah but people forget that SkyDrive is free and you have to pay for Dropbox. You can have it both ways...

If you haven't already, go to the Dropbox website and vote for an official app. To do this:
- Go to http://www.dropbox.com/votebox (login required)
- Click on Mobile Dropbox from the menu on the left
- Select the Popular tab
- Vote for the entry called Dropbox for Windows Phone 7. Please note that there is a more popular entry called "Windows mobile support", but I've voted for the entry titled "Dropbox for Windows Phone 7"
Please note that I am not the originator of this vote entry (and am not soliciting for votes). I just think it would be great to show our support for an official Dropbox app!

I found BoxShot to crash less frequently, so that's where I put my money. However, it would be interesting to see what BoxFiles has done recently to make it warrant the extra $.30 over BoxShot.
Windows Central Newsletter
Thank you for signing up to Windows Central. You will receive a verification email shortly.
There was a problem. Please refresh the page and try again.