The untold "app gap" story Part III: The mobile web is the path to bots, apps 2.0
There is more to the "app gap" than apps.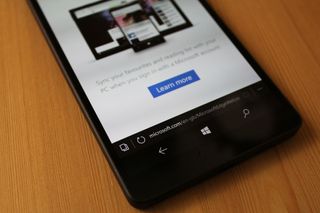 In parts one and two of this series I posited that human behavior in relation to apps effectively precludes the existence of an app gap on the Windows Mobile platform.
That is an experience with Windows Phone that makes it virtually unusable as a modern smartphone or severely degraded as such in relation to rivals, Apple and Google, due to their comparatively larger app stores of quality apps. I do acknowledge that there is indeed an immense quantity gap between the Windows Store's nearly 500,000 apps versus competitors above 1.5 million apps. I also acknowledge that there is a clear quality gap between some Windows Mobile apps and their more polished iPhone and Android counterparts. These facts are both observable and undeniable.
What is challenged by the data from the 2015 Comscore Mobile App Report is the conclusion reached by many that Windows Mobile is not a viable platform for the average US smartphone user due to the acknowledged quantity and quality gaps.
In this piece, we will look a little closer at the data from Comscore's 2015 Mobile App Report. We will incorporate into our analysis of human behavior in relation to mobile apps the average smartphone user's use of mobile web content as well. By the end of this piece, we will see how this data supports the industry' move in personal computing from the current user initiated app model to the proactive AI supported and intent aware bot model.
As I've shared in the past two articles, the data from Comscore's Mobile App Report focuses on US smartphone users. Thus, it cannot be definitively asserted that the data is reflective of all smartphone users worldwide. That said, it may be possible to presume that human behavior across other demographics, would yield a similar concentration of user activity on a small assortment of apps and a high engagement of mobile web content.
What we know
In parts I and II we analyzed data that revealed that a whopping 50% of the average US smartphone users time is spent in his top used app. We further saw in the data that 91% of an average users time is spent in his top six apps.
Furthermore, the data revealed that social media dominates smartphone app usage and that the leading social media platforms, such as Facebook, which garners the majority of user's time, are indeed on Windows Mobile.
Part I: Human behavior, the overlooked variable
Additionally, we shared how most of the top 25 most used apps of 2015 are indeed on Windows Mobile or are effectively replicated on the platform.
Part II: App gap? What app gap?
We surmised by this data that for the average US smartphone user, Windows Mobile offers a platform that accommodates what that data reveals to be the behavior of the average US smartphone user.
Getting the lowdown on downloads
With the much-touted size of the App Store and Google Play, and the ongoing dialogue surrounding the importance of apps, one would presume that the average smartphone user is busy downloading as much app content as their devices could hold.
However, even without any additional data to the contrary, the previously presented data would likely lead the astute reader to the conclusion that that simply is not the case. Smartphone users, despite the availability of over a million apps on the dominant platforms, are simply, relatively speaking, not downloading much app content.
This information coincides with what we saw in the last piece of this series where we shared app discovery activity is quite low. As noted, the highest level of app discovery activity occurs among a meager 27% of the smartphone using population. Moreover, that number is representative of the most engaged smartphone user demographic of 18-34-year-olds or millennials, using the app stores.
Needless to say, less engaged representatives of older demographics app discovery activity is even lower than that high of 27%. Furthermore, as we shared in the previous piece app discovery activity decreases across engagement methods as well as with age as seen in the chart below.
These are critical points because they reveal important trends in human behavior in relation to apps. This information suggests that the current app focused model which is reliant upon robust and highly acclaimed app stores is simply not an efficient model that complements human behavior.
In fact, the data clearly reveals that the app stores are the most used app discovery methods but are engaged most by an uninspiring 27% (18 -34 year olds) of users, second by a mere 18% (35-54 year olds) of users and at its lowest point used by a lackluster 12% (55+) of users. As the chart reveals, these are the "high" numbers representing app discoverability activity across demographics using the most used app discovery method: the app stores. As we move across discovery methods shown in the above chart, such as recommendations from friends, reviews, ads, etc., the numbers continue to decline until less than 10% of users discover apps via the lowest used method.
Don't seek and you won't find
This information enlightens us to the reality that the average smartphone user (not enthusiasts like you folks reading this) are just not actively seeking out new apps nor engaging different methods that introduce new apps in high numbers. This low app discoverability information suggests the logical conclusion that if seeking out new apps is low among the average smartphone user, app downloads in effect must also be low.
As a matter of fact, the data from Comscore's 2014 Mobile App Report reveals just that. The report reflects that a mere 7% of smartphone users accounted for 50% of all download activity. This activity averaged out to be about one download by the average user each month. Said another way, of the 1.5 million available apps in the App and the Play Stores, the average user was downloading a mere one app per month. One. You can literally count that on one hand.
This data fits well within the picture painted for us by the information we presented in the previous parts of this series. We saw then that 91% of a user's app usage time is spent in their top six apps and most of that time is spent with social media and entertainment apps.
This human behavior focused around a small assortment of smartphone apps would indeed suggest low app seeking and low downloading activity among the average user as we see reflected here.
Oh what a tangled Web we've weaved
Despite, numbers which indicate less than anticipated app discoverability activity, lower than expected app downloads and a surprisingly limited focus of smartphone app activity of the average smartphone user; we cannot argue with the reality that mobile apps have transformed personal computing. Their very existence has been instrumental in moving the personal computing platform from a predominantly desktop PC environment to a mobile environment.
That said, app usage is just one method by which users engage content and information on mobile devices. The other very popular method, of course, is the web. In fact, the data reveals that web properties receive far more unique visitors per month than apps do.
This is an important point. When considering human behavior in response to apps, we have established that a user's top six apps occupy 91% of their time. We have also noted that the average user spends very little time downloading new apps to their devices. This behavior is a very telling indictment of the current app model. It is also a very powerful indictment of the oft-touted or implied claim that the vast amount of available apps on iOS and Android in itself equals a superior smartphone experience than Windows Mobile can provide.
Consider this: 91% of the average smartphone user's app usage is within his top six apps. Added to that there is low app discovery activity across all age groups and discovery methods. This situation is further compounded by the fact that engagement of mobile web properties significantly outpaces app engagement. This data paints a very compelling picture that, based on human behavior, the average smartphone user is not greatly benefitted by vast app quantities within the current app store model.
The Web is the "app" for that
I do concede that though building an audience via web properties is easier and more effective than doing so with apps, once an audience is created with apps there is a much deeper level of commitment. "As audiences increase, average time in mobile web declines…suggesting increase in drive-by traffic."
This information helps to paint the picture of how we as smartphone users handle the "not so popular or not highly frequented apps" that may not be among our "top six." As I've shared in part one of this series my banking app is no longer supported by Windows Mobile. As such I am, like many users, forced to endure the inconvenience of using the services web page when I do engage the service via my smartphone. That said, my experience of seeking a businesses' service via a web page rather than an app is not unique to me nor to just Windows Mobile users.
The data presented above reflecting a high engagement of the mobile web is most certainly bearing out the reality that millions of iOS, Android and Windows Mobile users are engaging the "not so often used services" via the web rather than an app which may or may not exist on a platform.
The path to a new paradigm
There are many situations where a user only desires or needs to engage a particular service "in the moment." Employing a website in such cases is much simpler than engaging an app store in search of an app to download, install, find on the device and then engage to meet that momentary need, for which that app may or may not be needed again. And if it is ever needed again the need would more than likely be infrequent. This is where the data of high mobile web engagement activity and the smartphone user's experience with infrequently used, but valuable apps that add convenience (like my missing banking app) meet.
Some services according to the web engagement data may not earn an "app presence" on a user's smartphone. This decision may be a result of a user's lack of awareness of an existing app, or it may just reflect the "infrequency" with which that app would be engaged. At any rate mobile web properties are still engaging mobile users at higher rates than mobile apps.
Google's recently announced Instant Apps, I believe, is in recognition of this reality. Instant Apps is a solution that meets many users where they are: on the web.
With Instant Apps, a user engaging a link to a web page on his smartphone for a particular service is able to seamlessly download just the necessary portions of an app to facilitate the desired function. This partial "install of the app" helps the user carry out the desired function in a more efficient "app-like" manner than a strict web environment would provide, yet without the burden of fully installing the app (though a user is presented with an option to do so).
Google's solution provides a more efficient model that meets users on a landscape, the web, where a user's intent is recognized and accommodated via Instant Apps. As we will see, a systems ability to understand intent is essential to the shifting paradigm of personal computing and app engagement.
What are our intentions?
Based on the data we're analyzing, the average smartphone user is simply not engaging a vast repository of apps, or needing certain services, frequently enough to justify searching for and downloading many apps. As a result, we see the low download rates of approximately one download per month, from the average user.
Consequently, as stated, when a particular need arises for some form of engagement with a business's digital services, many users engage those services in the moment from a website rather than searching for an app which may or may not exist in the respective app stores.
Finding a website, of course, since the commercialization of, and widespread access to, the internet via mobile devices is something most users across all demographics are familiar with and apt at doing.
The older and more familiar "human-web-relationship" is more ingrained within our digital behavior than the younger "human-app store-relationship". Thus, it is almost second nature when engaging a digital environment and seeking to meet a particular need, to defer to the web for a service for which an app is not presented or already installed. For most users, deferring to an app store, (as borne out in the low app discoverability and high web engagement data) is simply not a recourse.
Based on human behavior in relation to apps, the current app store model is more reflective of a warehouse (rarely engaged, cluttered, challenging to navigate, and daunting to some) than a model that works in concert with a user's intent. When an individual ventures beyond the familiar confines of their dominant smartphone activity (top six apps) it is with intent. The current app model, however, does not recognize intent.
Thus, a user is confronted, sometimes at the moment of need, with an "unintelligent" app model that demands a user to fulfill his intent by searching for, installing, locating on the device, launching and finally engaging an app in an independent and unsupported manner. Company's efforts to make app discoverability in app stores more efficient, though commendable, is a mere fraction of the answer. It doesn't help with recognizing intent, nor does it work in concert with human behavior that is not deferring to the app store.
Google's Instant apps solution meets the user at the point of highest engagement: the web. That solution works more in line with typical human behavior that begins with intent and proceeds to action. It avoids the cumbersome steps of searching for, downloading, then engaging an app that the current app model requires. Though it provides a user with just the bits needed to fulfill a user's intent, it also presents the option of downloading the full app which, of course, the data shows garners deeper commitment than web properties over time.
Of course, Microsoft has their own solution to this same problem. Artificial intelligence and the Bot Framework is an ambitious endeavor that has been years in the making.
To be continued...
The data clearly reveals that the current app model is wholly inefficient in relation to human behavior. Low app discovery activity, relatively minimal app download activity, minimal app engagement in relation to the breadth of available apps and very high mobile web engagement paint a picture of human-smartphone-and-app-behavior we rarely see. Despite the prominence and "success" of the app model and app stores the data reveals its shortcomings and more importantly, its position as a transitory phase in the evolution of mobile personal computing.
Google's Instant Apps is a profoundly significant response to human behavior's deferment to the mobile web rather than apps. Combined with a resource of 1.5 million apps and those same apps recently announced availability on Chromebooks, the potential appearance of Instant Apps on Chrome can be disruptive.
That said, this same data of high web engagement for a vast range of mobile activity highlights Microsoft's (and rivals Google, Facebook and Viv) path to an artificial intelligence and bots model. An intelligent web-connected assistant capable of understanding a user's intent and proactively connect to service bots across the internet to fulfil a user's needs is a natural fit for human behavior that defers to the mobile web.
Part I: Human behavior, the overlooked variable
Part II: App gap? What app gap?
Meet us back here in part four as we conclude this series with a deeper look into the app gap and the path to bots.
Also jump into comments and meet me on Twitter at @JLTechWord to continue the discussion!
Windows Central Newsletter
Get the best of Windows Central in in your inbox, every day!
Jason L Ward is a columnist at Windows Central. He provides unique big picture analysis of the complex world of Microsoft. Jason takes the small clues and gives you an insightful big picture perspective through storytelling that you won't find *anywhere* else. Seriously, this dude thinks outside the box. Follow him on Twitter at @JLTechWord. He's doing the "write" thing!
Thanks again for reading folks! As we've seen, most of the activity the average user conducts on their smartphone can be facilitated on a Window 10 Mobile device. Additionally, as we've seen in the data the mobile web is deferred to at high rates to facilitate tasks that are beyond a users core apps. This is true across platforms. This particular human behavior in relation to the mobile and sets stage for Microsoft's AI and bot model which rivals Google, Facebook and Viv are also investing in. Of course Instant Apps is also an interesting and powerful move from Google. At any rate our deferment to the mobile web in high numbers is setting the stage for a paradigm shift in the "app and app store" model. Well you know the drill, LET'S TALK!!!

Thanks for the awesomely long articles! I wish I had the strength to read all of it, alas it is not possible with my pea-sized human brain. Posted via Surface Pro 4 or Microsoft Halo Phone

I Love you articles.Even if I disagree with you sometimes I can see your point.I Love the W10 ecosystem and the w10m OS.
But I think the struggle is real.For example.Many people said we don't use the Snapchat,Facebook.Twitter.Insta....
I don't use them either but the app gap for me is with the tech products.
For example.I want to buy a smart watch only to track my steps.
We have only Band,Vector,FitBit,Garmin.
I don't want to spend. 100-200-300$ to buy that.So I bought one from Gearbest for 16$ or 14€ and to use it I have to use my Old android phone (Arc S Lt18i with Cynogen Rom cm11).
I want to buy some lamps and Leds and guess.Android only.
I bought a drone and guess again.Android only.
I really love to use Gadgets and this "Gadget Gap" is a very big problem for me. P.S
If anyone can tell me a smart watch or a band lower than 100$ it will be My Hero... :) I need Turok at Xbox one.Plz.
Posted from a T-Rex.

Gadget Gap is exactly my problem as well. I feel so limited in what I can buy and use. I want to use the new Harmony Universal Remotes to control my devices but it is iOS/Android only and that's just one example.

I feel you bro.
I have buy too many gadgets and the 99% of them are useless with the wp.(My fan works because it doesn't needs an App)
Even the e-shops I buy the gadgets don't have wp or w10 app or they are third party apps like Aliexpress and Gearbest.
I love this OS and I have bought 7 smartphones for my family(3 640,1 525,1,640XL,1 950,1 535) but I think the 640XL(except if the 950 had a little more price cut)will be my last wp.
I need Turok at Xbox one.Plz.
Posted from a T-Rex.

1) Time on an app isn't a proxy for value. In fact, it's quite the opposite - especially from that list (YouTube and FaceBook inherently are time sucking apps). 2) The smartphone is the remote control for your life. And life is simply less productive with a Windows mobile device vs. a mainstream one. Having my thermostat and garage door opener on my smartphone are literally transformative, and those aren't even "gadgets." Sadly, both are severely lacking on W10M but have become a "must have" in our household. As are my AAA, Farmers Insurance and banking apps - none of these involve much TIME on the app but when you do use them, they are godsend essentials. Windows diehards will argue these aren't necessary and why not print out your insurance cards and switch to Ally Bank or just open a browser (with no lastpass integration BTW), but obviously these voices have become fewer (and louder) over time.

My best friend spend more than 20.000€ to make his home ...Tech friendly(?).He use the 950 Xl with continuum for web searching and to do his work through the Microsoft office.And a Samsung Galaxy note to use it for his home.After many discussions with him he admit that the w10m is just perfect.He loves how the 950XL can be in less than 2 min a Full Desktop PC and how nice is the UI but he can't remove his investment in his house.He is really sad like me about the app gap or as I like to say Gadget app.
I know the 15-18 are complaining about the lack of the Snapchat or the Messenger but I'm too old for this.I want my smartphone to be a useful tool and not another phone. I need Turok at Xbox one.Plz.
Posted from a T-Rex.

Yeah. Tiles only go so far. I recently travelled with both a 950 and my iPhone as a backup. I tried to check in for my American Airlines flight, couldn't do it on the 950 - did it on the iPhone and the boarding pass was added to my Wallet, automatically displaying whenever I pulled my phone out. Got on the plane, got my GoGo Inflight wifi going via the iPhone app (yes I could do this on the 950 via browser but it takes about 5-10 minutes vs. the iPhone app). Landed and did an Uber via the 950. It crashed several times, but I managed to finally book it. Went to check into the hotel room using the Hilton app, but the Windows version doesn't let you select your room. DId that on the iPhone too. Had a spare few hours, asked Cortana for movie times near me - after it crashed a few times, it came back with a Bing search. I pulled out the iPhone and asked it the same question, got a beautiful screen with movie tiles and showtimes for the nearest theater. Hit up public transit (Boston) to catch a train, no app for Windows - bought my ticket with the iPhone and boarded the T. You put it all together and say "why am I doing this again ??" Could I have printed a boarding pass out at home? Yes, it would have taken more time and paper. Could I have just checked into the hotel when I got there? Yes, but I like seeing what my options are for a room and breezing past the line. Could I have bought a train ticket from the kiosk? Yes, but I would have missed at least a few trains messing with credit cards and resistive touch screen interfaces. Travelling with a Windows mobile device is like time warping 10 years back.

I understand your issues.I love when my phone do all this staff and makes my life easier.And the windows are way too far from this as the competitors.In my country we have some apps for the public transportation and the w10 app is very nice but is the only thing that is usefull.No bank apps.No easy payments.Even the phone carriers and the retailers don't have an app and the same time they try to sell you windows phones.
I want for example to change the color of my led line and I can't.I want to use and check the alarm and I can't.I love the UI but I think if the Things don't change now or in a 1-2 years the windows phone os it will be an official dead OS. I need Turok at Xbox one.Plz.
Posted from a T-Rex.

@Socrates
Exactly! That was my conclusion to the second article. My top 6 apps are fine because I use them daily. I.e weather apps, Sudoku game app, Windows central app, but those don't come close to my HERE Transit app when I'm in a big city and using the metro or mass transit system. Nor are they more important than my Delta app when I'm flying. But I also need a Southwest airlines and an American Airlines app and sadly I can't find one in the app store. Well, AA had one and killed it. The thing is I don't necessarily disagree with Jason's ascertain, but I do wish there were more "main" apps in the Microsoft app store.

If you use transit then you'd find a much better experience on Android or iOS where you can pay for your travel without using a poet ticket and risking an unused balance.

I guess you and many others missed the point where the article states that the reasonings in it are applied to the avarage consumer (i.e. 99 percent of users ? ) and not to tech addicts like us. Avarage users I know of do not have any of the needs you stated for example; in that perspective the article kinda makes sense, while your personal experience, while completely understandable, does not have much to do with the article you commented on.

It's not just enthusiasts like us. For example the average consumer will sign up for Verizon Fios and then wonder why there isn't an app to control it like all his friends with Fios can. The amount of examples like his are endless for average consumer, it is enthusiast like us who are ok with work arounds and tricks we windows phones users are accustomed to.

Think globally not only about US

The definition of an average user has evolved. The average user is absolutely using a tremendous number of apps in their daily life. The definition of an average user has the ball. The average user is absolutely using a tremendous number of apps in their daily life. Especially with travel, which is the perfect example of reducing friction in the real world by using a tool like a smart phone.

Not where I live. You are talking abut the average user of western countries with a decent salary and education Ie. 1/5 of west countries and 1/100 of the world?

Moreover, I have travelled a lot in Europe and a bit in California and I never felt the need for anything more than my offline maps, some websites browsing and a few other apps as a plus but not really useful apps, and I think of myself as way above the avarage user (programmer, gamer, 29yrs old)

I have one of the new Harmony Universal remotes that I picked up at a Thrift store (Goodwill, actually) for $6. Somebody didn't know what they had, and neither did the store. It programs just fine with my laptop. Something I'd rather use my laptop for instead of my phone. But, yeah, there are a lot of gadgets I'd like to see support for on our platform, most especially a smartwatch for tracking steps and telling time. I don't need all the other monitor garbage. Just steps, tell time, maybe a stopwatch, and send my steps to my phone and work in tandem with it. I don't need it to do notifications, I don't need to answer calls with it.

http://www.windowscentral.com/video-vector-watch-windows-phone

Hey SocratesG4, A few of my friends bought a Striive Fusion smartwatch. Check it out. (psst.... it is in that range you mention - less than USD 100.) :) https://www.striiv.com/pages/striiv-fusion

...
I need Turok at Xbox one.Plz.
Posted from a T-Rex.

For the P.S. *I have a Lumia 640 XL latest build in the fast ring insider.
I need Turok at Xbox one.Plz.
Posted from a T-Rex.

While this one is one of your finest..n i agree with lots of your points... I just wanted to point out that the latest data from Microsoft shows that there are over 669000 apps in the windows store now... So as such.. The app gap has closed in quantity as well as quality since the inception of the UWP platform... I find that nearly all the UWP apps I use are at par with their android n ios counterparts' now.. So although 669000 is still far away from 1.5 million.. Its nearing the halfway mark... N by the second anniversary of windows 10.. I'm sure that number will be far over a million n closing on the google play n app stores Posted from Windows Central for Windows 10

@Dhanjit Thanks for the update! Appreciate that man.:-) -------------------------------
Jason L Ward @JLTechWord

And in other news, Microsoft reached an important milestone in iOS bridge (project Islandwood). This is huge news, since CoreFoundation classes (Objective-C) has finally been merged into the compiler, meaning iOS 9 features like NSLayoutAnchor and UILayoutGuide are now available on Microsoft's compiler tool.

I've been using since Windows Mobile 2003 days, and for daily use, Surface Pro 2, Lumia 920 8.1, Lumia 640 Win10M are great devices. Most of the time, they are enough, but when I really need an Android app, I have my Galaxy Note 8 for that middle size range device. Surface Phone team can learn a lot benchmarking the Samsung Note devices. They are awesome.

I appreciate your work, no matter what! Sent from Windows Central app for SEGA Mega Drive using SEGA Channel.

Thanks Peeteris!:-) I appreciate the support. -------------------------------
Jason L Ward @JLTechWord

Always happy to see someone care about W10M ecosystem. Well written article as usual.

Thanks @raytiger! -------------------------------
Jason L Ward @JLTechWord

Great article Jason, my wife is proof of this app vs web subject but her reasons are purely because she doesn't want to waste space on her iPhone with apps when she can do what she needs in the browser, 16GB is not a lot to play with when you have 1000s of photos and videos. Those instant apps are very interesting, first time I've heard about it, I still prefer full apps but even I don't like app stores, recommendations are hardly ever useful for me and I usually only end up installing something if I see a review here at Windows Central that interests me. For the last few years I haven't searched any app store without already knowing what app I want and if it exists on the platform. Posted from my Lumia 950

Thanks mbrdev! :-) -------------------------------
Jason L Ward @JLTechWord

You said enough when mentioned that existing WP apps are less in quality compared to Android and iOS. To me, that is the deal breaker! I don't care how many apps are there in the store, but it does matter if they provide me the functionality of the same app in other platforms or not. Other than that, the talk about moving to a new model of apps and how WP is on bar or even leading is utter BS.

Actually... I'm more convinced now that the root cause of WP failure is MS has opted to follow there own interpretation of what the future will be, rather than taking lessons from Google's experience when they were in their position few years back. It's the arrogance and the false presumption that they will conquer the market once they enter it is what has put them where they are today. Sure, MS wanted to give a new flavor of a platform to an already saturated market, but being extreme in forcing developers to adapt to the new framework has blocked major functionality from established apps, and put the developers in a situation to either waste more money and effort to bend their app for the new situation or abandon it all together.

Stats and numbers will never tell the true story. What tells the story is a new Windows Mobile user picking up a device and going to the Store to download the Dunkin Donuts (or any other app) and not finiding it or finding half-baked third party replacements. We can kid ourselves and explain it away all we want, but the fact is that apps sell phones. The phone is a tool to get to the apps. If the apps aern't there then the tool is worthless to many. Windows Mobile will never have the necessary apps or the updated apps it will need to truly grab market from Android and iOS. It will always be an outlier, a platform buoyed by it's most ardent fans.

Hi omagic82 thanks for the input.:-) Hope you had a chance to read the piece. The premise of this article is showing the path to AI and bots which may very well replace, many types of apps. So rather than trying to "explain away" the problem which I definitely acknowledge in the piece:-) the data is presented to show the path to the new AI/bot paradigm that Microsoft, Viv and Facebook are embarking in. :-) -------------------------------
Jason L Ward @JLTechWord

I get what you are saying, but that's to assume that bots are the future. I don't see that being the case. As Windows fans we'd love to believe that the future is something other than apps because we've lost that battle by a lot already. Any hope that something else will come along and "save" this platform is unfortunately, and in my opinion, nothing more than us fans putting our heads in the sand. Microsoft is way ahead of the competition in many areas, but the one that matters, at least for mobile, is already lost.

Maybe. Maybe not. It's definitely not going to happen tomorrow. But MS is definitely not alone with the vision. Check out Viv if you haven't already. Facebooks Zuckerberg is also all in. Check out his keynote. I'm definitely not a prophet. :-) But the industry looks to be moving that way and the data in this peice really show human behavior in relation to apps is and the web, paint a picture where a web-connected/based proactive context aware AI that connects us to the boys we need when we need them will fit better with our actual behavior than the current model. But of course time will tell.:-) If MS doesn't do it Facebook and Viv certainly a determined to. Here's hoping MS gets there first. -------------------------------
Jason L Ward @JLTechWord

Totally agree with you on that. Microsoft than any other company, than any other time seems to be pioneering this trend for good. It is no objectionable. Man, we are looking at the holographic interface for the OEMs, I mean what is right with msft at this point? The answer is everything! They know how to lead and what they're dealing with...

The biggest frustration is that Microsoft treats its biggest fans--Windows Phone users--as third-class citizens. Most of their apps come out first on iOS or Android, and have more features and more frequent updates on those enemy platforms. Look at the recent announcement that Minecraft: Pocket Edition on iOS and Android now have Xbox Live achievements--something Windows Phone fans have been asking them to implement since 2014. They finally do and how do they do it? They put Xbox integration exclusively on those platforms and make absolutely no mention of Windows Phone, even though the game launched on WP a mere 18 months ago, and even though Microsoft owns both Minecraft and Windows Phone. They have a history of throwing their fans to the curb, and their treatment of WP is just another in a long history of that. By the way, I agree with you that most apps are overrated and unnecessary, and I'm as big a MSFT fan as anyone, but it's stuff like that that is really off-putting and making me reevaluate my loyalties to them.

Yes, the world is changing, and probably for the better. Microsoft will not catch up, but as things now start to develop differently
Microsoft will be competitive on a different level respectively playing field some time in future. Till then people have to get their job done somehow, and Android seems to be that somehow many WP users are reaching for. If the Lumia 950 happens to come down in price considerably (that is <= €250 for me), maybe including the dock)
I will get one and hold out till Q2/2017 to assess how Microsoft then positions W10M and what hardware is available. I would expect MS to slash prices for Lumia 950s heavily along with the official release of W10(M) RS 1. If MS then still is not picking up the ball and still is shy of boldly slashing 950 pricing to make those phones a steal I'll be gone. I'll still be interested in how W10M and its market develops, but who knows if I ever will move back.
Guess Microsoft would need to spend the equivalent of 5 Lumias 950s in marketing money to win me back.

Another thing I wonder is how many apps people download on the initial setup of their phone, and then rarely download them for the life of the phone. Heck, I may average out to less than one app download per month over the life of a phone, but I installed 15-20 apps on phone setup (sadly, pretty much all of those apps are not available on W10M). People may not always be looking for new apps, but they download the ones they need, and they will use them in whatever limited capacity they need. I'm not going to spend hours and hours using my budget program on my phone, but I like being able to record my transactions and check my budget categories when I need to. When it's all said and done, there are heaps of redundant and useless apps for iOS and Android, but it still comes down to the fact that all of the legitamate apps are also there. The app store is just a larger scale version of the old PC software world. People didn't buy every software program then either, but they did want Windows to run all the software they needed.

I agree about people downloading the apps they want and need when they first set up, but in terms of new apps coming to market the numbers and trend still shows how difficult it is for those apps to pick up users when only a small portion of users actually search in the stores. Posted from my Lumia 950

Thanks Jason!
Always enjoy your efforts here.

You're very welcome and thanks for the support! -------------------------------
Jason L Ward @JLTechWord

I appreciate your research, but research is not really needed on this. It's common sense. The problem with Windows Phone is not that they don't have 1 billion apps. The real problem is that the most popular apps are not available and the ones that are available are really low quality compared to other platforms. Add that to the bugginess of W10M and Microsoft admitting they will only focus on enterprise.

@engineers Not a problem!:-) Hope the research helped you see the path I tried to highlight with the data from an app model to a AI/bot model. The data here, of course, was focused on showing how much we defer to the web and how that fits into the foundation of an Al and Bot model. That's the real case being made in this piece. :-) -------------------------------
Jason L Ward @JLTechWord

Yea... He mentions all of that... plus more. The article is not to try to convince anyone to either sympathize nor blame W10M, but merely to objectively present data and introduce a theory about the direction of app usage or the decrease in the use thereof in light of human behavior derived with data-centric proof. That's... it. We all have experienced (some level of) the "app gap" and agree to it's reality and prominence. However, as the article suggest-and as "some" of us W10M users have experienced, it is not the final say nor such a huge detriment. And yes... even on Android I've relied heavily on web vs apps. It has it's benefits. Apps are much less needed than some suggest. And while this believe is subjective in nature, the data doesn't lie.

Couple of things against your "common sense" - MSFT has said it will focus on the enterprise, but that doesn't mean it's not interested in consumers. Its strength has always been that it straddled both markets and if it doesn't have a familiar place among consumers it will lose the enterprise too (people don't want to have learn two different ways of doing things if they don't have to). I'm pretty sure MSFT understands this. But then the bigger point is that times are changing. Years ago Tim Berners Lee slated Apple's app-based notion of a walled garden because it undermined the fundamental potential of the internet to connect anything to anything. Smartphones have taken off not because they are better at making phone calls, but because they offer an always-with-you gateway to the always-on net. and bots etc promise a far superior version of that connectivity. I'm sure the vast majority of current users aren't thinking about this, because they don't have to. but apps are already looking like a clunky compromise. I don't know if the MSFT strategy will succeed, but I'm pretty sure that Jason's right to suggest that whatever else happens the "appgap" won't be the problem.

While I agree that apps create an extra step that can be a hassle, it doesn't have to be that bad; apps can be pushed from websites so that App Stores needn't be used for browsing and locating relevant apps. On top of that, locally available apps can access other information in order to provide better service, with higher accuracy location tracking and possibility for integration and synergy. While its true that a phone with no apps it's essentially a fancy electronic brick, that's far from the truth about Windows phones today. We have most of the important functions covered wonderfully by current apps available on the Windows Store. Here's hoping that there will be more, and the ones we have now will be redone for Windows 10 Mobile. Tl;dr don't write off apps yet, and don't write off the Windows 10 Mobile platform (pls)

@hchen102 Thanks for your thoughtful input. When you get a chance. I notice you didn't read the piece though. I'd love to hear your input after you read it. ;-) -------------------------------
Jason L Ward @JLTechWord

Thanks for replying, but excuse me... I did read the article. I was in agreement that user-appstore relationships are pretty weak. I felt that one of your main points was that apps take too much effort to download and employ, and detract from the experience, especially because of the requirements of browsing for them in an app store environment. However, I wanted to point out that App Stores aren't the only way that people find apps; websites can often push apps to great effect, and browsing to these websites is, as you said, a more natural experience, so much of the discomfort of the app store can be avoided. I'm not sure which part of my comment led you to believe that I had not read the article... I'm normally a lurker, but I felt like you didn't give enough credit to the way that websites can push apps to consumers with much less hassle, so I left a comment. I was also reacting to an earlier comment where someone was criticizing the OS for its lack of apps, and I wanted to leave a few lines to provide some opposition to that. Thanks for the article! I really do enjoy your analysis of the overall trends.

Hi hchen102. My apologies:-(
When I saw tl;dr in your comment I thought you were saying "too long;didn't read" :D My mistake.
Thanks for reading! Hey, to they point of other app discovery methods I refer to that when I point out that across other demographics and other discovery methods app discovery activity decreases until at the lowest method its actually below 10%. The chart inserted shows different methods(I also named a few) like friends, ads, promotions etc. People just aren't using them much. :-) I think Google's Instant Apps mixed with the aesthetically consistent material design is an interesting move. MS really has a fight on thier hands to capture both developer and user mindshare. Thanks for the'support! And again sorry for the misunderstanding.:-) -------------------------------
Jason L Ward @JLTechWord

Great article Jason as always. Having read the past two installments. I have come up with what I call "types of apps". I believe some apps should be done away with as an "applications". For example, I'm not saying the weather app should mute, but I usually engage with Cortana for weather forecast and Cortana's canvas displays quite well. Some apps require engagement like twitter. So though Microsoft is behind and needs to catch up, the app developer community must start folding towards segmenting app uses, like in future businesses need only to create a bot that plugs into an assistant and that's it, no need for an app

@hi Banele. Thanks and I like that thought:-) -------------------------------
Jason L Ward @JLTechWord

Twitter? - I use Peregrine on W10MAU1 beta & UberSocial on Droid - twitter web page on PC (W10AU1 beta aka Redstone 1)
There are other options, but said ... most user don't search the Stores much ( even some experts are lazy )

Very well written article Jason Ward! Objectivity is a hard thing to come by around here. What's your take on big social apps not being available on the windows OS? Snapchat and tinder being two main examples. As a side note, I've realised that I tend to use Edge more and more if the app I'm using isn't up to scratch or isn't working. Is having a fully fledged browser on smartphones the future do you think? (as opposed to apps) Basically pocket PCs as suggested in your "smartphones are dead" articles.

Full-fledged Bot (or Cortana) would do the trick if you'd like ;) Msft accepted that it is no longer competing the rivals (it never did). The concentration of the companies are into the augmented reality and artificial intelligence that supports human interaction with utmost ease of access and uninterrupted information. The web is a tool for the app just like a browser, only thing that matters is the interaction. Web is being tested and used beyond the limits, thanks to the Bot framework, we'll soon see Bots that meet our daily needs and do things for us that will forever change our way of living.

Considering the amount of engineering google has invested in the instant apps system I'd say google sees this problem as well. People are googling for something and want results immediately, downloading an app isn't fast enough. Loading a webpage is just faster even if it has less features.

6tin by Rudy Huyn solves your Tinder "problem" - I hope you are using the official IBM PC and not a clone?!
6snap used to be there, but against the EU rules the company behind SnapChat forced it away from the Windows platform.
Microsoft was fined by EU in the days of XP just by having the <windows Media Player pre-installed
They corrected it by offering the competing Real Media Play to be installed during the Windows XP installation.
Google is now being heavily investiged, but propably get fined later anyway. They are stalling...
Why SnapChat can do what it pleases in the EU (free trade?) is inconceivable... (good movie)

I thought you said smartphones were dead?

I did. https://doc.co/xt51rA :-) -------------------------------
Jason L Ward @JLTechWord

Great artiche, so rich of data, figure and unusual Information. Clever picture.

Jason, I would love for the mobile web to be The Answer. But I think it has to get way better for that to be the case. Just try loading Windows Central on Edge Mobile to see what I mean - Oh, the humanity! And Edge Mobile itself has so many pages just not work or be unresponsive. Whether this is MS's fault or the web developer doesn't even matter. But we need a lot more from MS for this to work out, regardless: Much better background handling, multiple windows (NOT just tabs), better pinned sites (try pinning Emojipedia to start to see what I mean), mobile web notifications, etc! I'll be curious to read what you write about bots in this regard!

Aye, we'll just end up with "Edge not supported" becoming the new "Windows Phone not supported"...

You've pinpointed the exact route where msft is headed. Msft took the 'One' word seriously. Hololens, Translator sdk across platforms, Windows 10, Cortana, Windows Store (to name a few) with its Bot framework? How cool will that be... Something that Google can(or)not achieve (or too late to compete) with its Google Translate, Android (so much for the 70% market share), Chrome OS (to name a few... Oh Wait, Google Talk?) despite having one of the fastest Supercomputer in the world or having used the user data (to make money out of it).

With a resident app, you only have to download relevant data for it to display. With the web, everything must be downloaded. Thus a significant climb in the amount of billable data on our cell contracts. Yes, we can often use wi-fi, but some apps need to be truly mobile and accessible through just the cell connection. For me, the difference between using a Win Phone and my iPhone boils down to a few apps I really need: Chase, ADT, eKey ( real estate lockbox key ), Starbucks ( I often need to refill my Band account, often when away from the computer ), With those, I could actually once again use a WinPhone. Without them ... it would be hard to do my daily routines. So close ... but so far away. With that said, one day these will resolve and I can move back to where I would prefer to be.

...and still single digit marketshare in the 3 billion devices smartphone market....

A fraction of a single digit.

Bloody yankees! - Look at the UK (the original country and language)

Didn't Steve Jobs say web apps were going to be the way of the future? And a year later, they debuted the app store. Also, no one installs all 1.5 million apps, or use every single app installed every day. But that 1.5 million number means if you do have a particular niche interest, it's probably covered. And as I've asked on the other articles in this series, what makes more sense: spending $500 on a phone that has every app I could want, or $500 that has some of the apps I want and the apps available are poorer quality?

Much better than the 1st couple parts -- Thanks! I'd wonder about the amount of influence younger users have on those that are older? 27% may have much more influence, & thus meaning than just their numbers might suggest? It's not because they're smarter or more knowledgeable [though in some cases they may be], but because if you spend that much time & effort, others are aware of it, & people most always would rather just ask someone else than spend the time & trouble themselves. I'd also restate the point that [more strictly speaking] computing has not & will not move to mobile for quite some time, because so far physics won't allow it. ;) What has changed is that many people who were using PCs/laptops for stuff they never needed a PC/laptop for, now have more efficient tools. It's as if Ford only made trucks for decades, & finally came out with a small sized car -- their truck sales would inevitably plummet. Another factor that's hinted at of all places, sites like dealnew[.]com, is that people goof off. A phone is a near perfect distraction, since you can't really get away with carrying your Xbox to work. And finally, not related strictly to PCs vs. mobile, I'd imagine some find the sociological aspects really fascinating... What if we use our phones as a means of ignoring & avoiding real human to human interactions, yet also find in using them with whatever web services/properties, our needs for those human to human interactions are somehow fulfilled? Yeah I know, sci-fi has already been there, done that, but the numbers put up suggest it's here now.

I know I shouldn't laugh but the YouTube video for the Google demonstration cuts off the text and it reads "Google Instant Apps - Demons" if you ignore the ellipses. I had to look at it twice. Still, good article and it makes me want to brush off my web development skills to see how they fit with shifting user engagement.

I love the idea of conversation and communication interface in and with a Bot, the notion of being controlled by the Bot could seem far fetched or even fictional but it leaves you thinking, what could the future possibly hold for the mankind.

I wonder, will bots be turning my a.c on/off? Ordering my food? What about communications with my car?
What happens if I piss a bot off, will it run me into a tree? Bye bye big daddy. The Borg are coming. Posted via the Windows Central App for Android

Programming the Bot to have feelings costs too much - don't worry - it's just a simulation - not a real AI (as in humans)
< this message was send by Skynet at year 2079 >

Very illuminating /fascinating article. Thanks for writing it, I've enjoyed the read and really identified with a lot of it.

Good work, as always. Ok, bots are the future. I agree. Web apps are coming, yes. What I am currently looking for is a good softphone app. Zoiper isn't doing that well on Windows Phone. I checked with Counterpath whether they are working on a W10M version of BRIA,
the answer was that they have no plan to do anything for W10M. Good softphones are scare anyway, and there is no good one for Windows Phone / W10M.
(And to me it looks as if Zoiper has given up on their software.
No progress, no changes, hardly any updates, major revsion overdue by a year now.)
Wasted my money for PC software and WP app) While I truly could not care less about most of those hundreds of thousands of apps
in either the AppStore or GooglePlay
I just wish I could just have this one (Bria) app for W10M. You are quite right: I had 200+ apps on my iPad, but I only used a handful of them. I really very much would like to standardize on W10(M) completely
(I said goodbye to the Apple universe, there will not be any further new iOS gadgets),
I very much would appriciate if I could get this one or that one special app that is available for Android, like BRIA. It's a bit like Microsoft Office Word:
No one ever will make use of all the functionalities that come with the latest version of Word.
You only use a fraction of it. But when you need a piece of functionality, it is there, ready to be used. There is an app gap.
It does not need to be closed completely,
but still, apps are needed and in demand.
Espesically the special ones.

I'm a huge WP fan and will stick with it until there is no option, hopefully that scenario doesn't evolve.
However, all this journalistic 'look at me I use big words and deep theories is complete and utter BS.
Science does not need to be applied here. MS is not perceived as cool and have lost the younger generations.
All the mumbo jumbo in the world doesn't gloss over that, that is their main problem followed by inept management and an unprofessional road map that has led them to disaster. Constant OS changes, poor marketing, years of Dev abuse, constantly too little too late to the party born of gross mismanagement is why WP is in such a hole.
Whether they like making hardware or not, they need to, products like Surface can change the cool image, phones must match this quality to try and win the younger generation back.
Then the worlds premier software producer must fix the quality of apps no matter the cost.
Fix it once, fix it properly and manage the issues professionally and properly. Problems fixed.
Once public perception is repaired, the rest will follow so forget about the rest of the nonsense science.
Quality and stability is what's required.

Thanks for the response n m. I'm just presenting things as I see them. The data is there. When I looked at the data, I saw the correlations to human behavior, the strategies of firms toward an AI/bot model and the potential of human behavior meshing better with that model than the current model: Then I shared what I saw. My focus was "look at THIS":-) not "look at me."
You make valid points about losing the youth, a point I concede is true and actually stressed in Part V of Windows Phone isn't dead when interviewed Alcatel and talked about thier targeting of Millennials, and the need and benefit of the doing so with thier Windows 10 Mobile phones. I believe in the intro of a couple of pieces in that same series I acknowledged the constant OS changes as a problem as well as limited marketing and distribution elsewhere. So you're right. And we've talked about "that" part of the story many times, THIS perspective, however, is an equally valid perspective as the important factors you've acknowledged. No one point tells the whole story. But putting it all together and bringing other angles to the table I'd say are valid contributions to the conversation not mumbo jumbo.:-)
-------------------------------
Jason L Ward @JLTechWord

Very interesting. I'm a long time Windows Phone user and for the most part agree. Where I disagree is with the specialty apps like cruise line, Disneyland, etc... These aren't used daily but sure would be nice when needed. Although my day to to activities are not effected by the gap my occasional activities are hindered.

Well...I wrote several letters to Mr. Walt Disney but they were "Return to Sender - Address Unknown" (Elvis's song)
e.g. blame Disney and harash them every day using ... Bots!! ;-)

Seriously, another click bait article, LMAO. Newsflash, WP is irrelevant, it's DEAD, put a fork in it, Microsoft has. Posted via the Windows Central App for Android

Hi cybertec69. Thanks for your faithfully attending to my articles. Though I contend your assertion that this a "click-bit" article by sheer virtue of the definition of the word contrasted with the data-supported thorough analysis presented here. I'm sure you're an intelligent individual, but your persistent perseverating on "WP is dead, put a fork in it", in the comments betrays your actual behavior in that you are CHOOSING to visit a Microsoft focused site, CHOOSING to click on an article about Microsoft's mobile efforts(which if you feel it's click-bait why do you keep clicking?) and CHOOSING to navigate to a comment section where dialog on that article occurs. Sadly your words and behavior are a stark contradiction. If you do indeed believe that WP is dead and that we should follow through with putting a fork in it and our "not" putting a fork in it bothers you, the natural thing to do is avoid that which bothers you. Why torture yourself? Maybe you still have hope:-) -------------------------------
Jason L Ward @JLTechWord

I'm a huge WP fan and will stick with it until there is no option, hopefully that scenario doesn't evolve.
However, all this journalistic 'look at me I use big words and deep theories is complete and utter BS.
Science does not need to be applied here. MS is not perceived as cool and have lost the younger generations.
All the mumbo jumbo in the world doesn't gloss over that, that is their main problem followed by inept management and an unprofessional road map that has led them to disaster. Constant OS changes, poor marketing, years of Dev abuse, constantly too little too late born of gross mismanagement is why WP is in such a hole.
Whether they like making hardware or not, they need to, products like Surface can change the cool image, phones must match this quality to try and win the younger generation back.
Then the worlds premier software producer must fix the quality of apps no matter the cost.
Fix it once, fix it properly and manage the issues professionally and properly. Problems fixed.
Once public perception is repaired, the rest will follow so forget about the rest of the nonsense science.
Quality and stability is what's required.

Pretty much all of these arguments, that people spend most of their time in just a few programs and everything is moving to the web anyway, could be found all over Slashdot 15 years ago in wishful thinking stories about how Linux was going to displace Windows from the desktop.

Some people don't use a lot of apps, other people do. Regardless of what Jason is saying here, Windows Mobile needs apps badly in order to get new users. Anyone who reviews a new handset is going to throw out the same old complaint...not enough apps, terrible store, etc... Posted via the Windows Central App for Android

Agreed, it's so much simpler than the contrived load of BS that was this series of articles.
Trying to baffle us with BS but blind Freddy can see how simple the problems really are. You can't BS a BS-hitter.
Quality and stability is what is sorely missing from a product that the general public has lost faith in.

Actually, Visa Declined, there was never a claim that Microsoft does not need apps.:-) That's why there is the acknowledgment if their efforts with the App bridges and becoming a platform for development - I even referenced in the last piece an entire article "App gap? Microsoft has a platform for that" (Part VI of Window Phone isn't dead) I encourage you to check it out it you haven't read it.:-) Also, this series identifies trends in behavior that reveal just how the average person is using apps and when you put that behavior together with the efforts of the app bridges and attempts to make Windows a platform for "mobile development"(mobile as a platform nit distinct OS's as I share in App Gap? Microsoft has a platform for that)through Xamarin and other tools and add to that bots as apps (thus apps 2.0 in title) you see a very comprehensive approach of bring apps to the platform. Current "1.0" apps, and where we're headed, Al and bots "2.0" apps. I never said Windows phone doesn't need apps. As a matter of fact I was very candid with my admission of missing and lower quality apps. The assertion was that the average user, based upon the data is not as impacted by those things things as has been widely surmised. This article actually attempts to outline the path that supports Microsoft's (and others) move to bring apps(bots as apps) to the platform, and is actually the opposite point of your conclusion that I somehow feel WP doesn't need apps. So this piece uses data to point out the path to one of the angles MS is taking to address the app problem - AI and bots.
-------------------------------
Jason L Ward @JLTechWord

I don't think that amount of time using an app is the factor in whether or not there is an app gap. I don't spend much time with the Starbucks app. I only use it when I want to order coffee to go. However, if I didn't have the Starbucks app, I'd lose the convenience of not standing in line waiting for my coffee. Sometimes the best apps are the ones that save time for a user by not needing to spend a lot of time either using the apps or doing something that the apps do for the user. Posted via my Moto X Pure Edition using the Windows Central App for Android

Hi Laura, thanks for you input. I hope that point was identified in this piece when I focused on the apps that are not among the top six. It was that exact point you made that is the premise if this piece, where many services that are not among a users top six may be deferred to the web (I also acknowledged in part 2 daily habit apps like the Dunkin Donut app like you Starbucks app:-)) that show a path where AI and bots may have a place. -------------------------------
Jason L Ward @JLTechWord

What this doesn't take into consideration: the vast array of third party accessories that works in concert with devices, that can't be used from a web page. Here I'm referring to drone apps, Philips Hue lighting, Nest, Sonos, DJ and musical instrument meter equipment, for iOS and such.

"The sky is green" I'm perfectly convinced that you would do an excelent article about the fact that sky is not blue but green and using the argument that the Aurora exsists. Microsoft failed in the mobile business (and I am not happy to say it) even Daniel Rubino said that it's dead. So stop adding insult to injury.

Hi Foxhoind91. Thank you for your faith in my writing abilities but I must concede that the "sky is indeed blue." Arguing a point that I don't believe may be possible given the skills one may glean from the the rules of debate, but it is not something I practice. :-) So though my views may be unpopular with some, I do believe they are an accurate assessment of Microsoft's strategy, not mine. I'm just writing what I see. We may agree or disagree that is is the right strategy. Some may feel that my analysis of their strategy is "not" thier strategy at all. Still, I am simply analyzing and presenting what I feel thier strategy is. In a nutshell I don't believe they've given up on mobile based on what I see and of course my views can be easily revisited at to what I use to support my analysis. Finally, Microsoft themselves have communicated that they have not given up on Mobile, and Daniel Rubino actually wrote a piece titled New Microsoft memo reveals shifting mobile strategy, claims Windows phone investment not at risk, based on that communication. http://windowscentral.com/microsoft-memo-reveals-shifting-mobile-strategy Check it out.
So I'm not adding insult to injury. Simply providing a consistent perspective that I feel is genuine and does not sway with the fluctuations of the latest share numbers or follow the ebb and flows of the headlines of the rest of the blogosphere. I write what I believe is the big picture and I think it's accurate. -------------------------------
Jason L Ward @JLTechWord

Check on the third comment page of the article written by Daniel Rubino you send me. and You will find this: Daniel Rubino Dude, it's 1% now...can we drop the "they're killing it!" thing, that was like 2 years ago. It's already basically dead. The question is, now what?

Fair enough. But take that comment and position it within the context of the article about Microsoft's commitment to mobile and plans to bring a mobile "phone" to market next year, of which that comment is a part. What Dan is saying is the current model of simply a MS phone is not a success, but as both he and I (and Nadella, looking beyond the curve) have been saying, is that MS is still in mobile but their strategy is a unique approach that takes the current tends in mobile and cloud computing and will present a device that's more than a phone. That's what my articles are about. MS has clearly not given up on Mobile. And what you see in our pieces is an analysis of what they are doing on that front. And what we share is supported by data such as the memo upon which the article referenced is based where the statment of thier commitment toward continued development, support of OEMs and future devices is exceedingly clear. In my pieces I reference and link multiple sources that supports my analysis. If your contention that thier future efforts will fail that's one thing and your entitled to your opinion. But to dispute our (or my) covering and analysis of those efforts is not logical since this is a Microsoft focused site where such topics are covered. Thanks for the discussion. :-)
-------------------------------
Jason L Ward @JLTechWord

Just for you to know, I was also supporting and defending microsoft and windows phone between 2013 and 2015. But then I had that feeling of betrayal and disrespect from MS on the windows phone side (not keeping promises, backing up on things like android compatibility, making better app for iOS and Android...). What they are saying now is totally different from their previous message in the last 3 years. Like Steve Ballmer said, Mircrosoft need to have a clearly defined position instead of being shady. But I have to admit something. Having a debat with you is a real pleasure regardless the fact of what you are defending. You discuss ideas instead of discussing people and attacking them, unlike Daniel Rubino. I wish you goodluck for the rest man !

I think the "bot" trend right now seems really over hyped. It seems like an Apple sales pitch more than a reality. Bots are great, we think you will love them.
I do like the "bot" on my banking app. So in the service industry, bots might do well. Then I saw my first FB Messenger bot. No thanks. Not a fan, at all. Bots and AI will be great at replacing entry level jobs, saving corporations money. I can see bots replacing almost the entire service industry. Maybe bots will infiltrate CRM and SAAS soon. If "Youtube" on Windows Phone/Mobile is considered a Web App, then Web Apps are not a good experience IMHO. Posted via the Windows Central App for Android

A lot can be facilitated on Windows Phone/Mobile, but why bother? The features that positively differentiated Win Phone/Mobile are rapidly disappearing.
Hey you can do that same app function on Windows. Just open a browser find the page you like and viola.
Point being that ease of navigation and ease of use go a long way. Yeah there is an easier way on other ecosystems, but you can find a way that will require more effort on your part for likely a sub par experience. Sounds great? Posted via the Windows Central App for Android

The reason that Microsoft failed in mobile, is because Steve Balmer try to make it like iPhone (Zune lock-in). The other reson is that they could not win the Snapchat CEO to make an app for WP. Since every persone under 30 years NEED to have Snapchat, no on in that age will buy. I have tried to "sell" WP to many young people and many had shown great intrest, until they found out that it could not run Snapchat.
Windows Central Newsletter
Thank you for signing up to Windows Central. You will receive a verification email shortly.
There was a problem. Please refresh the page and try again.