Upcoming lineup for Xbox on Windows Phone 8 gets revealed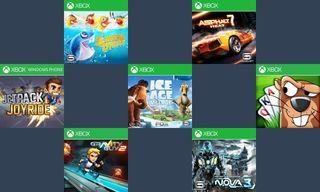 One of the key differentiators for Windows Phone the past few years has been on the go access to the Xbox service and Xbox enabled games. We've had some popular ports like iStunt 2 (Dan's favorite) and Plants vs. Zombies. Windows Phone has also had its fair share of original and exclusive titles, fun games like Chicken Can't Fly and Mush. Over on the Xbox website (opens in new tab), we can see the first set of upcoming titles to be Xbox Live enabled.
The website already lists two games currently in the Marketplace, Angry Birds Space and Angry Birds Star Wars. Here are the rest though:
Asphalt 7: Heat
Take on the world in six different game modes in tracks across the globe, driving the most amazing cars by prestigious makers like Audi, Lamborghini and Aston Martin.
Fairway Solitaire
Unique gameplay combines solitaire with golf to create an experience unlike any other. Play sequential cards to create long runs. Long runs make long drives, and long drives make better scores!
Gravity Guy 2
You are the master of gravity! Reverse the polarity of the world to manipulate your surroundings and reach the end.
Ice Age Village
Scrat's hunt for his favorite acorn has opened a crack in the earth's crust, sending the animals scurrying for safety. Help them in this heroic challenge and get ready for fun and surprises along the way!
Jetpack Joyride
Join Barry Steakfries as he breaks in to a secret laboratory to commandeer the experimental jetpacks from the clutches of science evildoers.
N.O.V.A 3
The Near Orbit Vanguard Alliance receives a desperate plea from Yelena to come to Earth. Once again, the hero must rise to save mankind!
Shark Dash
Shark Dash is a fun and engaging game that takes the physics puzzler to fun new heights with a unique cartoonish style starring funny little bath toys!
It's always great to see the catalogue of Xbox enabled games grow and these are all welcomed additions. Before all of you running Windows Phone 7.5 get riled up, it's possible some of these may come out for you too. We saw Angry Birds Space come out for Windows Phone 8 first before making it's way to the older handsets. Fairway Solitaire should be fun game in the casual catergory. We actually interviewed the team behind the game a few months back and walked away impressed with what we saw. N.O.V.A.3 is a game I'm most excited about.
Which upcoming game for Windows Phone 8 are you most excited for?
N.O.V.A 3 looks interesting. Maybe gravity guy 2 will actually have true multiplayer instead of pass and play

Yeah, the image of N.O.V.A. 3 caught my eye immediately. Were there previous versions (since this is called 3) that I never heard about?

On iphone. Iphone always get them first

N.O.V.A. was one of the more popular games on IOS when the iPhone was still new

So excited for Nova. Hoping they make a Windows 8 version for Surface RT so I can play with an Xbox 360 controller.

Awww my gawd! Jetpack Joyride!

Yeah, I played the heck out of that when I first installed Windows 8 on my desktop. Yeah, I loved it with a mouse!

Jetpack Joyride is my favorite mobile game hands down!

IKR!!! thank god it's on wp8!! been having fun with it in ios

Good games. Was at MS Store yesterday and my 5 year old didn't want to stop playing that shark game.

Jetpack joyride wooohooo :)

I can't WAIT for NOVA 3... I had it on my Kindle Fire and have been waiting for a good, console-like game to come to Windows Phone. NOVA 3 is a perfect example of what Windows Phone (and all mobile platforms) is capable of.

Exciting news except historically we've had to wait for months between announcements and actual releases so these games could possibly not come out before spring.

Loved the first gravity guy so pretty excited for the second! NOVA looks great too!

JETPACK!!!! HELL YEA!!! XD

Jetpack joyride yasssssssssss

They need to fix Jetpack Joyride for Windows RT. It is was too laggy to be acceptable. The only way it's playable is if I use my keyboard instead of touch. Also, where is Temple Run? I think I remember it being announced. I was looking forward to having it on my phone.

No problems here. Plays just great on my Surface. Already on level 52 just using touch ;)
And looking forward playing Jetpack Joyride on my Windows Phone! Love the game.

1 game per week - means 48 games per year - this is f____ing nothing just 48 games per 1 year, even less !!!!

You do realize there are 52 weeks in a year, right?

Haha yeah, I was going to say the same thing. 48?! Where did that number come from :P

One game per week that's an official Xbox LIVE game. There are others. But Xbox 360 started out with one new XBLA game per week. Then it became two. Now it's sometimes a third on Friday.

Exactly. Xbla only last 2 years had been releasing more than 1 arcade title per week. People forget there are other games in the marketplace?

Yes there are others, but there is no Badass games !!!! (Except "ByeBye Brains" and "Armed". Android and IPhone have 1000s of them !!!

1000's really? That seems a bit like hyperbole. They may have 1000's of games, but I doubt more than a hundred are "bad-ass".

Funny. I just saw the same thing on xbox.com this morning. Did not realize it was newly posted. It did say for the holidays so I thought it was old since we are in the holidays now and none of these released yet.

Saw it nearly a week ago and posted it in the forums yesterday, who knew I was sitting on such a gold mine
This must make me a genius, right? right?

Asphalt 7 will be nice, hopefully they come quickly.

Good game, but still sucks no NFS most wanted, that game looks bad ass

Shark Dash is so addictive, can't wait for it on Windows Phone 8.

Whens temple run commi g out?

Shark dash is fun on w8. I am looking forward to nova 3

finally damn!!!! Gamelofts 12 promised games..nova woo where's mc4?? They said holiday 2012!

Cool. I still have 6 or so games I bought while I had WP 7.5 and I can't download them to my WP 8. Would like to see those updated. NFS Undercover and Feed Me Oil I remember for sure.

http://m.youtube.com/watch?v=Bij4fMQaCrY

where's the rest gameloft??

Wow now I'm interested too... Those all look really legit.

Where is Tiki Towers 2!?!?
Do I get to keep coins between my copies of Jetpack Joyride or is it two games?

I'll get a 920, but it's the same for every other WP8 device: seriously, I don't think that an Adreno 225 GPU will be able to run NOVA 3 smoothly on a 1280*768/1280*720.
That's an old GPU, they should have used the SnapDragon S4 Pro to get real 3D good performances.
We'll have to wait for 2° gen WP8 devices to be able to play these kind of games smoothly at these resolution.
NOVA 3 is *awesome*, but its graphic is really hard to render :)

That depends on how they've optimized the game. It ran like crap on Android, but that's because Gameloft was lazy and didn't optimize the game for each chip. They make detail changes and such that will work best for the GPU used. This is actually a good situation because they only have to target SOC/GPU, so they only have to write code one time. I agree that 225 is old, but with the right optimizations and cut backs on some higher end detail, this game could still run smooth.

It's newer than the 200 and 205 on 7.5 devices now isn't it? Stop complaining

I love Jetpack Joyride on my Windows 8 pro PC and had it on my One X before I sold it for my Lumia 920. At last I'm going to able to bring Barry wherever I go.

I want ModernWarfare, Spiderman and Dark Knight (all by gameloft) Ps were are these sale items you was going to report on yesterday Daniel ??

I don't get these people who get all upset because Windows isn't plush with games. It has more than enough very capable and fun games. Its not like I want to grab my phone and play halo 4 or battlefield 3 for 4 hours. That's why they make Xbox. its a phone people not a gaming console. Just my opinion nothing more nothing less.

these games with the only 60 htz refresh rate phone screen will be awesome..pretty sure the s4 with the 225 will run em smooth..

"Before all of you running Windows Phone 7.5 get riled up..." Excuse me if I can't afford a $600 device the day it comes out. . .

I can afford it, there's just no phones to buy yet with 32GB plus microSD :(

I love Shark Dash on my Nexus 7. Am excited it is coming to Windows Phone!

Sorry, but I had already seen it on Xbox.com since when Windows Phone was released ...
And, why do you not reminded of Tentacles? For me he is one of the best games I have and it is unique. Does anyone know tell me when they will make a version for Windows 8?

I hope the games will actually support the taller screens and the HD resolutions instead of just giving us blurry low res graphics like angry birds has

All I want to know is when Jetpack Joyride gets released.

Always glad to see great new titles my 920. :)

N.O.V.A, aspahlt 7 and Jet pack joyride ! Come fast !!

I tried to delete it. Sorry

So they're adding achievements to the Angry Birds games like they did for Wordament? Good, that's the only reason I haven't purchased them yet.

Im starting to think that upgrading to Windows Phone 8 is required, cause developers seem to be supporting it more already, leaving wp7 to wither away... =/

Obviously developers will support it more because of a few points:
1) Native code support - They no longer have to rewrite 100% of the codebase to work on WP8 like they have to to port their game to WP7 from other platforms
2) Programmable shader support - They don't have to rely on the 5 basic effects of XNA for rendering but can write their own more flexible shaders.
3) Third party engine support - Engines such as Unity are adding support for WP8 which will allow many developers to effectively one-click deploy their existing iOS/Android games to WP8. It is impossible for these engines to support WP7.
WP7 will still be supported by developers who use XNA but it is an outdated platform now it's successor is out.

I'm so excited for nova and asphalt 7, but can my old htc surround play those games? :(

I do hope that these games will be available for Windows Phone 7.5 users; such great titles and I'm not ready to upgrade to Windows Phone 8 just yet.
Windows Central Newsletter
Thank you for signing up to Windows Central. You will receive a verification email shortly.
There was a problem. Please refresh the page and try again.