Update helps Xbox Video launch faster on Windows Phone 8.1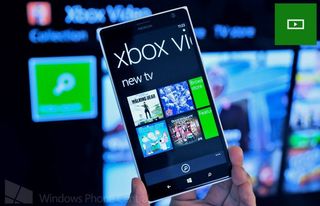 Microsoft has just released an update for Xbox Video that will help the app launch faster on Windows Phone 8.1 and fixes some crashing issues. The update is fairly minor overall, but contains important bug fixes. If you haven't already grabbed the update, it is available in the Windows Phone Store right now.
Thanks to Anshuman for the tip.
Source: Xbox Video
Chuong's passion for gadgets began with the humble PDA. Since then, he has covered a range of consumer and enterprise devices, raning from smartphones to tablets, laptops to desktops and everything in between for publications like Pocketnow, Digital Trends, Wareable, Paste Magazine, and TechRadar in the past before joining the awesome team at Windows Central. Based in the San Francisco Bay Area, when not working, he likes exploring the diverse and eclectic food scene, taking short jaunts to wine country, soaking in the sun along California's coast, consuming news, and finding new hiking trails. For news tips or to connect, please message him on the Signal messaging app at +1 (424) 666-7438.
Actually this is really faster. 2 days ago I complained about slowness of Xbox video @WindowsPhoneSupport . I got update today.

That's how we roll. Always listening!

You seem to be someone from inside, I sent tons of feedback, please change that default grey background while playing videos to black, it is a big problem for me when watching videos that doesn't fit the screen, and the page layout isn't ergonomic at all. Need a overhaul in the design especially for offline users. A complete overhaul. Need some attention for offline users as the app seems to be a heavily online user centered.

Wait for window 10 Coolest Man Alive

Hi Ellen. you guys need to add ability to remove recent plays in Xbox Music!

Any chance of PAR (pixel aspect ratio) support in the near future? It's a pain having to transcode my anamorphic DVD rips for playback on my Lumia.

I hope you are someone from x box video team ,many updates. But still disappointed,I am with WP since early WP 8days ,but now music /video /game apps are very irritating (today update made I faster)still last update broke it,I am from India,no Xbox store here ,so what I and my friends needed is a fast,reliable video player,supporting almost all popular formats (mkv missing,)better performance,also much needed better controls,being touch screen gesture controls will be handy, secondly one descent player in store is moliplayer but it is paid ,(I bought it )but many can't they didn't have credit card .I believe strongly that MX player is biggest selling point of Android in India it is (free ,fast feature rich,plays all files ),you are improving x box video services but we are not benefiting ,we need a fast was to use still stylish video player for personal videos .Same is case with x box music /games app (music getting better,but not. Perfect,x box games unusable,(dreaming wp8days ,when spend most of time with game hub.So please tries to understand what iam conveying(it is long post sort ,but iam truly disappointed with present scenario,please please improve,people check these things while buying phone,not it has office....(it is highly useful

Agree with you aromal_tc, one more thing they should include is folders support
E.g. I have some tutorial video courses and that courses have video lessons in different folders, but the xbox video app shows all offline videos mixed..
So, i have toi play them from file manager app(files) but from files/any file manager app the video does not plays in xbox video but in default video player which doesn't even have seek bar..
Old video hub on windows phone 7 had the feature too group videos in such categories like(TV series, personal videos, music) etc..
But this xbox video app is just focused on online content but not on that videos or serious which the phone's storage has!
Microsoft should really make xbox video app better and should support some of the known video formats or windows phone should have a good video player like MXplayer,
Moli player isn't free and vlc hasn't appear yet vf for windows phone..

Actually its slower than before. Damn Xbox video!

It a lot faster for me tooooooo oh yeah.

I'll be the first to say it, what about Xbox Music?! Snarf Snarf

Seriously...i was expecting an update last week!
This gave me hope tho.

http://images2.wikia.nocookie.net/__cb20111021212403/thundercats/images/...

Xbox video is not available for India I think

It is a default video player. Available to every one.

Yup, default player but with limited functionalities due to region.

Functionality, you must be kidding me. A rock does more... :P

I never knew rocks play videos in India.

Havent you heard about 'Rock' music... :P Jokes apart there are some serious features missing... If you have used some third party android media players, you would understand what I am reffering to...

We don't have any subscriptions regarding xbox video in india,.. He is trying to tell that...

Dude, we're talking about India....they barely have sustainable internet, running water, and a nuclear arsenal.

Agree with you so much anishmohantcr

You are wright Xbox video not available in India to download videos functions.

Yes! And that online feature cause a lots of problem.

Yeah you can't download any videos on it in India.

Just change yor phone's and Xbox account's region to US if you want all of the FEATURES of Xbox music nd video

I have changed but. It didn't work

Doesn't work that way. If the location and region don't match, the service isn't available.

I was just thinking about this the other day...

For countries that doesn't support Xbox, it's the regular video app right?

It is. Works well enough for playing local files.

Well for me, it just opened with no content at all, just blank, in the pivot view with TV, CAMERA REEL, and MY VIDEOS, with the infinite loading dots in top of the screen. Not displaying my local videos at all.

If it says Camera Reel, you don't have the latest version of the Xbox Video app. You can force the update in the Store app settings.

Cool now it works! And it show my local videos. Idk if it faster or not since previous version doesn't work, but hey it works now. Now, the Music app to go!

Yes, but still loads the videos' thumbnails and displays what's on store if you're signed in, that makes it slower when on data or on wifi. It launches faster and plays vids faster when offline.

Seconded. Absolutely right.

Yep, just a local video player for us in India.

Fast ?? Its a worst app developed by Microsoft for windows 8.1. Both Xbox music and videos app are useless. Mix radio is better than Xbox music .update mix radio first.

Xbox music works good for me. But yes video app is really the worst in terms of design and performance too.

It doesn't for me. Playlist will not refresh even after setting it up on the Windows Phone App for Desktop.

Mix radio is also slow like hell at least Xbox music runs faster now

You are so wrong, Xbox Videos works fine, it is fast and play my local videos.

Does it finally allow users to delete downloaded videos? The inability to do so is a real travesty. I have three gigabytes of storage space lost on my phone over this.

Delete the videos you don't want from " files" the file manager

Thanks. Where can I find File Manager? I am looking in settings but don't see it.

It's an app called Files. If its not in your app list look in the store.

Why can't you delete videos you've downloaded in the Video app? There should be a delete button available whenever you're viewing content you've downloaded. If that isn't the case, I want to know.

It's a known issue. If it has been fixed, that happened recently.

Yep. Check the most recent version. I think you'll find the functionality you want. We heard a ton of feedback about it and changed up the controls.

No delete button and the downloaded videos are stored within the video app. The workaround used to be you could uninstall the video app and then reinstall it. That would get rid of them. Now you can no longer uninstall the video app. Xbox video is taking up 3 gigabytes of storage. No way this app can be that large and it wasn't until I downloaded three videos. Google this scenario and you will see others talking about it.

I typically use Bing. :) We are aware of the issues folks have had with delete and made changes. If you're sure you're using the latest version of the app and are still not seeing the option to delete previously downloaded videos, please find me on Twitter (@ellenment) so that we can take this offline. I'd love to investigate this further.

I use Bing too - exclusively. I am embarassed that I wrote that. Google has become a verb. I think I have the latest version.

Yeah, we should talk. Are you on Twitter?

I just sent you two pictures.

Hey Ellen, just wanted to tell you that it is great to see you on Windows Central. You do a great job talking to customers. Awesome support thank you! Glad that someone at Microsoft is actually listening to feedback.

It's like Horton Hears a Who. Ellen is just saying We are here, we are here!

So currently on what topic Xbox video team is working?? And why is it taking too much time to add even a basic function to it?? Plz tell us something about it...

Microsoft work on your Music app first!

XBM needs some serious overhaul tbh.

Hopefully 'soon' is this week! Or maybe not.

N hope it is for 512 MB too..

What about crashing issues with IE 11 on Cyan?

Very rare. But yes It crashes

Before Cyan, IE11 on my Lumia 925 was rock solid, now it crashes all the time...

Also many time, site loads but doesn't show anything on the display. So have to reload again. Needs big improvement.

IE 11 crashes often while watching YouTube videos in landscape mode. It never crashed on portrait mode. The only workarounds are either playing the video in portrait mode and then changing the orientation of switching to a YouTube third party app.

Absolutely yes, mine too. I am so disappointed with WP. Ugh

Wtf... Old update is worst, now this is more worst.... Dont play with our mobile... Due to last update my videos wont open as it was before and now this...

How is it worse exactly? Videos won't open? Which ones?

Ellen, is there any chance we can get the Xbox store to open in India so we can have the app with full functionality? For us, it's just another app that plays videos. We can't download any stuff. It would be great to have a nice fully functional app...

I don't know anything about plans for expansion. I work on the engineering team that builds the Music and Video clients for Windows and Windows Phone. Sorry I couldn't be more helpful.

Oh! I wish it happens sooner. But thanks for your help :)

Xbox music, video, office hub and email app, all basic features are rubbish in windows phone. And that's sometime make me to rethink about windows phone. If it remained same in windows 10, than my next device definitely would be either android or windows tablet, but not windows phone.

Microsoft say previous week VLC media player release next week.Tomorrow a week complete.
so anyone know in which day VLC media player release?

Actually I asked them on twitter and the reply was at the end of this week.... One thing for sure is they only know how to delay the release....

Tomorrow complete a week. So I hope tomorrow release VLC media player.

MS didn't say about it. Its developer of vlc said. So wait for weekend.

MS didn't said anything, don't be a liar.

Change log: Camera reel changed to camera roll ...
In Spotlight now showing VIEW ALL ...

Yeap. And subtitles settings it was there before?

Yea its on already ... Since Xbox video app on wp8.1 I think ... ;)

Yes, we changed that string in addition to working on perf while loading videos from the camera roll. Hope it's working better for you now!

Loading video is little slower from my videos ... Check them on ...

Video seems fine to me now. Tks.

Still can't play .mkv, .flv! Too much smart!!!

Yes, I would love mkv support. Seems like a lock for Windows 10 though.

MS didn't promised MKV support.

Better then the last one bug, it opens much faster and dose not parses' through the verification of accounts for us not residing in America. Now expecting the major changes like all the videos should be the real video hub. And has the ability to share and edit the videos thought the options like WhatsApp, movie creator, video tuner, social media etc. And a progress where the photo hub becomes the stand alone hub only for photos and video hub for videos. Thanks for the update.

Halle-freaking-lujah!! It's finally showing camera roll videos for me!!

Why you guys removed tv menu from Video? Lumia 1320, India. Please you should at least provide features that all other regions have. Same for camera app. In store it shows some different snaps.. But actually there is a Different layout UI. sad :/

I just pulled out my Zune HD for my infant to use for lullabies and man they should go back to that interface for windows phone.

This. Really miss that old UI

What is about Xbox games on WP?

Forget about that ... Microsoft already forgets that...

Totally off-topic, but you can go to the Store.

Now, where is the music update. It is late and still the app has issues and lack of features. It should hopefully be on the heels of the recent update to the desktop client and usually video and music follow one another.

Need to update windows phone and windows apps like this. If third party apps is not possible, it have to update MS's first part apps.

Finally!! Thank you Microsoft for hearing our woe. Thank you for caring. If you could make it so that xbox music has gapless playback, that would be awesome. My xbox music will stop playing the next track after some time and the only fix is a full reboot.

Xbox Music stops playing your music? What music? Music you're streaming via subscription? Or other music?

Sometimes, Xbox music App would crush while listening to local files, when skipping more than three songs using the headset's controls. Using latest Preview build, with cyan firmware on my lumia 520.

Thanks for the extra info. If I can't create a repro myself for our developers to check out, I'll be back for more info. :)

"Now playing" list on my Lumia 925 takes time to load & the worst part is that while scrolling, the list jitters a lot!!!(I only have 85 songs on my phone). I'm running latest build of developer preview with Cyan. Fix it pls!

Do you have the latest version of the Music app?

Yes, I do. Several soft formats didn't solve the problem as well.

I have more more than 600 songs and no it loads quickly..

Hey I have 2381 songs in my sd card and it plays every song perfectly there is no lag but only one problem is that, it loads 100 songs in now playing. I'm using L520 with latest preview for developers update.
Xbox music no problem for me.

My friends Lumia 520 has around 800 songs on sd card, and Xbox music works flawlessly on his device. I wonder, if there is some optimization issue on Lumia 925 or should I try hard reset?

Yeah but one thing is that don't back up anything like games and apps only get backup of your SMS and contacts and reinstall all apps and games freshly from store, don't from backups because backup app contains some errors they may cause same problem as before.

Hi @Ellen add the album art for local songs too in Xbox music app like online songs... That would be better ... And remove the resume lag and full support for wp8.1 like facebook so work on ...

hi Ellen.....
xbox music has good potential,good design too.... but two major problem..... 1st and mighty problem - app opening speed,its really annoying , and 2nd is - we can't delete recent play list .... this is also big irritating thing. we want a fully functional native music app and super fast too.... please fix in next update.

Mind you, developers are not god, they are humans too. How often do you come across developers that update their apps on a weekly basis. That is truly commendable from my point of view. If only I could have gapless and smooth playback on my xbox music no matter how long I play my music, I would be content. Xbox video is near perfect as it is after the fix for me, just that rendering 1080p videos is a bit sluggish on my 1520. 720p works just fine. Thank you xbox team.

The music I saved onto my SD card. I tried factory resetting but the problem still persists.

Xbox music team should have added album art support to countries where the is no Xbox subscription....I am literally waiting for this...

Seems faster. Actually it is. It took forever to load my video collection in the last update.

Please Microsoft release a music player that's included with equalizer.

There is the equalizer in the System settings.

This equalizer and Xbox music playing very bad and I hate the music player.
if I use another music player its play Xbox music it is the windows phone limitation.
so please Microsoft release a new music player otherwise solve the limitation problem to wp developers make a good music player ex- android music player.

Oh nice, unless you're in an unsupported region. The app does nothing but keep loading, I no longer see my local videos. I have to rely on the files manager from now on ​ ​

Are you sure you're on the latest version? Try forcing the update through the Store app settings.

Sorry,​ I thought the talk was about the last update I got a couple of days ago now its fine, thanks ​sorry again to trouble you

What about Music? It should be updated in the same manner.

Awesome....I use a Lumia 1520 updated to 8.1 and FINALLY all my videos in one place!!! Hallelujah!!

As soon as KMPlayer launches its app, I'll install it

Wow , this is really good update . Thanks Ellen :)

ZUNE! Download it for free for the desktop.

I got update really fast from India.
Thank You

While Xbox Video isn't available in many regions, why doesn't Microsoft just releases a basic Video Player App? Oh c'mon, even you people know we don't have a wide range of alternatives to choose from when it comes to Music and Video Player apps. What the fuck. They r just the most, very most basic functionalities of a **smart phone**. Really frustrating.

Guys some one can help plz. Some of apps including like Xbox video is not updating

What happens when you try to update?

Plzzz tell us why is it taking too much update and time even to add basic functionality to this app..???

I want vlc man please hurry it I can't wait

Still no update for xbox game. Make its tile transparent.

what about the glitch sound while scrolling its still there or fixed???

Finally. The app was painfully slow to launch

After such a long time,it's actually working

finally Xbox Video app cured 99.99% .....now time to fix Xbox Music 99.99% too in next update ....

MS know how to make app bad from total sh*t.
Xbox video is an example

Oh so, you're now here trolling! Because WMPoweruser is a smaller community, everybody there already knows you are a troll so now you're here spreading your Microsoft hate!

Too little, too late. Hoping for VLC.

This app is a shame.. Why does it even exists.

Still doesn't do me any good...

Cool, but should bring MKV file support as well....

i think it already supports mkv since last update

viber haves an update that is broken and says your not able to install

Who the hell cares about the speed when after multiple updates you still can't scrub the video, I.e fast forward, rewind

I don't see the movies I rent via my laptop on my phone. Collection is empty.

I can't delete video files which are saved in my lumia 1520 SD card. There's delete function but it's not working.

XBox Video now opens much faster and performs much better! Now please update Games App for both Windows and Windows Phone.

The video player is still a train wreck compared to the defualt system one. They still haven't fixed the video background being gray or the zoom button only cropping off the right side of the image. Slackers.

Yeah this. The zoom button.

Wow hardly ground breaking.

How about xbox music Microsoft, the app still sucks

Hey just reset your phone and get update Xbox music it will work smoothly as same as windows phone 8 really. before the resetting mine was buggy after resetting is working fine.
don't forgot that all songs should be in music folder only

Its fine .. But I m waiting for vlc
.. Can't wait baby...

Now we need an update for windows central.

Everyone has really forgot about the Xbox games app.... It takes a life to update nothing but the games that are already present in our phone. It loads the avatar every time we open the app.. It's buggy fills with lots of updating and sliding glitches... That wasn't the case with windows 8

You're completely right. Games only got worse. Especially with games also showing outside the gamehub.

I just thought this might be the thing I complained/chatted on WPSupport agent where the app is struggling to load for unsupported regions. I get "tv" "my videos" & "camera reel" when connected to the internet. Then only "my videos" & "camera reel" when not connected to the internet. Well, thanks MS! :)

There's no update according to the store in my region. I'm definitly not on the latest already.

So. It was there before i even could blink. Thats how I like it. Keep it up. And next indeed Xbox Music. Thx u MSFT.

They've had 15 cracks at XBM and it's still a mess.

True. You might ask yourself if these teams collab with each other...

Early next week VLC, where is it ?? Its mid of the week. :(

Great work Microsoft. Previous update screw it up and app was work only with US region otherwise it was slow like a snail. Now it´s working again thank you!

i'm having trouble updating Video app. it downloads and starts installing but stops with "attention required.tap here" message and nothing else. all other apps update without problem. i'm using Lumia 1020 with Cyan

Tap and hold>cancel it and update it

Launches faster. Hey they said it first.

i was hoping for xbox music update because it still runs so slooooww

Ellen I don't know if ur still listening but is it possible to have a search button for our personal video collection. I have 450 videos and Xbox video only gives option of searching by date/name. Even when its name there are no letters to choose from!

Great, now all that remains is for the option to rent new releases and lower current rent prices and improve audio quality. Only then will xbox video pick up the quality it needs to be. Speedier playback is something that should have been part of the first release of xbox video. I'm sorry, but that's the reality, and I'm noticing that xbox video is losing traction for me over the competition such as netflix, mejane.com en pathe home video. The only good about xbox video is the HD video quality. Netflix has far better audio quality than xbox video.

It doesn't update.... Showing an error

Yes much faster and camera roll is no longer called camera reel

Faster... yes! When you put the phone offline! This issue is not resolved yet...

Still not loading online content :/
Windows Central Newsletter
Get the best of Windows Central in in your inbox, every day!
Thank you for signing up to Windows Central. You will receive a verification email shortly.
There was a problem. Please refresh the page and try again.