The US Lumia 950 XL now has double-tap to wake firmware on WDRT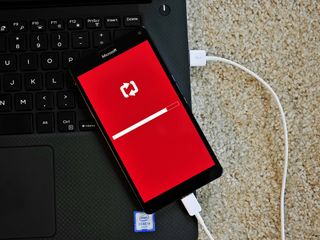 Following on the heels of the unlocked dual-SIM Lumia 950 (NAM CV) the Lumia 950 XL dual-SIM sold in the US (NAM CV) is also now getting the new 16236 firmware through Windows Device Recovery Tool (WDRT).
Firmware version 01078.00053.16236.35006 is now listed as an update from the previous 16025.xxxx version. The 16236 series is the one announced by Microsoft on July 7 as bringing double-tap-to-wake along with numerous other fixes.
The full changelog is below:
Wi-Fi connectivity improvements, including fixes for Wi-Fi connection dropping randomly and Wi-Fi scan occasionally not returning any results.
Support for double tap to wake enabled.
Bluetooth connectivity improvements.
Stability and reliability improvements.
Camera improvements, including improved image and video quality, improved Auto-focus and fix for a problem that was causing slow motion capture to skip frames for some users.
Cellular connectivity improvements, including fix for a problem that caused occasional network loss for some users.
Audio quality improvements, including fix for a problem that caused voice call audio to get scrambled for some users.
Users will need to wipe their device and install Windows 10 Mobile 10586 (non-Redstone) to get the new firmware. We should also clarify a few things:
The update is not yet available over-the-air, but likely will come in the next few days
This firmware is not for the AT&T-branded Lumia 950 single-SIM model
Your best bet is to wait a few days for the update to come over-the-air (OTA). You will save a lot of time and effort in not having to reinstall all your software, apps, games, and personalization. The OTA update applies to those on non-Insider phones and Insider ones as well, so there is no need to rollback. However, if you want it right now, you can do that if you have the time.
No word on when the AT&T branded Lumia 950 will get the firmware, but it is likely timed with the Anniversary Update coming on August 2.
For more information on rolling back your phone, you can read our guide "How to roll back Windows 10 Mobile from Fast and Slow Ring to Production Release".
Thanks, everyone, for the tips!
Daniel Rubino is the Editor-in-chief of Windows Central, head reviewer, podcast co-host, and analyst. He has been here covering Microsoft since 2007 when this site was called WMExperts (and later Windows Phone Central). His interests include Windows, Microsoft Surface, laptops, next-gen computing, and for some reason, watches. Before all this tech stuff, he worked on a Ph.D. in linguistics and ran the projectors at movie theaters, which has done absolutely nothing for his career.
Very tempting, but I think I'll wait for the OTA update. I would guess that it wouldn't be long now...

I already received it OTA a couple days ago in USA on unlocked dual sim. Had to turn it on in extras info screen.

Weird, I haven't gotten it yet on mine.

I'm on production branch. Two of my devices actually received it. White one and black. Both on t-mobile.

I'm tmo unlocked too. No dice

NAM VR is North American Variant

Still waiting in Canada for the OTA update. Cant wait for double tap to wake.

This happened yesterday but yes, it's there. I'm very happy with the WiFi fixes but can't get back in to the habit of Double tap to wake. X2 sim 950XL north America.

Any News on Push Date?......

Hope they will give firmware update for lumia 640 too. Camera is very frustrating in windows 10

What's wrong with the camera on 640?

The 950 variant was made available three days ago. Still not available OTA. Can we assume that this will not be available in a few days either? Wait a week, sure... But longer than that, mat be worth to go through the effort of refresh now. That "few days" is pretty ambiguous.

If we had something more definitive, we'd let you know. It varies from time to time though. Either way, it is usually not a long time between WDRT and OTA, but Microsoft could theoretically time this with the Anniv Update making it two weeks.

I am suspecting you're right...firmware will be pushed with anniversary update...

That would make sense... With anniversary update. Would be nice gesture for insiders to have it now. Oh well

It would except ppl r already getting it lol...... So yeah. Wasting your breath.

Just hoping ATT releases the firmware in a timely fashion unlike before where unlocked variants were 3 updates ahead by the time they rolled up.

Got it as an OTA update yesterday in Nigeria on my 950 XL. Works when you double-tap slowly. Better than none anyway.

Still nothing in UK at present. Haven't heard of any other EU country either....at this rate there will be a Win tenexit

I got update in UK on EE for Lumia 950 on Wednesday.

Can't they push out an update? Regular consumers won't go through WDRT to get Double Tap To Wake

Just wait. The OTA update will come through in due course Posted via the Windows Central App for Android

Like Daniel speculated, they may be tying this with the Anniversary update. ;) Regular consumers generally don't go through Insider builds either.

Whose in charge of the OTA updates? Microsoft or the carrier?

Microsoft for their unlocked devices; the carrier for any locked devices.

Actually I get all OTA updates from MS through insider. It's a loop hole MS made on purpose when WP8 came out.

I need that wifi fix on my AT&T 950 so bad! It's showing "no internet" on & off since February, and cost me a lot in data overages. Microsoft doesn't seem to care.

I remember never getting 16082 on my 950 XL until I flashed back from Redstone builds back Threshold builds. I did that about a month ago. Was 16082 ever meant to be OTA, as it seems the article is pointing out 16025 was the previous build? I am conflicted, because I would hate to wait for the OTA update, and in the meantime get Redstone OTA, but never the firmware. Flashing back to Threshold for the firmware after having updated to Redstone would be a complete pain. Also I don't really want to get on Redstone until I have the WiFi fixing firmware, but Restone is fast approaching...

Yeah, I don't recall getting 16025 OTA either, but did find it on WDRT. I don't think it was a critical update.

01078.00038.16082.360xx firmware release (March 2016) for Lumia 950/950XL. Combines fixes included in 01078.00038.16025.390xx firmware and10.0.10586.107 OS update for factory and repair channels (including Windows Device Recovery Tool). Not available via Over-The-Air (OTA). https://support.microsoft.com/en-us/help/20513/firmware-update-history-f...

16082 for NAM CV was put on server just 2 day before the 16236.
In for all other country/region , 16082 was put on WDRT back in March , but never to OTA since it is just a combination of FW16025 and build 10586.13080, so it wasn't something new. and very possible there would be a combination FW out after aug 2 as well.

Just bought the Lumia 650, my first day today and already missing this feature :/ Will double tap to wake be available on L650?

Support for the 650 had not been announced. We just don't know.

Good news. But I'll wait for the OTA update.

another windows 8 feature reintroduced, when are we getting something new in windows 10, I have a 950xl and a garmin 235 and they still won't sync it's just ******* me off and i'm a fan of windows 8 but 10 is just not performing

I'm going to wait, I don't want to lose my Arcane Soul progress. Even though I don't think that game is an official port, I've hade a lot of fun with that game, even if the Run Command doesn't work.

Finally, but why the last 5 digit changed? I've thought 39005 is the country variant, but now become 39006

There has to be some way to differentiate it from the 950 firmware.

It not possible with the screen tech they used on that device.

I'll wait a few days for the update to come over-the-air (OTA).

Bout time! Now if only the MS store would have a non-bogo deal firesale on the 950 XL for under $300 I'd consider buying one.

I have one for sale but it's more than 300!

The leftmost number which changed is the logical one. x.00053.x.x vs x.00038.x.x Further right numbers different is insignificant when numbers on left also changed. #mathisfun

Got mine last night via OTA, Unlocked Dual Sim usa purchased through B&H, on att sim. So happy to have double tap to wake now, just need to get used to doing it again.

Already reset via WDRT yesterday and now back on insider fast. DttW is awesome! I missed it so much. Also, nice to not have Wi-Fi issues

Did it yesterday. Lucky me that I had decided to do it anyway and it was there. I was going to update my phone all the way form WDRT, OTA until the lastest update., just to get the firmware. The Double Tap does not do much for me, but I wanted the better Bluetooth and WiFi. After getting it from the WDRT I went back on fast ring. That raises the question: "Why in the hell we don't get firmware updates when we are on the fast ring?"

Ohh, come on already! I'm too impatient for this, lol

I bought my 950xl single sim early this month. Week or so later got frame ware updated.Now I have "top to wakeup and top to close active. Working excellent. Frame ware
updated thru recovery tool.

How do you know when a firmware update is available? Is there a similar notification in your notification center?

I updated the firmware via WDRT, which fixed the issue I was having with the headphone jack audio cutting in and out (and sometimes resetting phone). Glad I don't have to go to the local MS Store anymore to do an exchange.

Just received it OTA this afternoon... Was initially disappointed that my previous $30 Lumia 640 had double-tap-to-wake but this $650 MSRP flagship didn't. I hope it also fixes my phone's tendency to drop off of 5GHz Wi-Fi and require one to two reboots to restore. Anyone who hasn't gotten the updated firmware offered yet should check for updates and see if it comes in.
Windows Central Newsletter
Thank you for signing up to Windows Central. You will receive a verification email shortly.
There was a problem. Please refresh the page and try again.