The US Lumia 950 dual-SIM now has double-tap to wake firmware on WDRT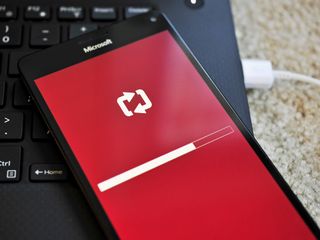 For those itching to get the new Microsoft firmware for their Lumia 950, we have an update to give you. For those who own the unlocked Lumia 950 dual-SIM model sold in the US (NAM CV) you can now reset your phone and get it via the Windows Device Recovery Tool.
Firmware version 01078.00053.16236.35005 is now listed as an update from the previous 16025.xxxx version. The 16236 series is the one announced by Microsoft on July 7 as bringing double-tap-to-wake along with numerous other fixes.
The full changelog is below:
Wi-Fi connectivity improvements, including fixes for Wi-Fi connection dropping randomly and Wi-Fi scan occasionally not returning any results.
Support for double tap to wake enabled.
Bluetooth connectivity improvements.
Stability and reliability improvements.
Camera improvements, including improved image and video quality, improved Auto-focus and fix for a problem that was causing slow motion capture to skip frames for some users.
Cellular connectivity improvements, including fix for a problem that caused occasional network loss for some users.
Audio quality improvements, including fix for a problem that caused voice call audio to get scrambled for some users.
Users will need to wipe their device and install Windows 10 Mobile 10586 (non-Redstone) to get the new firmware. We should also clarify a few things:
The update is not yet available over-the-air, but likely will come in the next few days
This firmware is not for the AT&T-branded Lumia 950 single-SIM model
The unlocked Lumia 950 XL dual-SIM (US) does not yet have the same firmware available on WDRT
Your best bet is to wait a few days for the update to come over-the-air (OTA). You will save a lot of time and effort in not having to reinstall all your software, apps, games, and personalization. The OTA update applies to those on non-Insider phones and Insider ones as well, so there is no need to rollback. However, if you want it right now, you can do that if you have the time.
No word on when the AT&T branded Lumia 950 will get the firmware, but it is likely timed with the Anniversary Update coming on August 2. The unlocked Lumia 950 XL (NAM CV) will probably come even sooner.
For more information on rolling back your phone, you can read our guide "How to roll back Windows 10 Mobile from Fast and Slow Ring to Production Release".
Windows Central Newsletter
Get the best of Windows Central in your inbox, every day!
Daniel Rubino is the Editor-in-chief of Windows Central, head reviewer, podcast co-host, and analyst. He has been covering Microsoft since 2007 when this site was called WMExperts (and later Windows Phone Central). His interests include Windows, laptops, next-gen computing, and for some reason, watches. Before all this tech stuff, he worked on a Ph.D. in linguistics, watched people sleep (for medical purposes!), and ran the projectors at movie theaters because it was fun.
So would it be fair to say that we should finally be getting this over-the-air soon too?

I say exactly that in the article ;) so yes. Could be a few days, at most a week.

Yeah, I misread the non-Redstone part slightly... brain fail.

I do that all the time also. No biggie.

how would people who have unlocked phones but no official support from carrier get the update? I have an unlocked Lumia 950 bought from B&H Photo Video and I'm in Canada with Rogers Wireless.

Windows device recovery tool

Don't do this, chief! - Wait a few more days. You don't need a carrier. Same phone here.

It's pushed out by Microsoft not your carrier then. So should still show up OTA or via WDRT.

If I'm having to reset my phone and redo everything, I'd rather skip this update entirely.

Don't worry, it goes onto WDRT first before going OTA (over the air). Wait a few days and you'll get this very update OTA.

Next wave of firmware updates is due tomorrow according to my information.

If on Everest could be both.

So the at&t branded Lumia 950 dual sim won't get this update, but the at&t Lumia 950 single sim will (eventually)?

There is no "AT&T branded" Lumia 950 dual SIM, only single SIM. All Lumia 950 and 950 XLs will get this firmware, but it is rolling out in waves, as evidenced here.

Ok, I was confused about the wording of the article and it saying the at&t branded Lumia 950 wouldn't get this. Thanks for the reply :)

I wasn't even aware that there's an AT&T branded dual SIM version... this was one of the reasons why I went with the unbranded, unlocked version

gosh, took them weeks to put it on US WDRT... I used it for weeks already.

It's been 11 days since they announced this.

lol, you're on a roll today :)

Oops sorry. My bad. I didn't know it was just released for 11 days. But I never press my power button since that day I hard reset my phone for this. Cheers guys.

That's 11 weeks in dog time, right? :)

I hope it come to the XL soon, I really want to try out the BT improvements.

Forget it, I'll wait. Thanks for the info Dan.

+1. Regards, another happy owner of a 950 ; )

Man, I was expecting something this Tuesday, here it is.
Are we even going to get any firmware for old Lumia too like Lumia 830, 'cause most of all have that WiFi issue.

Unfortunately older Nokia devices won't get firmware updates since there are way too many of them to go through -test and support. You can however upgrade to a newer Windows phone. The only support you're getting is W10M updates (for older Nokia devices)

Hmmm, to which one should I upgrade from my 735 and 640 xl? To 650 XL, 740,750, 840 or 850?

Lumia 650XL, 740, 750, 840 and 850 do not exist at all. You can however have these devices in your imagination. On a brighter note, it's best to get a Lumia 650 if you're looking for a mid-range phone or the Lumia 950 if you want premium features and new stuff like Continuum as well.

The other options are
- Acer Liquid Jade Primo
- HP Elite x3
- Lumia 640XL
- Lumia 950XL
- BLU Win HD LTE
- Lenovo Softbank 503LV
- NuAns NEO (see kickstarter campaign)

So I should upgrade 640 xl to 640 xl? Nice.

The gentleman you responded to was being sarcastic and full well understood that those devices exist. He said what he said with the sentiment that he has no options to upgrade to.

Sarcasm exists on the internet?! o.O

Have you heard of sarcasm? So I should upgrade from 640 xl to 650, to lose screen size, cpu and gpu performance, battery life, camera quality and what not? Nice advice.

ok then Lumia 950XL if you really care about screen size being 5.7"

He can't afford it. Thats why he mentioned devices that doesn't exist. (735 and 640 xl? To 650 XL, 740,750, 840 or 850?)

You can't expect from Microsoft as you can see. :P
They might have something for older lumia too.

This is great news. As you say, this normally runs ahead of OTA by a few days so will be looking out for that.

It's available on WDRT for the Canadian variant of 950DS as well.

What about UK, Is anybody getting it?
950XL unlocked

Same here. Unlocked L950XL in the UK but no update yet

Unlocked 950 uk just got it in wdrt


Ugghh, can't be arsed to do that. Hopefully the OTA update comes soon :-)

Still not here for me either (950XL unlocked UK)

it worth the hard reset your phone, DTTW is awesome on L950. guys u will love ur phone again! :D

How does it work with phone facing upright or facing down? L640 sometimes does not!

Oh my goodness, I cannot wait for this. This is a feature I have been missing so much since moving to the 950. Now we just need to get super sensitive touch back. When you live in a climate where we wear gloves 7 months out of the year, it is a very important feature. The part that bothers me the most is that they took these features out in the first place. Why on earth? I strongly considered leaving the Lumia/Windows system because of that.

erm, no sign of super sensitive touch. just DTTW.

Awesome, looking forward to the OTA for my 950XL when it finally goes live...

Wonder if the Bluetooth improvement will fix alot of the issues with the Band.

Perhaps some. Resetting and rebooting the phone made difference one time to me - only turning off BT in the Band did. So the issues are likely split.

I've already reset the phone three or four times.

I'm still waiting on the new firmware in the US for Lumia 950XL. Any ideas if this is normal and also what I should do if it's not?

Thanks. Few more weeks for anniversary update so will reset the phone through WDRT when OS also updated. Meanwhile, wait for OTA update. By the way, how you got the black theme on WDRT?

Or you could wait weeks for the firmware to come over the air and still be waiting.

Excellent news. Should be here any day now OTA.

WTF with this update? Just doesn't make sense.

Your comment doesn't either. What's your issue with the update?

Key takeaway from the changelog: WiFi connectivity issues are firmware, not software. I didn't know that. Now I can stop spamming Feedback Hub with this issue :)

Can't wait. One of the reasons why I got a 950!

Come on MS Need this firmware in the worst way. My wifi connect speed is only about 30% of my limit. And my camera has never been as good as advertised. MS replaced my 950xl I bought on Dec 23 because of rebooting problems. Hoping the firmware for my new 950xl will help it reach it's potential

Ahh, I just want it on my unlocked 950XL. Side note: Does anyone else have issues with the screen brightness adjustments since the latest Windows 10 mobile cumulative update? My 950XL doesn't seem to want to properly adjust to direct bright sunlight or a darker room. It makes it verry inconvenient to use the phone for GPS navigation or late at night.

I haven't had this on fast ring 390, but I did in prior updates.

Thanks, I'm in the release preview ring, but it's good to know a fix is on the way. Maybe the new firmware rolling out to my 950XL will fix it.

I am having the same issue. It doesn't adjust the brightness manually or auto. Need to restart whenever we change the setting. I think its OS glitch.

I restarted and it slightly fixed it, but it's not as good as it was before. Hopefully the Release Preview ring gets a fix soon. The new 950XL firmware could fix it too.

Waiting for OTA push, not worth to have to reset the device and restoring trouble just for one feature.

Patiently waiting......the Wi-Fi issue is eating up my phone data like there's no tomorrow :(

Once you have the new firmware... How do you enable dttw on a L950?

Apparently it is somewhere under Setitings > Extra

Or try Settings|Extras|Touch

When on at&t? Seriously though. This wifi bug.....

As much as I miss double-tap to wake, I don't even care about that at the moment; I just want this update in hopes the it might fix my connectivity problems.

"No word on when the AT&T branded Lumia 950 will get the firmware, but it is likely timed with the Anniversary Update coming on August 2." This means I should see it by November or December, hopefully...

So, once upon a time I had this Nokia 630, no front camera, no flash, no proximity sensor (but some touch thingy..) and it was at the very bottom of smartphones! Then I read this and question is.......?

I am getting sick of Microsoft! I am shifting to another os!

G'bye. Can I have your MS stuff?

Good news. Thanks. I'll wait for OTA.

? What happend to it arriving in a few days?

So where is the setting to enable this (DTTW)....? I don't see it under glance or lock screen... Yes I updated the firmware with the WDRT.

Settings > Extras > Touch. Slide the slider to enable DTTW under Gestures. Some have said that a reboot is required once the setting has been enabled. Nothing seems to have worked in my case however.

I am not seeing new firmware for my unlocked 950xl on WDRT. I am sick of Wi-Fi, random restart, Bluetooth etc issues. Had so much hopes on Satya Nadella. Looks like MS will never care for their dedicated Microsoft fans.

Double tap already in Europe too, with over the air update. Geee it feels good to have this feature back finally. 01078.00053.16236.35000 version Edit: Works like a charm right after turning this feature on.

Today, Wednesday 20th, I've seen 8 new updates appear on the lumiafirmware site. 5 are for the 950xl and 3 for the 950. The Nam version for my Microsoft store bought 950 xl is included among these! So choose your poison, WDRT and a reset or await OTA "soon".

Went the WDRT route and have no regrets. Funny thing is, I used to disable this feature on my previous Lumia phones. Now, I welcome it's return.

Not worth a reset. Will (im)patiently wait for the OTA f/w release....

Hurry please!!!!!! OTA!!!!

It took a long time via the WDRT, for me upwards of 2 hours, but I've finally received double tap to wake and restored my 950 XL from a backup. Remember to disable automatic backups once you're back on Threshold 10586.13 or your Redstone 14393 backup will be overwritten. From 10586.13 you have to update to 10586.494; thereafter you rejoin the Insider program fast ring to get back to 14393. Once there, reset your phone so you can access your last backup. Then you may want to sign back into the Insider program, fast ring preferably, to access some of the latest store updates. This is not for the faint hearted...

Updated yesterday with windows recovery tool , at first it didn't show clicked back then went forward and it showed up. I selected to setup as new phone without backup, when finished I did store updates, then checked for OS updates and updated. Everything working great. Went to (settings then to extras and then to touch and enabled double tap to wake the phone.) windows phone 950 dual sim unlocked. Love it.

Nice. Always good when these updates go according to plan.

01078.00053.16236.35006 is now on WDRT for 950XL Dual-Sim!

Just got the OTA on my 950XL Dual Sim US Version on ATT, 282.67 MB !!!!!!!!!!!!!!

I've got the same setup as you and no update yet.

Same, but bought mine from the Microsoft Store

Weird maybe just random then, I love it btw, one if my biggest misses from my 1520

Went the WDRT route for this one since my dual sim still didn't haven't. Only been using it today but I notice on screen battery usage improved. Averaging about 15% an hour compared to close to 20% I was using before. I'll take it!

Got it just now. (US MS Store L950 dual SIM not on Insider.)

Just got the OTA version on my 950XL Dual-sim in Canada

It seems NAM CV OTA firmware is on go!

Hmmm will lumia 650 get double-tap to wake on Anniversary update??

Microsoft, you have redeemed yourselves !!! You put the DOUBLE TAP to wake up back! OMG I'm a happy camper rockin my 950 XL FAITH REWARDED!!!!!!!

What does this double tap do? Just power the phone up? Why would I do that rather than just press the power button as I pick up the phone?

Latest over-the.air for me is ... .16025.39013 And latest WRT is ... .16082.36014 Anything i can do to get this new firmware?