Valve says it hopes Half-Life: Alyx is the return of the series, not the end
Don't get your hopes up for Half-Life 3 just yet, but we could be seeing more Half-Life projects in the future.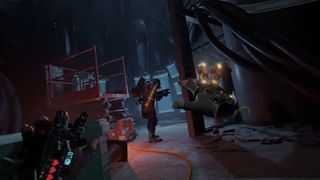 (Image credit: Valve)
What you need to know
Half-Life: Alyx releases on March 23.
This VR-only title is the first entry in the series in over 10 years.
Valve now says that it hopes this marks a return to the series instead of being a concluding chapter.
With Half-Life: Alyx set to release this month, Game Informer sat down with Valve to discuss why it needed to be a virtual reality title, a point that has been contentious among fans who wanted a full-fledged Half-Life sequel. Interestingly, in the interview, Valve developer Robin Walker said that the company doesn't view Half-Life: Alyx as an end for the series, but hopefully its return to it. And of course this question was prefaced by asking what Valve would tell fans who are hoping for Half-Life 3.
It's certainly no confirmation, but it's not nothing. Any indication that Valve wants to step back into this universe is a good one, especially given that Valve is actually releasing a new Half-Life game for the first time since 2007. The series long thought to be dead may have some life left in it after all.
Half-Life: Alyx releases on March 23, 2020 for the Valve Index, HTC Vive, Oculus Rift, Oculus Quest, and Windows Mixed Reality.
It finally returns
Half-Life 3, but its a midquel

Half-Life: Alyx is a bold comeback for Valve's previously-stagnant AAA franchise, described by Valve itself as its "flagship VR game."
Get Some Funds
Stock up your library.

This large sum of cash is the perfect way to allow yourself to indulge and grab some games from Steam— or help someone else to.
Jennifer Locke has been playing video games nearly her entire life, and is very happy Xbox is growing a stronger first-party portfolio. You can find her obsessing over Star Wars and other geeky things on Twitter @JenLocke95.
A series of VR and mobile games!

As in they have had no control over that to date?! I am excited for this game, but Valve should have completed the series and it IS their fault

Sadly not for me. By the time they get around to a real Half Life game with a controller I'll have 0 interest.

It IS a real Half-Life game. 12-15 hours gameplay is as much as Portal 2 or even Half-Life 2. I get that for you it is with a controller.
Windows Central Newsletter
Thank you for signing up to Windows Central. You will receive a verification email shortly.
There was a problem. Please refresh the page and try again.