Ventev Dura-Gel Case for the Nokia Lumia 920: Where the rubber meets the phone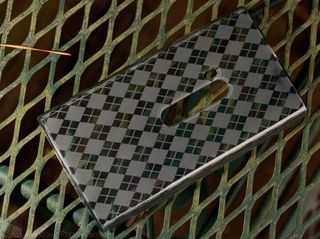 The Ventev Dura-Gel Case is a rubbery shell case for the Nokia Lumia 920. It is constructed of thermal formed, advanced thermoplastic polyurethane.
The Ventev Dura-Gel Case does offer a decent amount of protection for the Lumia 920 with regards to minor dings and scratches. The Dura-Gel won't offer much help from falls but it does offer a decent grippable surface that may prevent accidental drops. The diamond pattern may not appeal to everyone but the Ventev Dura-Gel Case for the Nokia Lumia 920 is a decent option if you're looking for a simple case.
The Ventev Dura-Gel Case is made of a flexible rubbery plastic that reminds me of those plastic rain jackets. Just a wee bit thicker.
The case pops on the Lumia 920 and wraps around the back of the Windows Phone extending to cover the phone's sides, top and bottom. Buttons are covered with rubber extensions and the case has cutouts for the headphone jack, micro-USB port, camera and speakers. The Ventev headphone jack opening is large enough to expose the top microphone.
On the down side, the plastic opening around the camera and light is too narrow. If you use your flash, the plastic reflects the light back onto the lens, giving your pictures a hazy look.
The case does add a smidgen of thickness to the Lumia 920 but not enough to be frustrating. The polyurethane plastic has a little tackiness to it give the Lumia 920 a little more grip. The case is smooth but not slick. The case feels durable and is compatible with the wireless charging pad.
All in all, the Ventev Dura-Gel Case isn't a bad option to consider for those who want a little protection for their Lumia 920. If you do a lot of flash photography, I'd look elsewhere though. The Dura-Gel Case is offered in two colors, smoke and clear, that both have the same diamond pattern. You can find the Ventev Dura-Gel Case here at the Windows Phone Central Accessory Store (opens in new tab) for $14.95.
George is the Reviews Editor at Windows Central, concentrating on Windows 10 PC and Mobile apps. He's been a supporter of the platform since the days of Windows CE and uses his current Windows 10 Mobile phone daily to keep up with life and enjoy a game during down time.
I'm glad it's a case for handling the phone rather than supporting the phone when it falls. I mean, have other case makers even watched the drop test of the lumia 920? :)

Don't take that test as gospel. My girlfriend's screen shattered when she dropped it.

I think I like it. I agree with ianwasheretoo. I need to protect my phone from scratches, especially around the camera plate that is prone to scuff marks. I'm a bit surprised at the opening for the camera of this case though. Its a problem especially at that price point.


yey! Yes!! Even though the screen is invincible... the body is slightly prone to scratches and scuff marks (which I really hate because I have a little OCD). I agree! The lens should be protected as well.

Still haven't found the perfect case :(

You don't have to worry about the black "metal" getting scratched. According to Nokia "it can only be scratched with a diamond" :D

I have this case. It is one of 6 I own. I like it ok. My issue is that the areas where the buttons on the side if the phone are quite stiff. It takes a little extra effort to push the volume up or down, or push the power or camera button. I have begun to think I like cut outs better for those areas. I did encounter the same issue with camera flash making pics hazy. This case fits better than my others, but that covered button issue leaves me using the others more.

I confirm, my yellow 920 backside and cameraplate are still perfect, no scratch at all, and I don't handle it with much care ;)

Yes the Lumia 920 is a tough cake and can take a fall and survive but people needs to remember it can get dents. My white 920 is dented all over from short drops. The polycarbonate body is malleable like clay.

I bought the Cimo S-lin case for my L920 and it also has the problem of giving off a very hazy look when the camera flash is activated. Other than that, a very nice case...actually got a couple compliments at local Starbucks drive-thrus flashing my phone to get scanned.

You can remove the plastic between the flash and lens with scissors. Fixes the flash issue.

It all depends on the angle you drop them. I dropped my 900 many time...nothing happens. One time I got into the car and dropped it ankle height my screen cracked.

I like the case but I prefer the natural feel to the phone. I don't change phones very often so L920 will last me about 1yr-1yr 1/2.

Even though I hate cases and don't use them, this is a great case. Great finding George. :)

I would love to have a really thin soft rubber case. A friend got one in the box with her 800. She only bought it a week or so ago.

ok, tpu cases, just call them TPU cases, i have one on my lumia(fosmon s line) and i just dropped it through my engine block on my 97 silverado (trying to fix the 4wd) and it fell out of my shirt pocket(i also have an armorsuit military sheild) and that was a 6 foot drop onto concrete, not a scratch, people always underestimate the impact reduction of these cases. theyre awesome

I had a case like that for my old Focus Flash. It's nice without being overstated.

is it really just me or is that one of the ugliest cases one's ever seen?

Own it, bought it for around $7.50ish on ebay about a week after launch. Have the white L920; this case creates minor protection without compromising too much space, and gives a very subtle look to the phone. Now looking for a comparable case with a more masculine look for my significant other, open to suggestions

Oh, btw, had my second L920 for about a week, maybe two when I noticed a small chunk missing out of the bottom right corner, no drops or anything! Its so small I'm thinking it's a possible defect, but also- have noticed a few VERY minor scratches on my white Lumia; would recommend a case for anyone who would be bothered by surface scratches on the ceramic back, because you will get them, however small, despite how careful you may be (only keep phone in side pocket of purse or pocket, aka no keys, etc.)

My Lumia 900 went around the world was drop heaps but was almost scar free when I replaced it with a 920. I gave the 900 to my auntie as an upgrade for her 720 - it lasted six hours! She dropped it onto a concrete floor, landed on to top right corner and cracked the screen! Put an end to my bragging how tough the phone was.
Windows Central Newsletter
Get the best of Windows Central in in your inbox, every day!
Thank you for signing up to Windows Central. You will receive a verification email shortly.
There was a problem. Please refresh the page and try again.