VeraMobile Beta for Windows Phone 8.1 and Windows 10 connects to Vera smart home devices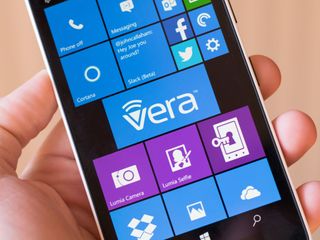 Vera, a company that makes smart home devices, has recently released a beta app for Windows Phone 8.1, Windows 10 and Windows 10 Mobile that will allow users to remotely control those products.
The app does require a Vera Smart Home Controller in order to operate. Here are the app's features:
Control your front door, monitor your home and property.
View security cameras.
Automatically turn on your lights when a sensor is tripped.
Enjoy peace of mind knowing your door is locked, and your home is safe and secure.
Expand your system to include a wide variety of certified partner devices.
Keep in mind the app is still in beta, which means users can expect some bugs to pop up. You can send your feedback over to winbeta@getvera.com.
Thanks to Andy O for the tip!
Download VeraMobile Beta for Windows Phone 8.1/Windows 10/Windows 10 Mobile (opens in new tab) (Free)
Check out the VeraEdge Home Controller at Amazon (opens in new tab) ($149.99)
Wink needs a universal app!

Keep them coming :) Thanks for supporting Vera. Your application made me know about your company and check out your hardware for future purchases :)

Same with me! It looks interesting =).

Same here I'll be supporting these guys

Awesome! Let's hope they eventually (sooner than later) bring it out of beta with feature parity with other platforms.

Any news of a Ring doorbell app coming to Windows platforms?

Been raining apps past few days

Its awesome, I was hoping Windows 10 would have this effect on the app store.

And think, hardware hasnt even really hit shelves yet. Wait until this holiday season and see how many users move to Windows 10 =D!

It's nice having the same apps everywhere. It's been a while since I've new apps come to the store everytime I open WC

The Vera Edge is awesome. A few recent break ins a few months ago has now brought us a cool home automation/security system under Edge control. Love it. This app just makes it better.

Grasshopper is a good Vera app as well

I agree Grasshopper is pretty full featured

I've been looking at Vera. This makes the decision easier.

This is great! Been waiting for a native app! Was thinking of switching off vera/mios but this has me satisfied again!

This is by far the best smart home hub. Best support and most flexible. And now finally with official app support. Although grasshopper unofficial app is also awesome, it's always good to have and official app.

Vera is a nice system for tinkerers. I highly recommend you buy the Pleg plug in to have advanced if then logic. Monoprice is your friend for cheap devices. Oh and most of Lowe's Iris hardware is zwave and supported by vera.

Just a heads up. The app works great on Windows 10 and the developer is releasing Cortana integration here soon too :)
Windows Central Newsletter
Thank you for signing up to Windows Central. You will receive a verification email shortly.
There was a problem. Please refresh the page and try again.