Verizon Lumia 735 passes through the FCC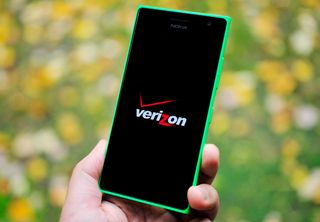 Earlier this year, we reported that Verizon's version of the Lumia 735 would be delayed until 2015. The device has now made its way to the FCC with the Verizon-specific LTE bands.
While the filing would allow the carrier to ship the device before the end of the year, it doesn't look like that will be the case unless the carrier announces otherwise. For now, Verizon's Windows Phone offerings are the HTC One M8 for Windows and the Samsung Ativ SE.
Will there be a significant interest in the Lumia 735 once it does make its way to Verizon?
Source: FCC
Windows Central Newsletter
Get the best of Windows Central in your inbox, every day!
Harish Jonnalagadda is a Senior Editor overseeing Asia for Android Central, Windows Central's sister site. When not reviewing phones, he's testing PC hardware, including video cards, motherboards, gaming accessories, and keyboards.
Another device for them to refuse to update and discontinue?

Given their track record recently, that will more than likely be the case

You'll also find it hard to find in store. Thinking of that reminds me of that HHGTTG scene finding plans in the planning office basement toilet.

Stole the words right out of my mouth

As an ICON owner and who runs an IT Shop with Windows Phones, it saddened me that I had to purchase a 928 instead of an ICON lst week. We need news on a new flagship.

You can still get an ICON at the Microsoft Store

whil you can get it at a microsoft store, amazon has them for 99 bucks. of course thats the 2year price.

when update cyan for lumia 928?

Sign up for the developer preview... I'm running it now on my 928.

You're running Cyan on your 928?!
I haven't seen that update come through on mine and I am running DP. How did you get the Cyan update?

He said CYAN, they're all waiting for that firmware update, not the OS...

Same here that's what I HAD to do

Got my 730 yesterday..awesome phone

Welcome to windows family. :)

Already a member.still loves my 520

I'm sure you're enjoying that front facing camera bro

I'm glad he can hear as well.

Should be. It's a great phone. Very well balanced.

The question is.... That phone will work with windows 10? Our we need to wait until April 2015 to see the new phones with that OS....

All phones getting the update

*eligible for the update I would expect the same waiting game as cyan

So we're getting a cheap device worth Dynan meanwhile Icon with black update gets discontinued at Verizon... The longer I stay with them I swear I get more pissed off

Yeah realized a bit too late. Denim.. Dynan.. Can't remember it probably because I won't see it on my icon

Its coming, but its slow. Seems like there is some kind of CDMA problem for Nokia at the moment. Contact of mine at Microsoft is saying it may come in November but is likely December. The delay in the 735 only reinforced the CDMA issue, as there is no problem with GSM

Well when they haven't worked with tech like that in like 20 years(amps) its no surprise

What does cdma issue have to do with Bluetooth LE or camera function? I see no reason for the delay.

Hi guys, if I buy a Verizon Lumia 735 outright, will it work on ATT/Cricket's LTE, HSPA, and Edge?

That's what I call faith, to talk about Denim without having even Cyan. Interesting

With their track record of updating Windows Phones, I don't think there'll be much interest from the enthusiasts here.

In love with my 730...That rear camera is seriously awesome with such low aperture !!!

No way. Verizon no longer credible in terms of WP

Pizza Steve couldn't have said it better...

People will still sign up with this hater of Windows Phones?

No. Windows phone people are on ATT. They care about Windows phone more than Verizon.

All carriers Please ? Especially att , it cares about WP

Verizon needs to prove first that it supports the other Windows phones in its lineup. But so far, that hasn't happened. Looks like AT&T is the only one to show that.

Sigh. I would buy one of these in a heartbeat with a camera button.

That is a weakness. Saying that if Microsoft add a camera swipe or button to the lock screen that would help a lot.

OOH, like on the tablet, we could swipe down for the camera instead of up for unlocking the phone... Why they haven't done that and picture password yet I don't understand. =[

Never use the take a picture of the inside of my pocket button personally. Well, except to take pictures of the inside of my pocket.

Not sure what you're doing that the camera button is getting pressed so much in your pocket... that's never happened to me once in my years with HTC Trophy, Lumia 920, and Lumia 1020. Can't live without the camera Burton!

No thanks, I'm still working with black on my flagship Icon.

What ever happened to Sprint getting this as their first Lumia?

Why does Verizon only have low end WP? Discontinued the Icon for this? Get a 1520 Verizon with 32gb...

HTC One (M8) for Windows, is on Verizon, and high end. Especially in the Windows Phone domain.

That is an awsome phone ..BUT, why they didnt put QI charging in it is the deal breaker for me.. ATT will have the HTC M1 and the Lumia 830 on November 7th

Can't have qi charging on a metal phone, that's why the m8 doesn't have it.

What... You mean all metal? I know both 925 and 830 have qi wireless charge and metal frames, but what you meant is an all metal body..? =D

He obviously is interested in a Lumia high end not m8. And the se is there also. It's comparable to the m8 spec wise as well

After the way Verizon supports the Icon....there is zero chance I will ever buy another Verizon phone

I want an ATT variant of this thing, dammit. Would be the PERFECT device for my daughter and her birthday is the end of this month.

Too little, too late, 2 more days and I am switching my 8 company phone lines to ATT and getting Lumia 830's to replace my 822 that Verizon wont update to cyan!!

Well 822 is ill equipped unlike 928/929 is frequency wise its like a transitional global phone. Im surprised their still committed to updating

Read the specs the 735 is horrible in comparison to the 830...glance screen, removable battery, just a few...

The 735 has a removable battery and the specs on it are pretty similar to the 830, except for the camera.

They have the same chip set. The 735 display has more pixels per inch. Also it costs much less. The 830's only clear advantage over the 735 is the rear camera.

My watch has the same chipset as well, which is kind of funny.

Both have Glance, removeable battery, & SD. Just the rear camera and 830 is 5 vs 4.7 on the 735.

Yeah, so that means only six more months until they release it and nine more months until they stop supporting it due to low sales because the reps in the stores talked interested customers into buying other devices.

I wouldn't purchase another Windows Phone on Verizon if they gave it to us for free and provided a $1,000 rebate on top! What Verizon has done with the Lumia Icon is nothing short of TOTALLY DISGUSTING! On top of the terrible update process for the Cyan and possibly Denim firmware updates, their lack of customer service in even providing ANY type of feedback regarding this delay is the WORST customer service support I have EVER experienced in the technical community! Verizon Wireless should be ASHAMED of the treatment they have given to Windows Phone users! Not only have they totally disrespected this customer base by keeping completely silent on this debocle, but now they have actually RETIRED the Icon! The only reason I am still with them is that I LOVE my Lumia Icon and I have HOPE that they will provide us with the Denim update before year end. If not, I will defintely be heading over to AT&T to get the Lumia 1520 and VZW can K-i-5-5 my A-5-5!!! I HIGHLY recommend that anyone thinking of becoming a Windows Phone user AVOID Verizon Wireless at all costs!!!

That's it in a nutshell. I can't believe Microsoft is still partnered with them.

Well... I certainly can't argue with any of that. Agreed on all counts. I actually wonder if the net WP sales from Verizon are negative because they drive so many people away. Maybe WP would be better if to just not offer anything on Verizon? Pretty sad state of affairs.

UPDATE: Well, it looks like I'll be heading over to AT&T for that 1520 after all. If the below article is correct, the 930 and the 1520 should receive the Denim firmware update this month. Not a word about the Icon. As I have stated all along, if the 1520 gets the Denim update before the Icon, I'll be leaving VZW, dumping my Icon and going to AT&T to get the 1520. Looks like that might be coming to fruition. I'll be losing the size I like, but gaining additional storage, Glance, double-tap to wake, and with Denim "Hey Cortana" capabilities. Since AT&T's network is actually better in the New Orleans area than Verizon's is anyway, won't be losing any signal strength either. Maybe it was meant to be. http://www.ibtimes.co.uk/lumia-denim-update-lumia-930-lumia-1520-start-this-month-1473254

I love how an carrier, a company, and an developer can dictate on what device I want to use.

Giving the 735 to Verizon is a waste of a perfectly good phone, particularly if it's a carrier exclusive. The 735 looks like the highlight of 2014's Lumia lineup. I love the classic Fabula design, and the price point makes it a good value, arguably better than the 830. Giving it to a carrier who's sales staff just don't care about Windows Phone, even actively discourage people from the platform, is not a good idea if it means keeping it away from Tmobile, Cricket and AT&T salespeople who actually do sell Windows Phones.

What is the point? Can they discontinue it before they sell (or in their case not sell) it?

I want this phone on AT&T

I'm just glad that Verizon is getting some colorful phones. No offense to anyone, but I don't like white phones.

Verizon is dead. It's to big and to slow to move with the rest of times

I wonder if they'll do it either on their prepaid services or if they'll do something like up the storage like they did with the 822.

Get it while it's still here. Only at Verizon!

Wasn't this the year they were to stop developing dual mode handset's? Not mention lte roaming outside of US

Not interested in anything from Verizon.

I want this phone on t mobile...

Hopefully they don't kill the phone by pricing it too high like ATT did on the 830.

My contract is up in January so if it's around by then I might get it but only if it's free with contract. I won't pay $100 for it. When the 928 was new I paid $100 for 32 GB so I will never pay $100 for 8 GB. I'd rather spend $200 on an iPhone. I hope they figure this out.

I have the 928 and don't want this particular Lumia. Would the HTC one m8 be a fair upgrade? Any current users comments? I'm a musician, so sound is important to me!

you would not notice a performance upgrade from 928 to M8 if you currently use dev prev Some software changes and camera would be a downgrade. More like a fair trade with a 2 year contract.

Thanks for writing! Yes, I'm up for a two year renewal, the m8 is $99.00 on Verizon now. If it was free, I'd definitely get it! With no high end phones coming, I'm not sure what to get!

¿WHAT ABOUT AN 830 VARIANT FOR VERIZON? ANYONE HEARD?

Hi guys, if I buy a Verizon Lumia 735 outright, will it work on ATT/Cricket's LTE, HSPA, and Edge?