Verizon Lumia 735 pricing and color options revealed, including red and cyan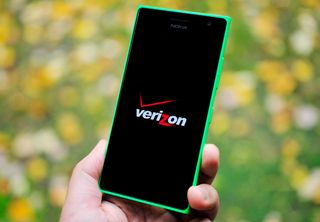 Verizon has yet to announce the Microsoft Lumia 735 (the Nokia name has been replaced). However, the phone is expected to go on sale this Thursday, June 18.
Some new information has surfaced about the device, including its potential price and some surprising new back cover colors!
Pricing
Windows Central has one report that states the Verizon Microsoft Lumia 735 will cost $192.00 for full retail and $8/month for 24 months on EDGE. We have not yet seen the actual pricing details ourselves. However, this sounds within the likely range for this phone.
Availability
We have heard some mixed messages about sales of the Lumia 735, including only direct-fulfillment. This now appears to be temporary. The latest intel we have is the Lumia 735 will be on sale via Verizonwireless.com and Direct Fulfillment on June 18, 2015 and through All Channels (retail) on July 9, 2015.
New back cover colors (including red!)
In a new image obtained by Windows Central, we can see some of the accessories Verizon will be selling for the Lumia 735.
Although the phone comes only in Black, users will have the option to purchase removal back covers with different colors. More interestingly, the green looks to be more 'mint' colored from the image and now there is a red option as well, which seems apropos for Verizon. In total, there are six color options:
Black (in-box)
White
Red (new)
Orange
Green
Cyan (new)
There are also references to the device as 'Lumia Leo', however, this looks to be just the carrier's internal name for the device and not the one used for marketing purposes. However, until Verizon announces the device themselves, we cannot rule anything out just yet.
The Verizon Microsoft Lumia 735 is expected to ship with Windows Phone 8.1 Update 2 and will be upgradeable to Windows 10 Mobile later this year.
About the Lumia 735
The Lumia 735 is a mid-range Windows Phone with Verizon's CDMA and LTE bands on board. The phone features a 4.7-inch 720p OLED display (1280 x 720), 1.2 GHz quad-core Snapdragon 400 processor and 1 GB of RAM. It comes with 8 GB of internal storage, which is supplemented with micro SD card. For cameras, you are looking at a sharp 6.7 MP shooter with ZEISS optics and a f/1.9 aperture. LED flash is also included. Up front, you'll find a full HD 5 MP wide angle f/2.4 camera. The Lumia 735 is capable of wireless recharging (Qi).
Thanks to our sources, who wish to be unnamed, for this article.
Get the Windows Central Newsletter
All the latest news, reviews, and guides for Windows and Xbox diehards.
Daniel Rubino is the Editor-in-chief of Windows Central, head reviewer, podcast co-host, and analyst. He has been covering Microsoft since 2007 when this site was called WMExperts (and later Windows Phone Central). His interests include Windows, laptops, next-gen computing, and for some reason, watches. Before all this tech stuff, he worked on a Ph.D. in linguistics, watched people sleep (for medical purposes!), and ran the projectors at movie theaters because it was fun.
Does the 735 support wireless charging?

Beginning to boycott web-sites that auto-launch my app store. Shame WC is going to be one of them if it happens again.

Duly noted Posted via the Windows Central App for Android

It is probably gonna happen, so boycott away! Posted via the WPC App for Android!

Hmm, never happened on my end.

@Novron: (A) Have no idea WTF you are talking about (B) Later, gator.

I am guessing that he meant that your ads have some WP apps on the store, and are automatically hijacking the website and linking to the WP appstore.

Why are you being an asshole for? This person is a reader, take genuine criticism more seriously.

Bullshit, you know what I'm talking about. You have ads launching app stores on our devices. Fuck that noise, Bye and blacklisted on our servers.

the ads launch the app store? windows app store? which posts do this? i've NEVER seen this. which makes me think you're either a. full of it, or b. screen sensitivity is too high so your attempts to scroll are intepreted as clicks. but a and b are not mutually exclusive.

What ads? Buy and use the Windows Central app and you will never see ads!!!

The app is shit... Nowait it is not, the web page and the Windows apps are. Wcentral WP app is the least ridicilous and irritating way to surf this site.

I think the site is OK, but ad blocking is mandated at work, so...

Is curious that only the Windows App store actually costs money while the rest don't. I have adblock on my device so idk if the Android applications of a Mobile Nations have ads.. Hopefully they don't put them though... Posted via the Windows Central App for Android

Are the cover colors supposed to represent the Microsoft logo?

I hope it also comes with glance screen support. And I don't mind Verizon calling it Lumia Leo because they did call the Lumia 930 as Lumia icon

Oh no Glance? Well that's another epic FAIL! No Glance, no sale!!!

Make the 940 in red please. And the green here isn't the one sold overseas- this seems to be glossy green

I'm telling you, they're changing the green to be a "Microsoft Logo Green." Ever noticed the new red Type Cover seems to match a certain logo, too? I'm predicting a yellow and green Type Cover come Pro 4. If I'm wrong, oh well. Haha.

With black letters on the keys, oh my. TAKE MY MONEY

Great, but don't like that muted green and orange. The bright shades are a lot more stylish. That red option is a nice addition though.

Also interesting that only the cyan version has same-color branding. But man it would look so much better if it said "Lumia" instead of "Microsoft." Lumia with a Microsoft/Windows logo perhaps.

I wish it was more simple with just the Windows logo.

The green looks slightly different in person, but personally, looks awesome. Regarding 'bright shades' - they're related to the material itself rather than the finishes. This softer plastic feels better. In the end, a matter of taste, I guess

So this is actually the reason why Verizon took so many time to release it: They were testing the new back covers. :)

Good question. It looks to me like they made a late decision to reduce their high end offerings and add some budget models. Verizon end-of-lived the Icon early. They needed CDMA and XLTE to be added in and produced. Of course choosing colors can take a long time too.

Finally some phone news!!! Lol.

Direct fulfillment on the Lumia 640 on T-Mobile rumor, now this? Are they not going to sell a windows mobile device in store until flagship widows 10 devices?

Did you not read the part that said in stores July 9th?

My guess is that it is the next software version name. Black, Cyan, Denim... Leo

It wont be Leo. Firmware names follow the alphabet. The next one will start with E.

Amber, Black, Cyan, Denim. Next one: Emerald? Ebony?

The Nokia logo is gone though.

Yeah, the pricing doesn't make sense for a year-old phone that was already pretty low-end. You'd have to be crazy to buy this when you can get an Lumia Icon for about $200 on eBay,

The Icon on eBay is used and spending time hunting them down isn't worth it to me when I can order all at once for all my techs.

http://www.ebay.com/sch/i.html?_from=R40&_trksid=p2051541.m570.l1313.TR1... BUY it now, 250$.........well, that was really hard.......just shows how out of touch of reality that Verizon is. If you can buy the fastest and best Windows phone available for 50$ more off contract, its a no brainer imo.

$638 for 11 Icons for my techs? Ya no. The 735s are just fine.

Why bother with the 735 when the Moto E is only like $70 on Verizon? Is Windows Phone really so important for the work they do that it's worth an extra $1000+?

We have a internal app for the work they do.

Dude just because you see $250 doesnt mean its in a sealed brand new box. Show me a sealed box for $250

Exactly! Whats the point of making low, mid, and flagships tiers when they dont come out in time. What a mess!

This thing have an unlocked GSM SIM slot as many of Verizon's devices have?? Still not terribly exciting because of the 8G. That is just criminal IMHO. Just (re)loaded Win 10 on a 635. 4G gone right away. Just 3.28G left with the stock OOB experience. Can't cost that much to have the bottom end be 16G at least. Heck a single16G microSD is under $10 with an adapter. I know that's not the same, but this is memory bought in bulk, and I can't imagine the formfactor of a 16G whatever is substantially different than an 8G whatever. Would anyone complain if the price was $10 more and it had 16G, or $25 more with 32G? BTW, are we ever going to see another hardware shutter button? If not, maybe MS should adopt a lockscreen gesture to launch the camera as iOS and Android did to compete with pocket-to-picture.

Agreed! Every phone from here on out should be 32GB storage minimum. This is ridiculous!!

A good, fast 16Gb microSD will cost you more than 10$, c'mon...This is a budget phone, not an high-end/near high-end. Expect that there are things in which makers save a bit.

7XX is not really budget. Its midrange. It's always cost a lot(relatively). In the UK it started out as £130 then had a price hike every other month

Except this thing carries a lower-end SoC from a year ago. The SD 600 series is mid-range.

http://tinyurl.com/o5357tl point was that memory isn't particularly expensive, and I'd be happy to pay a bit more to get a device that isn't hampered right out of the box. Skimp on processers, flash, camera resolution, no front camera, no camera button, screen resolution....not ROM/RAM. ROM/RAM affects a lot of stuff. Ability to run apps, do updates, install some programs that need to live there. The additional ROM/RAM shouldn't even affect the manufacturing process. Not like a16G module is twice as big as an 8, or has twice as many connections.

I'm intrigued by this phone as an upgrade for my kids HTC 8x. But am I correct the camera is actually a downgrade from the 8x? Or is it possible that despite lower resolution the Zeiss optics could possibly make the quality better than the 8x. Unlike many, I'm not displeased with the 8x but screen size boost wouldn't be a bad thing just don't want to downgrade other (important) areas.

I own the 730 and the quality is comparable to my other phone which is a galaxy note

The camera in front is significantly better and the camera on back is slightly worse resolution but this is a Lumia which means it will likely still be a better camera. From what I read, this was a good camera for its price

Less mp's = not necessarily a worse camera. A lot of Android's have higher 'numbers' (in the price range) but awful sensors and mainly, awful software. I've seen supposedly better cameras from other budget phones, and well, let's just say megapixels are more of a 'size competition' than exactly performance.

Exactly. Queiroz is right. Look at the One M9. I think it's 16MP, but people say it's not very good at all.

That's true but it's all in the software. Posted via the Windows Central App for Android

I would miss my camera button if I traded my 8X for this.

If you are still into doing contracts with Verizon, check out amazon -they have the Lumia icon for a penny with a new contract. They run out of stock fairly quickly though.

RED IS BACK PLEASE LUMIA 940 IN RED

The cyan cover is really nice. I like that the branding isn't dark on it.

Don't know why they decided to change the green one's branding to dark, as when it was Nokia it was light :/

Love the green and cyan colors. This should be around $149 off contract. Maybe then I'd consider selling my crippled Denimless 830 and switch to this as a temporary device. Too bad I hate Verizon!

I like the red back cover!
To bad it has the Verizon logo too!

Wonder if we can get this working on att. Has everything but glance that I want

Wish the Microsoft store had unlocked 735s

Wait for a W10M device and be sure to get it from anyone else but Verizon. Shame on Microsoft for continuing to do business with Verizon and for making them the only carrier selling the 735. Verizon doesn't give a s*&t about thier customers and if Microsoft is going to support them, then the same can be said for Microsoft. This Windows Phone business continues to swirl in circles in the big smartphone toilet. W10M preview is a joke. App gap widens every month with more organizations dropping WP support. Microsoft continues to make exclusive deals with these deadbeat carriers. And everything is sugar-coated with chatter about Windows 10 and Xbox. Time to pull the plug on Gabe and find someone with some accountability. Today's headline of returning all of your devices to WP 8.1 to run the latest preview build should be proof enough. This Lumia and Windows Phone situation has turned into an embarrassing and unprofessional joke.

Dude, idk what your thinking. If Microsoft stopped doing business with Verizon then they would be alienating myself and alot of other customers. Your logic is skewed. Take a breath, relax, and rethink that.

I've been stuck on Verizon for years with a corporate contract. I've seen and been a part of the Windows Phone BS with them since WP first started and Verizon released it on the HTC Trophy. Both Microsoft and Verizon have had their share of screw-ups. I coughed up $500 for the ICON in 2014, only to see it dumped by Verizon 4 months later. I watched the Verizon Website dump every Lumia device in Q4 of 2014. Waited 6+ months for the Cyan update from Verizon in 2014. They never released it. Microsoft can deal with whoever they choose. But if they choose Verizon, they will lose. In 120 days - or thereabouts - the asshats at Verizon will be complaining that "they gave Microsoft and Lumia another chance, but the 735 was just not a big seller". No one needs a crystal ball to make that prediction. And if you are with Verizon as you state - you are already alienated as a Windows Phone customer.

Yeah, I've been alienated by Verizon...not Microsoft. It makes no sense for Microsoft to totally cut us out of the loop. Just poor business practice. You cant blame MS for VZ's short comings. I'm just happy that they are getting their phones on to Big Red. And I don't understand your gripe with rolling back to 8.1 to ge the new version of 10 preview. They gave us the choice. They said it would take longer to wait to just be able to update right from the current build. So to appease the ones in a hurry they came up with a solution. Kudos in my book. Make everyone happy. Those in a rush and those willing to wait. I have no problems with MS. Vz, yes I do. The app gap is bs anyway. Most peoples needs are met in some form...third party, etc. And MS has no control, and not for lack of trying. Unfortunately people like urself read or hear what they want without understanding the over all picture and then whine about it. That makes the platform look even worse. The platform needs support. Not grumpy old men complaining about nonsense. (not that I'm saying your old...just a metaphor). I've been with WP since the beginning (Sprint HTC Arrive). I have nothing but faith and continue to advocate for the platform in every way. VZ can lick it.

So stick with Verizon. Hope Microsoft gives them a special Flagship. And keep the faith. In the mean time, Samsung, HTC, LG, and Apple seem to be able to distribute thier phones at all of the US carriers, they have no app gaps, and their updates are pushed out by all carriers at the time of release. There's only one source to blame when they can't do what their competition is able to get done, and that is Microsoft. The platform is not improving, nor are the business practices, nor are the rookie mistakes. Microsoft needs to raise the bar, or pull the plug on their Lumia business and let Samsung, LG, HTC, Sony and others worry about the hardware while they focus on the software and OS. Ask for more and expect better or continue to keep your head in the sand.

Why don't you just leave if you hate Microsoft so much?

*shakes my head* alright man...if you believe that MS is to blame then it is what it is. But in the words of Jim Jefferies ".....Please know your wrong". Just jump ship if you feel slighted by them. I stay with Verizon cuz I love my Icon. No contract...if something better is available on another carrier when all the flagships come out by the end of the year, ill go there. But ill always go with Windows and I don't holds set backs in the US on them, when it comes to carriers and promotion.

Verizon is not going to release Cyan because they already have their Windows Phones on Denim or Update 2. They are the most up-to-date US carrier.
It's good to see Verizon getting some budget phones, which have been selling better than the high end phones they've been carrying.

I also have the Icon but I do not feel alienated. Sure they missed cyan but was spot on with denim. People tend to forget that. There also much to be said of ATT and the 830's denim. It was advertised with denim on the box and didn't have it and ATT customers have waited how long? ATT nor T-mobile covers rural areas as well as Verizon so personally I am happy to see Verizon pick up windows phones again. It means I have more choice if my Icon breaks. Posted via the Windows Central App for Android

Well I wouldn't say they were spot on. You needed Preview for Developers to get it. Their attitude towards WP sucks. But my point here isn't realy VZ. Its that this guy is slamming MS for carriers mess ups. My point is that as long as VZ gets WPs then I'm cool with it.

Lol truthfully I can't remember if I had preview for developers activated when I got denim but it sure branded with the bright red Verizon logo @ startup so I assuming Verizon had something to do with it.

Yeah...VZ ok'd it, but it came from MS's servers. Lol that is a bright red splash page. Lol

At&t will be selling the Lumia 735 too. It would seem that carrier exclusives are a thing of the past so no need to stress.

You have a source for ATT?

@MadDog Verizon most likely, believe it or not, designed this phone, hence the reason it's only on Vzw. You don't think MS designs these phones and then pitches them to the carriers, do you? The carriers tell MS what type of phone they want and MS builds them.

Sticking with qi at least Posted via the Windows Central App for Android

Btw Nokia's former design chief Peter Skillman has moved to Microsoft from Nokia (HERE). Nice to get some talent to Nandela-land.

Any advice here is appreciated.. Would thus be a suitable replacement for my mom's 8x and Aunt's 928? I'm gonna do a comparison myself, but any outside opinions are always nice to have. Thanx in advance.

Yes to 8x. 928 is better than this in most ways. This has a better front facing camera, and colors. That's about it.

Thanx. I figured the same for the 8x, and the 928. But since its for my aunt, I have to compare the specs. If they're not huge to the average user, the drops might be on for her.

Hard to compare but I will say I really, really like the Lumia 735 and can't wait for Verizon to have it (just so I can have this phone with LTE on it).

Expansys sells unlocked 735s that have all the necessary bands for T-Mobile, maybe AT&T too.

Im guessing "Hey Cortana" doesn't work with 735. I know it's got to be updated to Windows 10. Anyone know for sure?

Needs the 800 series processor

Yep, which the 735 doesn't have.

I like this phone and the red color is especially snappy. Priced pretty attractively too. Almost makes me wish Verizon were my carrier. But not quite. Wow Microsoft must have cut a deal for like a billion of those snapdragon 400 procsssors.

Well at least it's got some color options.

Lumia Leo? My guess is that it is the next software version name. Black, Cyan, Denim... Leo

Can you see the pattern here? Amber, Black, Cyan, Denim... A B C D. What is next?? I guess they wont skip all the way to L.

Can I use it here in Saudi Arabia? Is it unlocked?

Verizon is known for unlocked phones but the bands may or may not work. Check willmyphonework.net

There are unlocked 735's in Europe. There have been since... End of October, I'm almost sure (or beginning November). It just doesn't come with Verizon's branding plastered all over it :)

It's available here in Saudi since long time, Verizon's one is cheaper and it comes with update 2
I do like Nokia logo though :(

How thick is it with cover?

(assuming it's the housing and not additional cover) - fairly thin (although that relates to personal context) and pretty light

You are correct, the thickness will not change. This is a battery door replacement not a cover/case.

What the...?! You mean this phone actually exists and is going to be released? I'll believe it after I see it.

Are the new colours matte or glossy?

I'm buying this. That red looks great, hope the retail is actually that cheap

Man, THIS is seen as mid-range? I guess in a world with no flagships, it kind of is. No OIS, mediocre SoC, so-so display. I feel like it only gets the mid-range tag because the 9xx, 10xx, and 15xx lines are collecting dust, leaving the 830 as something of the WP flagship at the moment. That, and the entry-level stuff is making this look even better. This thing should have a newer SD 400-grade SoC, at the minimum, to qualify as mid-range. Then there's the fact AT&T still isn't getting a damned thing. I'm going to be using this 920 for the rest of my life.

Mine passed last year :'( cracked screen

Lumia 640... Compare the '35' and the '40', not the '6' and the '7'.

How dare he compare the improper iterations!

Not sure about that. 735 has same processor and memory, but has better front facing camera and an additional mike for the rear facing camera for better audio on video. Although the rear facing camera has slightly less pixels it also has a better Zeiss lens. Also Qi wireless charging. Posted via the Windows Central App for Android

640XL > 735 all day every day. Verizon is soooo disappointing. Why even bother releasing this phone now? It's a year late!

735 has AMOLED display, not cheap ass IPCS

Lumia 640 on cricket / AT&T for $129 no contract is 18965743335433 times better then this crap

But your forgetting one thing. The 735 will work on Verizon.....

Right but it would be nice to see Verizon pick up the 640 - 640xl for sure... I'd pick up the 640xl then for a backup immediately. Posted via the Windows Central App for Android

Can confirm cricket > Verizon. $52 for 5GB LTE or $87 (!) for 2GB on Verizon. Hmm that alone makes it an easy choice and when you add Verizon's disdain for WP its a no brainer.

Verizon LTE on straight talk is $45 a month for 5gb at lte speeds. I'll stick with it.

I wonder if those covers will be available to purchase overseas tho...would like to get that red one or any with MS logo tbh to have it with my Nokia-branded 735 :)

And soon the Red cover will go out of stock.

Low end device... My upgrade for a new divide is in 2 months and still no high-end windows phone for Verizon... Thanks...

Do they not offer the icon anymore?

I'd love to see this on T-Mobile

Wow! Red would be nice. Also like just plain black.

This is inane, they just introduced the x40 series.

I kind of gave up on Verizon carrying a new top end phone anytime soon. My contract expired recently and i ended up buying a brand new 822 for $79 to replace my beat up one off eBay. I'm happy and my phone has glance at least.

Who wants to yawn with me?

This may be the perfect midrange Lumia! Love the 4.7" screen and unibody (mini 1520) design with removable back covers and qi charging! But, I'm on AT&T :(
I doubt the unlocked versions are up to par for use on AT&T's LTE network. 735>640

Love the red, it was a shame that cyan, red, yellow, and magenta have seemingly been lost to the sands of time in Lumia colour options so its brilliant to see a couple of them begin their return.
I'm hopeful the red will also be available through service centres worldwide like the cyan one is. (Even though it's exclusive in the UK to Carphone warehouse if you go through an authorised Nokia service station you can buy it direct, along with any of the other colours).
What I'd really like to have seen here is the new cases Microsoft have built for the 535 and 640, with the front cover on too, they're really nice and save having to buy an ill-fitted third party case/cover.
Still, hopefully the Windows 10 launch will bring some kind of Lumia customiser that'll allow a wider variety of colour options you can just purchase directly.

Somehow I don't like Microsoft logo

yeah Lumia 740 is around the corner, and they launched L735 finally. Well done, verizon!

Which is the faster and more effective way to order - Direct Fulfillment or Web Order?

They sure know how to fuck a phone up with their big nasty logo all over the back of it.

Too late Verizon, I left you for cricket when they got the 640. You should have supported Windows Phone.

Seeing as were already moving into the x40 series Microsoft and Verizon really need to work on there product pipeline and getting these things to market and approved sooner.

Why can't MS release some new back cover colors like this for the Lumia 830 and carry them in the MS store? Yellow and Cyan would be awesome on the 830!!!

You mean Verizon will release a Windows Phone with a micro SD card slot?
*shocked*

Can i ise this on ATT for LTE/H/Edge?

What's going on?? I bought mine some 7-8 months ago. Is this stalling Verizon's or MS's screw up? What does selling old junk do to MS's reputation? Why do they even bother selling that old stuff? American mobile carrier business makes no sense whatsoever to me. And neither does MS's mobile revolution.

It gives them a reason to sell it for cheaper. And the cheap Windows Phones are the only ones that sell, so . . . Also, it's still a good phone, so I don't see a problem.

Verizon's device has a CDMA radio, yours does not. Verizon's will ship with update 2. Yours didn't (although it might have it now...). Rumor is that the Verizon device will support VoLTE - not sure if yours does. Oh...and colors...lots of them. :P

What they do is cripple the future sales of coming Windows phones by selling stuff that can be considered old (old as in "hey those guys got it ages ago! But now I'm stuck with this 735 for 12/18/24 months while he is at store at this very moment buying the new flagship! Fuck MS I go back to Android and pOS!"). As a European I've no need for CDMA and mine shipped up-to-date at that time. And if those colorful cases are the same that they sell in Europe, they're of bad quality when compared to basic dark one -flimsy and slippery and don't look that good in real life, IMO. Oh and mine also costed less, with no silly monthly fees attached. I really fail to see the logic in this one. Sell it while it's hot, otherwise not.

Could someone explain to me what direct-fulfillment is?

Love the fact that it is under 200 off contract. this is the first time we have seen cheaper phones on Verizon and is important for those of us with udp who don't want to spend 600 or more for a phone

Cyan isn't really new, it has been available jn the UK from Carphone Warehouse for a while now.

This phone seems like it's the Verizon versionof the 640. Will it be coming with a year of Office 365 as well?

Looks like it has 16gb internal...I got the full Verizon deck of slides...$192 is full retail...also seems liek a promo for 1 year of office 365...I will have mine phone tomorrow... If you call, you should be able to get an order thru

Do the model numbers mean anything? Asking because it looks like the specs on the 735 are better than my aging lumia 822. For $192 I could buy it outright and then buy the flagship later in the year whenever its released. Tough decisions to make. Anyone now if this would be an upgrade from an 822 despite it having a lower model number?

Love the subtle Verizon branding... always classy.

How does this compare to the 640XL? Any chance Sprint will pick this up? (Yes, I know I'm crazy for still being on Sprint).