Verizon is set to upgrade Lumia Icon to Windows 10 Mobile on June 23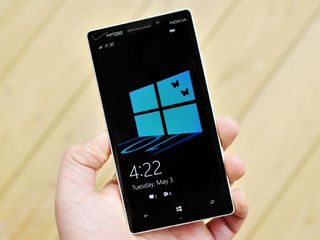 For those on Verizon sticking with their almost 'classic' Lumia Icon we have some shows news: Verizon is set to update your phone starting tomorrow to Windows 10 Mobile. This follows the recent Windows 10 upgrade of the other Lumia gem the Lumia 735.
The news was spotted by Benjamin C. and it comes from Verizon's own Advanced Devices - Software Update page. The listing reveals the Lumia Icon's "last update" as June 23, 2016 (aka tomorrow). Clicking deeper into the history reveals all sorts of Windows 10 Mobile mentions.
Update: A Verizon support engineer also confirmed the news with us that the update is indeed happening tomorrow
We recently did a mini-review of the Lumia Icon running an Insider build of Windows 10 Mobile and gave it a huge thumbs up. In fact, if you are on Verizon you should maybe consider tracking one down if you are still a fan of the phone and want Microsoft's latest OS.
Overall, tomorrow should be an exciting day, and we're glad Microsoft and Verizon came together to make this happen for users.
To prep for the update, you will want to download the Microsoft Upgrade Advisor app. The update will have to go through that app first and won't be a standard Phone Update check. After you get the official update you will want to check further for another over-the-air update as the Lumia Icon should go right to build 10586.420, but it will likely upgrade to 10586.318 at first.
Download Windows 10 Upgrade Advisor from the Windows Store (opens in new tab)
Daniel Rubino is the Executive Editor of Windows Central, head reviewer, podcast co-host, and analyst. He has been covering Microsoft here since 2007, back when this site was called WMExperts (and later Windows Phone Central). His interests include Windows, Microsoft Surface, laptops, next-gen computing, and arguing with people on the internet.
What's this "Lumia" you speak of??

Can anyone provide a link to the Verizon page, I can't seem to find it?

Just found it http://www.verizon.com/support/microsoft-lumia-icon-update/

Someone go grab Mary Jo Foley!!! (Curious if she'll move back to the Icon now...but guessing not)

I think that ship has sailed. She said she's open to going back if a new Verizon compatible phone comes out, such as a Surface phone, though.

I think Dan is the last windows blogger left who uses a Windows phone primarily

No, she left because of apps, and I don't blame her...

Not true...she left b/c the Icon was left behind originally...she'll stay on her Nexus 6P because of apps though. I don't blame her either...

She said this: "I got to try W10Mobile on loaner Lumia 950. It was ok. Android on phone feels more modern, up-to-date to me" https://twitter.com/maryjofoley/status/745757997528399873

A tear just involuntarily formed and I exhales. Now I will commence screaming and crying of joy.

Dude, just join the insider program.... SMDH

Been a part of the insider program, I'm on the latest. Don't assume or be a pinga... SMDH

Wow.....any benefit going to this upgrade vs being on the windows insider fast? I am on the latest Windows 10 mobile for the Icon and it's working almost flawlessly

If there is a firmware upgrade (doubtful) you will get it on Fast, Slow, Preview Release, it doesn't matter. If you are liking Redstone, then stick with it. No harm.

Yes and no? While it may get the firmware, there is a noticeable difference in smoothness between stable and preview rings

Do you get Hey Cortana? On my device at some point it started to say that the voice activation feature is not available for my phone.

Hey Cortana works, no issues.

Works for you on the Icon Dan, doesn't mean there are no issues. Other's with the Icon like myself at some point had the feature as it would seem turned off. Same thing with 5V WiFi. And I've done various resets, hard resets, windows device recovery, you name it.

You asked if I have Hey Cortana. I do and I have no issue with it. I made no claims about other people's experiences.

Danielle your running the Icon on the release branch right? If not I know with the newest Redstone builds we have lost the ability if you do a hard reset as it thinks the phone needs Cortana activated even though she is. If your on the release build, I know it's not an issue, but if someone missing the feature a hard reset will bring it back.

Actually I replied to dsdmarin, the question was for him.

On my Icon Hey Cortana is working just fine

There's no harm staying om red stone. What I tend to do on my main phone I use every day is switch to release preview when a big update goes out to the public, just until a couple of fast ring builds have made their way out. Right after a public update they generally switch to updating/adding features and it leads to more known issues - after a couple of builds things stop getting broken as often (its always possible that some important feature breaks though on fast, I lived with the groove play back issues, it wasn't nice but you accept that when you take the builds). I still went back to Fast soon after the last update, basically as soon as the Band 2 issues went away after a couple of initial RS1 builds. I always keep a test device on current build and a test device on fast along side my personal phone (for dev)

So in all seriousness actually, I'm already on 14371 so that's that, will there be a firmware update though? What I want is my damn Hey Cortana back and being able to connect to 5G WiFi. That's been missing from my Icon for the longest time now.

Only thing that won't be touched is the CDMA radio FW. Probable that whatever broke WiFi will be restored in the update. Not long to wait.

The 5 GHz band went away while on one of the much earlier preview builds on my 1520, none of the suscessive builds fixed the problem. I had to go back to Windows 8 using the recovery tool to get the 5 GHz band working again. Currently on the latest production preview ring build and it's still working. Haven't tried any of the redstone builds.

Seriously cool news. As Verizon is my only go to network I can only hope this is the start of more to come. Hoping the HP will hit Big Red.

Yesss. I so hope the EliteX3 will come to Verizon.

LMFAO!!!!! Youd better plan on going to your closest MS store, or ordering from HP's website.

Sure not at problem if it's Verizon ready!

I don't care where I order it from, just that it runs on the Verizon network. That said, lack of Glance makes me torn over whether or not to hold out for the Surface Phone.

Breaking news: Hell has frozen over.

Despite not fighting to get the 950xl, Verizon has been pretty good for me. I moved to Android (for a while) and my Note 5 and Galaxy Tab S2 both received Marshmallow pretty quickly. And now they are supporting my beloved ICON. If I didn't need (and require) the Alexa App and into Android Wear, I'd consider dusting off my ICON.

Why not the ICON and a Band 2? Posted via the Windows Central App for Android

I wouldn't know about hell freezing over. I'm too busy dodging flying pigs to notice... :P

dammit, I was gonna say that! Of course, it would hit sub-zero if they actually started selling another W10M device, AND you know, kept selling it for over a year. I almost bought an Icon, but by the time my contract was up, you couldn't get them directly from Verizon anymore. Not that when they did have them, the sales reps would let you buy one anyway....

I thought that happened Sunday night when Cleveland beat Golden State. What's next on the list of unprobable? Go Cavs!

50 years is a long time in sports, but 16 months in tech is like an eternity!
Maybe a Nokia come back from death leading OEMs to Windows huge grow in market and usage share to more than 2 digits!
I'd love to see that. I can dream, can't i?

Haha... Verizon will loose all it's windows customers now. Windows 10 = Android

u r right dan, win10 mobile OS is lame..... with somany improvements and even more bugs.... pity for people who purchased big phones like L950, L950XL and still got buggy OS.... people are paying $500+ for testing win10 OS... hahaha.... - Using Windows 10 on Nokia Lumia 730(10586.420)

Windows 10 = Android?? That can mean so many things... Please explain.

yes, all these days we were proudly raised our collar and said windows OS doesn't need big RAM's. with win10 OS its compulsory to have 1 GB RAM and higher processor..... where is the damn battery backup ? non-insider builds battery backup for most of the Lumia's is 12 hrs... lol...... Yes, Win10 has lot of features but at the same time somany, somany bugs..... non-insiders get updates like once in 1 0r 2 months and still no improvements...... these days android mobiles are getting 1 day battery backup for 2000 mah phones, but win 10 OS consumes more battery than android devices..... And this is for dan, windows central app crashes everytime when we scroll comments sections. just go to the store and see comments..... - Using Windows 10 on Nokia Lumia 730(10586.420)

I agree with having bug issues (running Fast Ring myself), but that's about it. 1 GB RAM is barely anything, my 640 runs fine on that. No way you'll find an Android phone that runs well on 1GB, let alone 512MB. My Galaxy S5A is almost dead at the end of the day with no use (I keep it on me for work e-mail, better camera, until I get something newer), while my 640 has at least 50% left using it as my primary device. And even with the bug issues, my 640 is still faster than my S5A with all of the lag. I have times my S5A can't even answer a damn phone call. That's unnacceptable, and the main reason I use the 640 as my primary device.

Has AT&T released this for the 1520 yet? I'm running the insider no problem but I believe that's the last major phone left for carries missing it or am I wrong?

Hey Daniel do you think Samsung will feel sorry for us Ativ guys and up the Ativ se to W10?

Funniest thing I've heard all day! Sorry, I'm laughing at your pain, that's rude of me....

The ATIV SE was my favorite Windows phone. I eventually had to sell it and pick up an Icon. For a while there VZW was the place to be with three high-end WP devices - M8, Icon, ATIV SE. Probably the best WP lineup of any carrier in the US.

I'm starting to think AT&T won't update it until the end of the world.

I'm still waiting for an official release from AT&T for my Lumia 1520. If it never comes I'll just leave this phone on 8.1 and wait until I purchase a newer phone to start using 10. I'd really rather RTM Redstone be my first experience using 10.

Nope. I haven't heard any news about the AT&T 640 XL being updated either. If I'm wrong, someone please correct me.

Now the real question will be if VZW has a newer firmware to push with this? Or is it just OS update?

While AT&T still not updating L1520...

I'm torn. I have loved my Icon since I got it with 8. Loved 8.1 denim. Have been on slow ring for the past few releases. Didn't want to risk my daily (and only) driver to be full of hiccups. I have really enjoyed 10 but things just aren't right. The first time I loaded 10 (10586 on release day) on it, I did a hard reset and it worked great. I have had maybe the last 3-4 releases (slow ring) no resets. After a while things just aren't right. Skype barely works, the keyboard doesn't come up 80% of the time in Edge, its not slow but it struggles more often than it should. Today I received emails on my SP3 and then they came through the phone about 15-20 minutes later. Usually they come up at the exact same time. Hey Cortana has NEVER worked since I got 10 and it worked about 80% of the time on 8.1 in the first place. Cortana functions and search crash probably 85% of the time. The last two updates have hit my battery hard. I can get through a work day no problem if its lightly used. If I talk a lot or use Edge, it goes down quickly. I know they said Health is a culprit and it did show so I tried to not open it. I have a Band 2 and opening the app is common so that's been a bummer. I have been questioning moving away just to get things fluid again. Do we need a firmware update to clean this up or am I missing a step somewhere? Those responding that their Icon works flawless or wonderfully is not my experience. Mine has been good and enjoyable but far from flawless.

I've had the exact same experience as you. Been on fast but have not done a hard reset in a while. May do one after next build if they fix battery issue. Also a band 1 user, cannot use Cortana through it to reply to texts and such. Main gripes right now are music play back and network switching like when I leave house in the car and it switches to 4g its not a smooth transition. What's new not working with apps like twitter in the people app and the general glitchiness you describe is the same for me. Hey Cortana does work but yeah about 50%. Hangs here and there on lock/unlock/pin. Still enjoy it but can get annoying, features are worth it for sure. Icon.

My Icon experience has indeed been flawless, but I'm on Release Preview ring. Maybe that's part of the difference?

I'm still on 8.1 and i'll wait a while before upgrading my Icon. My battery is bad, if it gets worse on 10 i'm thinking in keep it for good. Someone knows how to downgrade after officially upgrading? (guessing that the recovery tool takes you back to 10) I love so much my data (the one that cannot be backed up within the apps) that i'll refuse to upgrade if hard resets are needed, if it wasn't for that, i'd be on release preview ages ago. I tried 10 for a few days on a 920 (before they said it wouldn't make it officially to 10), i like it, but it felt like too much stuf missing and the battery drained really fast, even playing candy cruch handles to get it hot like lava.

The recovery tool will take you back to 8.1 if you find Windows 10 Mobile less than enjoyable :)

Probably will be upgraded to 10586.107 and then 10586.420 (people are having issues upgrading to .420, me too)

I got the .420 update a day or two ago. Att.

I just installed this and it was 420 without the 107 first. Sadly, no firmware update.

I would say check out the "Removed features: What do you miss the most?" post first. Windows 10 for phones isn't even better than 8.1. Not even close. IMHO.

Yeah, I loved not being able to add attachments to my email in 8.1. Awwwwesome! Or the horribly disorganized Settings page. Or the non-actionable notifications and text messages. Or the limited Tile sizes/layout/non-DPI settings. The promise of an 8.1 Skype forever over the new UWP one is also very tempting. the bi-yearly OS updates were pretty stellar. And who could forget how kick ass Xbox Music was? I also love how core apps could only be updated through an OS upgrade, and not the Store. Yup, 8.1 was the shizznizzle. No rosy glasses here.

Lol Dan nice sarcastic post

Lol I love you Dan, spoke my mind. Can't believe some people don't realize how much is in Windows 10 Mobile compared to WP8.1.

Aesthetically I like 8.1 better but it can't touch W10 in terms of functionality Posted via the Windows Central App for Android

While you're in a good mood please do an article on T-Mobile upgrading the 640 to W10M. Oh wait, you can't. They haven't... Why not. Any news? Posted from the Windows Central App for Android because I couldn't submit it on the Windows Central App for Windows 10. The "send" arrow is broken. Posted via the Windows Central App for Android (it's a long story)

Really?! Is that all you got?! Really?
No wonder Windows Phone is so crappy now. The promise of fast updates? What fast updates? I was going to give a long retort but if these are the best examples you can provide, well, I have been succumbed with laughter and realizing I can't argue with someone who's meal ticket is based on something they must support. Say what you got to say and believe what what you have to believe. My sympathies.

But you didn't actually refute his points and instead fell back on personal insults. It is a fact that Windows Mobile gets more frequent updates than 8.1 ever did - waiting months and months for carriers to push updates for basic fixes was maddening. And everything else on his list still stands as well as a few other things not mentioned, like the vastly superior file system. 8.1 was very good but it still had it's flaws (every OS does) and it was not as powerful as 10. While some features have been removed, I can't think of anything that actually broke the workings of the OS.

There were no insults. Just fact. Plus truthfully his points are weak. The point isn't about what W10 currently has it's about what it has removed which makes it less attractive to me and others. But as Paul Thurrott says: "I strongly recommend not installing Windows 10 Mobile on the Lumia Icon. This in-progress mobile OS is buggier and less stable than Windows Phone 8.1—though Icon users are no strangers to unintended reboots, to be sure—and I find it to provide a less cohesive and refined experience." Sorry, I don't work for a company that MUST say positive things almost all the time about something I cover. I don't, so that gives me the freedom to speak my mind freely.

I thought win 8.1 has very good battery backup but win 10 has even more battery backup.... it decreased from 24 hrs to 10-12 hrs, l got to purchase 10400 mah MI powerbank and carrying it bcz u know what ? win 10 OS consumes hell of a battery.... Almost every time my common apps are crashes and I need to soft reset my mobile to work those apps normal..... and bumper offer here is when u soft reset ur device sometimes SD card may get corrupted... so I have to keep regular backups in my PC, nice one.... extra effort..... we thought win10 gives us good app usage exp but u know what for 6 months old apps like WhatsApp and my local apps had severe scaling issues and navigation bar didn't hide, so u know what instead of using mobile app, I got to open MS Edge and use mobile version sites...... MS did give any solution for scaling issues in win 10 ? it simply asking developers to update their apps for UWP.... they never gonna do...half of my apps have scaling issues....... lock screen issue is still not fixed, sometimes when u tap lock screen it still shows blank screen.... hahhaa windows 10... windows 10..... Production builds are just equal to insider builds...... - Using Windows 10 on Nokia Lumia 730(10586.420)

Sounds to me like you are having problems with your apps more than the OS itself. While MS owns the OS, it's still up to developers to support their work and provide service to their customers. For me battery life is pretty good but you might need to tweak your battery settings and take control of what runs in the background. Don't forget that Win 10 is a more powerful OS and, like most upgrades, it's going to take a larger chunk out of your battery. This holds true no matter what OS you use.

there are no new apps i am using currently.... except 1 or 2 all other apps i was using earlier in 8.1..... all the apps which now are crashing was working fine in 8.1 but after win10 each and every app after some use it starts crashing..... most unstable app for me is windows central.... whatsapp still didnt fix scaling issue, like there r no. of apps i had scaling issue due to it at the bottom PAY NOW option is hiding.... without that i can't make purchases, so now using mobile sites for all my purchases....

Classic case of id-101-t, perhaps a hard reset might help and start fresh

They update this but the late the HTC M8 to languish.... smh

Eniola, omo mummy e. Petition HTC jare.

This is truly great news. I was hopeful, but never really optimistic that this would happen. Now, lets have an announcement that the HP Elite x3 will work on Verizon!!

Now that I have been on my LG G4 from the day they said it wont come to the ICON, now I wonder what I am going to do. I will hard reset my ICON, get it setup and install the Update with a clean install and no restore. Run it completely Verizon stock no preview program for a while . Still, Although I hate Android OS, having Tap to pay is something that would be VERY hard to go without now, that most places I go to accept it. I am still ticked about Microsoft blacklisting 98% of Windows Phone customers with their chosen method to do Tap2Pay....(4-5 year old Android devices use it fine, Certification or not, they picked the quick easy method to get it working). The ICON was not even available when Microsoft FIRST said it was coming...year, after year... Sigh...what to do.... Glad to see this, I honestly thought hell woudl freeze over before Verizon would do ANYTHING for WIndows Phone, but, I guess I was wrong and I am glad I was...

Eh, I got my 928 tucked away just in case anything happens, insider preview or not. I'm using my Sony Z3v and pretty much the same situation happened, finally got 5.1.1 after a long extended period and Verizon claims its because how unstable Sony's software builds are. At least I've got root. Kinda sad I never got to interop unlock my 928 because of no MicroSD slot. Posted via the Windows Central App for Android

Tap to pay may still come. This is the first iteration of the feature on Windows 10 Mobile and it makes sense that Microsoft would "test" it on their primary phones before tentatively rolling it out further. Just like how it's US only right now.

Wow, tears in my eyes. Is this really happening? What did I do to deserve this? Haha. Honestly, I can't wait. Woohoo!

It's awfully frosty in hell right now.

Does this mean the device recovery tool will now move it to Windows 10?

Please, tell me more about it. My logic says it would. I'd love its stay in 8.1 in case i don't like the experience and i want to roll back.

If the Lumia Icon had a better selfie camera, I would buy it... but it doesn't.

Sadly it doesn't support SD cards, because with Lumia selfie, you can take assisted selfies with the main camera (i have the appx since they said they wouldn't support it anymore).

Hmmm, my SIM will most likely be returning home to the Icon from my DT2.... Posted via the Windows Central App for Android

I never thought that I would say that for once, the people who are on Verizon are actually LUCKY. Two phones (the most recent ones, aside from HTC's offering) are officially updated to W10M. I guess the Lancet is not happening, but that's probably on LG.

I just rolled back on my Icon because the latest fast ring build from yesterday constantly freezes and locks up my phone. It was the least stable build I have tried yet. I am looking forward to a stable build tomorrow.

This is great news for those in Verizon. Good for you guys ☺

Come on Lumia 928. Let's do this, Verizon!

Mine runs slow on W10M. Takes anywhere from 3-10 seconds to open messages, people, mail and others. Those apps crash as well. I believe it is hit or miss. Some people say it runs great, but mine does not. I have reset my phone and didn't even use a backup. Still runs same.

Will ICON get GLANCE and DOUBLE-TAP to open after Win10 upgrade?

Been discussed so many times that it is a hardware limitation. So no.

While this is exciting news for the Icon.... TMO still hasn't pushed W10 to the 640.

Omg omg omg omg Omg omg omg omg Omg omg omg omg Omg omg omg omg 8D

Though I don't own this device nor on Verizon, not even in the States, but happy for those who have an icon, and rejoice in general for w10m

Even though I gave up my Icon when I switched to the 950 at AT&T, I still miss it sometimes. It was probably the best looking phone I ever owned. That screen was just awesome.

Nice news...thanx for updating!

OMG why are they even bothering updating a dead platform. *sarcasm*

The real question is: if it's dead, why are you here? Posted via the Windows Central App for Android

Runs slow on my 928. I think it'***** and miss. Some are fine, others are not.

Hot damn I can't believe it!

Traveling in Italy right now, last thing I want is to upgrade my Icon! Too