Video introductions of the Lumia 820 and 920 Windows Phones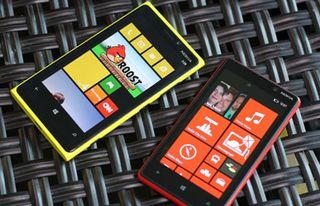 Nokia has published two new videos on their Conversations blog, which run us through the new Lumia 820 and Lumia 920 Windows Phones. These two Apollo smartphones were announced today, sporting NFC, wireless charging, and more to further advance the Windows Phone experience.
The short videos show off the wireless charging accessories available, as well as the variety of features of the handsets themselves. Jason Gregory from Nokia walks viewers through how the Lumia 820 coloured shells are easily swapped, some of the specifications, and how the device can connect with (and charge on) accessories.
Soumyo Sinha from Nokia is the man behind the Lumia 920 presentation. Explaining the innovations in the device, which were also featured in the Nokia presentation today, Sinha also makes use of a key to navigate around the Lumia 920.
We can expect to see both Windows Phones in Q4 sometime. We'll be on the lookout for more details on the release of next generation hardware at the upcoming Build event. For now, be sure to check out the two videos below.
Source: Nokia Conversations (820 / 920)
Windows Central Newsletter
Get the best of Windows Central in in your inbox, every day!
Rich Edmonds was formerly a Senior Editor of PC hardware at Windows Central, covering everything related to PC components and NAS. He's been involved in technology for more than a decade and knows a thing or two about the magic inside a PC chassis. You can follow him on Twitter at @RichEdmonds.
I really liked what I heard today but aspects of the presentation were poor and I can't believe it ended with no pricing or shipping information.

Pricing and availability would have been a smart move.

Not a peep about carrier info. Going to be very annoyed if 920 is AT&T only.

No such problem here in Europe. :D

All carriers and stores will carrying these right on the release date. Start buying unlocked phones so you guys there will have competition against carriers.

Now North Americans are enjoying highest data costs in developed world and very narrow line of phones released there and only in certain carriers.

The saddest part is that even if we buy them unlocked, every phone works only on certain carriers. That means the carriers still have the power, regardless of what we do.

AT&T got the device 6 weeks or so before Europe, if it is an AT&T exclusive it doesn't mean only in the US.

The sadest part really is that if I buy a $600 phone for a discounted $50 tag, I pay $60 a month, and if I buy a $600 phone out right so I am not in contract, I pay $60 a month. There is ZERO benefit with AT&T or Verizon to NOT upgrade every 2 years. T-Mobile though, you get a discount (rather, you really don't get subsidized phones), and if these have WiFi calling, count me in for leaving AT&T.

I mean most who are on the windows platform have been patient. These are some key upgrades. They will keep building the app store. I love the wireless charging especially since it looks like its integrated in the phone. The upgrade to the camera is nice since the 900 already has a nice camera.. Battery life could always be 100 times better but thats on ALL smart devices.

I tell you what. Being a Windows Phone fan sure requires a LOT of patience! I sure hope that requirement diminishes with time.

Could be a BlackBerry fan...lol

In that case, it would be the relevance of BlackBerry that diminishes over time!

Seems like Microsoft wont allow release dates yet and WP8 isnät even yet fully introduced.

Well it should really be no surprise to anybodyy when it comes to release dates. It's either by the end of August or early November.

Certainly putting my order on Lumia 920.

August? You probably meant September.

He actually probably meant October ;-)

True that. :D
Our heads are spinning from all the announcements.

decent phones but to similar in size, they need a bigger difference.

I hope I'm not the only one, but i like the Lumia 920 more then the Ativ S

The Nokia 920 is looking very good and some really cool features. Not sure about the Lumia 820 with 800 x 400 display but does have an SD card slot. I was hoping Nokia would show more phones, atleast a 720. Perhaps there will be more to show at Nokia world.


800x400! Fudge! One super and one samo lamo phone. Please be serious. And on top of that, 920 will only be available on ATT. So far, more disappointed post than positive.

920 looks awesome... Nokia must have rushed the device completion so as to meet deadline of a week before iPhone 5 announcement. and as a human we never get satisfied... I am already eyeing 2nd gen Nokia WP8 devices which should be another 6 months from now.. may be i should just spend little more time with my 900..
What do you think 920 would cost?? imo S$850 too at the time of launch..

I think Nokias 2nd Gen will be a year away. That's the norm these days.

Aren't these the 2nd Gen phones? To me

I think Nokia calling them a 920 and an 820 would agree, these are their second wave of Marque phones. Could say 3rd if you included the budget phones. 900/800, then 710/610, now 920/820...

Why a video by a desi who calls Nokia ....Knock-Ya

With that said, I think I like Knock-Ya betta :)

Nokia can be pronounced as "Knock-Ya"

http://www.howjsay.com/index.php?word=nokia&submit=Submit

Howjsay pronounces it Knockieya

Because it's "Nock-Ya" and not "No-CKYA".

No, it's "Nock-e-ah" not "No-kee-ah"

Still have not seen mention of 920 with SD slot

You get 32GB built-in + 7GB cloud. Do you need more? Or is it just the "would be nice to have the options" thing?
Also, for around $10/year you can get another 20GB of cloud storage and pump your overall storage to 59GB.
And if you are lucky enough to have had a SkyDrive account prior to the chages then you would be enjoying 20GB for free as I do... so out of the box I have a Lumia with 52GB of storage.
And a side note, I have an HTC Trophy now with 8GB, have installed lots (more than 40) of apps, recorded video and made many photos and I still have more than 1GB free.

I have a 16 GB HD7 (14.5 GB actual storage) and I'm always having to uninstall apps, move pics & vids and stuff around with my music collection. I have 25 GB SkyDrive, but I shouldn't be forced to use it just because my phone is inadequate.

It won't have an SD slot, which is bitterly disappointing. I was hoping for 32 GB + 32 GB microSD.

Am I the only person who thinks yellow is not a very good theme color since it makes things a little hard to read?

I have the Mango theme and sometimes struggle reading some tile info, so yellow might be even worse. But to each their own, I suppose.

I do like yellow as a phone color for sure!

My wife already requested one :)

What do you guys think of this very correct review?

http://ftalphaville.ft.com/blog/2012/09/05/1147421/nokia-looked-like-they-launched-a-camera-today-not-a-smartphone/

This review is bullshit... it says new Nokia phones just brought super capacitive touch screeen enabling people to use it with gloves and fingernails, extremely sharp photography and wireless charging and calls all these great features NOT A BREAKTHROUGH??? So what is the breakthrough, you moron, who wrote this article???? Facebook integration into the iPhone 5 ? Alongated screen? or Passbook?
These new Nokia phones are on top of each and every phone in the market with theri advanced OS and great features.
The problem with people is that they love brands not the technology and Apple established itself as an avantgarde brand name.

Ive heard nothing about the audio quality on the video recording. I was hoping for the rich recording tech from the 808. We dont get the 808 lossless zoom. If also no rich recording then no compelling reson for me to purchase as those were the two features I wanted most.

damn i really love the integration with the JBL speaker in the 820 video. if i show that to some friends i promise you they'll drop their iphones in a week

I didn't like how they have useless space under the WP buttons. I mean, why? ._.

and what do you think about the useles space around the home button on the iPhone?

I don't like iPhone ._. And I'm not complaining , I'm just saying. I guess everyone has different opinions.

It's extremely vital to have that space. my omnia 7 was completely useless in a lot of scenarios because your couldn't hold it in landscape without hitting back, search or home.. Don't complain about good design decisions :)

It's not useless. Alot of complaints of the Lumia were pressing the buttons on the screen by mistake when holding it landscape or playing games. More bezel means you can handle the phone more in comfort. Which I don't mind at all since the screen is 4.5" anyways.

a liitle bit off-top but who knows shall we be able to send PDF documents in Windows Phone 8, which is vital for business use? Currently, there is no way to attach PDF document to an email message. I hope they included it.

Adobe reader is now almost useless, a lot of room for improvement... Hope they work on that

Looks like Group Live tiles now flip vertically father than horizontally!

So I'm guessing there is zero chance of the 920 coming to "family friendly" T-Mobile, right? I'm prepared for dissappointment.

If they do carry it...count me in for 4 lines on a family plan and "bye bye" to AT&T.

this phone will do nothing to bump WP market shares. The design and color schemes will not appeal to the masses. Save the hooker red and bumble bee yellow for mid cycle releases. White, black or silver are what most people want. Reguarding the 920, skip the wireless charging gimmeck and gives us a microSD slot.

What a joke... Really ! Maybe I was expecting too much from this announcement. But basically, what Nokia is trying to sell here, is a lumia 800/900 with wp8. Specs of the phones are quite... Basic. Lets start with camera: what is this bs they are trying to sell us ? 8 mp Pureview ?if you have a look at lumia800 camera spec, they are exactly the same as lumia 820. I was expecting them to change the focal lenght, as 28mm isn't very handy for portrait. The 2.2 aperture, we already have it... Come on Nokia! You're facing manufacturers that will bring 12mp camera phones. Not evenspeaking about iPhone. I don't think people will buy this 8mp pureview thing. plus if you look closer at the 920 video above, you can see there's still this white balance problem with the camera. basically, this is the same we have today.

I just wished they kept the matte finish. Don't get me wrong, the phone looks great, but I can't help to wonder how much better it would be if all the colors were matte.

both look aweful compared to their predecessors but specs are amazing on 820 and 920 :D

Other features : switchable backplates ? We already have it with 800 and 900. Buy a blue nokia case, and your lumia 800 will look blue. Wireless charging can be nice, but if I'm right, phones won't ship with the wireless charger. So basically, what we have here... Is lumia 800/900 with wp8. Sorry if my whole comment sounds a bit harsh. I'm a happy lumia 800 owner... Who was hoping Nokia was trying to make the difference.

Now THIS is what the 900 was SUPPOSED to be. It's been 5 months since I got the 900 and now I have to say with all these cool new features, I feel screwed over. :/

Yep, so is everyone who purchased an 800/900 :L

The more I see the presentation of the phones the more frustrated I am...
Only Nokia can make a phone that is 10 times greater than the iPhone and make it look like it is 3 times worst!
Couple of suggestions at Nokia: Go to elocution and presentation classes or get other people to present! Watch a few (or more) Apple keynotes to see where you failed. Regarding the phone, I can say I be buying it DESPITE its presentation today.
Remember... Apple's big investments are in the presentation and marketing areas. I am sure that even if the rumours are correct and the iPhone 5 looks just as a bigger iPhone 4/4S the crowd will still wait for hours in front of the stores to buy one and the shares will blow up once again because investors know that even if the iPhone is not the best device, Apple will be able to SELL it.
Jo killed all the emotion of presenting the phone by doing no pause at all! People just started clapping but where disrupted by her anxiety to continue talking.
Learn already, these events are not for presenting a device to the developers or the tech community, they are the first and primary impressions people will get!
Another thing is that Windows Phone 8 should have been released before or during the presentation. Despite the great hardware and Nokia Apps, they could not present any of the basics of Windows Phone 8 due to the future release date. This killed the MOMENTUM of the presentation...
Also, the bug with the video connection... COME ON! Haven't you asked yourselves "How come this doesn't happen to Apple?"
And finally, Steve Ballmer, REALLY? I would have expected to see him at launch event with specific dates and numbers. Not in the role of a Windows (in all its forms) advocate talking to developers why they have to adopt the OS.
The Samsung ATIV may not be as good a device as the Lumia 920, but its really short presentation shook me more than the Nokia one.
Anyway, hopefully there will be a proper marketing campaign once the phones are released and operator start selling them, not only offering them as an option.

Totally.
They wax on too much, and IMHO became a case of "awesome product, lousy sales department".
Let the product do the talking. Instead of saying "it's beautfiul", just show it and shut up. People will decide on their own what they think of the look. Instead of saying "the best new camera", just show the difference between the night shots, and ask "what difference can you see between this picture, and this one". People will begin to look for the difference, and they'll see for themselves how much better the 920 photography is.
Let people get involved, and immerse themselves, instead of just telling them how they should perceive the product.
I say this not as an expert of marketing, just someone who loves the Nokia product, but had to fight the sceptic inside me with every big claim they made.


The red/black combo kills. Also really loving the rounded edge of the 820 over the sharp and pointy 920.



As long as the 820 which we all know may go to T-Mobile instead of the 920 comes with a very nice camera, I would really welcome it. Get three back covers in black, red, and blue with memory expansion and I'm sold. I really like the form factor on the 820.
Windows Central Newsletter
Thank you for signing up to Windows Central. You will receive a verification email shortly.
There was a problem. Please refresh the page and try again.