Hands-on with the shockingly-thin Lenovo Yoga 900S convertible Ultrabook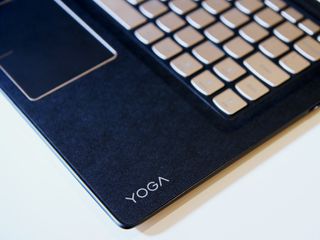 Late last year, Lenovo announced the Yoga 900 a successor to the Yoga 3 Pro but with a new name. That Ultrabook brings back the Core i5 and Core i7 processors but adds some weight and girth to the otherwise slim laptop.
Lenovo wasn't done, however, as they are back just a few months later here at CES 2016 with the Yoga 900S, which is being positioned as the world's thinnest convertible laptop at just 12.5mm. Weighing a mere 2.2 pounds (999g) and made from carbon fiber it certainly is setting some records and turning heads here at CES.
We got some hands-on time with the new ultra-thin Ultrabook and here is our tour.
Lenovo Yoga 900S
12.8 mm (0.5 inches) thick
Weighs a mere 999g (2.2lbs)
Intel 6th-generation Core m7 processor
Fanless design
Up to 8GB of RAM
Up to 512GB PCIe SSD
Custom 54Wh battery
Battery life of 10.5 hours
12.5-inch display up to 2560 x 1440 QHD
Supports an optional active pen
2x USB 3.0
1x USB Type-C
Clearly the Yoga 900S is a different class that the regular Yoga 900. The Skylake Core M, which is also found in the entry level Surface Pro 4 is a great chipset that allows fanless systems, but it is also not as potent. However, for those who run Windows Store apps, Office, Skype and similar non-intensive tasks the Core M is a fantastic option.
The selling point with the Yoga 900S is clear: ultimate portability. Weighing just 2.2 pounds, the Yoga 900S is astoundingly light, so much so that it feels like you are holding a showcase dummy device. Instead, you get a full PC with 8GB of RAM running a QHD touch display with an attractive design.
Speaking of aesthetics I'm a big fan of the gold and black contrast found on this machine. If gold is too flashy for you, you still have silver and black to keep things more conservative. Either color choice still gives you that excellent Lenovo keyboard with backlight.
Lenovo claims that battery life is 10.5 hours, but we'll have to see what that means in the real world. Battery tests often use video playback since it is consistent. The downside is Windows 10 is well optimized for playing videos so those tests always skew higher than real-world tasks that will cause the CPU to jump form idle to full power back to idle ad infinitum.
Nonetheless, Lenovo did put an impressive 54Wh battery in this machine, which is 14 more watt-hours than the comparable Apple MacBook. Lenovo says they achieved this by working closely with their battery supplier to create a very high-density cell. All of that sounds very promising.
One thing is clear, Mark Guim and myself were highly impressed with this laptop. While many people will simply need more power and features from a laptop, for those who want a nimble word processor than can run any Windows Store or Win32 app out there the Yoga 900S seems like a contender The design is excellent, and you can even use an active pen on the display now, making it well worth consideration if you need a true notebook or device for sketching.
Pricing for the Yoga 900S starts at $1099 and will be available beginning in March. We'll certainly get our hands on it for a review, but for now, let us know what you think in comments.
Windows Central Newsletter
Get the best of Windows Central in in your inbox, every day!
Daniel Rubino is the Editor-in-chief of Windows Central, head reviewer, podcast co-host, and analyst. He has been covering Microsoft since 2007 when this site was called WMExperts (and later Windows Phone Central). His interests include Windows, laptops, next-gen computing, and for some reason, watches. Before all this tech stuff, he worked on a Ph.D. in linguistics, watched people sleep (for medical purposes!), and ran the projectors at movie theaters because it was fun.
Is that soft touch or leather or what?

Carbon fiber and aluminum construction I believe.

That hinge, though... Still don't think I'd ever be able to get used to its design.

Yeah, don't like it either. Ugly as hell.

Windows 10 being optimized for video to aid in battery life hasn't been my experience on my SP3. Battery life estimates drop to under 3 hours when I stream. This lappy looks great, definitely one to consider and I hear the "M" is better now

Streaming isn't the same as just playing back a locally stored video file however.

Yeah its a different ball game, if you have perfect WiFi signal it shouldn't drain that fast but on low signal it kills the battery, same goes for pretty much all devices though

And all usage that requires Teh Internets

The mouse is cool, although I wonder how comfortable and smooth it actually is to use as a mouse. ​The laptop itself is gorgeous as well, but I'd go for silver personally. On the other hand, I feel like you're paying a hefty sum for that ultimate portability, and you could find a better deal looking elsewhere.

What is the pen technology? If it isn't Wacom or N-Trig, it's no good for precise drawing.

I don't think there is a pen
Edit: It's an active stylus, most likely Wacom

Lenovo's naming scheme is really confusing me now...is everything a Y900 something or other?

It's a number thing so 700 and 900 series with the higher being better; like the Lumia line.

wanna know about the stylus.

That is one beautiful computer! That said, I have had issues with the last two Lenovo laptops I owned. I hope they focused on quality and long term durability.

I'm blown by the mouse! LOL. Malware aside, Lenovo has been the only company really reacting to MIcrosoft's own great innocation with the PC.


Lenovo and Microsoft are killing it! Everything is either a Yoga or Surface copycat.

If a Core M is enough than yes.

How's the pen compare to Surface Pro 4?

Will this be cheaper than yoga 900 ? Posted via the Windows Central App for Android

Hard to say since you can configure them all, but yes, similarly priced.

..that mouse though...i was more interested on the mouse...lolz

Yes a very classy device. Very cool. Very prestigious looking and extremely professional. Its what the well dressed exec will be rocking. That mouse is rather stunning too. The Windows logo on it made that a must have.

I'm a guy that prefers the detachable 2-in-1 PC setup, hence the reason I own a Surface Pro 3, but my word that is a beuttiful device! That mouse looks awesome too. This is why I prefer the Microsoft + OEM partnerships compared to what Apple does. I don't mean to bash them in anyway but on this side of the fence if you feel like own a device that can give you a completely new take on the same experience you already know and love, you have so many options to choose from. Personally, I don't foresee myself needing to purchase a new PC for maybe another 2-3 years but with that being said, I can hardly wait to see what the other OEMs have in store when they showcase their new Windows 10 devices. This is exciting stuff!

Totally agree with your comment here. Very stylish and really impressed with that mouse. Great to have the options of OEM's though I'm too currently happy with my SP3.

Im still using my yoga pro 2, I like the yoga line ultra's, very useful machines. Except for battery.

Seems battery is an issue with most devices. I wish someone makes some advancement in battery tech soon.

People still buy crapbook from apple..oh sorry MacBook from crapple..oh sorry

Moving up from a 4 year old core i3, how does performance compare?

Seeing as Microsoft chose not to offer an i3 version of the SP4 i would think performance is similar.

What's with Lenovo and all the confusing names? Y900, 900S,

If this came with a GTX 960m or better on board I'd be sold.

Ultrabooks, by definition, pretty much do not have a dGPU due to size, battery and heat constraints. We're just not there yet.

Would have been perfect if it wasnt a yoga. Those hinges are hidious.

Except when you realize that form follows function on these. They are actually pretty amazing as feats of engineering.

I love the hinge design - looks very futuristic and perfectly enhances the overall design.

What about "Windows Hello"?

Daniel: let's see some video on that lenovo x1 yoga please!

Fanless design is pretty cool , but RAM limit is a bit dissatisfying Anyway a good device from Lenovo

Looks sexy for what it is - petty it's core m but I guess that's all that could be shoved in there. Still, sexy. How is the keyboard travel? The macbook is a pig to type on.

Thinner than the inferior and overpriced 2015 MacBook, yet still has all the essential ports...but that's not news, even the Surface Pro 3 was already thinner and lighter, yet still faster, more versatile and was equipped with 3 times the ports. Crapple products are just destined to separate fools from their cash: https://www.youtube.com/watch?v=qZD12tDIJZg BTW, for anyone wondering, this is also thinner than the Surface Pro 4 (8.45mm or 0.333") with the keyboard (4.90mm or 0.193"), 13.35mm, so, their claim of it being the thinnest convertible Laptop holds true this time, unlike previous generations that were thicker than the Surface Pro 3 with Type Cover.

What about a mobile data connection? Hope we can we upgrade to 10 Pro. I don't really want to deal with buggy drivers pushed through WU, especially buggy graphics drivers. I have no end of problems with Intel Graphics drivers pushed through WU. So much so I have hide the darn update using the troubleshooter tool and update using the latest version of leshcat's drivers. Just to prevent it popping up in my update queue (using group policy on 10 Pro set as notify to download and notify to install).

Shockingly thin laptop with shockingly large bezels.

That's for tablet mode, touch screen and slim bezels on a tablet don't really work that well :P. Sure they could implement digital bezels but that's just creates alot more work and what happens when they don't work correctly? As invariably some will have issues with the digital bezels not rotating correctly or messing up the touch input altogether (just to name a few flaws).

this is the first time lenovo brought pen support on a ideapad yoga model. i wonder what pen tech it is.

Very nice. I love that hinge and the black and gold combo.

Now in the Forums: http://forums.windowscentral.com/lenovo-yoga-900s/407199-slim-down-downw...
Windows Central Newsletter
Thank you for signing up to Windows Central. You will receive a verification email shortly.
There was a problem. Please refresh the page and try again.