Video: Microsoft's Jensen Harris shows off Windows 8.1 on the Surface Pro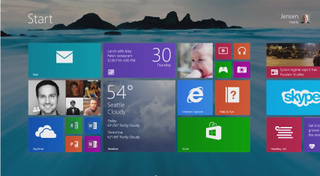 Jensen Harris is the Director of Program Management for the Windows User Experience team. Basically he's in charge of the look and feel of an operating system you're quite intimate with. Microsoft has just posted a video on YouTube where Jensen details some highlights of what to expect when Windows 8.1 arrives. Video after the break.
At work and can't access YouTube? Here's a list of the major changes in Windows 8.1. Exciting times ahead! He doesn't discuss it, but you'll notice the Start button is back on the desktop.
Lockscreen is a cloud-powered photo frame. Brings pictures from your PC and phone through SkyDrive.
New tiles sizes: Large and small.
Improved all apps screen. Swipe up from the Start screen to get all apps.
All apps can be sorted by most used, by name, by date installed, or category.
Press and hold to pin to Start
Press and hold like Windows Phone to manage apps on your Start screen
New personalization that can quickly be accessed by from the Settings charm
New colors for background and accent colors.
New motion accents for the background. Hard to explain, by attention during the 1:53 mark.
Desktop backgrounds can now be used on Start.
New search feature powered by Bing that curates searches from both the web and PC.
Better multi-tasking
Up to four Windows 8 apps on one screen each with adjustable sizes for Snap mode
Holy bullet list Batman! Jensen gave a quick look at some of the major new Windows 8.1 changes that are coming. We'll obviously be learning more over the coming month, but it's nice to get a sneak preview of how the best operating system for tablets, laptops and desktops is getting even better. The update will come later this year (probably around the Holidays) and be a free for Windows 8 customers.
Source: YouTube
Thanks for the tip Edwin R!
Get the Windows Central Newsletter
All the latest news, reviews, and guides for Windows and Xbox diehards.