Video shows how Surface and Windows 10 works together with Salesforce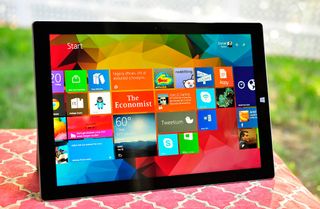 Microsoft and Salesforce announced a partnership in 2014, and now a new video from Microsoft shows how a business could access Salesforce's customer relationship management (CRM) service to increase sales on the road via a Surface tablet with Windows 10 installed.
The nearly three-minute video shows a salesperson for a fictional coffee company on the road, trying to make a sale to an airline. He uses his Surface tablet to link to his Salesforce system to learn about how the airline has recently decided to increase its fleet, The salesperson launches a quick virtual meeting with his teammates back home, again via his Surface, to find out if the coffee company can handle this increase by the airline before his meeting. His teammates, using the big Surface Hub PC, assures him that they can deal with this change.
The video is, of course, of a simulated sales trip, but it does show how a Salesforce user could access the service while on the road with Surface and Windows 10. The salesperson even manages to use Surface, combined with Cortana, to reschedule his flight home so he can make his daughter's science fair. Awww...that's sweet.
Source: Surface (YouTube)
Get the Windows Central Newsletter
All the latest news, reviews, and guides for Windows and Xbox diehards.