Video shows how Surface and Windows 10 works together with Salesforce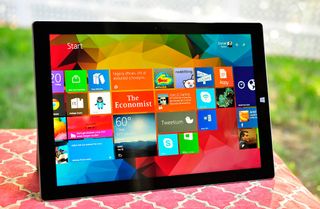 Microsoft and Salesforce announced a partnership in 2014, and now a new video from Microsoft shows how a business could access Salesforce's customer relationship management (CRM) service to increase sales on the road via a Surface tablet with Windows 10 installed.
The nearly three-minute video shows a salesperson for a fictional coffee company on the road, trying to make a sale to an airline. He uses his Surface tablet to link to his Salesforce system to learn about how the airline has recently decided to increase its fleet, The salesperson launches a quick virtual meeting with his teammates back home, again via his Surface, to find out if the coffee company can handle this increase by the airline before his meeting. His teammates, using the big Surface Hub PC, assures him that they can deal with this change.
The video is, of course, of a simulated sales trip, but it does show how a Salesforce user could access the service while on the road with Surface and Windows 10. The salesperson even manages to use Surface, combined with Cortana, to reschedule his flight home so he can make his daughter's science fair. Awww...that's sweet.
Source: Surface (YouTube)
Windows Central Newsletter
Get the best of Windows Central in in your inbox, every day!
Interesting video. Some of the Cortana commands look too smart to be true

Well it's up to Salesforce to handle those types of commands. It's just using Cortana's API. It's definitely possible. They showed that type of stuff at Build.

That phone looks like the new 950 that's going to be announced

The back off the phone doesnot look like the latest renders! This one has the flash above the camera. I think this is a 640XL

That's because it's a Lumia 640.

Didn't have the rim or the big camera bump on the back! And and think its the 640XL.

Based on the camera, flash, speaker, Zeiss branding, and headphone jack I would say its a 640XL.

I must admit the 640XL looked quite nice in this add. Definitely would not have guessed it was a $250 phone.

That's 640 XL no more no less, too far from being 950 or 950 XL. Look closely on its camera hump.

Did that video just assume that the Surface has Windows Hello? It was a probably a given but its nice to see this confirmation.

Surface Pro 4 will, the hardware isn't in the Surface Pro 3's.

I think they showed it purposely as a hint to what's coming for Surface

I was thinking that same thing. Seems like it will more likely have an iris scanner than a fingerprint scanner if the advert is accurate in any way.

I think it would be harder to use a fingerprint scanner with the device being so big. I rarely ever use the Windows button anyway, but I always look at the display when I log in.

Yes, but recent speculation has been that the SP4 will have a fingerprint scanner. Although, I think this advert was just a demonstration of what "could be" but not what is going to be. It's bending reality a little I think.

At the beginning of the video u can see that there is more than one camera at the front.

Don't are 3 cameras, that things are: Camera, Camera's led and microphone. Is a Surface Pro 3 what we see in video.

http://static2.businessinsider.com/image/538494e66bb3f73d76dfdb95-960/mi...this is how the surface pro 3 looks. its different

LOL they just showed us the surface pro 4 #Fail

Technically Windows Hello can use current hardware for 2D face recognition (older Dell and HP laptops had this). New hardware is needed for Iris scanner and 3D RealSense eye camera

Did anyone notice the surface with the Hello Windows feature at the 1:08 mark

Yes, this is pretty much a confirmation we'll see Windows Hello in the next Surface 4. They wouldn't be showcasing it if it ain't something the Surface line of devices wouldn't have.

It looks like surface pro 4 comes with windows hello supported camera onboard and always listening cortana support.

I wish Cortana in my SP3 also works as seamlessly as in this video. Need to troubleshoot, well, that's MS Windows for you!

hmmm was that a MS Band 2? *raises eyebrow*

That still first-gen Band. If its Band 2 then its another major disappointment.

Very interesting that the whole article is talking about Surface with Windows 10 but the picture in the article is a surface running windows 8.1. I don't think pictures of surface running window 10 are that scarce, no ?.

Anybody notice the surface bezel at the beginning? That doesn't look like surface pro 3.
And the phone too.

These flawless presentations usually don't amazes me. But that one put a smile on my face :)

I wonder if there will be a similar video using MS Dynamics CRM.

If theres one feature I would like as a fully working an baked in windows 10 it would be that one where you can circle an error with the stylus in an app an handwriting the correct word or number on the fly. I would like to see that feature with spelling and grammar check for all my office mobile apps and notetaking apps!

I'd like to see them do a concept video like this for education (primary, secondary, college, and university levels), displaying how both students and teachers can make use of it at home and school.

Wow this was a really great way to show the OS and hardware at work. But I have to ask since I don't own a Surface 3/Pro yet. Is the experience really that smooth as they made it seem? Good stuff though.

More pie in the sky stuff that will never work as seamlessly as the video implies. Its a marketing vid though so no big deal.

So MS just showed the SP4 in this video???

Pretty sure that's a Surface 3 - Non pro

I have a surface pro and I use salesforce and there is no salesforce app in the store. This has been promised so when is it coming. Posted via the Windows Central App for Android

The video looks like really inspired from Office Future Vision videos. https://www.youtube.com/watch?v=a6cNdhOKwi0 Difference is, this is very near future (few months or another 2 years). I really wished that Cortana would be as natural and at least as powerful as this video in next or another 2 years. But first, it needs to be available in every region, even in Mars.
Windows Central Newsletter
Thank you for signing up to Windows Central. You will receive a verification email shortly.
There was a problem. Please refresh the page and try again.