Video sneak peak of ASUS E600 surfaces out of Vietnam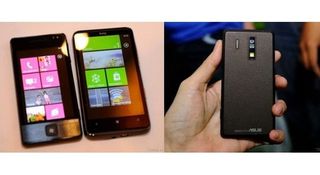 While the existence of ASUS' first WP7 phone has been known for some time, Vietnamese website Tinhte has posted a hands-on video of it, along with a few new photos (above). We also know from the FCC that the E600 boasts a 4-inch LCD, 5 mega-pixel camera and 1300mah battery, all encased in a pretty brushed-metal casing. Rumor has it that ASUS will officially unveil it at the 2011 MWC. Until then, enjoy the teaser below.
Source: Pocket-Lint; Via: Unwired
Windows Central Newsletter
Get the best of Windows Central in your inbox, every day!
The back of this phone.....just awful! I don't understand why Asus didn't employ continuity from the front of the phone to the back of the phone. Oh well...I don't see the Windows Phone branding on the back, so maybe this is the prototype and not the actual phone that is going to be released. I can only hope.

i love asus but ugly phone.

I like the back of the phone, but yes it doesn't even match the front. It also looks sort of thick which is bad compared to other WP7s with the same screen size and specs. And a 1300mah battery? That's pretty pathetic.

*sigh* I'm disappointed. It's probably best for me to wait for a good-looking phone that has "next generation" specs anyways...guess I'll be stuck with the Focus for a while.