Virtual Air Guitar vows to make Kinect games even after Microsoft killed the camera
By Asher Madan published
A few days ago Microsoft announced that they had ceased production of the Kinect sensor. The original Kinect was introduced in 2010 and an updated version shipped with the Xbox One in 2013.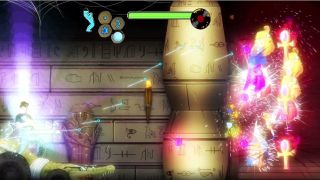 The company touted the device as a great way to play games using your hands and body but many of the titles failed to live up to that potential. While the original Kinect was one of the best selling video game peripherals ever, the second version was seen as a burden because it was forced upon people purchasing the Xbox One, inflating the overall price. Aside from that, there were privacy concerns and other controversies surrounding the product.
Well, this month Microsoft finally stopped production without revealing a new sensor or replacement. While the second Kinect may have been a controversial accessory, many studios built businesses around it. For example, you may have heard about a recent game called Fru from a small studio which relies on your body to reveal additional areas. Another such developer, which makes copious Kinect titles, is the Virtual Air Guitar Company. Virtual Air Guitar has shipped everything from Air Guitar Warrior for Kinect (opens in new tab) to Kung-Fu for Kinect (opens in new tab). The list goes on and on.
Yes, we're still working on new #Kinect games - two in fact! We'll keep making them as long as enough people keep buying them. Details soon.Yes, we're still working on new #Kinect games - two in fact! We'll keep making them as long as enough people keep buying them. Details soon.— Virtual Air Guitar (@VirtualAirGtr) October 27, 2017October 27, 2017
Despite the fact that Microsoft stopped manufacturing the device, Virtual Air Guitar says that they'll continue to make Kinect games as long as people keep buying them. Currently they have two in development. There obviously isn't a shortage of sensors as you can still buy them easy, but the fact that Microsoft is abandoning a peripheral which many individuals have built businesses around is saddening to say the least.
The technology that powered Kinect has been moved along into Windows Mixed Reality, but for those fans and developers who invested in Kinect, it's hard to envision them trusting Microsoft once again in this new category. Kinect also had potential as a Cortana voice control assistant in a world where Google Home and the Amazon Echo are making headlines, but sadly, it never came to be. Hopefully Xbox head Phil Spencer and the Xbox Team know this, even though a lot of these are simply business decisions.
In any case, the move to kill Kinect seems like an incredible shame to those who actively use the peripheral either in a consumer or developer capacity. At the very least, Virtual Air Guitar is going to continue working with the device for now, but as we've seen with Windows 10 Mobile, support will dwindle without the backing of Microsoft.
You can still grab a Kinect sensor from Amazon for around $50.
See at Amazon (opens in new tab)
Keep an eye on WindowsCentral.com/Gaming for all the latest in Xbox and Windows 10 gaming, accessories, news, and reviews!
Asher Madan handles gaming news for Windows Central. Before joining Windows Central in 2017, Asher worked for a number of different gaming outlets. He has a background in medical science and is passionate about all forms of entertainment, cooking, and antiquing.
I just purchased a Kinect camera and adapter at Amazon recently for use on my XB1 X console. It would support voice control, Skype and Cortana. It is strange that XB1 X doesn't have microphone and BT. It is sad to see that MS would kill off the Kinect while there are still sizable owners out there. https://www.engadget.com/2017/10/28/kinect-strange-weird-projects-micros...

What there are some people buying Air guitar games! We are worst than I thought. Lol They never invested in Kinect 2 as they should have. I am still waiting on Kinectimals 2, Kinect adventures 2 and a real Kinect Sports. But it will never come... So sad!

Didn't Nadella state something recently about regretting that MS has let consumers down too often?
Jesus, just stop making cool stuff and then canceling it because you failed to market it correctly!
I've been a believer for a long time, or wanted to be at least. This one doesn't hurt so much, but it's just another example of MS failing their customers, along with zune, mobile, groove, band, etc...
Mobile I saw coming.
Band I understood.
But Groove really hurt.
You're losing me fast MS.

Groove still hurts the app was better than anything out there and Kinect I hoped would bolster vr....but with wmr I guess that is not necessary. Still the missed big screen Cortana opportunity is what I will miss

It makes sense to kill the connect right now as sales must be minimal, however I think they should make a replacement, as it fits perfectly with Augmented and Virtual reality settings. Why buy a couple of wands to wave around when the kinnect can track you perfectly, for options you can use a standard controller. As for other recent decisions: Band needs a total reboot Groove making a loss on streaming services where profits at best are wafer thin, so just sell music like movies. Mobile not fully with mobile decision but again profits are razor thin and you need brilliant marketing however a 7 in tablet with lte and ability to make mobile calls, in my opinion is the answer (continuum without the headache). So financially it all makes sense as a user its annoying at best.

If they wouldn't have handicapped the Kinect back when it was Project Natal, this would hopefully have been a mute point. Unfortunately, when it came out, most of the things it would do were canceled or limited.

> track you perfectly
I though there's a delay? k2 is faster than k1, but still not fast enough no?

This is what Microsoft does time and time again. They come out with a product that has a lot of potential then they don't market it. It under sells and then they cancel it. Microsoft repeatedly drops the ball with marketing their products. I'm so sick of this
Windows Central Newsletter
Get the best of Windows Central in in your inbox, every day!
Thank you for signing up to Windows Central. You will receive a verification email shortly.
There was a problem. Please refresh the page and try again.