VLC media player officially arrives on Windows Phone [Update]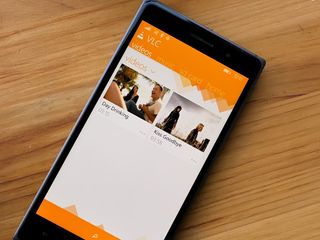 Update: Sorry guys, looks like this is still the beta release. While the link appears to have been leaked, this version is not meant for the public and it should not be considered the big, official release for this app. Stay tuned for the official version, which should address many issues that people are experiencing.
Versatile media player VLC is now available publicly for Windows Phone. The app has been in private beta for some time now, but can now be downloaded by all users from the Windows Phone Store.
VLC is compatible with a large variety of video, including MKV and Ogg, as well as audio formats like FLAC and MPC. The interface is fairly straightforward, with several sections dedicated to your videos and music, as well as media found on any SD card you have inserted into your device. The app is, or course, free to download, and requires Windows Phone 8.1
Download VLC for Windows Phone
And the settings has a line "this is not working yet" lol

Installed it on my 1020 tried to open a video and it froze my phone. None of the buttons worked had to restart my phone. Uninstalling until they update.

You didn't need to restart your phone. Just long hold the back button, and swipe down to close VLC (I had the same problem).
Anyway, VLC on WP is a big sack of poo. Instantly uninstalled

Of course I tried long press lol. It literally froze my 1020! Like the back, windows, and search buttons were not working. Only resetting fixed it but yea I hope this isn't the beta feels more like an alpha.

No issue on my 1020. I do not have a video to play on it though.. but it opens and searched for music.

The same issue on my 820.

This isn't even beta I guess..it doesn't work at all. If there were a few bugs it's ok...but it's still totally useless

Same Issue here , It frozen my phone two and I had to restart. and now it crashes as soon as it opens :\
Damn!!

Stupid app wont stay open long enough to add all my music. Crashes everytime.

It lags even playing videos from camera roll. *cover eyes* L1520

Its a first release so it has alot of bugs

I downloaded it when I saw it and erased it the lag and didn't read an mkv file.

How much music do you have? I've got over 3000 songs and haven't experienced that problem.

What I said.. Plays the first video.. Video lags..oh well :D

Mpeg2 video don't lag, anyway it's a beta release

MP2 video doesn't lag because it doesn't require any real processing power. Even if it isn't hardware accelerated. What I'm most worried about with VLC is how it will perform with h264 video in an MKV container. That requires a lot more processing power. While the hardware in all WP devices can decode this using hardware acceleration and Moliplayer and CCPlayer use this on WP. This isn't quite the case for the desktop VLC application and the Windows 8 VLC application. Here hardware acceleration in VLC works badly at best and sometimes not at all, causing too high battery drain and power usage. This is mostly due to the very badly optimized codecs that VLC uses. When you don't have enough processing power available the video will start to lag too. I'm very worried we're going to see the same problem (laggy video, crazy battery use) but then even worse on WP8.1 with VLC, because processing power on WP8.1 devices is obviously less available than on Windows 8.1 and Windows RT devices.

Good to know all that... Stuff.

I know it's beta. Anyways Mp4 is my case.

Wohoooo! #ButLetMeCommentFirst Thank you developers for supporting our platform.

Crap. After the ages of development this? It's not playing Camera Roll videos on Lumia 930 (slow and jittery).

Do you know that VLC Android Version just got out of Beta 2 weeks back... Don't always keep shitting with your dirty mouth... Just give time for developers... After all you don't know the pain of developing apps and how much time and resource it takes..

Whatever you say, what ever you say... ;)
Time to developers? :D http://www.windowscentral.com/vlc-coming-windows-mobile
http://www.windowscentral.com/vlc-windows-8-win-phone-8-kickstarter-hits... They should have been working on that at least 2 years.

I think the phrase you're were going for is "talking shit" - but you are 100% correct!

Another app Verizon icon users can't use unless they install dev preview... F u Verizon.

Our whole company has the icon. IT departments aren't going to support preview software.

Wow, your whole company has the Icon? That's awesome! What company do you work at?

A small one. We have twenty icons to be exact. B4 that we had Lumia 920s on att. Had we know how slow Verizon would be, we would of stuck with att.

Why would you not be on preview...

For me it doesnt download at all it stucks at 50%

Cancelled the d/l after reading this.

The VLC!!! HAS COME BACK!!! TO WINDOWS PHONE!!!!!

now wait for windows 10 for phones until it gets perfect.

Is windows 10 gonna get me a girlfriend too?seems like it....

Or a boyfriend (it tries to please everyone) ;)

Just wait until windows 11...

I hope this is sarcasm because of you think an OS is going to fix apps and everything else in the world, you will be sorely disappointed.

Finally heard from you guys .. What's up with the delay !

I dunno, half of us are flying to CES? It's Sunday? I can think of 10 other reasons :'(

1000 downloads in under half an hour seems pretty great though !

I can't believe you guys weren't sitting there hitting refresh on the store until it showed up and the immediately hit post on your article that you had already written in perpetration for this day. In fact, I can't believe you didn't have some auto post feature set in the article that monitored the store for this app to be published. I'm so disappointed and may have to start going to wmpoweruser for my news... ;-)

Damn it! They're late!!
Your life is over *dcutting*! It's over!!!
Sad to see you dying this way :'(
Good bye!
*cries an ocean of water*

I know, right, lol. Some people are so ridiculous.

Ignore the whiny bitches, Daniel. :)

Daniel = kindness at its best.

Really? You've been smoking your socks again haven't you?

Hahaha...well done chodhry :)

Well this came late on wpcentral. Usually WP central is always ahead of others

Yeah, because its Windows Cemtral ^^

Get it right! It's Windows Central ;P

It says this item isn't available anymore...

Got the same problem :/
Edit: Aah its fixed. :)

Ya but native player is better for me compared to vlc.

The point about VLC was that it could play more formats (FLAC, MKV, etc.) but now it's not playing anything so whatever. Currently you need third party apps for MKV and the likes, apps like CCplayer and Moliplayer are two I know of.

Why am I not able to download??? It says pending and then attention required repeatedly:( btw I have good net connection.

Regional issue maybe? I just finished downloading in US settings.

Dude even I am set to usa region!!!!

I see. It's independent of your regional settings... I was able to download, though. A lot more are users reporting the same installation issue :/
BTW, the app is too buggy, as expected.

Bro don't worry it also happen with me. Try again after 12 hours

Item isn't Available in the Store

Wait, wait, wait. Is this vastly improved over the beta??? Still downloading though. Update.... Seems that the beta version is now busted. Crashes on start-up. Also, public version is improved over beta but video playback still inconsistent

I'm able to download it... Any idea if we should keep the beta for future development?

Finally freedom from all low quality and buggy apps.

Why is the publisher name 'videolabs' instead of 'videolan' ???

because it is the same in Android . :)

It's in store but its beta

Waiting for WMPlayer... :P

Waiting for jet video, my favourite

Why KMPlayer ? Need to see some 3Dmovies on your phone ?

Cuz, I've been using KMPlayer for 4 years on my PCs..

Waiting for YouTube (oops, shouldn't have said that)

Its sloww as hell in my lumia930.,videos from camera roll are not playing

Crashes immediately for me. Reboot didn't help.

I think moli is perfectly fine as this isn't on the same level yet

Moli is far far better than this shit..

This is still in Beta and Moli is a payed app

As of now, moli is infinitely better, they don't even come close! I haven't been able to play a single video on vlc, at least moli 'worked' from day one! Good UI but that's all there is right now!

Does it plays subtitles too?

I can not find it , I type vlc media player in the store search and it doesn't come, exactly where is it?

We posted the store link here? Also, things are not indexed.

Arghhhhhhh. It shows item not available in the store.. Am from India.. What's the problem now??

Hey indian!!! I am from India too:) nice to meet you!

https://www.windowsphone.com/s?appId=44fa83f7-a98d-4647-b9d4-c35ed729d0c9

Lol at the version number. Are there any other apps that do it the way they did? I've never seen that before on Windows phone. Also, the one thing I really wanted was the ability to use it as a remote for the desktop app. I hope that we get that soon. The third party solutions are laggy and unstable for me.

Yes. I have about two other apps in my app list with version numbers like that. Not quite sure which ones though.

My app also use such Version Numbering :P https://www.windowsphone.com/en-in/store/app/fit-me/d6f34c91-a8ab-464d-a...

Try VLC Mobile Remote. Works perfect via wifi on both my Ativ S and Lumia 1520.

Thanks to developer n Microsoft.

Did they pull it off the store? It says "item not available in the store"

"This item is not available on store" WTF!!!

You need Windows Phone 8.1

Windows phone 8.1 update 1 with Lumia Denim update. :-|

Not only the app crashes each time I try to play a video but also the phone becomes unresponsive for some time after I try to close it.

So here's the feedback. I installed the app to my SD. As soon as I play a video, the app gets stuck and I have to kill it. Music is not playing. Play time for most songs is shown as 0 seconds, it might be because those were downloaded through mix radio. The app took time to read videos and music from my SD and after detecting them it took time to detect their run times. For now nothing is working.

Same problem is happening with me

Doesn't work on Lumia 928. Complete steaming pile of cow manure.

Playtime stuck at zero ain't because of MixRadio downloaded files. All of my songs downloaded via Music Import are behaving the same. It's another bug.

It's buggy as hell. When I press a video it freezes.

Can not believe it! I had never installed application which caused literally freeze my phone! I tried to fire up mp4 video. Does not respond to anything! I can not even switch off the phone because I do not react to anything. Crap gentlemen !!!
Lumia 925. Win 8.1 Dev.

Man... Its nt available in d store...

dnt try to play any videos !

Performance seems really broken on my L920 and HTC 8X :-( not even bothering with the L520. Anyone experiencing similar poor performance?? Even the smallest videos are struggling to get smooth playback, switching between landscape and portrait crashes the app :-(

What a joke.Cant open my Ondrive files.

Crashed within 15 sec of launch, bravo!
+930

Its crash and hanging everytime.
do you have the problem??

my phone restarted 2times !!

Does it supports back ground playing now ?
Updaters please keep me update.
Ty

Freezes when opened. Uninstalling.

Judging by the comments it sounds like they should have kept it in testing for longer.

Okay I had click the link from the article, thanks

On my 1520 it crashes after 5 seconds in to the app.

Honestly can someone tell me what's so special about this app? I've seen everyone talking about it for a year now! Thanks :)

They do not want moliplayer pro which is paid app but vlc which is free that is it.

The speciality is that it takes years to build it, and when it comes out to the store, voilà!!! As expected it hangs and is crippled in every possible way:)

This is a shit app! Also crasher. Getting really tired of this shitty official apps like this one and instagram, vine..u name it. I swear to god I am leaving shitty windows eco system.

Forget this 'official' apps thing, IMHO it appears the future of WP is with the new and 'indie' devs, they always deliver over and above expectations: moliplayer, mytube, metrotube, tubecast, all the Rudy apps, tweetium, even mixradio etc. These 'unofficial' apps seem to do very well what appears so difficult or downright impossible for official apps!

I work as a consultant and during my daily work day I meet a lot of Indian people and they have this in common: They have great CVs and education but when it comes to do work they can't think for themselves and they implement shitty solutions. That's why they are all under paid and also they stink curry. Note that I am Indian but birne and raised in Sweden.

So you are one indian who stinks of sweet dish??? Haha :D

Not sure but I'm pretty sure he thought h he meant Indian when he said indie lol.

Don't be fed up.After all it I a phone.

If I a phone, then who was phone?

Just fuck off... Don't spam our websites

Your website? Pray?? Who the hell are you, the owner of Mobil nations?

Our in the sense Windows Phone lovers :) And who care if sayemchi leaves WP ...

I think Microsoft cares since I have bought 4 WP phones last 2 years. They would be loosing an great customer.

Your website? What are you talking about?

Holi shit. Download In-completed from store.
After few minutes it's saying "Item is not available"
Zzzz

For me Lumia 820 user app is playable after restarting both Xbox videos app is better for me.Lets hope developer update their apps.

Item not available.. What's this??

Useless it crash in Lumia 520 even if installed in phone memory.

Does it support background playing?

Try cc player it's the best of all

yes it's best ! ! infortunetly it doesn't support avi format :'(

Oh I never knew here in my country most of the movies only in mkv format so couldn't notice about avi.. Anyway thanks for informing mate :)

This Player is AWESOME! Thanks Windows Central!

You are a unique sample..the only one to have found this app to be awesome!!

Probably hasn't tested it yet :-)!!!

Works great here too, videos and music play fine. No bugs so far but only tested on my 1520, next up my 930 and 920.

Seriously??? What videos did you play successfully? Any 1080p HD?

y wp apps are incompatibile?? is the platform not suitable for 3rd party apps? is it the incapability of devs? is it bcoz all are preparing apps and programmes for windows 10 OS?

I think many devs are either just not putting the necessary effort to deliver good apps on WP or the programming language and paradigm is dramatically different from C-style pl