Universal VLC app now available on the Xbox One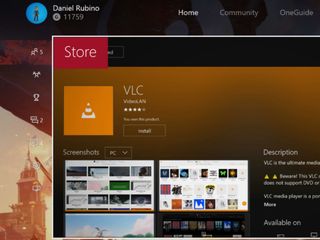 The popular VLC open-source media player app made for the Windows 10 UWP (Universal Windows Platform) is now available to download and use on the Xbox One console as well.
This Xbox One release (via Reddit) follows the launch of the Windows 10 VLC app for PC, Mobile and Microsoft HoloLens in June. Like those versions, the Xbox One port supports a number of image and video files; however, it does not yet support DVD or Blu-Ray discs. If you already have VLC installed on your Windows 10 PC and/or Mobile device, you should be able to find and install the VLC app on the Xbox One in its store.
Let us know what you think of the VLC Xbox One app in the comments!
Download VLC from the Windows Store (opens in new tab)
It looks like it is a beta version

I bet it will stay beta for the next 3 years.

Like the 8 year beta of gmail?

like the over year old beta of the amazing windows 10.

Uh, you have stopped down to a true Google level: Lies.

Uh, you have stopped down to a true Google level: Lies.

What does it matter if it stays beta?? This it's what we have been waiting for guys! Dividends of UWP!

Awesome! The entire reason I bought an Xbox One S is finally here. Also I don't think Blu-ray playback matters as the desktop versions can't do that either. What I really want is DTS playback support (lacking in the Xbox Media Player) which it should be able to handle.

Unfortunately the Windows 10 Mobile version hasn't been updated in FOREVER...

You have the wrong version then. The UWP app is available for Windows 10 Mobile

Wasn't it updated 12 days ago?

Hmmmmm....maybe I missed it, just looked at it though and not much has changed. None of the things at least they said were coming..

I updated VLC today, or at least my recent activity says I did. Unfortunately the app is crashing on me whenever I open it.

I'm.om the right version. They said things like movie and TV art were coming, but more importantly, right now there is no movie section and even crazier there is no way for it to update the library...it will forever show deleted videos.

Considering that "VLC" is the same app across the whole Windows 10 product line, it just got updated. Or do you perhaps mean "VLC for Windows Phone" which has been left in the Store for users of Windows Phone 8.x which hasn't been updated for a while and probably won't be?

I just tried streaming a few MKV files from my home network to the XBOX One using the new VLC app. The image quality is downgraded quite a bit from the original file. There is a distinct pixelation and a jagged stair-step effect on the video image. The 5.1 sound mix is also coming through as stereo. I was under the impression that the VLC app would not transcode the files but it seems to happening in my case. The same files play perfectly using my trusty old Western Digital media player. This is disappointing..

Have you tried Kodi? Edit: Not sure if Kodi works on Xbox.

No I haven't, I'll download it and check it out. Thanks

There is not kodi for Xbox one

Kodi is planned to appear on Xbox, it was mentioned with the release of kodi in the store for PC. They used centenial for that one.

Same with me, significantly worse quality. Very disappointing , I expected better. Posted via the Windows Central App for Android

Which is better VLC or PLEX? I'm trying to figure out how to put my movies on there, new to these kinds of apps.

This is a media player. Plex is a different thing. Plex fetches the files you have on a server (for example you set up the Plex server on your PC and it will stream to the device from that PC through the app. If you're going all digital, Plex is definitely the way to go. Posted via the Windows Central App for Android

Ok cool thanks for the breakdown

@DJCBS First +1 post in years ;) Thank you.

Ok cool I'll try that one to

I highly recommend Plex if you have a decent collection of digital files. It's pretty painless to set up, and it pulls everything quickly to the Xbox. The UI on the Xbox could use some tweaking, but it's overall pretty damn slick.

I was waiting for it to see if the Blu-Ray player incapability to read BD-R discs was a limitation put on the Blu-Ray app or a OS-wide restriction. Since this doesn't support it at all though, I have no reason to use it. And therefore the Xbox One S will also remain in the store shelf as far as I'm concerned. Posted via the Windows Central App for Android

And does it work as well? :D It doesn't do anything since the last update on my laptop :/

How do you install this on Xbox One? It isn't in the store anywhere. Just updated the xbox console, thinking maybe that would allow it to show up. Hasn't happened yet.

Just search for VLC if you can't see it already and that will give you the listing.

Plex has completely eliminated my interest in VLC. I appreciate that they're trying, but Plex is worlds better and is the way to go for storing and playing back your digital library. If you can afford an always on PC and the storage for it, do it, you'll never look back!

Plex only works if your okay with 1) Requiring a Plex media server - necessary to run Plex. 2) A possible downgrade in image quality - Plex transcodes video to make it compatible with it's basic media player. 3) Cover-art based UI - Plex is not at all suited if you just want a basic file/folder listing. Emby is very similar to Plex but unlike Plex is solves problem 3 a lot better, allowing the creation of a mixed content category that allows you to view files/folders. The best client for Plex is actually MrMC an appstore friendly fork of Kodi with a built in Plex client, this solves all the problems with native decoding, no need for Plex if you dont want it and files/folders viewing, sadly it's not available for Xbox.

Plex server serves more than just my Xbox, and transcoding is only necessary for some file types on some devices. You likely won't notice any degradation when you're watching on a tv unless you have really ****** files or really low transcode settings. I would rather have cover art and rich presentation, episode summaries, media info, and a tracked watch status, instead of just a basic file list. I fail to see how that's a problem, especially when I'm watching from my couch.

I tried watching multiple videos and they all played audio terribly compared to the native media player app.(Not tried 1080p video to see the quality) I was hoping I would be replacing the media player app with but will be waiting until a later update. The navigation is fine but if you have something with a long title you can't see what it is and the media remote support is none existent.