VLC for Windows 8.1 and Windows 10 gets updated with lots of improvements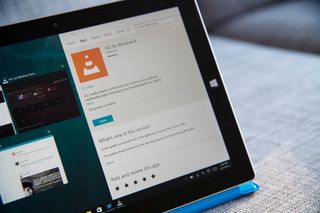 A few weeks after VideoLAN updated its VLC media player for Windows 8.1 and Windows 10 with a revamped user interface and other new features, its main developer Thomas Nigro has released the updated 1.6 version of the app to the Windows Store.
Here's the long list of additons, improvements and bug fixes that can be found in VLC version 1.6.
Core:
Subtitles should be display at the right position and size
External SRT (using file picker) feature working again
Subtitles with multiples lines may cause the app to crash
Improved hardware decoding
Some videos may cause the app to crash
Volume control now working
User Interface
Reworked Home page design
Reworked File Explorer page design (sidebar showing different folders to explore)
Prevent duplicated videos in ViewedVideos collection
Minimize/Expand/Close buttons background color were'nt the same as the main part of the TitleBar => TitleBar is now fully transparent
Add animations in the Music Now Playing view
Bottom MiniPlayer Buttons width increased for touch devices
Easier to access to Hardware Decoding settings
Bug Fixes
Remove duplicate artist background picture in the MiniPlayer
Accurately refreshing the list of audio tracks and subtitles
Default speed rate value was wrong (0.5 instead of 1)
Fix Background picture squaling issue in the Win2D Slideshow component
Restore the previous window size when exiting MiniPlayer mode
Don't resume a video when it was paused when leaving the app
Fixed VideoPlayer controls appearing randomly
Open Stream is no longer expanded off screen when a long link is pasted
Prevent playing audio music file while a video is playing (WP only)
Fix navigation bug between home pages
Usual bug squashing
Features
(Temporary hack) Open subtitle file in the folder if it has the same name as the video
Users can also set "File explorer" page as their home page
If you experience any issues or want to give feedback on VLC, please use the following board to register them:
Report bugs and give feedback for VLC for Windows Store .large}
Download VLC from the Windows Store (opens in new tab) (Free)
Source: Videolan.org
Windows Central Newsletter
Get the best of Windows Central in in your inbox, every day!
When Windows 10 update will come to the windows phone ??

They've said this so many times, merely asking it in an unrelated topic like you've done is irritating...

And you have the choice not to reply him. But you chose to and get irritated..... WTH.

If you're really want it then go ahead and become a Windows Insider today!

Because Thomas had a store verification problem. It's coming sometime today.

Do you guys recommend the app store version or the regular vlc desktop application? I think the desktop version is more feature complete.

You're right it is. I'm looking forward to the app catching up though as its nicer to use on a HTPC. Posted via the Windows Central App for Android

I prefer the apps feel, but I mainly use VLC for DVDs, and so for the moment, desktop is the option.

I think so too, as much as I'd love using Movies & TV as my default video player, it just can't compare to VLC for desktop, it's missing way too many features. The problem is that VLC scales pretty awful on my Surface Pro 3, it's so tiny and it's difficult to hit the right buttons, especially with touch. I'm working on a skin that will make it look more modern and scale better. It's the best of both worlds, the power of VLC for desktop and the modern look of Windows 10. A work in progress, still need to do some polishing up. http://1drv.ms/1UVA5oN

Yeah the Desktop program can play MPEG2, MKV,FLV,and AVCHD which the VLC Windows app cannot

True.. I love the look and feel of the Windows 10 app.. But the desktop version just plays anything I throw at it without any hassle, delays, stutter or audio issues. Some files don't fare as well on the modern app. Also, these modern apps don't yet support drag and drop.. Which I use a lot.

What about windows phone....???

What about Deepak Halder....???

What about the children???

What about reading earlier articles?

Have to ask again, does this work playing in the background for anyone on Windows 8.1? Early builds did now no longer do so.

It should play in the background, if not, it's a bug.

Any plan to add swipe to move forward or backward with linear control? Like slow swipe to move few seconds and fast swipe to move quick?

Nice, updated on the Surface 2. For those whining for the WP/W10M version, they've submitted the 1.6 version to the store, and MS have refused as they would want the VLC team to use the 2015.852.112 kind of versionning instead. So the case has been escalated, and VLC are waiting for a solid (and smart) answer from Microsoft. Then the app will be submitted again. It was supposed to hit our devices a day or so ago.

What is the difference between the vlc app in windows store and the full .exe application?

And I'm sitting here like WinAmp all the way! Though, I know that time has changed.

Crashed. Sigh. I just want a video player that can stream from my OneDrive account. :(

Ever since they started focusing on Windows 10 for this app, they've been breaking it on Windows 8.1. If they don't want to test for 8.1 any more, they should just leave that version as is, and publish the new version with only 10 compatibility. The last version had an always visible title bar on 8.1. This version has the menus always on display, including a black bar at the top of the screen instead of the title bar.

I can no longer download .xap or .appx files from the store. Why?

Has anyone else noticed that the fidelity on the audio codecs is terrible? Very tinny, with garbled highs and lows. Groove sounds better! But video playback is top notch as always.
Windows Central Newsletter
Thank you for signing up to Windows Central. You will receive a verification email shortly.
There was a problem. Please refresh the page and try again.