VLC for Windows 8.1 and Windows 10 gets updated with lots of improvements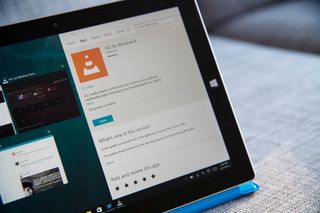 A few weeks after VideoLAN updated its VLC media player for Windows 8.1 and Windows 10 with a revamped user interface and other new features, its main developer Thomas Nigro has released the updated 1.6 version of the app to the Windows Store.
Here's the long list of additons, improvements and bug fixes that can be found in VLC version 1.6.
Core:
Subtitles should be display at the right position and size
External SRT (using file picker) feature working again
Subtitles with multiples lines may cause the app to crash
Improved hardware decoding
Some videos may cause the app to crash
Volume control now working
User Interface
Reworked Home page design
Reworked File Explorer page design (sidebar showing different folders to explore)
Prevent duplicated videos in ViewedVideos collection
Minimize/Expand/Close buttons background color were'nt the same as the main part of the TitleBar => TitleBar is now fully transparent
Add animations in the Music Now Playing view
Bottom MiniPlayer Buttons width increased for touch devices
Easier to access to Hardware Decoding settings
Bug Fixes
Remove duplicate artist background picture in the MiniPlayer
Accurately refreshing the list of audio tracks and subtitles
Default speed rate value was wrong (0.5 instead of 1)
Fix Background picture squaling issue in the Win2D Slideshow component
Restore the previous window size when exiting MiniPlayer mode
Don't resume a video when it was paused when leaving the app
Fixed VideoPlayer controls appearing randomly
Open Stream is no longer expanded off screen when a long link is pasted
Prevent playing audio music file while a video is playing (WP only)
Fix navigation bug between home pages
Usual bug squashing
Features
(Temporary hack) Open subtitle file in the folder if it has the same name as the video
Users can also set "File explorer" page as their home page
If you experience any issues or want to give feedback on VLC, please use the following board to register them:
Report bugs and give feedback for VLC for Windows Store .large}
Download VLC from the Windows Store (Free)
Source: Videolan.org
Get the Windows Central Newsletter
All the latest news, reviews, and guides for Windows and Xbox diehards.