VLC for Windows Phone delay continues; Windows 8.1 version almost ready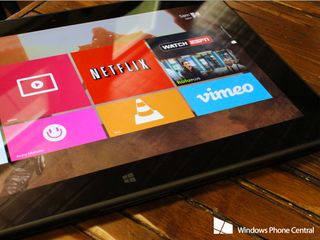 It looks like the saga to get the VLC media player to launch for Windows Phone continues as developers are continuing to experience setbacks that postpone the launch. On a bit of good news, Thomas Nigro announced that the version for Windows 8.1 is almost ready so the wait won't be too much longer for desktop, laptop, and tablet owners.
The version for Windows 8.1 will come with a more responsive UI and new design, according to a tweet from Nigro, asking users to "please be patient, we are working hard to bring the best experience possible."
Nigro continues on Twitter saying that there are "still some things to fix. We've got delay on WP. We prefer to ship a good version instead of a boggy one."
Are you looking forward to VLC for Windows Phone?
Source: Windows Phone Apps
Chuong's passion for gadgets began with the humble PDA. Since then, he has covered a range of consumer and enterprise devices, raning from smartphones to tablets, laptops to desktops and everything in between for publications like Pocketnow, Digital Trends, Wareable, Paste Magazine, and TechRadar in the past before joining the awesome team at Windows Central. Based in the San Francisco Bay Area, when not working, he likes exploring the diverse and eclectic food scene, taking short jaunts to wine country, soaking in the sun along California's coast, consuming news, and finding new hiking trails. For news tips or to connect, please message him on the Signal messaging app at +1 (424) 666-7438.
Oh well.
...................... Still waiting for a lot of apps...
Mainly US credit union apps...

I'm sure those credit union apps will be web wrappers

That would suck for me.. But, for the sake of a more robust store, in terms of shear numbers, it would be good for the platform.. The reality is that store associates are retards... End of story.

Well, if you need that apps, you can change your phone and buy an Android or iOS phone, it is easy.

Enough of the 'switch to android or ios' jibe already! What's wrong in expecting some apps for our preferred platform? WP deserves all the quality apps that other platforms offer.

How would it be that easy? That's backward thinking, and you should never suggests, even sarcastically, that to anyone....
.........
Don't ever let me hear you say that again.

Change the country bro, LOL :) just kidding :)

...and travel apps like booking.com, trivago, edreams and an updated version of tripadvisor. Where are they?

My credit union app on android is a web wrapper. Because unlike other banks both the mobile site and full site work on my 925, and there is nothing we cannot do with the app.

You, as seasoned professional at WPC, way to first post off-topic...

It's not off topic.. The point was about how we have to wait for VLC, and how it's no big deal because we're waiting for more than that.

So anyways we don't want WP 8 Version anymore!!!

True dat.. Moliplayer does just fine for me..

No, I do want it. And surely it's for a majority of users out there who doesn't have credit card to buy Moliplayer Pro.

what about you are cheap and install the trial and uninstall it and reinstall it? last time I tested it reseted the trial. but I haven't used it in a while.

Moli player is great but VLC is free and all in one package. You can run Network streams on vlc and moli player ui is pretty bad. videos should be in specific folder to play them. We expect VLC to fix all the flaws of moli player or yx player or whstever else there is.

Exactly. At first we had flash videos, but that's not on the store anymore...

Which brings up another point...im tired of not being able to back apps up to my computer that I PAID FOR. This is crap. I pay for them, they pull them, and I need to spend an hour on the phone getting a refund. LET ME BACK UP WHAT I OWN ALREADY, FOR CHRIST SAKE.

It does get frustrating, the back up system is not as robust as it should be... There was a nifty invoicing app that got pulled, made working on the go so much easier. But after a hard reset, I lost it - paid £4.99 for it too. We definitely need a decent PC / tablet app to back up the entire phone. Think I'm going to search on uservoice for WP, if its been posted or not and in the event of latter - post it myself.

Moli also has a free version and does incredible streaming service. Yes the ui is not good looking, but at least it's powerful and AVAILABLE now. I'm tired of VLC's promise of bringing it SOON to windows since 2012 and still after TWO years, my surface had no good media player. I have no more trust for VLC, that's it

How about Xbox version so we can stream any video files?

I don't care if they do want to come up with a WP8 version or not, since there's a Moliplayer app that does most video/audio playback functions.......

Us dark people are Negros thanks nigro

Well, here in the US they call us "Nigros" lol!
Just ask NIST what he says..

LOL the funny thing is people say am racist but am black hhhhhh irony

We're all racist... I mean, look at the VLC cone.

Why couldn't it be a "BLACK" CONE WITH A PANTHER

Because VLC developers are racist towards Indians.... That's why they won't release the app... Think about it.. Lol!

Indians are black ..hell even blacker than me ... Hhhhhhhhhhh L.o.l.

Hey Elias, I heard in Saudi Arabia u drink oil because u don't have water..is that true?

I heard in India most of you are sexually frustrated so you troll as pervs on all social media :D

I don't know, maybe the Saudis taught that

Nah its facebook twitter instagram Indians luv karma sutra and sex temples anywho let me quit speaking this sarcastic talk tootles

Enjoy ur oil and orgies buddy! Cheers!

Lol!!!! Now, now guys..... Stop arguing... Us Americans think ALL you middle easterners are a bunch of camel jockeys... So, there's no need for you to fight amongst yourselves... :-)

Well India don't wear picnic cloths like us so bwuahahaaa ! Pfffft who cares we had camels before and turban (ummamah)

Who's blacker? Black Americans, Saudi Arabian's, or Indians?
.........
Or the back of Forest Whitaker's neck?

Woah! Offended Indian here. This is rascist!

Report VLC! It's there doing..

Done. Sent them a mail. Awaiting their response. :P but u aren't going anywhere, mister. I have my eyes on u. :P

I would say black Saudis in my home black as hell hhhhh but there are the Indians too that are just ... Indians they come all kinda dark some soo black look purple hhhhhhhh no racism

Indians are black ..hell even blacker than me ... Hhhhhhhhhhh L.o.l.

Indians range from being quite fair-skinned all the way to jet black, so your comment is at best ignorant and at worst racist.

Eh, we are brownies, but my friend you on the other hand...

I'm also black but when I read the name Thomas Nigro, my first thought was, " it would be really funny if he was black." Even if it IS spelt differently. So I don't see what's racist there.

Please stop with those kind of comments, Sammy..

You said that black people are funny...

LOL. Ah! Our dear friend ambiguity. It'd be funny because of his name, not because he's black. Imagine those awkward moments faced when having to introduce him to someone.

Lol!!.. I know. Just joking.

Never heard of a black person with your name

I'm from Saudi Arabia hince my name Al-dossary

You could be darker than me!!! And, that racist VLC cone..

Wilson sounds like some kind of chauffeur... Lol!! :-)

Lol!!!!!! Like the one on Fresh Prince of Bel-Air... What was his name?

I think it was Jeffrey I forget hhhh

Well sir Rodney, you sure have a stereotypical name and how'd you know I was a chauffeur.......haha

Aldossary reminds me of Al-Qaida... world cancer

Your name simply reminds me of another Indian :)

You wan to say if your black you can't be racist?

I hope you're joking because I fail to see what's racist about the cone either. If you're implying it's racist because it's white, then what do you want, that every white product in this world be banned? How ridiculous.

Rajeev u already booty hurt off of simple joke ... Seriously? Lol

How was he supposed to know with such a bigot name as Rodney. :)

Because he is black probably lol

Black Rodney hates white people so much, he doesn't even brush his teeth. You've got to cut Rajeev some slack here. :)

It doesn't matter if you're black or white -Micheal Jackson lol

Well, the cone does look like a KKK hood/hat.. ;-)

Heh, that I'll give you! :)

Thanks for the comments White Condoms

Elias, I have no idea whether rodneyej's joking or not (as my first sentence above shows). On the internet without any emoticons or obvious hints one can't really tell when someone is joking or being sarcastic or serious. And why are you so "booty hurt" (as you so eloquently put it) about what I said to him anyway? Let him speak for himself and clarify his intentions if he cares to.

I've heard more ridiculous things than that where people have been completely serious, so I don't blame you. :)

I've heard all types of racist jokes whatever because of where I am from and apparently dress lol as Americans say we got bombs *sarcasm's sarcasm*

But you do have bombs, they just don't know you're funded by them. ;)

Maybe by the Taliban charity group that pay for my college and rent lmfao jk

CIA are gonna come and pick us up after this conversation. Looking forward to seeing you at Guantanamo, maybe we can waterboard each other? :)

maybe we can waterboard each other?

Is that a euphemism? Sounds unsanitary but I don't judge what consenting adults like to do in the privacy of their own homes (or cells, as the case may be). ;)

Joking.... Except for the cone... I can picture it on your head.... Lol!!

We're just being stupid.. Having a little fun..

Is this the real developer of the VLC apps❓

Damn Nigro I thought u was black lmfao jk man

Actually Nigro is a typical Italian family name.

Well, I was joking about the cone, and all of the other comments.. We're just having some fun... Can't wait until the app comes out for WP.... What is exactly holding the app back?

You blacks are obsessed with race and skin color.

lol this is the best falsely-racist discussion I've ever read. You know what I'm amazed by? Nobody's yelling nor taking this seriously. This is a rare thing.
Maybe the end of racism is not that far after all... @Thomas Nigro: I thought you were French, isn't the whole VLC project team French as well? Keep up the good work anyway, thank you :-)

There's only fake racism on WP lol. It's back to reality everywhere else.

I can also picture you with a VLC done on your head.

Naw, I'm so racist I don't even like wearing colors.

Hey man chill with the slurs, I'm Translucent.

Now, you know that translucent isn't clear, rather it's more on the hazy side... To prove that you're a true racist you must be transparent❗

You racists are so ignorant!!! I said that I am NOT clear and I told you that was disrespectful. Well, Adolf I'll have you know that we don't all look alike. There are translucents, transparents(ooh la la!), crystals, opaques, pearls, etc. And I am absolutely happy in my skin. I'm never gonna be the sapphire dream you see on tv but I LOVE my haze and if you don't share the same opinion and adoration for my people as I do, then you're damn right you're racist as hell! Now good day sir!!

Well, I never.... You couldn't have been more clear about your point.. Thanks for the transparency.. You aren't so easy to see right through... Now, I can see your true colorless shining through.

That's it!! I'm contacting the NAATP! Hal Blunton is gonna show you!

Then i guess it is harder to develop an app for WP than for android and iOS?

They are working on several versions, WP, Windows 8 and Windows RT, it is not the same. What about Moliplayer? it is a great video player, then it is not the OS or the dev tools, maybe it is the developer fault.

No , It's just that they hire 10 people to make the iOS/Android app because they want to release it as soon as possible. But there is only one developer behind the WP Version , and i'm pretty sure he is not working full time on this project , he should have other projects too. So , all these delays are the consequence of the lack of interest for the WP app. They are not in a hurry to release it. If it was the iOS or Android app , they would have a whole team of developers working 12h/24 , 7d/7 on the app ...

I'm telling you this because i'm a WP/.NET software engineer. Java (Android) and C#(WP) are almost similar. And the WP SDK and Android SDK/ADT are pretty much the same. So , there shouldn't more than 5/10% time difference between 2 similar projects on WP/Android ( sometimes , it's even faster on WP )

Sorry AymanWP93, but you are dead wrong here. This might make sense on new development, but this is VLC which has a common code base with as little platform specific code as possible. Since WinRT prevents direct access to some things, they have to target much of the core to make it work. Once compete, the entire code base will be improved and new versions will build easily, but taking current code and building for WinRT is not remotely trivial.

It does have a 'common code base', but as for that base being OS agnostic is WRONG and why it is a nightmare to port outside of its bubble. There is a LOT of OSS software that use *nix libraries and wrappers instead of PROPERLY developing the software for crossplatform. It is an easy 'cheat' that has worked in the past, but even then has left the Windows version of the software LACKING, even if the end user never sees the problem. One example of code we worked with a couple of years ago used some of the more common *nix wrappers to compile and run on Windows. However, when we broke the code and the wrappers apart it was sometimes doing 10 things redundantly that wasn't even necessary on Windows. So instead of just a simple open FS stream, it was making several *nix based calls to ensure the FS and stream were what it wanted, and yet on Windows the API that was being used was ALREADY doing this. This creates code bloat and also makes the OSS variations of Windows software perform poorly when they are depending on using these types of generic wrappers/libraries instead of dealing with the OS specific APIs as they should. VLC is still trying to dig itself out of the 'common' wrappers that it was built with, and sadly the wrappers are rather crap and *nix focused. So when moving over to even native code with 'restrictions' like in WinRT, all the shortcuts from the wrappers/libraries have to be recreated, making it a mess, and destroying the 'portability' of the project. This also isn't just a 'when moving to Windows or WinRT' problem, it is a problem of putting faith in a bad way to develop cross platform software. There is so much technology and so many features that allow developers to move away from the lower level architectures, and in the year 2014, binding to any architecture is just insane.

Concur, even internal applications - Skype, Xbox.xxx, weather, Bing, IE, etc. I am waiting for vlc.

The thing is we're having problems with the ARM compiler. That's the reason of the delay on WP side. W8.1 version is quite ready, and I think you'll like it. I worked these two last month with a lot of people asking them for feedback, trying to make the app as responsive as possible, and trust me, I'll be relieved when the update will be available for all of you.

Thanks for clearing things up a bit. Too bad its not in the article, but that's not your problem. :)

Thanks for sharing these infos with us

Thanks Thomas for the feedback

Should have made it first for Windows Phone. Windows user can use the desktop version. And I prefer the desktop version on Windows myself.

There's no RT version. So between my 1020 and my Surface 2, I prefer to get VLC first on the tablet.

No, desktop apps don't support connected standby for one so you cant stream music in the background to save power. And since Xbox music is crap on Windows as well this is sorely needed.

Wouldn't want a "boggy" app would we?

Agreed. It'd be all schweddy.

I should have invested the money in share market than spending the money for this Project KickStarter.......Still Kicking with the ARM compilers.....which the issue persisting ....and......and.........!!!!!!!!
What's the problem Thomas ?
Users out here can suggest a way...Is it with the Codes...

While it's too bad there is a delay, I'm glad there's a status update instead of just wondering. I am happy that the 8.1 version is almost complete. So does that mean it will work on RT tablets?

Why the hell are some users not in need of VLC for WP.?
There is no good Video Player in the WP Store,,(except MoliPlayer)

Not many users are motivated enough to load videos using a computer

you are contradicting, if Moliplayer is a good video player (actually is a great video player), then you can't say "there is not good video player".

MoliPlayer is a good video player but actually not a great (If you've used MX Player on Android)

The VLC team are not the best when it comes to developing. Even now, the normal VLC version for Windows contains loads of bugs. The WP version was supposed to be out ages ago, but they just can't seem to get to grips with it. I don't expect the 8.1 version for Windows to be any better....

Big lol, who are they ? Jokers ? For how much time w8 and wp8 are out now ?

Lol! They started developing it for WinMo 3.0. And still haven't finished it yet???

My most highly anticipated app, now that I switched to Bank of America and have a banking app (bye bye td you took too long).

Sounds amazing that they are working hard to deliver the best experience. Good job!

The desktop version is outstanding..love ❤ it.

Is anyone actually surprised?

You are right, VLC devs are slow at development.


I don't really care cause I spent some money on MoliPlayer Pro, which is awesome. Only thing it lacks is the ability to open a video from any folder, which I hope they'll add if it hasn't been added already xD haven't used it for the last couple of weeks xD

Change the exttension to MKV.

Moliplayer is do Ing fine but these days it shows trial expired. Still curious about VLc Media player

I do even better by downloading a .xap file via laptop and then transfer it to SD card so by that I redownload it as many times as I want by actual just using about 20 kb and just after a second It starts installation

Change the region to China and there is a free version of Moliplayer Pro

How about we just desentize the term so no one gets hurt Nigro nigro nigro nigro. SEE, it's just a word! It doesn't have to mean anything! Well I could bitch about it about meaning jack shit but that would make me a hypocrite I guess since I just wrote comment about it. Oh well back to my Xbox now

Wassup nigro brotha hhhhhhh

Wp's karma, always delays in apps and always getting other's OS 's leftovers, this is not good, I thought the app was close to be ready

Looking forward to the vlc wp8.1 app. I've been waiting for this since the wp7.5 days. Lets just hope it doesn't disappoint...

Fuck VLC, let them take another year along with our kickstarter money, I bought Moliplayer PRO and it plays all the formats!!

huge respect for for wanting to release a working app, instead of releasing a buggy one and fixing it with updates.. *cough* xbox music *cough*

Not in so much need for phone. Really getting angered though about the delays on tablets and Windows 8.1. Info has been sketchy.

At least they are reporting that the app is delayed cause they want a good version with no or minor bugs, lets just wait a little longer. When was the last time anyone heard from flipboard developers in guessing that all died.

For now I can live without VLC on my phone with Moliplayer, but on an RT tablet, the current version is beyond unusable.

can anyone explain why we need VLC Metro APP for windows 8/8.1? you can simply use the desktop version or better yet, there are tons of alternatives...like MPC-HC and stuff. It's needed for Windows RT and WP8/8.1? so is the purpose of releasing it on W8/8.1 first and port it or make it a universal app for WP8/8.1?

Have you ever tried to fast forward a video by touch input on your Surface?