VLC for Windows Phone updated with better background audio sync, host of bug fixes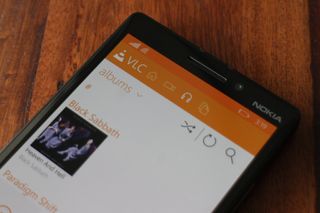 Good news if you're a fan of VLC media player, as the app has picked up another update today that includes a slew of bug fixes. In terms of functionality, the app has a back button added for the search pages, along with UI fixes for the new responsive design introduced last week. Also, the app now communicates better with Windows Phone's background audio task, bringing down CPU usage dramatically.
These are the changes highlighted in version 1.3.2, per the changelog on the Windows Phone Store:
Add back button in Search Pages
Fix responsive design and UX issues in Search Pages
Lumia 1020/920/925 get Responsive Design fix for issue « Music Player isn't showing all controls in landscape mode »
InterProcess communication between the VLC process and the Background Audio Task was using to much CPU to get Position, Time, MediaPlayerState… Now using a cache for those values, CPU consumption went from up to 40% to less than 10%. Great news.
Fixed FileNotFoundException when Sharing the now playing album if it has no cover.
If a media fails to read, sometimes the app crashed when it wants to display the « can't read media » dialog. It should be fixed.
A dozen of tiny bugs/crashes are also fixed.
How are you guys liking the stream of updates from VLC? Share your thoughts in the comments below.
Download VLC for Windows Phone
Thanks Mithun, Noman and Abhishek!
Definitely faster :/ Everything went smoothly but somehow when the videos are over it just freezed instead of going back to the main menu. Anyone else got this problem ?

It takes 6-7 seconds to go back to the menu...

For the first time, a change log is given in the WP Store

Well.. microsoft is not providing change logs.. why would any other developer. Should have been a required field anyways

It did.. For Onedrive.. Thank god i haven't updated, I don't want transparent tile..

Yeah, they finally gave a change log for OneDrive. :O

I for one want the transparent tiles option for every app, period. I'm sick of colored tiles messing up my start screen background.

In the search field the "clear field" function "x" is not aligned.

Still cannot play audio in background. More work needed.

Strange.
I can play audio even if I close the app or switch to other app.
Try re-installing it may work!

Does it finally get album art from the file and not from the internet?

Hey Thomas. I have a Lumia 730 which has on screen buttons. They collide with the app UI. Can you pls fix that.

Hello Thomas. I'm seeing this weird bug when sorting by albums, I would get artist names as the album name when I have properly tagged the song. Eg. It would show Taylor Swift as album name when the album name should be RED. Happens randomly on lots of albums for me.

Bro 1) can you reduce the size of the icons of the jumplist in all songs page? its too big and taking lot of space. 2) can you remove the battery and notification area completely in the vlc wp8.1 app? so the app gets more space. like the old windows phone used to hide the time and other details automatically, i am not asking you to hide and re appier those as its not possible. just remove those or add a toggle key like we change between dark and light theme. 3) and make the now playing bar a little bit smaller than the present one

Hey Thomas! Is not getting Arabic subtitle to work a known issue or is it just me?

I have a lumia 730 and the on screen keys collide with the VLC UI

Thats why i deleted the app...only because of that...its so damn annoying sometimes...

maybe you should not install beta software and wait for a final.

Actually it is. They pulled the app to v1 because Microsoft store rules but the app is still beta. They should put it on description to avoid misunderstandings... Anyways.

Yeah well we're on WP right?

I think this app has changed alot and has a better UI improvements.
Just give positive reviews for the app on WP store bcoz developer has and is working hard to get it done.

eh nice of them to ​fix the UI, but it still barely plays back anything fluidly and drains battery like nothing before it. Causes some device heat no other player can come close to and makes it hard to watch even a short video without losing power halfway. And it still has the stupid grey background on videos. That looks awful. Should be black, especially on a Lumias clearblack screen.

Yeah.I did though notice the heat and battery issues also devs metioned in today's changelog about less RAM consumption upto 10%. I think next update will be fixing battery issue.

We're working on battery consumption. When you play a standard video file like a basic mp4, it does not consume more than the default video player accordint to Visual Studio :)

Does it (or will it) support H.265? I have one mkv h.264 1080p video, which now seems to play fine, and one mp4 h.265, which crashes the app every time I try to open it

Woopiee! Thnx for the appdate.

Album art issue is still now. They don't solve that issue till now

The updates for this app download much faster than any other app. Any reasons?

I think that's because they use APPX for the app packaging as it is a WinRT universal app. Apps with such packaging can be configured to download only the differences, I.e. download only the modified files but not the whole package again. It is similar to how we do definition updates for antiviruses. That's why it is so fast.

Thanks, I found and read an article on MSDN which confirms what you said.

Just confirmed it. Update from 1.3.1 to 1.3.2 used only 1MB of data, according to data sense.

But don't update, remove VLC and download it again. Thomas is making changes to the way the database is indexed and some more backhand changes which you wont realise if you update the app.

the app is coming along nicely some interface issues still remain (on Lumia 930) - obvous one: the upper bar & the system notifications bar are two differend shades of orange; looks messy - the videos view shows only one column of videos; it used to display two columns, as on the "home" screen - the music controls hide the lower bar - the settings, open, and stream buttons can no longer be accessed - various controls are misaligned in the interface some personal requests: - play queue management: ther is no way to remove songs from the play queue - add Xbox Music Pass API support! I think music pass is one of the big draws to the WP ecosystem keep up the great work! I'd like to be involved in the UI/UX design of the universal VLC

Why does the "open file" button bring you to the camera roll and not to the default file picker introduced in 8.1? Just curious.

Click on ellipsis ... from the camera roll. Tap the button at the bottom to open the file picker.

Standalone VLC Music and VLC Video apps would be better. I don't need the music functions, but a well written videoplayer. I think this could be a fine solution.

Yes, all my music is on Xbox music so its a must for people like me....

Previously 1020p videos use to play on my L620 on VLC. But now after todays update while playing those video, app is now crashing.

The buttons in the top bar are still hard to hit! I feel like I have to press the thin lines of the wireframes exactly. Can be problematic hitting back button on small tablets and buttonless phones.

Imagine Dragons - Smoke+Mirrors album has no album art

Thanks Thomas, thanks so much, I've always been a fan. Still looking forward to local network media browsing by folders and DNLA.

Yes, DLNA support would be very welcome!

I'am waiting for XBox Video on W10 Mobile support mkv.

1) Still no way to search artist by first letter. This has been implemented for songs, but not for albums or artists.
2) No way to set preferred start page, so every use of the app for me starts with two swipes to get to the music.
3) Every time I open the app it has to search for and index my music collection; this takes about 15 minutes. Every time. Still some way to go as a music player...

VLC is on a roll! loving it! it's my primary media player now. :)

VLC is just getting better. The latest update of VLC made me replace the default Video app in my phone. Awesome job Thomas.

Not at all updating keeps pending

Thanks to the VLC team for providing us with a good player for free and constantly updating! I think the updating processes will start getting slower then usual when we approach windows 10. Just hope ms makes the OS easier for devz

Still not playing HD videos in my Lumia 720 and the crashing alot..

well i think s4 processor can only handle upto 720p, P.s are you trying to play 1080p or 720p ??

you have completely wrong idea....Lumia 720 can handle 1080p videos easily and smoothly,even by default xbox video....

Xbox video playing hd videos. But vlc not playing..

VLC doesn't play 1080p videos properly on any phone.

Not even playing 720p in Lumia 720...

Good, but mpeg2ts still don't play :(

Is anybody else having problems with FLAC albums not properly displaying as albums and having unknown qualities? Such as a FLAC album with the appropriate metadata and such metadata can be viewed in VLC on PC but windows phone version cannot identify the metadata? Am I doing it wrong or does VLC for WP not fully support metadata on FLAC files and various other file types?

thats a nice update Tom, Keep em coming

.srt subtitles not working

Ders a prob with the large tile..
Hope they fix it soon :)

Does anyone know if chromecast support will be coming to VLC for WP like it is going to other versions?

Hurray, can view my Cisco 7030 IP camera via RTSP.

VLC continuously crashing on my L920. Tried reinstalling,but no use. Does anybody else has this?

Still fails to install on my Lumia 925.

Is it just me or the design looks Windows 10 ready (iconography)?

always force close when open mkv file 720p with animation subtitle
I used lumia 630ds

Finally, we're getting somewhere. Sure, lots of complaints remain, but VLC is finally usable for most of the things you would want to use it for! Thanks for all the hard work and sticking with the platform!

Does it has the 10 second seek? It was not working before...

Does still it play album tracks still and not by track number?

Great app, will love it more if a graphic equalizer can be added :-)

Can't see any support for onedrive though?

The app is still very slow on my L720. But it indeed have a future! Can't wait until they finish it. It's going to be awesome

I still have a green bar one the side of the screen =( Also, a shortcut for a folder would be a great addition, as I have all my videos on a folder inside the SD Card, takes a while until i get into it

Cannot play videos on landscape mode in my lumia535, anyone else with the same problem? Or who knows where to enable landscape mode?

I'm having this problem on my 1520. No idea how to view videos in landscape mode either.

VLC on my lumia 535 force closes anytime I open it. i can't do anything at all. whats the solution???
Windows Central Newsletter
Thank you for signing up to Windows Central. You will receive a verification email shortly.
There was a problem. Please refresh the page and try again.