Vodafone Australia plans late December Windows Phone 8.1 update for most Lumia phones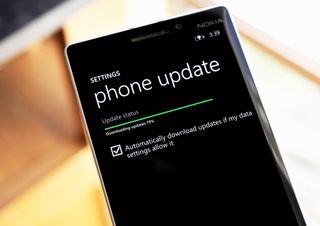 Vodafone Australia has outlined its Windows Phone 8.1 update schedule for some notable Lumia smartphones, with many devices getting updated to Windows Phone 8.1 GDR1 late this month or in January. The updates are planned for the Lumia 710, Lumia 735, Lumia 820, Lumia 925, and the Lumia 930 smartphones. The current status for these phones is that the carrier is "awaiting software for testing."
With the exception of the Lumia 925, which is expected to be updated in mid- or late January, owners of Microsoft's other Lumia smartphones on the list should expect their 8.1 update in late December or early January.
Are you excited to get Windows 8.1 officially on your Lumia phones? Let us know when you get the updates and which device you're on if you're a Vodafone Australia customer.
Source: Vodafone (opens in new tab)
Windows Central Newsletter
Get the best of Windows Central in in your inbox, every day!
Chuong's passion for gadgets began with the humble PDA. Since then, he has covered a range of consumer and enterprise devices, raning from smartphones to tablets, laptops to desktops and everything in between for publications like Pocketnow, Digital Trends, Wareable, Paste Magazine, and TechRadar in the past before joining the awesome team at Windows Central. Based in the San Francisco Bay Area, when not working, he likes exploring the diverse and eclectic food scene, taking short jaunts to wine country, soaking in the sun along California's coast, consuming news, and finding new hiking trails.
Come on its been out for half a year

Know this is irrelevant but I know why Microsoft are putting IOS and android first. Its because they are secretly creating a huge app store for windows 10

Nope :P, follow the money.

The 930 here at voda has already gotten the 8.1 update. Denim maybe?

It's written QFEx on their page, which probably means Quick Fix Engineering. Not sure how it is related to Denim though.

Nah,... Quick Fire Exposure so Denim ;)

I think the article is referring to Denim, according to Microsoft's update availability page, Vodafone Australia has already updated all their Lumia phones to cyan: https://www.windowscentral.com/e?link=https2F%2Fclick.linksynergy.co...

And 735 don't have denim?

It's an update which brings some updated firmware (still Denim) which will provide new Denim camera features to phones like 830.

Don't shoot me down, but when is GDR2 coming?

only the lord knows my friend but probably before windows 10 comes out....hopefully

Exactly. Wake me when Denim rolls out for my 930.

Really... They announced the features so early that people won't even remember everything that's new when they actually get the update.

I'm on dev preview, so hopefully soon for me.

The camera improvements are not going to come with the dev preview.

Oddly, I posted to the wrong comment. Still hoping for denim soon. But my 920 can't be high on the list of devices.

It won't receive any camera improvements anyway...

Glad to see that carriers are still screwing things up for the platform by delaying things beyond the point of sanity.

This is why I buy everything sim unlocked. O2 in the UK is apparently going to merge cyan and denim... So that most likely will happen late Q1 2015. Yeah, they really are helping aren't they? /S.

SIM unlocked isn't the same as unbranded though... e.g. my HD7 was SIM unlocked so I could use any carriers SIM, but it was Telstra branded internally so I still had to wait for Telstra to roll out updates.

It should have been out 4 months ago

Right. Is denim still coming out in November for unlocked phones too?

Yea.. I agree with you. After reading this for the 3rd time, I'm still can't figure out is it cyan or denim or something else.

I don't think it is either.... I may go back and tea it.

8 months after build was released to preview, shameful

Yeah yeah hope they would provide for 920 also soon :|

At least vodaphpne are updating, Optus and Telstra no word, vodaphpone seems to show some support

Not sure about WP support exactly. I wanted to see if I could upgrade my 1320 to the 930 but got email saying that 930 out of stock, and no plans to get any more in. So VF currently offer ZERO Windows phones in Australia! Can't imagine why sales and market share is so low....

I just have to point out that this is an article covering a carrier that is non-US. As someone from the US I am unable to scroll past this article and therefore need to comment on how irrelevant this article is to me /s

I have to point out the arrogance of usa here, there are other people in the world!

Didn't know WindowsCentral's exclusive to US related articles.

So, WC has enforced an article lock, forcing all US citizens to read non-US related articles before they can proceed further in the news feed?

Except it clearly says "Australia" in the title. Non-US people only gripe when it has a generic title, or is a competition, and we have to read through everything until the last paragraph that says "US only" or we have to try to figure out that it's a US-only company (which isn't obvious if we've never heard of the company).

No mention of Nokia 1320 ;-(

When are they gonna release one update for l925

sounds like denim to me as the 930 was cyan to start with. Nokia
Lumia 930
WP8.1 Blue GDR1 QFEx
Awaiting software for testing, expected late December/early January. and all lumias are cyan available already

Makes me feel better about my Icon not having cyan yet that many other carriers are still working on pushing updates too.

Does the Lumia 535 support denim
Windows Central Newsletter
Thank you for signing up to Windows Central. You will receive a verification email shortly.
There was a problem. Please refresh the page and try again.