Vodafone Germany pushing out Samsung Omnia 7 Windows Phone Tango update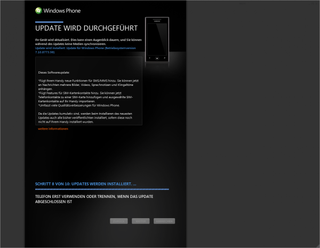 With all the Windows Phone "Tango" update madness that's currently underway, whether you're forcing the upgrade or receiving it from the carrier, there's a number of networks pushing out the latest version of Microsoft's operating system. Vodafone Germany has joined this list with Windows Phone Central reader EvilEls sending in a screenshot of the Zune update process.
The updates are for the first generation Samsung Omnia 7 smartphone. The first being a firmware update, with the follow-up presumably the Tango upgrade. Device changes reported are as follows:
OS: 7.10.7720.68 => 7.10.8773.98
Firmware: 2424.11.8.5 => 2424.11.11.2
Radio Software: 2424.11.7.2 => 2424.11.9.1
Bootloader: 5.8.1.9 => 5.11.1.8
Have you been Tango'd yet? Let us know in the comments if you've received the update or have forced it through Zune.
Thanks EvilEls for the tip!
Rich Edmonds is Senior Editor of PC hardware at Windows Central, covering everything related to PC components and NAS. He's been involved in technology for more than a decade and knows a thing or two about the magic inside a PC chassis. You can follow him over on Twitter at @RichEdmonds.
I updated my HTC 7 Pro on US Cellular last night, they pushed the update through. I didn't have to force it through Zune.

Nice to hear yet Sprint still has not received Tango for the Arrive

last night i got update for my HTC HD 7 location Macedonia but i'm using US marketplace

I'm still waiting for AT & T release the update for my Samsung Flash Focus! :|

And I'm still waiting for vodacom South Africa to release Tango. Its so frustrating!!

Still nothing on lumia 900 eh

Hi, im from Belize and i have currently an HTC Trophy, but no update as yet... What i have noticed my frirmware is 2250.21.51201.162 and HTC(Verizon) has its trophy firmware to 05.13.20402.605. My carrier is Belize Telemedia Limited. Does this means that its an update only for Verizon and not a worldwide update? Im also waiting on Tango, I tried to force the update, but Zune always shows "Your device is up to date" when connected to the net, or "cannot find any avialable update at the moment" when disconnecting the wireless after 2 seconds (Force update). Any clue?

Hope HTC releases the Tango update, and hopefully this brings along the update verizon released in April.

Regards

Elvir Gutierrez


http://www.htc.com/us/support/htc-trophy-verizon/software-updates
HTC TROPHY (VERIZON) MAINTENANCE RELEASE UPDATE INSTRUCTIONS | 04.12.2012
This software update (OS version: 7.10.8107.79; Firmware revision number: 2305.13.20402.605) is now available for your HTC Trophy.

No Tango love for my original v1.3 Samsung Focus (which is unlocked, debranded = 000-88 instead of ATT-US). I'm not even in the US, I don't understand why AT&T has any say on which update I get. Samsung should be the one calling the shots with my phone...

After having spoken to the Samsung support here in sweden, they reported that 3 witheld the update for Samsung Galaxy 2 for one month (it was launched 3 months ago). According to the support person the update notice is Microsoft's doing and forwarding or rejecting the update to the end-user is the carrier's.
How I would love to see the coming versions of windows Phone OS updates on windows Update. How easy that would be, just plug and play.

Nokia declared that Tango is available for India thru its Global Website. But I didn't get Tango yet.

Just Updated my Samsung Omnia W to tango in India.

Reporting from Gothenburg, Sweden. At leats ONE update is in the pipe-line. My samsung Omnia 7 wants so desperately to update but crashes every time I try to. Most likely cause (which I found out today after five days of depressing trials) - 3 Sweden is not providing version .8112.x (I believe that is the first step to Tango) at this time. Anyone else from Sweden who has been rejected or actually has received one or two updates? In which case, what carrier do you have?

Recieved the updates by doing the "disable internet connection hack". Omnia 7 with operator 3 fw: 2424.12.4.1
rsw: 2424.11.9.1
Bl: 6.4.0.9

I have an unlocked Samsung Omnia 7. Should I not be able to get this update already if even carriers are delivering it? I got Mango and later incremental updates rather early in comparison to most, it seemed at the time. I have even tried to 'force' the update in Zune with no luck...

Just updated my my HTC Mozart here Manila.

Any info on the HTC Surrond on AT&T

Orange UK havnt got any tango info for my Omnia 7.....not happy :(

o2 have no imediate plans to release 8773 (Tango) on its network.

got update on my samsung omnia.......no force required :)
Windows Central Newsletter
Thank you for signing up to Windows Central. You will receive a verification email shortly.
There was a problem. Please refresh the page and try again.