Voices Admin is a powerful new app for UserVoice admins on Windows Phone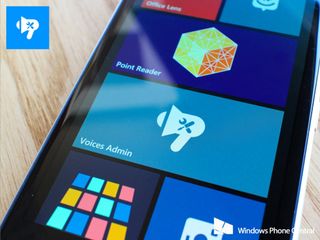 UserVoice is a great piece of online software. Companies like Microsoft and indie developers leverage the UserVoice platform for direct consumer feedback. We've seen the team behind Nokia MixRadio use UserVoice to solicit ideas to improve the app for users. Microsoft even maintains a Windows Phone page where users can suggest and vote on features they'd like to see. Back in September there was a strong community push for the Windows Phone team to keep Cortana as the name for the upcoming digital voice assistant.
If you're an independent developer you might not have as many customers as Nokia and Microsoft, but you still find UserVoice to be an effective platform to gain customer feedback on your apps. Using UserVoice to power feedback and improve your apps? Then you'll want Voices Admin for Windows Phone.
Voices Admin is a new Windows Phone app for those who in administrative position on UserVoice. Which means basically Windows Phone and Windows 8 developers. It's a great way to manage and stay in the loop with feedback from users.
Here's what you can do with Voices Admin on Windows Phone:
Account overview
Manage suggestions (read, modify, add, search, delete)
Manage support tickets (read, search, add on user behalf, messages, and respond to messages)
Articles/knowledge base (read, topics, add, search, delete)
Live tile and toast notifications about new interactions with your UserVoice account
Not only do you get access to UserVoice with Voices Admin for Windows Phone, but the developer has created a UserVoice library for Windows Phone. The developer, Marco Siccardi (@msicc), made a small helper library that will allow Windows Phone developers to integrate core UserVoice features into their existing applications. Want to learn more about incorporating UserVoice into your apps to get your users to leave feedback? Head to Marco's blog post for the info. Or hit him up on Twitter.
We recommend checking out the new Voice Admin app if you're a developer, website owner or anyone else using UserVoice as a support platform. The app has a three day trial that offers full functionality so you can check it out. After that it'll cost you $1.49 to buy, but is currently available for an introductory price of just $0.99.
Download Voices Admin from the Windows Phone Store.
Windows Central Newsletter
Get the best of Windows Central in in your inbox, every day!
This app looks very well designed!

oh, Voices Admin seems so much faster then everything else... xD ...sorry, for this one! ;)

I thought there was already an official app (by Microsoft) for Windows Phone Uservoice?
Edit: yeah, there is. It's called Suggestion Box
http://www.windowsphone.com/s?appid=30f4a6af-d742-452d-9f90-aeed254f3d42

No. Not at all. Voices Admin (the app in the post above) is for administrative accounts/users on UserVoice. Voices Admin for Windows Phone allows them to manage feedback from users. The app you're talking about, Suggestion Box, is just for users to leave feedback directly on the Windows Phone UserVoice page.

Ohhhh... OK, my bad. I was clearly confused.

UserVoice is where Microsoft sends consumer feedback to die.

Maybe you should actually check it out, there are many topics that have been responded to, answered and even implemented. With the 8.1 update, even more of those suggestions/requests will be implemented.

I have followed the XBM requests very closely. The two admins (Rebecca and Cameron) do not use the software correctly, and mark every idea as "Under Review". Additionally, they are notorious for closing out ideas that were either not implemented, or implemented poorly. I often get the impression that the moderators have never used XBM, but I don't blame them. My second favorite site is the Azure UserVoice. The #2 idea is "Actually pay attention and respond to the suggestions from this forum." That is just comedy gold.

Addendum: I reviewed the Windows Phone UserVoice site for comparison, and they do not mark ideas correcty there either. Ideas are either unacknowledged, declined, or completed. I did note that the top idea in the Music+Video section is Continue to use Zune for media sync in WP with 15,686 votes.

So you admit that you made an assumptive remark.
Cool.

Excellent trolling. You managed to get a rise out of me while contributing as little as possible.

Why would i pay to submit complains?

I prefer Zendesk really.. They also have an official app for WP.. :)

Zendesk has only a Ticket system. UserVoice has the feedback forum as well as a knowledge base, that's why I chose UserVoice over Zendesk.

I came up with the name for this with @msicc! :)

right, and it is a god one. Thanks again for that :)

Hi, UserVoice made some changes on their website that broke our app. We just submitted a quick fixing update that should be available soon (if certification is as fast as the inital one). Marco
Windows Central Newsletter
Thank you for signing up to Windows Central. You will receive a verification email shortly.
There was a problem. Please refresh the page and try again.