Wacom debuts Cintiq Companion 2, a Windows 8.1 tablet for creatives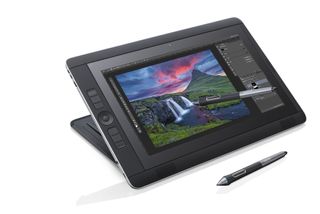 Wacom, purveyor of insanely accurate smart pens, has just taken the wraps off of a new Windows tablet at CES 2015 today. Called the Cintiq Companion 2, this 13-inch tablet is focused on delivering the "best pen-on-screen experience" with creative software.
From Wacom:
The tablet will be available in 5 models, features of which include a 13-inch 2560 x 1440 WQHD display, 4-16GB of RAM (depending on model), and 64-512GB Solid State storage (depending on model). Additionally, the tablet runs Windows 8.1 on Intel chips, and incorporates a specially finished, super-sensitive screen meant to replicate a "natural pen-on-paper feel."
As far as pricing and availability are concerned, you can look forward to the tablet going on sale in February from $1,300-$2,500 depending on which model you choose.
Sources: Wacom (1), (2)
Press Release:
TOKYO and VANCOUVER, Jan. 6, 2015 /PRNewswire/
Today at CES, Wacom introduces the Cintiq Companion 2, a powerful touchscreen tablet for professional creators of digital content who demand the very best pen-on-screen experience. It offers unparalleled freedom and flexibility, allowing users to explore and make their creative mark anywhere. The new mobile solution from Wacom works either as a fully fledged Windows® 8 tablet with all the creative input capabilities of a Cintiq or, when the need arises, will connect, via Cintiq Connect™, to the home or office Mac or PC and function as a primary or secondary Cintiq display with the renowned pen performance creative pros have depended on for years.
With 2048 levels of pressure sensitivity and tilt recognition, the Cintiq Companion 2's Pro Pen performs like a traditional brush, pen or marker when used in combination with creative software applications from such companies as Adobe®, Autodesk®, Corel®, Smith Micro®, Pixologic® and many more. The pen and high-resolution screen (2560 x 1440) interact to provide a realistic pen-on-paper feel with limited glare that allows artists and designers to quickly produce detailed and accurate material without ever having to worry about art supplies.
Comfort and efficiency are important elements for any creative professional and the Cintiq Companion 2 is specifically designed to let users work faster and in a more relaxed and natural manner. The footprint, adjustable stand and sleek design allow users to work comfortably in a variety of environments including studios, client sites, planes, trains and wherever else creativity has a home. By incorporating the Pro Pen, multi-touch, 6 ExpressKeys™, Rocker Ring, Radial Menu and Cloud Services all onto the Companion 2, professionals are given a way to work that has virtually no limits. It's the choices to be able to set an ExpressKey to a particular shortcut or use multi-touch to manipulate an image that define the creative tablet's efficiency, intuitiveness and flexibility. Additionally, a digital workflow allows for immediate feedback from colleagues or clients and this type of collaboration can improve production significantly.
Pricing and Availability
The Cintiq Companion 2 supports creativity by offering everything necessary for productive art and design work whether in the studio or on the go. The Cintiq Companion 2 will be available at the Wacom eStore in several configurations this February – Value (64GB SSD, $1299.99 USD), Standard (128GB SSD, $1599.99 USD) and Premium (256GB SSD, $1999.99 USD). The Enhanced (512GB SSD, $2499.99 USD) and Enterprise (customizable, $2699.99 USD) versions are expected to begin shipping this coming spring.
Attendees of the Consumer Electronics Show (CES), January 6 – 9 at the Las Vegas Convention Center, are encouraged to come by the Wacom booth (#31642, South Hall) to try the new Cintiq Companion 2.
About Wacom
Wacom's vision to bring people and technology closer together through natural interface technologies has made it the world's leading manufacturer of pen tablets, interactive pen displays and other digital interface solutions. The advanced technology of Wacom's intuitive input devices has been used to create some of the most exciting digital art, films, special effects, fashions and designs around the world. Wacom devices provide business and home users with the ability to explore digital content in a comfortable and natural way.
The company also offers its products as OEM solutions to leading manufacturers serving incremental markets. Wacom's interface technology, called Wacom Feel IT Technologies, is also offered as an integrated solution to strategic partners. Most Tablet PC manufacturers count on the advanced features and reliability of the brand to deliver a superior user interface experience.
Windows Central Newsletter
Get the best of Windows Central in in your inbox, every day!
Dan Thorp-Lancaster is the former Editor-in-Chief of Windows Central. He began working with Windows Central, Android Central, and iMore as a news writer in 2014 and is obsessed with tech of all sorts. You can follow Dan on Twitter @DthorpL and Instagram @heyitsdtl.
Dang it, too expensive for me. And I want that.

I want it too, I guess I'll have to start saving.

This could definately be worth saving for. Maybe it will finally be able to help me draw better...

LOL, seems I heard a rumor Wacom didn't want MS promoting Wacom tech in the Surface Pro line because it was competition for the Cintiq tablets at a cheaper price. Interesting. :-)

I heard the same thing. I use the Wacom bamboo pad and love it with my laptop. I thought about buying the SP3 specifically for photo editing.

That was my first thought as well.

Seems like this "productive tablet" isn't just a fad and that Microsoft is finally ahead of the pack instead of playing catch up.

Microsoft has actually been ahead of its time quite a few times. It's timing and marketing that falter.

It falters because they are ahead of it's time

Holy cats! That is what I want! Hey, Santa, circle back around.

Can you not upgrade the SSD ?

SP3 obviously! Cheaper, lighter, better build. The high-end pen doesn't matter for artists, unless you are rich.

I have the original Cintiq Companion and while the SP3 has it's advantages (cheaper, lighter, cool kickstand), the Companion does as well -- starting with the set of hardware buttons and toggle switches found on the left bezel. In my opinion, those are invaluable when working in real drawin apps and, by themselves, worth the extra $.

Half of creative guys would pass up on this product without a decent GPU. But then I hate to see how much this thing would cost with a decent GPU.


I'm always of the opinion that a normal Cintiq (so not Companion, plug in their own PC and draw) would be a better choice, because it costs less (still a lot of money, but less), and the hardware of the PC can be used instead.

However, when I'm sitting in my car for 90 minutes 3 times a week waiting for my daughter to get out of soccer practice, the normal Cintiq is useless. Same for when I'm sitting in a plane for 4 hours on the way to a convention or conference. So, there's that.

well the companion 2 can be plugged into a computer and used as a graphics tablet with the PC hardware. It really depends entirely on if you need to be able to work away from the computer

I'd like the $1500 model, hrmm ! This is good if you don't care about doing PC stuff, and you want to draw anywhere, anytime. Cintiq Companion and a Windows Phone, perfect combination, don't you agree ? If you are not serious into this line of work or your a Ps Newbie I'd recommend other tablets. The Desktop Cintiq run from $2500 + to now the largest 27" probably $4400 !

Had a cintiq 12'' once.. I want this one!

Wacom is always extra expensive. I really hope that the competition keeps improving. N-trig actually looks pretty good now, making the SP3 very comparable. Just some driver issues if you use certain unsupported software; which I hope gets handled quickly. But most software is supported now. The tip of the pen on the SP3 also looks like it's pretty close to right where the line is drawn on screen. Very little parallax effect. I wonder if Wacom is able to match that with this new Cintiq. I also wonder if this Cintiq has tilt recognition. That's something that the next Surface Pro sure could use.

It does have tilt recognition

So will this be the best tablet for photo editing? Or I'd surface pro just as good from what I am reading?

All tablet windows 8 never comes to Indonesia! Why???

CES this year has so many devices with Windows OS, except mobile phones.

I'm curious about using something like this for photo and video editing on the go. I know the SP3 can run premiere cc. Does anyone that has a cintiq companion edit video with it?
Windows Central Newsletter
Thank you for signing up to Windows Central. You will receive a verification email shortly.
There was a problem. Please refresh the page and try again.