Walmart offering T-Mobile Lumia 710 on prepaid plan for $269. Still selling well.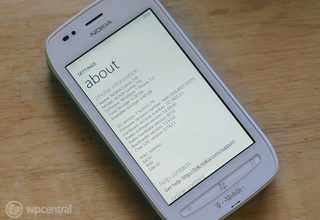 Walmart is offering the Lumia 710 at a low price of just $269 on a prepaid agreement. Like all prepaid (or PAYG - Pay As You Go) plans, the no-commitment usage of a feature rich smartphone appeals to many and with Windows Phone 8 hardware on the horizon, it may prove to be a good move to take up such an agreement while waiting for what's next from manufacturers and Microsoft.
The Lumia 710 on offer is the white version with a black clip-on case. Walmart has beaten both T-Mobile (opens in new tab) and Best Buy's pricing by $30, which is certainly something to consider. With the low-end hardware from Nokia and other OEMs, Windows Phones can take advantage of prepaid plans at lower pricing levels.
Interestingly, the Lumia 710 (white and black) are the #3 and #4 top-selling 4G phones (opens in new tab) on T-Mobile which backs up previous statements from Nokia and T-Mo that the phones are still selling.
Head on over to Walmart's website to check if your local store has stock.
Source: Walmart (opens in new tab); thanks, Robert, for the heads up!
Rich Edmonds is Senior Editor of PC hardware at Windows Central, covering everything related to PC components and NAS. He's been involved in technology for more than a decade and knows a thing or two about the magic inside a PC chassis. You can follow him over on Twitter at @RichEdmonds.
Only 8 gig internal storage lol no thanks. My Htc wp 7.5 has 16gig internal so better and have it for 6 months and have now 12gig left with 62 apps installed. 710 just waste.of time with low storage and same 7.5 OS.

Apparently TMO customers don't care about space so your comment is worthless

FYI Tim is right customers do rely on storage 8 is just too low and 16 gig is standard storage on new phones now. Tim comments was not worthless he has his opinion which he is right.

How can you possibly say this though in the face of the facts? It makes no sense. Claim - "Customers don't want 8GB of storage they want 16GB instead" Reality - The 710 with 8GB outsells the HTC Radar with 16GB (#12)

Ummm radar is 8, i guess u mean titan

Ah, my bad. Either way, 8GB phones sell and the 710 on Tmo shows that.

Hahaha shows you how much you don't know. Yup you got burn. Fatbino. Hahaha

Are listening to yourself? Did you read the article? If you did the you would know the phone is still selling well, which indicates the is a large group of people who don't rely on space as much as you or I. As long as people continue to purchase the phone, it is not a waste of time as mentioned above.

300 dollar difference is not a waste of time...

The Lumia 710 has a 1.4GHz CPU which gives it a nice zip to it. I use the phone quite regularly and while I really like the Radar too, everyone's needs are different. I use the 710 often and highly recommend it. Let's not turn on each other due to personal taste. That's your opinion and only your opinion.

Tim is right only 8 gig internal is not enough. Processor is fine but 8 gig is just too low. Most basic storage that starts off is 16 gig now. Also Daniel funny how you did not mention the 8 gig when mentioning the specs. :-D also think Tim comments was not worthless he had his opinion and I agree his opinion has more storage counts.

Its not enough.....for you

So you say no storage yet you have only used 2 gigs cause wp7.5 takes about 1.5gb and you have 12 GB left

Same spec as 1st Gen Samsung focus. Still going strong with Tango :)

I'm pretty sure timwp12 and daniel12 are the same person posting under different aliases.

Either are a reincarnation of thenet who was banned for his anti-Nokia comments

I did ban timwp12...will watch daniel12 too as I think you're right... Edit: banned daniel12 too.

why don't you 3 trolls stop assuming and just can't take it because this tim12 was right about low storage. Daniel babino didn't even know htc radar was also 8gig lol shows you how much he does not know at all. Tim12 just terminated you all 3 trolls. :-P

Some people can manage with that storage....

I actually have a Samsung Focus Flash with only 8gb of storage and I love it =)

Your right why would idiots get a 710 with 8 gig only? Geez you will be low in storage by time you add more music files. Also 1st Gen wp 7 have 16 gig and still have more storage left. Don't be fooled of specs or processor. 1ghz snapdragon processor fast enough. So yes glad you brought this up. Maybe this will educate these wannabe newbie's.

$269 is too much money, when a Samsung Galaxy Tab 2 can be had for $399. $199 would be a reasonable price. The Nexus 7 with 8 GBs of memory tear down price is $150 and it's screen size is twize a large, which is more than enough to pay for the cell phone chip set. Smartphones are too overpriced.
And MS / Nokia / HTC / Samsung, why aren't there at least five different WPs on all the major prepaid carriers (VM USA, Boost, Metro, Cricket, etc.) Gawd dangit, stop conceeding the market to Android. Even Apple has beat you to the punch.

I don't know why the 710 is selling so well when the radar is clearly the better phone. Still good for WP and T-mobile tho.

Radar is $100 more. That matters for some, especially for those who don't give much thought to phones aka what I would call "normal humans" ;-)

Exactly.. The phone is $199 at tmo stores with $50 monthly4g activation, plus free batman battery cover.. The phones a good deal and much better and more reliable than a mytouch or exhibit.. I love my radar, but honestly have never made a video call with it which is all the Nokia doesn't have that the radar does. And the 8gig storage issue is easily resolved by utilizing skydrive

Tim, you don't even have proper grammar and with cloud storage growing rapidly 8 gigs is fine for many folks, as sales have clearly pointed out! Also Tmobile is great I have unlimited for 30 a month, and get great service. Fuck off troll, p.s. I don't own any nokias, so no bias.

Using cloud??? Will not solve anything. Tim is right 8 gig too low. How will you feel if using the cloud you lost connection? How will you be able get your files now? Seems like you need to learn how to spell and you should be banned for cursing and you seem to be troll. Please ban this person for cursing. if not I can write to owner of wpcentral.

You're the one needs to be ban, you neanderthal. :D

Please dont remind me of your mom the beast. You stupid shit head. :-P

I'm not trolling dick head, I'm stating a positive opinion of this sale, you're trolling and complaining about a windows phone on a windows phone forum. I'll say it again. FUCK off bitch.

Hahha yes you are trolling fuck head. What's wrong you can answer a simple cloud question just because you are wrong you fail troll. Leave before I crush you troll

So you waste your time incorrectly copying my name.... Sigh... I've fallen and let this piece of shit human bring me to his level, sorry to you fellow WPCentral users. Anyway I'm not avoiding the question, you obviously aren't going to put the most important files in the cloud? Do you need me to answer any more common sense problems?

Cloud services and for a texting and internet person this phone is just fine for the price. Teenager or kid this phone works

Well I have used smartphone since ppc6800 by HTC the a diamond the a curve then a hero then palm pre my kids has an iPhone and I have had an evo got an arrive and now 710 I like it cause it just fucking works and Nokia is supporting WP every other brand just builds some WP to have there hand in it but Nokia is doing it to survive. And fuck the grammar police don't need to tell anyone to breath

I don't get it... Everybody is telling how well the Nokia phones are selling. And still Nokia has just 0.3% market penetration in USA Are we missing something here?

This is what a lot of people are ignoring, the reported numbers dont add up. Noticed the tone here has really moved away from discussing the platform to blindly cheerleading.

The only thing that the radar had over the 710 Is the camera for video chat.. That's it.. With the new tango 8773 update the 710 can now hotspot.. And honestly I have the 710 and its a great everyday phone.. Simple, easy to use and great battery life.. I like it alot..

FFC, surround sound,internet sharing. That's what the radar has over the 710.

Not to mention a better battery and a slightly larger super LCD screen. Nokia used their clear black tech on a regular LCD. O and last but not least, the high end aluminum unibody

Lets do a pole how many use a ffc regularly.

Gooood price.
Two questions: If this is prepaid, would I be able to take my regular SIM card and start using this phone right away? Are there any limitations?
Also, does this use a mini Sim or a Micro Sim?
Thanks

If u have a tmobile then yes, if something else then u have to get it sim unlocked, either thru tmobile or 3rd party which is dirt cheap....micro sim not sure

Thank you. Yes, I'm with T-Mobile.

It would work, just need to get a micro sim.. Warranty won't be covered on your tmo account, but insurance will if you already have it and keep the receipt

Americans are being robbed, on phones as well as subscription plans to be honest. I can get the 710 for 10% cheaper off contract here. And i'm paying EUR 6.50 per month for 1GB data, 1000 texts and 3000 minutes speech, and no silly 2 year contract either.

Its all about pricing...you can't go wrong with a lumia 710

hey guys. I am planning to get a omnia w. Do you think it's good for me. I don't want much like the 800. So please help it's a friend that is a social and music addict. And no she is hot buyin a iphone. So plesse help. And also good job nokia and t-mobile. Wp8 here we come. With pureview

LOL I paid $90.00 for mine in Craigslist used but is just like new with no-scratches. So I'm fully upgradeable for this fall! Windows Phone 8 here I come! Oh yeah Oh yeah Oh yeah I'm coming!! Arrrrghhh!!
Windows Central Newsletter
Get the best of Windows Central in in your inbox, every day!
Thank you for signing up to Windows Central. You will receive a verification email shortly.
There was a problem. Please refresh the page and try again.