Want a customized Surface SKU specifically for your country? Microsoft wants to know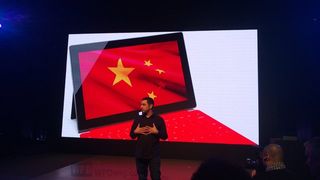 We have covered this story before: Microsoft made a special SKU of Surface (Intel processor powered) for China, replacing Windows 8 Pro with Windows 8, but pre-loaded with permanently licensed Office 2013 Home & Student. To many, not necessarily Chinese, this version is even more desirable than the stock Surface Pro. However, according Panos Panay, the leader of the Surface team at Microsoft, such region-specific SKU won't happen anywhere else, unless strong enough consumer interest is shown.
Panos said this when interviewed by Chinese Microsoft-centric news site WPDang. What he said, when translated back, is this:
It's a bit weird having the message passed to us. But anyway, it's better than nothing. Panos didn't specify in what format or which thread our readers should say their desires out loud though. Apparently he visits WPCentral often. So, just feel free to make your wishes known either in the comment field below, and make sure he won't miss the mounting comment count.
Microsoft just announced that Surface RT and Pro will be released to a series of new countries in the April - June window that includes Mexico, Korea, Germany, France, and Australia. Some of this market expansion is the result of consumer input and Microsoft might still have enough time to develop software-customized new SKUs for the new markets as well if the consumer demand is evident.
For a not quite related side note, Panos showed something never revealed before during the interview: a second prototype of the Touch Cover.
Originally Microsoft made the Touch Cover a gloss sheet, which probably looks cooler than its final shape. But after some tense typing sessions, the prototype was soon sticky with sweat. Then the team made the second version as shown in the picture above: entirely matted material, feeling fluffy on both sides. The sweaty hand problem was gone for a while, but soon came back in the form of a sweat-and-dirt-caked Touch Cover. On the third try they made what we have right now: the thinnest keyboard ever, with washable material on the business side, and matted on the back. We certainly appreciate the attention Microsoft poured into design of details, even more so if the Touch Cover could come in more sturdy build.
Source: WPDang
I would like for them to start selling the red touch cover in the UK.

yeah, in Switzerland as well!

i would love to see a 128GB 7-8" Surface RT this year and much like the pro was it will be a day one purchase

8 inch xbox tablet with trega 4 would be amazing.

Question - what would an Xbox Surface RT consist of? My guess is that you add in the same adapter for the controller and maybe a light that shows Players 1-4 and bam, Xbox Surface RT, but what else?

I guess a more gaming opimized OS, build it wireless adaptor for the xbox 360/720 contollers, ntake out the camera's more room for other things.

A marketplace / store combination would be nice. Any games, like Skulls of the Shogun, that you purchase one one should be playable on the other.


The huge delay on the Pro launch in the UK has meant I have gone with a different setup to what i was originally planning - its much better to order a tablet and be given a shipping date than to want one and have absolutely no info on when it will be available. My money has now gone elsewhere and im sure im not the only one.

Please make (at least) Surface RT available in the Philippines.

Awww, he LIKES you guys! Ooooooo...lol =P

I would love to see ANY Surface in Brazil. :(

I am definitely ok with trading in the Win 8 Pro for just Win 8 if I get office 2013 in return, but I would already be glad if Bing actually worked here in Belgium. Right now it's still in beta and it really makes a huge difference. I usually use the international version, but obviously, that never gives me local results.

+1 Here in Switzerland as well, it's been in beta ever since they shut down live search. And it is annoying too. How do you get the international version? I automatically get bing switzerland when I visit the site.

On the Bing page, just click on the cog wheel in the top right corner and go to the worldwide section. There I change it to United States - English, there is no 'international' option as far as I know, sorry for the miswording. It is quite buggy though, it never seems to remember my choice for very long so often I have to change the settings again. (Especially if you use the built in search in IE10)

or set as homepage http://www.bing.com/?cc=US (replace the country code with GB if you want a less extreme version of Bing but still running on production search algorithm)

Microsoft needs to work more on Bing outside of US, also bring Bing rewards to EU markets. I hate google, but one thing I am missing with bing is that you don't have the site previews when you move the mouse to the side of the search result, that is a big downside for me.
One last thing, please stop switching my MSN US homepage to the local version, in a language I don't understand.
In regards to surface, I personaly like that it came with Win8 Pro, when I bought it in the US, I prefer to have all the win8 features even if I don't always use them, its better to have them and not need them. So while some might prefer the win8+office, I would still go for the win8 Pro.
Perhaps the best solution would be to give the user an option on startup to chose if they want win8+office or win8 Pro- no office. (if its technicaly possible).


I'm waiting for 10.6" Surface with next gen Atom, all-day battery perfomance, cellular network capabilities, 64 GB of minimum storage, full Windows 8 and Office permanently licensed. Also make it available in every country, including me here in Indonesia :)
(iPad and Android-based tablet are hugely popular here, so I doesn't see the reason why Microsoft doesn't want to sell the Surface in Indonesia. I've been using the Surface RT for about 1 week but I need to go abroad to get it, which is very expensive)

I also request to Microsoft, to release the custom SKU of Surface for Indonesia. I really have high demand to have it, because of its portability and ergonomic design details. I'm sure that there are many consumers will demand this, even more if it priced somewhere between 200-300 dollars, as all Android-based tablet devices are at that price range ;)

Indonesia is the best place to sell tablets, and Microsoft should not miss this opportunity. When Apple released the new iPad, and Samsung also released the new Note and Tab in Indonesia, all of us are asking, when can we get at least Surface RT here? Or maybe Surface Pro. If Microsoft takes a look at Samsung Ativ Tab sales number, it's totally huge. But still for some people, like me too, I simply want hardware from Microsoft directly. Those Samsungs are ugly! Surfaces are much better, so please Microsoft, consider to start selling Surface in Indonesia and I promise you I will be the first one to have it on my hand. :-)

A surface pro that came with office home and student would be great. Its another expense on top of the surface. Still wanting for the surface pro in the UK :(

Waiting for launch of Surface Pro in Finland. I don't care about customization for a consumer gadget that has a relative short lifespan unless Microsoft fit it with a sauna. ;)

A 16:10 screen, maybe 1440x900, with Atom Bay Trail chip, not wider than the current Surface, but taller instead, to keep the keyboard size about the same, with extra row of Function keys maybe. NFC, GPS and WiDi. That's what I want.

I would like Microsoft to give me W8 and Office in European Portuguese for a start. Instead of a ill-disguised Brazilian version. Not only Portuguese comes from Portugal and not Brazil (surprise!) but we don't even use the same words to speak about the same thing (think British v. American English but 100 times worse in terms of differences).
Everything else I don't really care. Neither for custom covers nor anything else.

On Windows 8 and Windows RT you can install any language pack for free. Is there no proper Portugese language pack?

I would absolutely love a US version of Surface Pro that includes Office Pro and a 256GB hard drive. Seems like a business-friendly no brainer to me. Make it $1500, and I'd call that an instant winner!

Surface Pro should come with a 12 month Office 365 subscription by default, that should be one of the perks of buying direct from Microsoft. After the 12 months then it's only fair you have to pay to continue but a 12 month free subscription seems like a great selling point for the Pro considering Office comes with Surface RT for free.

Just bring it to India already. in fact any windows RT tablet, please make it available in India.

Yeah Bring it to India, the second largest population in the world...surely there are enough ppl here for Microsoft to receive purchases somewhat the equivalent of major markets like US...

Not surprising at all - it's China. If they didn't include the Office license, everyone would be installing bootleg copies of Office anyway. Including the license with the Surface is the only way to ensure that everyone is using a legal version!

What Microsoft really needs to do is open some Microsoft stores in UK and other countries! They are really loosing out on customers!

If they could start selling the first gen in Brazil at least, that would be great,

Dear Microsoft, Here in Central Europe we don't require a specialized SKU. We only need the Surface RT and Pro to come with an EN-US keyboard and a proper power connector.
And most of all: we need them being distributed and sold at normal prices with manufacturer warranty. Currently us enthusiasts have to pay an arm and leg for imported Surfaces with no chance of exchange in case of damage. Neither can we buy any accessories, cause no one imports them. Coloured Touch Covers are rare unicorns, and the limited edition artwork Covers or Type Covers are even more mythical. Also, after two months my cyan Touch Cover wreaks like old cooking oil and not even dishwashing liquid can get the smell out :/

I want more type cover colours! And the pro to be released ASAP! (UK)

More colours would be great, and how about being able to have a custom etched touch cover? Instead of the limited edition artwork, create a system where the customer can upload an image or graphic that could be laser edged for a custom look, if you can make it happen at a realistic price point it would be epic, the only other company that provides something similar is alienware with etching your name at the bottom plate, so by doing this you would really stand out.


Release Surface Pro in all the major Asian and European countires ASAP, this permanent license of Office Home should be the standard SKU in all the countries or atleast the countries where piracy rate is higher.

Some people prefer and need Win8 Pro, not just basic win8 with office.

Those few people can upgrade their windows 8 to pro, its majority vs few.

Wait, the keyboard side of the touch cover is washable? (this is mentioned in the last paragraph of the article). As in I could theoretically use a wet towel to clean it?

Yeah, sounds like that, but be sure to unplug it from Surface, first. ;)

I'd love to buy the 64 GB Surface Pro with permanent Office license here in Italy

I wouldnt mund a surface pro with GPS and a bigger capacity battery.

In Brunei Darussalam, we really need to improve the IT literacy among the students here. Not only using iPads to study but the Microsoft Surface tablet PC is also recommended since the device includes Office Word 2013 and the RT version is much cheaper and basic use can be learnt easily by the rookies.

I'm hoping they'll have a v2 of Surface Pro with the following changes:
1) Haswell Chipset
2) Intel Centrino 6235 or compariable Intel WIFI so we can use WIDI
3) Post up to date drivers on a site, preferably all of them in a cab file for easy integration into SCCM & MDT
4) Make it serviceable.
If they don't provide a WIDI capable card then how aabout they do something about their failed Network Projector? It's been part of Windows since Vista but they never made a device that you could attach to existing projecctors to use it. Apple has Apple TV, Google is pushing Miracast, WTF is Microsoft doing? They crippled Play To, I don't know too many businesses that are interested in playing videos to an XBOX, and WIDI requires Intel specific parts.

I still can't believe that Microsoft is not including Indonesia to the list of countries they're gonna be selling the Surface in. There's clearly a demand for the Surface here since I just saw 2 Surface RTs when I went to Starbucks earlier today.
Windows Central Newsletter
Thank you for signing up to Windows Central. You will receive a verification email shortly.
There was a problem. Please refresh the page and try again.