Want a customized Surface SKU specifically for your country? Microsoft wants to know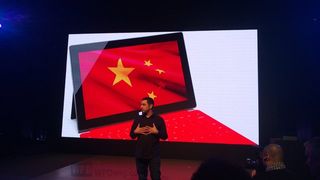 We have covered this story before: Microsoft made a special SKU of Surface (Intel processor powered) for China, replacing Windows 8 Pro with Windows 8, but pre-loaded with permanently licensed Office 2013 Home & Student. To many, not necessarily Chinese, this version is even more desirable than the stock Surface Pro. However, according Panos Panay, the leader of the Surface team at Microsoft, such region-specific SKU won't happen anywhere else, unless strong enough consumer interest is shown.
Panos said this when interviewed by Chinese Microsoft-centric news site WPDang. What he said, when translated back, is this:
It's a bit weird having the message passed to us. But anyway, it's better than nothing. Panos didn't specify in what format or which thread our readers should say their desires out loud though. Apparently he visits WPCentral often. So, just feel free to make your wishes known either in the comment field below, and make sure he won't miss the mounting comment count.
Microsoft just announced that Surface RT and Pro will be released to a series of new countries in the April - June window that includes Mexico, Korea, Germany, France, and Australia. Some of this market expansion is the result of consumer input and Microsoft might still have enough time to develop software-customized new SKUs for the new markets as well if the consumer demand is evident.
For a not quite related side note, Panos showed something never revealed before during the interview: a second prototype of the Touch Cover.
Originally Microsoft made the Touch Cover a gloss sheet, which probably looks cooler than its final shape. But after some tense typing sessions, the prototype was soon sticky with sweat. Then the team made the second version as shown in the picture above: entirely matted material, feeling fluffy on both sides. The sweaty hand problem was gone for a while, but soon came back in the form of a sweat-and-dirt-caked Touch Cover. On the third try they made what we have right now: the thinnest keyboard ever, with washable material on the business side, and matted on the back. We certainly appreciate the attention Microsoft poured into design of details, even more so if the Touch Cover could come in more sturdy build.
Source: WPDang
Get the Windows Central Newsletter
All the latest news, reviews, and guides for Windows and Xbox diehards.