Want to update to Windows Phone Portico on your Lumia 920? Here's a do-it-yourself guide.
Want to update your Lumia 920 early? Read below on getting started, including the risks.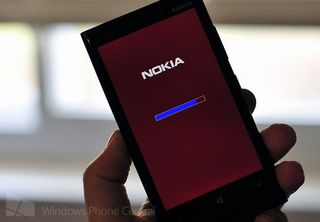 Although folks on Rogers and AT&T have successfully received the Windows Phone "Portico" and firmware updates for their Nokia Lumia 920s, there's a good chunk of the rest of the world who has not. In fact, the plan is not roll out that update for another month or so, which is a bummer for those looking to improve their camera or get new features.
What follows down below is a very detailed and well written guide on how to manually update your Lumia 920. The information is actually well known and many of us have used the same "system" for updating our previous Lumias, but this one is clearly written and regularly updated. Started in our forums by Nabkawe5, it's one of our hottest threads.
But first, we need to explain a few things…
Nokia, Navifirm and OS updates
Nokia, for whatever reason and unlike other OEMs, maintains a server with their OS and firmware updates. It's an odd practice yet one we're totally down with because it allows the more "enthusiast" user to grab updates well before the carriers roll them out. Heck, even software for their JBL PowerUp speakers is maintained there.
Using some clever third-party software like Navifirm, one can simply browse these servers, looking for new updates. You see us often report it here on Windows Phone Central, because once it appears on the servers it is just a matter of time before those updates roll out.
Of course, you could take matters into your own hands by downloading the files and flashing your device. And we mean flash here, not update.
That's an important distinction as this method will wipe your phone and reinstall the OS. This is where the "risk" aspect comes in (not to mention the trouble of having to re-setup your phone). When Microsoft actually pushes out your Portico/Firmware update, it will humbly patch the OS and keep your device in pristine shape. This method is going nuclear, which means you run the risk of damaging your phone. The good news is this is often the same method by which people recover their phones from tragic "brickings", so hey…
So do we recommend you doing this?
The key is, you should only do it if (1) you can read directions carefully, multiple times, taking notes and (2) you see your actual device/brand/carrier listed on the servers.
As of today there are over 30 different versions listed for the international 920 and that list is growing as Nokia approves each update. True, you can flash another carrier's to your own but you run the risk of losing various radio configurations, especially true for those on LTE. You can of course always just keep flashing various carriers but to be honest, that's not a lot of fun.
Personally, we have used this method probably 6 or 7 times on a Lumia 710, Lumia 800 and Lumia 920 with success. It can be nerve racking and you must, must, must read things carefully otherwise you won't get very far. Nokia and Microsoft of course would prefer you don't do this (and they will be miffed we're even highlighting the practice), but it is your device so you assume the risk.
If you think this is for you, go read the excellent thread in our forums including the responses from those who have done it. Set aside a good two hours to read and prepare everything and should be good to go.
Have questions? Good, you should. Then read that thread to see if it has been asked/answered and if not, join the conversation! So without further ado...
Windows Central Newsletter
Get the best of Windows Central in your inbox, every day!
Daniel Rubino is the Editor-in-chief of Windows Central, head reviewer, podcast co-host, and analyst. He has been covering Microsoft since 2007 when this site was called WMExperts (and later Windows Phone Central). His interests include Windows, laptops, next-gen computing, and for some reason, watches. Before all this tech stuff, he worked on a Ph.D. in linguistics, watched people sleep (for medical purposes!), and ran the projectors at movie theaters because it was fun.
The fact that they hold such a database shows why they are a great OEM. I haven't had a Nokia phone in a long long time, but my Lumia 920 feels great quality just like my last one did.

Hey Daniel, any numbers on the Portico update for ATT and Rogers 920's? Interested to see the percentage of people who updated, in addition the success/fail rate. How pleased was MS and ATT about how the update went. Thanks and Happy New Year!

Sorry, we don't have access to that information.

Thanks for the guide but why would I want to void my warranty? Because Nokia is lazy/arrogant or whatever enough not to push update for unlocked phones?
I never thought I'd say this but HTC beat Nokia...

I don't know why they didn't push out to unlocked phones, but to say its because they are lazy and/or arrogant is bit far fetched. Nokia has been great with updates. Must be some other underlying reason.

As the owner of 3 expensive Lumia 920 phones (one phone costs more than 1 person makes here in 2 months), that's the least offensive thing I can say about them right now.

Then sell your 3 expensive 920s and buy 3 cheap feeling HTC 8Xs.... Just because you haven't received an update doesn't make Nokia lazy... Surely you can comprehend that Nokia ACTUALLY want an update to work properly and tailor each update to each version of the 920 (and all carriers), rather than push out a dud and then get bitches like you complaining the update is crap and your "expensive" 920 is useless!!

+10 for this comment. He either needs to update or wait and quit the bitchfest.

My 8x doesn't feel cheap! >:[

Maybe you should work on some financial management, then.

Your comment makes no sense and I guess your the big man on your island of 3 too...(think about it)

Except Verizon users still don't have HTC 8X Portico. ... So they really didn't.

I updated my AT&T 920 and had the brightness issue and the other few issues afterwards. So I did a factory reset. It kept the Portico update but not the Nokia software updates. So I didn't do those updates and I've had no issues since. Loving my 920. Now we just need a better FB app and Instagram and Windows Phone will always be my OS of choice. Right now I keep my Sammy S3 on wifi at home for Instagram and the better FB experience.

I'm all for doing it manually if youre having major problems but then why not just claim on the warranty? The way i see it is that the first to get the updates are simply "testing" it for us and by the time Orange UK get the update it should be well tested and bug free, im in no hurry, certainly not at the cost of my warranty!!!

My phone bricked last week so I had to flash it using this method. Unfortunately Portico wasn't available for my region at the time so I'm still an update behind.

Then actually your up to date right :)

Hey Daniel, any word on microsoft updating xbox music? its atrocious

Have a friend who did it manually on Rogers L920 with no issues. I'm assuming he used this method... He did it over a week ago. My Ativ S shipped with it, so no worries here...

Actually, Rogers pushed out the update before most AT&T people got it. He likely got it through that

What's the points of voiding warranty just to get minor update...pffff.

For me the camera soft picture fix is enough to call it an important update.

My wife couldn't wait longer for a yellow 920. She just got a white one instead. I just put Portico on it the proper way...ota update. On my own, I flashed it before Portico was out.

Just did this update last night on an international yellow lumia 920 and it worked flawlessly. Also saved me from a "bricked phone" (due to a soft reset). The keep wifi alive and the camera improvements make this update worth it.

Hey would reverting back to old update from Portico void my warranty too? My battery drained 6 percent from being on here for 8 minutes! Wonder if its the Lumia 920 or the update

I'm gonna go out on a limb that it's neither one. Check your background apps, Skype etc. My bet is on apps or maybe it's just a bad phone you got.

Yeah I'm not voiding my warranty doesn't make sense.

Thanks for WPcentral for the introduction , its a great community WP has and it's really a breath of fresh air that you could make an article that helps endless amount of people , not just updating their phones but understanding how their OS operates on a primal level.
This process may void your warranty and the reason behind this that Nokia doesn't want you to suddenly disconnect your phone (probably a little kid passes your PC and end your phone's life by unplugging the USB.) ,
and I know this might not happen to all of you but if you use a deskop PC and not a laptop, electricity might go off and again send your phone to the dark ages.
It's highly unlikely for Nokia to notice that you did this , (as its becoming the official fix in Nokia Care centers for phones that hangs constantly)
If your phones don't die randomly or while wirelessly charging , you wont need to update as badly as I did specially that i was about to travel to Syria the land of lousy interenet and US sanctions on any apps/softwares. and oh yeah the bloody Civil war ... :D.


I flash the thailand FWlast few days, basically the FW can be updated using a function in nokia care 5.0 there is a option for mulit update.. use that and it will be a updating.
basically i don't see why it will void your warranty at all.. i bring it to the nokia care center n ask for cleaning of the internal lens.. and they did it and no charges as it is under warranty, i did it just to see if my set is still under warranty since i flash portico last few days.. cleaning of internal lens took them 2 hours and i got my set back..
before i send it for cleaning, i did check the version n everything in about phone n extra & info, basically its the same except for the FW to be 8.0.10++ rather than 8.0.09+++
I think as long as you flash your country telcom version update that is on the nokia server then it is ok.. cos when the set have issues i do go to nokia care instead of telcom to service it. Well my set is bought without contract as in thailand there is no such thing as contract.
I do suggest for those who are thinking of DIY please please.. read the instructions carefully n over n over again before you do it.. and never flash FW that is not for your set, simple reason - you cannot bring to service center with ATT logo on set but you are running roger FW.

Nokia to block unauthorised access to firmware images http://allaboutwindowsphone.com/flow/item/16533_Nokia_to_block_unauthori...