Want to watch ABC programming on your Windows 8 device? You can now! (U.S. Only)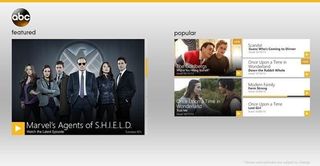 Love ABC programming and wish you could take it on the go?
Luckily, ABC networks has just released their latest app for Windows 8, WATCH ABC. The app can be download to your favorite Windows 8 device and gives you the ability to watch ABC shows on demand or live stream the network broadcast for your area.
There are some restrictions to the application though. As of now, the app is limited to a few cities which include Philadelphia, New York City, Chicago, Los Angeles and San Francisco. Additional cities are available, so don't fret – you can check the full list here.
You also must have a current subscription with one of the following providers: AT&T, Charter, Comcast, Cox, Optimum or Verizon. Sorry to all the cable cutters – you aren't going to be getting the ABC channel for free on your device.
Let us know what you think of the app, and of course, if you are outside of the included cities - feel free to complain below (Seriously, you never know who at ABC reads WPCentral).
You can grab the app from the Windows Store by clicking here (opens in new tab).
Source: Microsoft
Get the Windows Central Newsletter
All the latest news, reviews, and guides for Windows and Xbox diehards.
Where is the Windows Phone 8. Version?

I get so confused on this site. It says it's "Windows Phone Central" and then half the stuff they talk about doesn't help me because it doesn't apply to the phone.

Think its about time they change the name to Windows Central or something so its more synonymous with the content they provide now as of late. Seeing Microsoft is headed towards a one OS type deal, it makes sense.

Exactly. The sooner they bite the bullet and change, the better.

+920, er I mean +8.1, +RT oh, nevermind.

It use to be alot about the phones but what's come out lately that isn't already talked about?? Nokia is basically the only phone pusher now haven't seen an HTC since last year and Samsung is tuckn tail and hiding UNDER the table instead of on the top still haven't seen one of them since the Samsung focus 2

Agreed. Between the Xbox and Windows 8 coverage just call it Microsoft Central.

Never understood why we need to be subscribed to cable for networks that are able to be viewed over the air for free.

And why if you are a paying subscriber we see commercials still.

On demand isn't over the air. It cost money to house n maintain all that equipment. Don't forget bandwidth.

Yes but, some people have unlimited data plans with their cell carriers and could just stream with that connection. Not to also mention that most people who'd need to do this won't be at home.

That's still using ABC's servers and bandwidth.

Video quality lacks on my stream.

ABC should learn something from CBS....we can watch CBS shows for free with the CBS app!!!

Waiting for the Windows Phone app now. Lets go!

Hulu is free and offers this exact same thing. I see no added benefit to having an app that requires a cable subscription.

Where the app for my windows 8 phone..?

Hmm, I've had the Watch ABC app for months now on my Surface and other Win 8 devices. Is this something different perhaps?

Ok perhaps Live Streaming is what's new here

They renamed it too. It ABC Player or something like that before.

Again, another useless app. I can watch ABC with no subscription on my wife's iPhone or iPad, but WP8 has to have cable? I cut cable for a reason people, ABC is NOT a cable channel, open it up to fully compete with IOS versions.

As long as the app doesn't lag behind in the shows that are available to watch, im interested. The CBS app is horrible (on iOS and W8) because the shows are never the most recent.

This has live streaming. There is no lag there! Also, before the update, I have watch Agents of S.H.I.E.L.D a couple of times and the show would show up the day after it was live to view on demand in the app.

Main reason I uninstalled the CBS app. I'd like to support the Win8 apps, but if it takes them a week and a half after the show airs for me to watch person of interest on the CBS app, then I don't care. I'll go back to watching it online at Xfinity the day after(or sometimes even at midnight the day it showed).

Why'd they have to call it "WATCH ABC" -- just ABC is fine... ended up in W in app list which makes no sense.

I'm a cable cutter, so, oh well.

I want this too, but I'm in Manila :/

Its nice to see articles marked US Only when relevant. Of course, I expect many of them will be...