Watch Dogs 2 heads to San Francisco with a brand new hero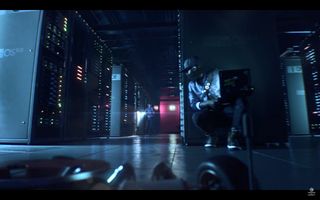 Ubisoft has officially taken the wraps off of Watch Dogs 2, the latest title in the open world action series. The game will be releasing on PC, Xbox One, and PlayStation 4 this fall.
While the original game starred a man named Aiden Pierce and was set in Chicago, Watch Dogs 2 stars a new protagonist, Marcus Holloway, and takes place in San Francisco. The game seems set to continue the first game's blend of third-person action and hacking as Marcus attempts to take down ctOS 2.0, the city-wide operating system that allows Marcus to control various elements of the city.
You'll be able to use hacking and stealth gameplay to avoid killing enemies, or you can go into your missions guns blazing. You'll be able to hack into phones, cameras, drones, and more. Marcus will have his own arsenal of custom drones, such as a ground-level wheeled drone, along with a quad-copter.
As with the first game, there will be a number of multiplayer activities, including co-operative play and PVP options.
You'll be able to take control of San Francisco on November 15, 2016.
Windows Central Newsletter
Get the best of Windows Central in in your inbox, every day!
Lets see how much of a downgrade this gets from the reveal to release

Downgrade? These are literally just cutscenes lol.

I think he's on about the first watch dogs where they pretty much lies about graphics. Used a pc to show it off but when it came to release they disabled certain textures and shadows etc etc and it looked like ****, metaphorically speaking obv ;) Please downvote me. I'm aiming for the most.

The modders did a great job though in getting certain features added back, i loved THE WORSE MOD. but hoping this to be better that the first one in terms of graphics, i wud prefer this title over GTA though

I actually enjoyed the first game, so I'm looking forward to this.

Looks good! But im not gonna preorder. Looking forward the demo and the game.

Let's all be positive. Look at it this way...It can't be worse than the first one...it can only be better, right?

Let's hope so but then again it's ubisoft Ayyyyy lmao

Looks like they're bringing AC type parkour to a modern city. Can't wait!

I
Just
Died
I am so amped for this

they better add more weapons in there!! RPGs :P
Windows Central Newsletter
Thank you for signing up to Windows Central. You will receive a verification email shortly.
There was a problem. Please refresh the page and try again.