Watch free TV and movies with Crackle for Windows Phone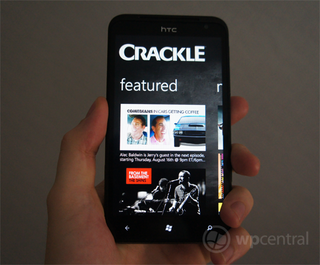 Crackle, a digital network and studio, has released an official app for Windows Phone. The service offers commercially supported streaming of video content in Flash format. Owned by Sony Pictures, its primary collection is Sony's library of films and television shows. Crackle (crackle.com) provides its content through a web syndication network, which includes YouTube, Huhu, AOL, MySpace, and mobile service providers.
Without requiring to signup and register an account, Crackle enables Windows Phone owners to enjoy content for free from its expansive collection. According to the company, twenty new movies and television episodes are added monthly. Genres include the likes of action, comedy, crime, horror, thriller, sci-fi, and anime. There's bound to be a title for everyone.
Unlimited viewing is boasted in the app's description, which will interest many. High quality streaming is supported via both WiFi and mobile connectivity (be sure to watch out for excessive usage on tight plans). As mentioned above, the collection includes content from Sony Pictures, but as well as its owner's media, Crackle also sports movies and television series from Columbia Pictures, Tri-Star, Screen Gems, and more.
The app is very well designed and looks great on a Windows Phone. A neat feature that many will overlook is the parental controls in the settings. Parents can set a 4-character passcode to prevent the little ones watching someone's head being blown off. Should you decide to login and connect to your Crackle account, you'll be able to make use of watchlists that are supported in the app. These enable users to keep up-to-date with the latest content in specific categories.
As with all gold releases, there'll be some issues with lack of functionality or with bugs, but these will surely be addressed in future updates.
You can download Crackle from the Marketplace for free. The app is reportedly limited to the US, UK, Canada, and Australia. Thanks, Anna, for the tip!
Rich Edmonds is Senior Editor of PC hardware at Windows Central, covering everything related to PC components and NAS. He's been involved in technology for more than a decade and knows a thing or two about the magic inside a PC chassis. You can follow him over on Twitter at @RichEdmonds.
It's a pretty app. Nice and fluid. I didn't realize how much original content crackle has....now if funny or die would have an app I think I'd be set.

I watched an ep of Seinfeld earlier today on the app. Works well.

Not available in Germany. Most definitely because of our fucking GEMA or whatsoever. Pisses me off.

Yeah probably... GEMA has to go away. Hopefully the EU will do something against those fuckers soon

Same in switzerland. Spoilsports.

I've enjoyed the Crackle app on Xbox 360. It's just Sony's back catalog but it's free. Watch the Prime Cut episode of The Unknown for a good, creepy Twilight Zone type story.

O. M. G. No fing way! Really?? Awesome!!! =D

This is seriously terrific news and hopefully other Xbox available apps are soon to follow...

Works great, just watched The Fifth Element. I so love that movie. :)

Fifth Element is in my top 5 of all time.

Yes, thought so, too. Globalisation is not meant for us customers but for the industry.

Was an answer for dKp1977's comment regarding GEMA in Germany.


This is great! I never knew how Darren and Samantha met (Bewitched), but thanks to Crackle (via Hulu) I got my answer . People sure did drink and smoke a lot on network TV back then :)

Looking forward to getting a Nokia WP!

I love that Joe Dirt is one of the movies in the app description to help reel you.

Does ya mother sew? BOOM gettertasewdat!

Oh, thought I tipped WPCentral about this at 9am this morning :-(
Anyway, think you do need an account to view movies though

You do. Not alot in selection though. Ghostbusters has a runtime of 0:00 for 1 and 2. ??

Finally!! This is an app that most people have on another platform and can finally boast that wp has it!

Great app, thanks. Works perfectly in the UK.

WHY ALWAYS LIMITED FOR A FEW COUNTRY'S!!!!!

This is great! Now Hulu! I cancelled Hulu as I couldn't use it on my phone

Works too in Colombia... last week Sony launched the service for mobile here in Colombia, don't know if any other Latin America country as well...

Its kinda funny my smart tv I can just click and watch also my Android tab but WP I've to sign in what's up with that.

No surprise really. Android is designed to take content (sometimes referred to as stealing). Microsoft devices share content. The XBox app requires a login. If you are getting "free" movie content, with some commercial interruption, that's how it should be. A win-win situation. With Android, whether apps or media, it's always a win-lose. Such a moral dilemma.

Not a big deal for me since I'm on Sprint with unlimited data but there should be a "Connect with WiFi only" option for those with data limits. Users could accidentally blow past their limits easily with this app.

That is if sprint's connection is fast enough to stream it to begin with

Haha, good point. When I was on sprint, I couldn't enjoy something like this without my phone overheating for trying to get the content down. Runs really well on AT&T.

WTF, I can't watch So I Married an Axe Murderer! This article makes me crave it fortnightly. Completely disappointed. I even gave them an email! I want my money, oh nvm...

Yeah this is lame. I have rebooted. Verified my email. Logged in and out. Still can't watch So I Married an Axe Murderer. WTF... U can't dangle that in front of me and take it away. Negative 5 stars. Fix ur crap.

Just watched all the new Jerry Seinfeld web episodes. Nice!

Wow, thank you for the heads up. Thank you Crackle, thank you Sony. OMG some amazing content over there, watched Z Boys doc about the early skateboard scene, and a Sonic Youth concert already. So much stuff!!! Love!

Thanks for telling us and getting us users excited. Then come as usually the big disappointment when I does not work in my country (Sweden). This kind of disappointment is what fuels illegal downloads... Just telling. By the way, when you have news that only applies to some countries, why can't you tell this up front? I wouldn't ever waste my time reading this article if I knew from the start that it did not apply to me.

Have you tried changing your phones region ?

Then you would just comment the same.

this is what i don't like about windows phone store a lot of decent apps that exist on US store for example doesn't not exist on the rest of stores even xbox live games doesn't exist on a lot of stores if microsoft care about getting a lot of customers they should provide equal amount of apps on all STORES


While I think MS isn't as "global" a brand as Apple, in this case it as to do with copyrights any age ratings and stuff alike which is different from country to country and pretty much MS can't do much about it.

i don't care about apple and i don't care about android
i care about windows phone i want the same experience like others i know some sites afford their services to a limited number of counties but there is a lot of apps are not limited and its not available to the rest even xbox live not available im encouraging a lot of people to move to windows phone apps availablity will stop them from switching

I agree, it's not like MSFT is a poor company. If they want to compete they have to go full in, why should Apple services work, Spotify etc. and not MSFT services. Google are stepping up there game now also. I must admit, as much as I want WP8 im freaking tired of being screwd over media wise. WP has deep Zune integration and leaves a hole for the rest of the world, and I am of the opinion that for WP, Zune is more critical then iTunes for iPhone. But it's only me and a handfull that seems to care. I'm gonna watch careful what happens this fall/winter before making a decision in what OS I will go with. Android or Windows Phone...well I leave it up to respective company to play there cards.

Wow, lots of animes on here too :D

awww man, ive been waiting for this on my Arrive. thsnks for the tip!

Just watched Kung Fu hustle...awesome!!!!

this is great and use to go Sony website watch. Now no need too due to this app

Nice to have another video app aside from Netflix. Wish we could get Hulu eventually.

Awesome. I remember looking for this app not too long ago. Glad to see it finally here.

Awsome app. I can't believe they have this much anime as well as old movies and TV shows.
App is also smooth like butter. 9/10

There's more films and tv options to view on WP7 than there is on x360. Wanted to watch the walking dead series on x360 but not available.

Will crackle ever get its availibility to india?


D/l'd app, but tells me have to sign up to view content. Thought ya didn't have to! Plus, it wants my phone #!! To view something? WOW!

Hey guys!
I tested the app here in Brazil and the application just works.
My phone is all in portuguese (including region) and I allowed the use of the location services. My live account is registred as US one.

Yes man, me too... My phone though has its language in English and region as US... my live account is registered as US (even my address is from US, , actually, NYC) and it worked,.... Like a free netflix.... hahahahaha

Just wondering if anyone knows how much data (average) is used for a movie/show.

It works fine here in Brazil... Guess the region issue is up to your live account country (Mine is US).... On my phone even Vevo app works (though the site doesn't, it tells me it is not available on my region).....

Looks like its been pulled. At least from the UK Marketplace.

Still not in UK marketplace, obviously not a rights thing as I can get on my UK iPad??? Hate when firms pull apps with no exxplanation!
Windows Central Newsletter
Thank you for signing up to Windows Central. You will receive a verification email shortly.
There was a problem. Please refresh the page and try again.