This waterproof action cam delivers GoPro quality at a fraction of the price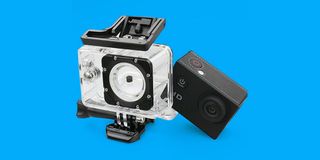 The GoPro revolutionized personal video recording by making it easier than ever to shoot incredible action scenes in a variety of environments. It's an undeniably awesome gadget, but it's also absurdly expensive.
Since the GoPro's inception, a variety of competing and more affordable action cameras have entered the market, but this All Pro HD Waterproof Action Camera takes the cake when it comes to quality, durability, and price.
Thanks to Windows Central Digital Offers, the camera and bundled accessory pack is currently available for over 70 percent off the regular $150 price tag. That brings the total price down to just $40! This action camera offers all the functionality of a GoPro at a tiny fraction of the price.
This compact, action-ready cam boasts an IPX68 waterproof rating and offers a 12MP wide-angle lens that allows you to capture all of life's adventures in stunning detail.
It comes with a fully-stocked accessory kit so you'll be able to mount the camera on a helmet, bike or car, and you'll even be able to record HD content for up to three hours nonstop on a single charge (even if you're underwater).
Record everything everywhere with this All Pro HD action cam, now just $50!
Treat yourself to a waterproof, HD action cam without breaking the bank. This Pro HD Waterproof Action Camera and accessory pack is available for just $40, over 70 percent off its usual price for a limited time.
Windows Central Newsletter
Get the best of Windows Central in in your inbox, every day!
Thank you for signing up to Windows Central. You will receive a verification email shortly.
There was a problem. Please refresh the page and try again.