Waterproof Fujitsu Q584 Windows 8.1 tablet with impressive display now available for order (US)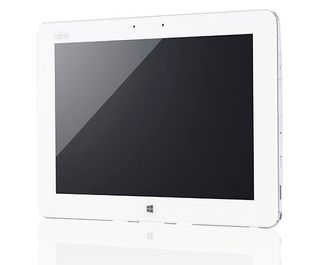 There isn't a shortage of Windows tablets out there, but specifications and designs have been rather similar, if not identical. Looking to differentiate themselves from the OEM pack, Fujitsu has begun taking orders for its STYLISTIC Q584 Windows 8.1 tablet. What makes this device different from other offerings already available? Good question, head on past the break to find out.
Fujitsu has been an interesting partner for Microsoft. We last saw the manufacturer launch a Windows Phone, the IS12T, which was a waterproof smartphone and a decent mobile handset. This Windows 8.1 tablet is a special case since it too is also waterproof (IPX5 / 7 / 8), just in case you're reading some ebooks or flinging enraged birds near that pool of heated water.
That's not all that is eye-catching about the Q584. You're also looking at a quad-core Intel BayTrail Atom processor, 64GB or 128GB eMMC, 4GB RAM and an impressive sounding 2560x1600 display - all packed inside a 10.1-inch tablet that only weighs 640g. But what would a mobile product be with its trusted power plant? To help you get through the day, Fujitsu has included a 32Wh battery that will provide a reported 11 hours worth of use. Not bad.
How much does all the above set you back by? $879 for the base configuration. If you add and personalise the tablet to fit your requirements and needs, the price will of course increase slightly. That said, for a product as feature-rich as this Fujitsu tablet, we're excited to see the price tag set below $1000. The dock is sold separately, but is listed for $59.
Head on over to the American Fujitsu website to configure and place your order for the Windows 8.1 tablet. Let us know if you're looking to pick one up. We'll be sure to grab one ourselves for review purposes, so be sure to remain tuned for future coverage..
Source: Fujitsu; thanks, Kiel, for the tip!
Windows Central Newsletter
Get the best of Windows Central in in your inbox, every day!
Rich Edmonds was formerly a Senior Editor of PC hardware at Windows Central, covering everything related to PC components and NAS. He's been involved in technology for more than a decade and knows a thing or two about the magic inside a PC chassis. You can follow him on Twitter at @RichEdmonds.
Might buy just gotta check if the hardware and touch is solid! Hopefully they package some good apps with it too custom apps only for that tablet and they bring it to me store! So I can check!

Nokia mobiles are always waterproof

Really? I've never seen that advertised and haven't cared to test that theory.

He probably means how they are "indestructible". :P

I used my Lumia to take pic in rains still its working good.it is all my experience of using nokia.thats y i bought lumia

Waterproof = you can submerge it fully Water resistant = you can get droplets here and there without affecting it Either way I am under the impression Nokia phones advertise they are either.

Haven't u seen news that Lumia 800 was fallen into lake and after 3 months it was still working well

iPhone 5c and 5s are waterproof too.

The most recent iOS upgrade made all iPhones waterproof. Something to do with using the existing sensors to detect water and shutting off all current. You can submerge the phone for a full minute, and it'll shut down to protect it and once it detects it's out of water, it'll initiate a heat cycle to dry things up and restart. It only takes 30 seconds once it's removed from the water.

And have you heard bout the airdrop functionality? The iPhone has two vibrators which rotate at max 2500rpm. When the iPhone finds out it started falling, it turns on the vibrators at small steps to rotate the iphone face-up so it doesnt brake its screen!

No. They pushed another update which enables you to be aladin and fly around with your iPhone as the flying carpet. Max rpm jumped from 2500 to 25000. And with its super big battery, you can have loads of fun flying around all day. I,fact, it could replace your car, unless its an icar. Then no.

If you leave your iphone 5 in hot water with a little bit of shampoo for one night, you will notice a 40% more cpu speed and a 60% more battery power too !!

If you find yourself stranded on a boat in the ocean, just hop on your iPhone. The latest update has enabled it to float and help you navigate to the shore with its built in fantastic apple maps. Its really a life saver, because they at apple want their customers to never ever feel alone.

Nokia phones waterproof is the most epic troll fact of the day.

Sounds amazing! I'm happy for whoever gets one! :D

Way overpriced upgrades. $200 to upgrade from 64GB default to 128GB? $50 for NFC? Also, $59 mentioned in the article is only dock. Keyboard cover costs $229. Fujitsu need to realize that this is not Japan.

I'm sure they realize it perfectly well. It's just that foreign exchange has priced them out of U.S. consumer markets in recent years. That's the cost of being Japanese in an industry that is overwhelmingly Chinese. Japan doesn't pursue deliberately weak currency as part of national economic strategy.

You must be kidding right either i'm reading this wrong or you have no idea what your talking about, japanese purposely flood their market with yen to make sure their currency is cheaper than others, which is exactly opposite of what your saying. And that actually makes it cheaper for americans to buy their products not more expensive, I do believe the same stuff costs more in japan than it does here. I happen to trade currency previously, professionally and japan has never tried to increase the value of their currency because they mainly export. So it would be dumb to have a currency worth too much. In fact as of recent their are very very rich indivduals buying US dollar against the japapense currency and made billions of dollars doing it because the japanese currency has been losing value very very quickly.

For that price with a Bay Trail wouldn't it just be better to get the Surface Pro 2?

I was thinking the same. But it does have a better display, and is water proof.

Plus it is a lot lighter, and has a variable angle keyboard dock. Typing this from an awesome 512GB SP2 though..

Anyone want to sell me their fujitsu is12t, contact me on @windowstherapy

Quick clarification: the $59 dock is a port replicator. Pictured is the keyboard cover, which goes for a cool $229. It looks sleek and stylish, but I'm not sure it's $229 sleek and stylish. That said, in response to others, Fujitsu's been making rock solid tablets long before Apple popularized them. If you look at business applications -- medical settings -- when corporations and organizations have an actual need for well-performing and reliable tablets, Fujitsu is one of the places they look first. Feature for feature, I'd pay more for a Fujitsu than a Surface. But I'd need to see what sort of eligibility I have for education pricing or organizational discounts. I couldn't see dropping $1100 for that tablet w/ keyboard cover, as nice as I'm sure it is. For a Fujitsu slate w/ keyboard dock, the best deal right now is probably the 11.6" Q702 with i3 cpu and actual ssd. $599 w/ coupon code OUTLET500. http://www.shopfujitsu.com/store/outletstore.do

Storage is NOT SSD, its eMMC like every other Bay Trail-T device. SSD implies fast storage which you won't get with this.

its says 32bit Win 8.1 and gives 4 gigs of RAM! strange for any OEM

Looks nice. They tend to target the enterprise segment hence the premium prices (for premium components).

That bezel!!! I know stats are all well and good but the device has to look the part too nowadays... I would probably still pick the Surface Pro 2 over this to be honest but I would reserve judgement until I can hold and feel the device in real life.

I feel its overpriced for a baytrail. S2 pro would be better cuz of better hardware, and lets be honest, s2 is well built too. Water proof..umm..well..its good..but i am sure people have now learnt how to keep their electronics away from water. :P

Oh really, is that so... I don't think that is the case. http://cbssports.com/images/blogs/peyton-manning-helmet-ipad-pool.jpg
Windows Central Newsletter
Thank you for signing up to Windows Central. You will receive a verification email shortly.
There was a problem. Please refresh the page and try again.