Weave for Windows 8 updated with collapsible categories, mobilizer view and more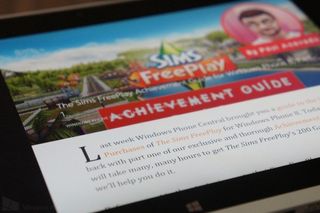 Weave is one of the most popular RSS readers for Windows Phone. It has been universally loved since it first launched way back around the same period Windows Phone 7 launched in 2010. The Windows Phone version is made by Seles Games, but this past year they teamed up with Lazyworm Apps to bring the same app to Windows 8. The app was just updated on Windows 8, so let's check out what's new and improved in this latest recent.
We had our first public look at Weave for Windows 8 over the summer while at //BUILD/ in San Francisco. It then launched officially in the Windows Store at the tail end of September.
We missed covering an update the app received in mid-October. That update introduced a new nighttime reading theme for when you're reading articles in low-light situations. Another nice update in that the app received in that same October update was the ability to have the article centered horizontally on the screen when using Weave on either a desktop or laptop.
Head to the Windows Store today and you'll see an update dated 12/10/2013 that includes the following changes and features:
Added collapsible categories
Added "mark all read"
Added option to switch between mobilizer and web view of articles that support it
Added toggle to switch the position the article in the center of the screen or the right
Ads have been added
Various fixes
Pretty good update to Weave, right? The collapsible categories will make finding the content you want to read a lot easier. Especially if you have more categories and sources than the average reader. You can also mark all article as read, which is a great way of powering through your reading queue if you've read most of the articles or don't wish to see them highlighted anymore.
You can also toggle between the web view and mobilizer view of an article. Of course that's assuming the news source supports mobilizer to begin with, but either way it's nice to have that as an option. Especially for longer form articles.
Other things you'll notice in this latest update is the option to pick the location of the article (center or right side), ads are now in the app, and other fixes. All in all, a solid update to Weave that makes it worth checking out if you're needing a solid RSS reader on Windows 8.
Want Weave for Windows 8 (ARM, x86, x64)? Grab it from the Windows Store (opens in new tab) for free.
Windows Central Newsletter
Get the best of Windows Central in in your inbox, every day!
Is weave still ugly and almost impossible to navigate articles without swipping left or right 1000's of times to view last article?

What a douchebag you are!

Exactly. Who uses it. Flipboard all the way.

Compared to Flipboard, everything else is crap.

I prefer news bento over flipboard. seems like i may be the only one.

Bing news for this guy, FLPBRD is overrated

Yeah great reader. Flipboard is also nice, but not sure why people think it is so much better. Seems like the name overshadows the function to an extent here. This has cloud sync as well with the WP8 client which rocks.

+1520 Flipboard is definitely overhyped and hard to navigate in my opinion. Weave is much better (especially after the update) and it has cloud sync WITHOUT requiring a stupid Google account! I can't wait for the WP8 version to add the cloud sync too (which the dev said is coming soon!). Weave rocks.

The beta version of weave for wp8 is great it has a few glitches but cloud syncing makes up for it.

Hey Daniel
WPCentral feed articles don't display on weave for wp8, always get the unable to mobilize error

100% agreed. Been using weave since it's inception and the addition of signing in to back ip your rss sites, it's just great and like you said can't wait for the WP8 version cuz I really want to sync my phones rss feeds with my Windows 8 PC.

Its already on wp8...or is my point valid that the WP version sucks. It feels like a choir to use.

Compared to Flipboard, Weave's design and quality of animations aren't as good.

Why does WPC block Weave's ability to pull its articles into the app?


If you're talking about mobilizing WPCentral articles, then I've been wondering the same thing. WPC articles used to mobilize fine in Weave but at some point a couple of months back it stopped.
Windows Central Newsletter
Thank you for signing up to Windows Central. You will receive a verification email shortly.
There was a problem. Please refresh the page and try again.