WebApps updated, adds a number of new features and local content filtering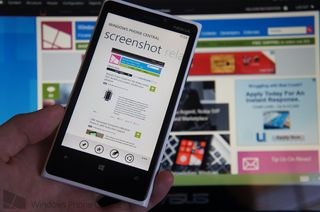 WebApps for Windows Phone has been updated to version 1.2, implementing more features for users to take advantage of. As well as the added functionality, we've also been informed that the team has added a number of new regions for local content filtering - perfect if you're looking for content solutions for your region.
If the new features and content filtering aren't enough, developer Sydience has also added more than 150 new web apps to the catalogue since the app launched, based on in-app suggestions from the Windows Phone community. We previously looked at Web Apps, praising the app for its unique access to more rich content, which may not be available on the official app store.
Here's the full changelog for WebApps version 1.2:
New Feature: Home, Stop, Refresh and Share buttons (application bar)
New Feature: "Open in Internet Explorer" (application bar)
New Feature: "Always open in Internet Explorer" (settings)
New Feature: System tray visibility: Hidden, Light (30%), Dark (80%), Persistent (settings)
New Feature: Single sign-on to remember credentials for each web app review (settings)
New Feature: 55 new regions for local content filtering
•New Feature: "What's New" notification (upon first launch of an updated version)
•Enhancement: Faster web app launch times
•Enhancement: UI tweaks
The countries added for local content filtering include : Algeria, Angola, Armenia, Bangladesh, Belarus, Benin, Burkina Faso, Burundi, Cameroon, Chad, Congo (DRC), Dominican Republic, Egypt, El Salvador, Guinea, Haiti, Honduras, Iran, Israel, Kazakhstan, Kenya, Liechtenstein, Madagascar, Malawi, Mali, Morocco, Mozambique, Nicaragua, Niger, Nigeria, Pakistan, Paraguay, Romania, Rwanda, Saudi Arabia, Senegal, Sierra Leone, Slovakia, Somalia, Syria, Tajikistan, Tanzania, Thailand, Togo, Turkey, Turkmenistan, Uganda, Ukraine, Ukraine, United Arab Emirates, Uzbekistan, Vietnam, Yemen, Zambia and Zimbabwe.
It's a sizeable update for an app which has already been well-received. You can download WebApps for free from the Windows Phone Store.
Windows Central Newsletter
Get the best of Windows Central in in your inbox, every day!
Rich Edmonds was formerly a Senior Editor of PC hardware at Windows Central, covering everything related to PC components and NAS. He's been involved in technology for more than a decade and knows a thing or two about the magic inside a PC chassis. You can follow him on Twitter at @RichEdmonds.
Still no mobilesyrup.com webapp, and the site always renders the desktop version on WP. :(

I like this app, I wish I could have the option of creating my own page without having to contact the creator.

Thanks for the feedback. We've added that to our request list and are investigating the possibility of offering something like this in a future version.

It'd be super awesome if you could somehow get the Zynga games to work with WebApps since Words with Friends actual app blows hard.

I think that has more to.do with zynga not updating their webpage compatible with ie. Just like when I go to xfinty to watch a video on my phone, the video won't play because the haven't (it seems that they don't want to either make an app or even update) update their website to play video for ie.

Mobilesyrup is pretty bad...news is outdated usually and very little for Windows Phone as WP is not promoted in Canada at all....we are a bit strange up here....BB is actually still popular here!

Its not what windows phone needs right now. If i wanted to visit the sites there is internet explorer on my phone... Don't want websites i want apps like Google+ even though i hate google but the hangouts is a great idea nevertheless.

I think we all do, but the way we see it it's a bit of a catch 22 at the moment. Windows Phone won't get buy in from competitors like Google and the thousands of "sticker app" companies until we get the users. Many users stay away because of the app situation. What we're trying to do with this app is provide a way of supplementing the App Store and satisfy user needs - hopefully enough that they will be satisfied with the experience and not leave the platform. If we can retain users and grow marketshare as a platform we have a chance of getting more native development.

Me too but I don't know how to make apps do you? If you do help windows phones out you see how rough it is but if you don't then lets take what we can and run with it I use this app for wells Fargo its a quicker access try it out it might help you out apps are coming !!!!!

Windows phone 7.8 seems to be dead mow no new apps or games :/

Time for an upgrade maybe.

That's right, upgrade that phone. They don't make pintos anymore either.

Changing your car anytime != breaking your carrier contract

Lol no doubt so we'll just say he's upside down. Value vs. What's owed. Cash on hand= Contract termination fee. Gotta pay to play and I feel ya.. #upgrade

7.8 just got Cinemagraph. It's like asking for Siri on a 3GS. Sometimes hardware just gets old. Mind you WP7's been around for THREE YEARS and still got a 7.8 update to try to get it as close as possible to WP8. I really don't understand the complaining. (Maybe for Lumia 900 users only).

Cinemagraph is only for Nokia. Some of us don't have (or want) a Nokia or are stuck in contracts. It's also nothing like asking for Siri on a 3GS. When you compile an app for 7.8 it will also work on 8. Unless this app needed the extra APIs or is in native code, there's no reason to make it 8 only.

There is, like every other maker. They need a upgraded OS to compete with trend. At least they call it 7.8 and not 8. Not like a 3GS or even iP4 that is promised "iOS6" but only get half the features. It's normal.
iP4 - iP5. That's 2 years and iP4 gets left out. Aside from L900 users there should be no business with users complaining about not getting full WP8 features. Because people pay more for newer WP8 devices. Well I expected most of the people will get a Nokia....it's others choice to get an HTC or other device but they should've known about exclusives. I'm pretty sure the exclusives won't last long like HERE maps.

Well just like apple their OS hasn't evolved much. So therefore you will have fragmentation in WP because its evolving. This is the early stages of WP and I believe the Lumia 920 will soon be Old. The Lumia line of phone just shows what can be done when manufactures and software companies need users. HTC and others are learning from Nokia Lumia. So I think once WP is established and baked with everything, Skype, office365, Xbox, Lync, and a host of other things then I think it will be a standard OS that will stay stagnant but will allow developers to have more control.. All things change, we hope!

We've been trying to backport to 7.8 but have hit a few hurdles. It's still on our roadmap, but I don't have an ETA on when it will be available.

Yes. I also upgraded from an HTC HD7 to Nokia Lumia 920

i thought there was no option for taking screen shot ??


On WP8 there is just press the Windows button and the lock button.

Well, if you do that in the manner you suggest, it'll never work. Do it this way, hold lockscreen then press windows button.

Actually mine only works the way jnbs says. The way you describe it just brings up the lock screen.

Weird, I tried it the way he said and it kept bringing me to the home screen vs taking a screen shot. I literally just tried it.as he did and sent me.to the home screen. I guess what really matters is that you got it to work for you.

really...dont know why ppl r complaining abt this feature not being there in WP,,neways thanks for info


I guess he was trying to reply to your comment.. Yeah my response was faulty,but he got the idea..

I don't think so. Look at the time stamp.

I like this app. I think its implementation is unique and a refreshing move to take advantage of mobile web functionality. Improvements are always welcome but on the whole, it does what it does well. Good job and thanks for the update.

Would like to see the Halifax web app added please.

Sure thing. The best thing to do is in WebApps, open the application bar and go to "suggest webapp", then enter the details there. This will put it in our request list. For those still waiting for their suggestions to be added, sorry. The queue is huge at the moment and we are doing what we can to address the most commonly requested web apps first.

I'm assuming you work for webapps .cool thing your in here

Can anyone make the font larger for wpcentral in webapps? I think it's more of duty for wpcentral team to improve its mobile version of the website.

I missed the launch last month and noticed the authors are on here, so just wanted to say - awesome. Way better than a bunch of pinned IE links. webapps now has pride of place on my start screen so I can get to unpinned webapps quickly. feature request: favourites tab with ability to sort and categorise the collection as I now use it every day, but don't want to pin my entire collection to the start next challenge: add IOS and android apps (but not bb :p) to drive adoption of webapps and level the platform playing field. As html5/6/7 progresses your site should increase in prominence I hope you enjoy your retirement when nokia/ms buys you out!
Windows Central Newsletter
Thank you for signing up to Windows Central. You will receive a verification email shortly.
There was a problem. Please refresh the page and try again.