WeChat for Windows Phone updated with a bunch of new features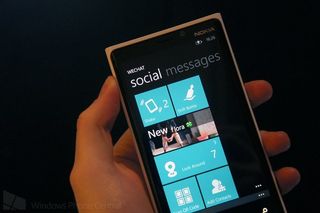 The popular Windows Phone app WeChat has been updated to version 4.5.2. So what's been added since we last looked at the app back in July? Quite a fair bit actually. You can chat with friends in a walkie talkie session, search through chat history and more. There's no groundbreaking functionality that will blow your mind away, but there's enough included to keep the experience feeling fresh and updated.
Joining the walkie talkie and history search, WeChat also now sports the ability to locate nearby friends with the new "Hold Together" feature, which also enables you to add new folks easily. Finally, double tapping a message will view said content in full screen for that added immersion. As noted above, we've covered WeChat in the past and strongly recommend you all check the Windows Phone version out.
Should you wish to add yet another messaging app to your collection, you can download WeChat from the Windows Phone Store for free (available for both Windows Phone 7 and 8). Thanks, afgzee, for the tip!
Rich Edmonds is Senior Editor of PC hardware at Windows Central, covering everything related to PC components and NAS. He's been involved in technology for more than a decade and knows a thing or two about the magic inside a PC chassis. You can follow him over on Twitter at @RichEdmonds.
Its now 12:09. What are you doing now?? Please tell us!!!!!!!

What are the advantages over whatsapp and viber? Is it worth trying since the last two ones are much more popular?

free and easier to chat in voice messages? But the UI is ugly.. Whatsapp looks nicer.

ep, just a glance at the screenshots stopped me from even trying this tasteless glam-iphone-styled thing, thanks for the tip.

viber on WP is a joke. this one's got some cool smileys/stickers and allows u to find new friends n chat.

Waiting for the version 5.0, so I can download all the new stickers. Currently only IOS & android is on ver. 5.0.

Its already been support stickers

I tried to download the new stickers and I was able to after this update. I couldn't previously. Glad it didn't have to be version 5.0 to get those stickers. I didn't like the new icon tho.. Should've stick with the original.

I hate weekends... I go into wpc article withdraw when there are like 4 articles per weekend

Monday will have so much info man. I'm so anxious :)

Surface event on Monday .. More news B)

Thank God you're not on crackberry.com. They get only 4 articles per week and most of it is not worth reading. I love wpcentral :)

It's very interesting messaging app. However, it is the single hugest battery-drainer on my phone right now. :/

Le new phone :p required :)

Really? I have a L720. 2000 mAH. BTW, I am eyeing 1020, or its GDR3 successor. ;)

I wish one of these updates include automatically making whatsapp friends use WeChat ;)

Eff BBM, and to think I used to support that platform... Just find with groupme, SMS, and the myriad of other chat options we have (although I wish there were just one)

Love this app but wish more ppl i know use it. We need Line update, they are slow with WP8...

Its very slow to load new chats

Yeah and not just that loads of features missing like free calling, sticker shop, etc. Also there's no Line games in WP store at all

he means d default/ phone message thingy

For people who still haven't figured out how to post text-only message:

click on "..." first to show the full menu, and then long-press the post icon

Finally lets chat audio come thru bt headsets

WP 7.8 still has version 3.4.6 :|

Hmm, not sure whose bug it is, apparently the newer wechat is certified to work with both WP8 & WP7.5!
These two versions were listed as 'works with' in the WP's Store.
Two questions:
1) can we, & how can we coerce WP7. 8 phone to install the 7.5 version as in the Store? I have a Lumia 900 which does not even have a SD card to aid sideload. not to mention that I am not a developer.
2) did Tencent forget to package one for WP7.8? Or it is the same package, except it's need to mark to 'work for' WP7.8 as well?



Guess that listing is not correct either. I tested with a Lumia 710 which has WP 7.5. Search in Marketplace for wechat only returns 3.4.6 too.
So, what gives?! Is the Store listing wrong or what?

I've yet to see the advantages of using apps like these over the native messenger, in fact all I see are disadvantages - mainly that only some people use a chat app, and usually different ones. Whereas everyone can be contacted via the native messenger.

Which native messenger are you referring to?

The only native messenger.

When you got lot or even all of your friends using a chat app and the same, yes advantages is all you can see.

OK, if EVERYONE I knew used the same chat app... maybe.
But it still uses data for a simple text or voice call, I have unlimited text & voice but limited data - as do most people in the US, I suppose.
I was using Voxer for a little while (even though only about 5 friends/family used it), until I figured out that I could send voice messages through the native text messenger.
...
Just to clarify, I'm not knocking people for using these apps, I just don't get it.

I have around 100 contacts on Whatsapp and around 50 contacts regularly communicate with me using the app. There is a reason whatsapp and wechat are growing rapidly and have crossed 350 Million "Active" users :)

And those reasons are... ?

Unlimited International SMS and MMS. You can send texts, Audio, Pics, videos internationally and whatsapp is available on Android, ios, WP7, WP8, BB7, BB10, Symbian and even Nokia Asha S40.

I guess that's why no one I know uses it here.
I can do all of those things with the native messenger and I have no need for international communications, so I don't have to worry about long distance fees.
Basically, from what you guys are saying, it's a good way to communicate internationally without all the fees.

i m from Mumbai (Bombay) India...i have over 200 people using WhatsApp from total of my 300 contacts... text message is paid here... i pay less than $2 for 300mb 3G per month...have wifi at home and work... i send unlimited text/ picture/ audio/ video messages unlimited on WhatsApp... and just burn around 20-30mb in entire month... i dont even remember when i did my last SMS... also i have my brothers working in middle east...i do group messaging with them... if i were to SMS them as often as i whatApp them...i wud be broke...

i think now u get the point of these messengers...i think this is the reason BBM was such a sensation as well... but u needed a blackbery phone and BIS subscription...Whats App, voxer, wechat are better than bbm as they are multi platform...
I think u shud get the point now...

OK, that makes sense for people not in the US.
As I said, I am the exact opposite. I have unlimited text/voice, but limited 4G data plan.

Do people in USA have unlimited Intenational SMS and MMS? I don't think so.

Like I said in response to your first comment, I have no need for international communication. So I have no idea if it charges fees for overseas text/mms, but I'm sure it does.
I feel you guys are getting defensive. Like I said, I'm not knocking anyone for using these types of apps, I'm just trying to understand the appeal to see if its something I'm missing. So far, it's not.

No one is being defensive. Its a benefit for international users, where most WP growth is. Accept it and move on.

You sound pretty defensive to me. Sorry, I just wanted more information. Obviously the app is not for me.
So... move on.

Eggsxactly... Though most friends are on whatsapp, I hope they jump to wechat or other free services before my whatsapp account is up for renewal. Whatsapp better start accepting local payment gateways for subsscription.

Don't worry , whatsapp automatically increases your account validity at the end of the year, i have never paid for it eventhough i am using it since 2 years :)

Wow! Is it US only or other country suscribers get that too? Or were you simply lucky?

Works worldwide, they extend it for 1 year. I have another 8 months left after the last extension and i am planning to pay this time as it is only $1 for such a useful app who are working a lot and providing many updates too. It just doesn't feel good not paying for so much hardwork by whatsapp team.

never paid for whatsapp since 2010... i wish i cud pay them out of respect...

You can pay them by going into settings-Account-Purchase service/Email purchase link.

Hahah wechat is nice if ur looking for new friends ........but Skype is my preferred messaging app for the people I care the most

nice..any news about bbm for wp8 ...all my friends are getting it..dont wanne be left out

You left everyone out when you decided to use WP :p

my best friend was so close to buyin w but wen he heard bbm isn't comin he didnt

WeChat is the best. Forget BBM. Actually WeChat has replaced facebook for many users

Use Whatsapp or Wechat, they are much more popular anyways with more than 350 Million Active users.

BBM fails simply because it doesn't support WP nor symbian, and many other chat apps are available on almost every platform. Your friends can use WeChat/WhatsApp even on BB7 devices

He'll be real disappointed when BlackBerry goes completely under then.

Imagine if MS acquires BB also...you get BBM integrated to WP..LOL!! All the others will switch to WP-Nokia.

They will not do that what will happen to Skype if they have also BBM. My suggestion is they have to improve Skype and a deep integration in WP :)

Skype serves a different purpose (video and voice chat) and as I believe BBM does not require heavy hardware to run smoothly...it could be integrated just like FB on WP. Its only for texting. I hope Skype will be improved once WP8.1 is released. As of now its getting better with the last couple of updates compare to when it was released on WP. Nokia chat powered by Yahoo is available on WP but I guess hardly anyone uses, once more users are available they will improve and come out of beta.

BlackBerry just announced that they have postponed release of BBM for iPhone & Android.

Nope it has been released

http://mobile.theverge.com/2013/9/21/4756906/blackberry-postpones-launch...

Apparently I have been misinformed

You are not misinformed... BBM is Live on iOS....used it on friends iPhone 4S...it was supposed to go live on androoid as well...but before that happened...android users, around 1.1 million of them downloaded its apk from outside the playstore and installed it...BB servers were not ready for such kind of activity before it went live on Play store...so BB delayed the official launch on droid...

Android's openness became its own enemy...

Read the link I posted. It's only available in a few markets on iOS, they have postponed full release on iOS and all releases on Android.
I wouldn't be to eager to get it anyway, who knows what the situation with BlackBerry will be tomorrow.

Even Google's own Play Store boasts such fake apps:
Read http://www.androidcentral.com/these-are-all-fake-bbm-apps-don-t-download... It's high time Google start quality control and check such "openness" on their own store...
Oh well... then how could they boast 1million + apps!

This version has a lot of bugs! It will automatically crashed when you try to open "recommended" and the speaker mode will be turned on suddenly while the headset mode is chosen.

all apps gradually stop supporting wp7 devices ny way dont forget there r lots of wp 7 users are still viable in the wp market..

Whatsapp is still actively supporting WP7 and releasing regular updates along with WP8 version.

No notification after the update, not on the tile nor on the lock screen. :(

A lot of people here are missing a big point. Wechat first became popular because its feature to "find new friends" and as search who is nearby. It was a match making tool plus chat.
Windows Central Newsletter
Get the best of Windows Central in in your inbox, every day!
Thank you for signing up to Windows Central. You will receive a verification email shortly.
There was a problem. Please refresh the page and try again.