This week in ID@Xbox: Emergency calls, android assaults, and lucky tales
By Paul Acevedo last updated
Welcome to our column that looks back at the week's ID@Xbox releases for Xbox One!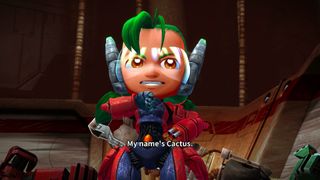 With the AAA release season in full swing, we're bound to get a slow indie release week now and then. This week saw only six new ID@Xbox games, though they're mostly quite interesting. Highlights include colorful 3D platforming, intense shooting, and even the chance to work as an emergency call dispatcher.
911 Operator
Games that simulate professions can be either fun or terrible, but it's always nice to see one tackle unique subject matter. 911 Operator from Jutsu Games is just such a game, casting players as the telephone operator who answers emergency 911 phone calls.
As an emergency dispatcher, you must answer calls and then react appropriately to the situation. You might have to send out a police officer, the fire department, an ambulance, or simply provide advice to the caller. The career mode features more than 140 types of calls, 12 dispatchable vehicles, and six cities full of emergencies to handle. Are you ready to save some lives in this simulation game?
911 Operator sells for $14.99 on Xbox One and Steam.
ACA NeoGeo Street Hoop
Japanese publisher Hamster's ACA series is a collection of emulated NeoGeo arcade classics – we reviewed one-on-one fighter ACA World Heroes 2 and found it pretty solid and well-emulated.
Street Hoop, also known as Street Slam and Dunk Dream, is an arcade-style basketball game from sorely missed developer Data East. It pits two teams of three players against each other in a game of street basketball. As the game progresses, your Super Shot meter fills up. A full meter allows you to pull off a flashy monster dunk or three-pointer.
With two-player local play and a fair number of fictional teams to choose from, this looks like a fun and simple alternative to NBA Jam. And hey, Xbox One isn't exactly overflowing with arcade-style basketball games anyway (we'll overlook NBA Playgrounds).
ACA NeoGeo Street Hoop costs $7.99 on Xbox One, PlayStation 4, and Switch.
See on the Xbox Store (opens in new tab)
Assault Android Cactus
This week's standout indie game for me is undoubtedly Assault Android Cactus, a twin-stick shooter from Witch Beam. It stars a female android named Cactus who discovers a massive spaceship has been overrun by its AI caretaker. Cactus must team up with a few friendly android ladies like herself in order to stop the evil machines and save the ship's human population.
Each level takes place in a 3D arena, some of which change and expand as the level goes on. Playing as Cactus or one of her friends, you'll blast waves of robotic enemies while collecting power-ups that boost firepower, increase movement speed, and more. Some enemies can only be hurt by your secondary weapon, so switching guns is important too. Each character has her own unique primary and secondary weapons, which adds replay value and variety when playing in local co-op.
The fully-voiced cut scenes and gorgeous cutesy art style are just part of what makes Assault Android Cactus a very impressive twin-stick shooter. Factor in native 4K support on Xbox One X and you have one of the best twin-stick shooters of the year.
Assault Android Cactus sells for $14.99 on Xbox One, PlayStation 4, and Steam.
Xbox One review copy provided by the publisher.
Skyforge
Skyforge is a premium early access massively multiplayer online game (MMO) from My.com. Premium early access means that you have to buy a founder's pack to play it now, but it will eventually go free to play (just like Fortnite).
This game takes place in a sci-fi fantasy setting. Players start out as a regular human, but before long they will become powerful gods. Skyforge boasts a whopping 14 unlockable classes that players can swap between at will. The combat system is exceptionally fast-paced and deep for an MMO, which should really help take advantage of all those classes. Skyforge reportedly features a wealth of content already as well, so you shouldn't run out of stuff to do too early on. If My.com announces some Xbox One X enhancements soon, this could become the indie MMO to beat on Xbox.
The SkyForge Standard Founder's Pack sells for $14.99 and includes premium currency and a 7-day premium subscription. The Deluxe Founder's Pack rings up at $29.99 and comes with double the bonuses of the regular pack, plus access to the Berserker class.
Super Lucky's Tale
The reveal of Super Lucky's Tale during Microsoft's E3 Media Showcase irked fans hoping for a new Conker game. But Lucky is still an exciting game all on its own, an Xbox and Windows 10-exclusive sequel to the popular VR platformer Lucky's Tale.
Super Lucky's Tale plays like a 3D Super Mario game, with Lucky bounding across huge, vibrantly-colored environments while collecting coins and battling enemies with his tailspin move. Lucky can also burrow underground, allowing him to reach new areas. Breaking up the platforming and collectible hunting, Lucky will also solve simple puzzles as he journeys to save his kidnapped sister.
Reportedly, Super Lucky's Tale plays very well but lacks much in the way of personality. It's Xbox One X enhanced though, so get ready for some gorgeous 4K visuals. Will you still feel lucky to play it? We'll let you know in our full review next week!
Super Lucky's Tale costs $29.99 on Xbox One and Windows 10. It's an Xbox Play Anywhere title, so progress and purchases on the Xbox and Windows 10 versions carry over between those two platforms.
Wuppo
This curious game comes from a two-man development team and Dutch publisher SOEDESCO. It stars a cute little Wum named Wuppo who sadly loses his home after making a huge mess while eating ice cream. This forces our ice cream-loving hero to search the world over for a new place to stay.
Wuppo is a Metroidvania-style platformer featuring a number of distinct and fanciful locations to visit, including the metropolitan haven Popocity, the cavernous Bliekopolis, and much more. The characters you'll meet are silly and interesting, and you'll earn happiness points by completing tasks for them.
Like any good exploration-focused platformer, Wuppo also involves puzzles, combat, and platforming challenges galore. It also has a deceptively simple art style that overflows with cuteness and occasional gigantic boss monsters. Throw in an orchestral soundtrack, and you have an unusually cheerful and robust Metroidvania that stands out from the crowd.
Wuppo sells for $19.99 on Xbox One, PlayStation 4, and Steam.
Xbox One review copy provided by the publisher.
Over to you…
Which ID@Xbox games are you getting this week? Let us know in the comments!
Paul Acevedo is the Games Editor at Windows Central. A lifelong gamer, he has written about videogames for over 15 years and reviewed over 350 games for our site. Follow him on Twitter @PaulRAcevedo. Don't hate. Appreciate!
Super Luckys Tale is definitely worth the $30 price tag.

Especially if you have kids around

Oooo skyforge, im not falling for the same mmo trap again! Super lucky tale looks like the best of all 😁

Assault Android Cactus caught my eye! Looks fun. Super Lucky's Tale is also pretty good if you like platformer games.

A bunch of my friends have already started 911 Operator. I'm looking forward to getting Lucky's tale for the kids. Of course I'll play it too haha.

I'm surprised there's so much interest in 911 Operator - I guess the concept really appeals to people.

I'm totally getting Super Lucky's Tale. The first game is a lot of fun in VR. Hopefully they retain the fun factor in regular old 3D platforming.

I've played Skyforge on PS4, it's not bad, if a little lite on content

911 operator bought in preorder, very good game

Interested in Sky Forge and Super Lucky.

Super lucky's Tale and AAC are looking great. I think I might play AAC on the Vita if it's a decent port.

911 Operator sounds intriguing. I know several people who love to listen to police scanners and this seems like it would be right up their alley. I wonder if enough people get it, maybe more variety of calls will be added on later to keep the game fresh? Assault Android Cactus instantly caught my eye. The crazy mayhem of this twin stick shooter looks fun and hopefully keeps you on the edge on your toes.

I mod for a streamer on Mixer and our host gave us all copies of Super Lucky's Tale. Game looks like a great throwback to 3D platformers. I've watched streams of this and not sure where the negative criticism for this game comes from. I think people automatically subtract points because it's not Mario.

Super luckys tale looks really nice, im also intretsed in skyforge, will have too give them a look when i can
Windows Central Newsletter
Get the best of Windows Central in in your inbox, every day!
Thank you for signing up to Windows Central. You will receive a verification email shortly.
There was a problem. Please refresh the page and try again.