This week in ID@Xbox: Mutants, camp killers, and nightmares abound
Welcome to our column that looks back at the week's ID@Xbox releases for Xbox One!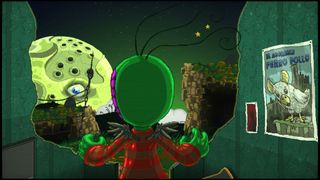 It has been a frightful week for ID@Xbox releases, with plenty of indie horror games arriving on Xbox One. These include a game about escaping from nightmares, a serial killer-themed puzzle game, a battle against an evil lady mummy, and more. Don't worry, there are several non-scary new games too.
ACA NeoGeo: Mutation Nation
Japanese publisher Hamster's ACA series is a collection of emulated NeoGeo arcade classics – we reviewed one-on-one fighter ACA World Heroes 2 and found it pretty solid and well-emulated.
When a mad scientist turns the population of a city into hideous mutants, it's up to two streetwise youths to stop them. Mutation Nation is a beat 'em up featuring distinct and colorful enemies plus one of the coolest names of any NeoGeo game. It features two-player local co-op and (hopefully) easy Achievements.
Mutation Nation costs $7.99 on Xbox One, PlayStation 4, and Switch.
See on the Xbox Store (opens in new tab)
AER - Memories of Old
If you like artistic games like ABZU and Journey, you're sure to enjoy AER from Forgotten Key and Daedalic Entertainment. It features a colorful minimalistic art style and highly refined flight mechanics – you can turn into a bird and soar at any time.
In AER's story, the ancient gods have been forgotten, lost in the events that fractured the world and leaving only floating islands in the sky. Playing as one of the few remaining shapeshifters, players must make a pilgrimage to the Land of Gods. There they will investigate the encroaching darkness and fight to save their shattered reality. AER is reportedly pretty short, but fans of artistic games won't want to miss it.
AER - Memories of Old sells for $14.99 on Xbox One, PlayStation 4, and Steam. Buy it before Halloween for a ten percent discount.
Deer Hunter: Reloaded
The classic hunting series returns thanks to Game Mechanic Studios and GameMill Entertainment. But don't let the title fool you – this isn't a remastering of a previous console release. Instead, it's a slightly revamped port of the mobile Deer Hunter game.
In this Deer Hunter, players will travel down short, linear paths until they reach prime hunting spots. From there, you can shoot up some innocent deer. That's about as deep as the gameplay gets, as you won't engage in tracking or other simulation-style elements here. Reloaded looks absolutely terrible and enjoys unanimously negative reviews on the Xbox and Steam stores, so buyer beware.
Deer Hunter: Reloaded costs $19.99 on Xbox One, PlayStation 4, and Steam.
The Inner World - The Last Wind Monk
The original Inner World, which we reviewed on Xbox One a while back, is a point-and-click adventure game with an intriguing universe and gorgeous cartoon-style artwork. Now players can return to the hollow spherical world of Asposia in The Inner World: The Last Wind Monk, the brand-new sequel from Studio Fizbin and Kalypso.
The Last Wind Monk has been designed to be welcoming to new players, so don't worry if you missed the first game. You'll play as two protagonists, Robert and Laura, as well as their pigeon Peck, on their quest to find the last wind monk and save their troubled world. The Last Wind Monk is beautiful, features full voice acting, and lots of puzzles to solve. If it's anywhere as good as the first game, consider this one a must-play for adventure game fans.
The Inner World - The Last Wind Monk sells for $29.99 on Xbox One and PlayStation 4, and $24.99 on Steam.
The Mummy Demastered
Back in the eighties and nineties, action and horror movies often received platforming videogame adaptations. Many of these like Judge Dredd and Alien 3 also featured run-and-gun shooting. Now WayForward, publisher of the excellent Mystic Belle and Shantae games, resurrects that tradition with a videogame based on the Tom Cruise Mummy movie – of all things.
In The Mummy Demastered, you'll play as a Prodigium agent – an elite soldier who works for Dr. Jekyll's monster-hunting organization. Armed with a rapid fire machine gun, your agent will explore vast levels and battle all kinds of monsters, including the titular female mummy. This game has an excellent 16-bit art style, lots of exploration, and tight shooting mechanics. Even if you don't care for the awful Tom Cruise movie, it's just a great game all on its own. Check out our full review for more details!
The Mummy Demastered costs $19.99 on Xbox One, PlayStation 4, and Steam.
Nightmare Boy
If you're trying to get into the Halloween spirit, you can't do much better than Nightmare Boy from Badland games. The story begins with a boy getting kidnapped into the land of dreams. There he takes on a monstrous appearance and must begin a journey to wake up and become human again.
A Metroidvania-style platformer, Nightmare Boy features a vast and bizarre world to explore and lots of powers and spells to discover. The protagonist is a bit on the ugly side, but the visuals are quite distinctive and detailed on the whole. Both cartoonish and freaky, Nightmare Boy is one platformer that players won't soon forget.
Nightmare Boy sells for $12.99 on Xbox One and PlayStation 4, and $9.99 on Steam.
Xbox One review copy provided by the publisher.
Rapala Fishing: Pro Series
Not content to stink up the ID@Xbox lineup with just one outdoor sports game, GameMill Entertainment has resurrected the Rapala Fishing series with Rapala Fishing: Pro Series. Like Deer Hunter: Reloaded, this is essentially a mildly spruced-up mobile port. It reportedly suffers from awkward controls and a poor frame rate, not to mention hideous graphics. Don't expect the quality of previous Rapala Fishing games from this bucket of chum.
Rapala Fishing: Pro Series costs $19.99 on Xbox One and PlayStation 4.
See on the Xbox Store (opens in new tab)
Slayaway Camp: The Butcher's Cut
The only puzzle game you need to play this Halloween is Slayaway Camp, a slasher film-themed puzzle game featuring a cute boxy art style and gory pixelated kills. Don't worry if blood turns your stomach; the game has an optional bloodless mode with an alternate soundtrack.
In each level of Slayaway Camp, the object is to kill one or more innocent campers and staff members. Your psycho killer slides around the level, stopping only when he encounters an obstacle or victim. Thus you'll have to plan out moves, using the environment to steer him towards his prey. Clever mechanics like frightened victims who run away and police levels in which you get busted after making too many moves keep this one fresh throughout. With more than 300 levels and 90+ cinematic kills, Slayaway Camp is one of the best and grossest puzzle games around.
Slayaway Camp: The Butcher's Cut sells for $16.99 on Xbox One and PlayStation 4. The Steam game ranges from $8.99-$17.99, depending on the DLC bundle. All versions, including Xbox are on sale through Halloween, so get it while it's cheap.
Xbox One review copy provided by the publisher.
Over to you…
Which ID@Xbox games are you getting this week? Let us know in the comments!
Paul Acevedo is the Games Editor at Windows Central. A lifelong gamer, he has written about videogames for over 15 years and reviewed over 350 games for our site. Follow him on Twitter @PaulRAcevedo. Don't hate. Appreciate!