Weekly photo contest: Boats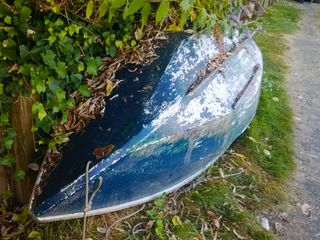 I'm on a boat! Well, not really, but you might be. This week we're going to go out and capture some boats for our weekly photo contest. Those boats don't have to be in the middle of the Pacific, as you can see the image above here is on dry land. Just go find a boat and take a cool picture with your Windows Phone.
Winner from last week
We had a ton of good entries into last week's textures contest, but I had to settle on the one I liked the most. Congrats to SomeGuy11 for winning! And congrats to everyone else who entered you're all very talented! Head to the forums to check out all entries.
SomeGuy11 took the photo above with his Lumia 1020. It's of a sun-bleached oak log after the bark had fallen off. This is straight from the camera with no post-processing. Great pic and congrats SomeGuy11!
Boats
Boats! Toy boats. Tug boats. Rowboats. Big boats. Small boats. Blue boats. Pink boats. Doesn't matter. Just find a boat and take a great picture!
The above photo at the top of this post is from the Lumia 925. Saturation upped a little bit and the image cropped for the site.
Rules
Rules are going to be just like last week. Here they are:
Picture must be taken with a Windows Phone
Picture must be uploaded to the contest thread (linked below)
You have to tell us what device you used to take the picture, and any special software or apps you might have used. Editing your pictures is fine, this is art
Feel free to add a little back story, we want to know how the picture came to be
You must have used a valid email address to register here at Windows Phone Central, so I know how to contact the winner
Only ONE entry per week per person
Social
We're going to continue our social experiment from last week. Share any pictures you take for the contest on Instagram, Twitter and Fhotoroom using the following hashtags. It's a fun way to at a glance check out your competition and get inspiration. Plus we're building a community of Windows Phone mobile photographers!
Here's how it looks this week.
This doesn't count as your entry; it's just a fun way to track the photos on social media. Your entry still needs to be in the forums!
Prize
One winner will get a $25 gift card to the Windows Phone Store. You can use it to buy apps and games in the Windows Phone Store, Windows Store or Xbox Store.
We'll pick a winner Tuesday night (October 28) at 11:59 PM ET. Winners will be announced in a blog post for the contest next week.
Quick PSA: We've set up dedicated sub-forum in the Windows Phone Central forums to keep the photo contests in one location going forward. You should bookmark this page, so you never miss a contest.
Windows Phone Central – Photo Contests
Good luck and have fun!
You win the internet for a day!

http://youtu.be/htNI6BKjLlc

Worthy winner. /envy.
Now, for this contest... I'm out, no boats nearby :c

This contest is for Lumia 1020 users only?

They have an advantage lol.

Happy New Year friends...
As this contest is for those whose having camera like 1020, who ask 520

Damn! I live in the mountains

My first idea for the photo was a traditional Finnish rowboat called 'kirkkovene'. But then I would be banned from WCentral, wouldn't I!

Wow! That's the first time I've won anything! Thanks so much. Feel free to download it. I have another contribution to the WP community soon!... Cheers

Congrats buddy! That's an awesome pic indeed. I thought it's a painting at the first sight :P

Congrats mate, fantastic pic!

Congratulations. Nice timeless shot.

I get the feeling that from here on out we'll be spinning the wheel of noun for contest subjects. Chair, letterbox, cake... Each an instant classic!

I'll do whatever you want next week. Whatchu want?

@samsabri I'm off topic here but on the critical update have noticed the store now the featured app has a huge tile.

blur! application of blur!

Yeah blur ! Would nice for next week !

Loved the contest, my favorite subject. Boats!

How to upload a photo here on the website

Forums. Please read the article.

Should it be a real boat? Like wooden and stuff that floats in the water?

Can i just take a picture of replica boats #hahahah xd

Hi. Where us the link please. ??? Its probably slapping my face.

The link is in the article...

Yes, I got. It and sent photo in. But thanks for getting in touch. There is some lovely photos

Sorry for being blind or stupid or both but how do I attach my picture to a post? Any help appreciated.

I did it on full website just. . Go to bottom of entries. But I was bit lost myself on mobile.

Can't attach photos (snif snif)


Can we upload more than one pic for the contest??

never mind, found teh answer.

I'm on a boat, I'm on a boat
Everybody look at me
'Cause I'm sailing on a boat
I'm on a boat, I'm on a boat
Take a good hard look
At the motherfucking boat

Thelonelyisland - I'm on a boat. Thought it would fit.

I'm riding on a dolphin, doing flips and s***, this dolphin splashing, getting everybody all wet, this isn't SeaWorld, this is as real as it gets, I'm on a boat motha f**** don't you ever forget! Haha man I love that song

Any chance I can enter by email as I don't have twitter or the others... Not my thing really.... But would still like to enter

You need to post the photo in the forum topic, so... Get on board!

I am on it ... will search for some boat n post them :D
Windows Central Newsletter
Get the best of Windows Central in in your inbox, every day!
Thank you for signing up to Windows Central. You will receive a verification email shortly.
There was a problem. Please refresh the page and try again.