Weekly photo contest: Nightlife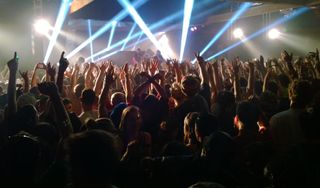 We're going to have 'nightlife' as the theme for the weekly photo contest this week. This is another contest where you can get creative and inventive with what nightlife means to you. As usual, you'll be using your Windows Phone to capture nightlife and sharing your entry in our forums.
Winner from last week
There were a ton of good entries into last week's black and white contest, but I had to settle on the one I liked the most. Congrats to GabrielZhang for winning! And congrats to everyone else who entered you're all very talented! Head to the forums to check out all entries.
Congrats to GabrielZhang on the above photo. It's a beautiful shot captured by his Lumia 920 while travelling in Xinjiang, China.
Nightlife
This week we're going to get a little nocturnal with our contest. Stay up a little bit past your bedtime and head out and capture nightlife. Head to a club, restaurant, theater or downtown to capture what life is like around you at night. Live in the wilderness? Well your nightlife is probably a bit different from those city folks, but we're sure you can get creative shots too!
Photo subject can be anything you want, so long as your photo has a 'nightlife' theme.
The above photo was captured by yours truly. It's of the Canadian electronic dance music duo Adventure Club. They were playing a show in Seattle at Showbox SoDo in Seattle and it was amazing. I used the Lumia 1020 to get the shot, then cropped and upped the vibrance a little bit.
Rules
Rules are going to be just like last week. Here they are:
Picture must be taken with a Windows Phone
Picture must be uploaded to the contest thread (linked below)
You have to tell us what device you used to take the picture, and any special software or apps you might have used. Editing your pictures is fine, this is art
Feel free to add a little back story, we want to know how the picture came to be
You must have used a valid email address to register here at Windows Phone Central, so I know how to contact the winner
Only ONE entry per week per person
Social
We're going to continue our social experiment from last week. Share any pictures you take for the contest on Instagram and Twitter using the following hashtags. It's a fun way to at a glance check out your competition and get inspiration. Plus we're building a community of Windows Phone mobile photographers!
Here's how it looks this week.
This doesn't count as your entry; it's just a fun way to track the photos on social media. Your entry still needs to be in the forums!
Prize
One winner will get a $25 gift card to the Windows Phone Store. You can use it to buy apps and games in the Windows Phone Store, Windows Store or Xbox Store.
We'll pick a winner Tuesday night (September 16) at 11:59 PM ET. Winners will be announced in a blog post for the contest next week.
Quick PSA: We've set up dedicated sub-forum in the Windows Phone Central forums to keep the photo contests in one location going forward. You should bookmark this page, so you never miss a contest.
Windows Phone Central – Photo Contests
Good luck and have fun!
Windows Central Newsletter
Get the best of Windows Central in in your inbox, every day!
Gratz to the winner, which phone did you use to take that pic Sam? :P.

It says it was a Lumia 920

I was asking Sam about the lead image lol.

That photo I used the 1020.

Sam, the winning photo it's attributed to Gabriel Zhang, and it says it was shot with a L920.

Read TeckFreak1's comment again to see who he's asking about what. He was was talking about the nightlife pic not the black and white one. Of which the answer is in the article but never mind.

@ SammyD97 Lol, indeed I was.. I guess MadSci2 has truly lost it :P.

Nightlife picture is also stated in the article, that I was shot with a 1020.

Woah, it's stunning! Maybe I still shouldn't give up at 1020!

The Lumia camera speed improvements have got me considering the 1020 as it is going ridiculously cheap on ebay. In a few months it should go down a bit more, well one can hope! :P.

@Sam Sabri - Damn!, that photo is pretty awesome. Reason I asked I'm considering getting a 2nd hand+ 1020 just for the camera. They are currently going for £130 to £180 on ebay, pretty cheap.

Did I miss the winner for the silhouette contest?

BTW, that's a lovely B&W shot!

Does this contest open worldwide?

Yes. Please enter, unless you're on Mars.

what, the Mars rover isn't using a Nokia camera?

Yes but he had to shut down at night to conserve power. Misses all the raves

Sam, still waiting for an email from last week. ;)

Me too. Must be lost in the mail :D

Haven't got my prize either and I'm from the motion contest lol

If only I had a better phone than the 521. Night shots are horrid.

Nice pic, kudos to the winner. Not sure how my 520 will fair with night life theme but doesn't hurt to try.

My 920 pics have been coming out pretty noisy ever since updating to gdr1.

OH MAN. I am so lucky to live in Miami, I have an amazing picture from Ultra Music Festival. cant wait to share it with you all. I might upload my skyline night view from the cruise port here as well :D good luck

ADVENTURE CLUB! LUCKY BASTARD

Do a macro photo contest!

Nice shot sam, still i dont know how to upload from phone

If you want to upload from phone you need the Tapatalk App. Details in the forums.

My old Nokia n8 frequently produces much sharper images than my 920,930&1020 except in low light. N9 and L800 are terrible cameras. Keen to see how the 830 performs with its new compact pureview unit

I love my beloved N8 doing some macro shots. And great video recording device, not to mention that it is capable of Dolby sound recording too.

Hdmi, notification light, usb on the go... Goes on. Partnership with MS surely removed many features with lumias and now Nokia is no longer it will be more of the same. I'm betting that without Nokias passionate pureview team and the low sales of L1020 that a L1030 won't happen. Last of the Nokia designed and branded handsets are 930,830,735 & 730. Cant really see a flagship from Microsoft mobile equipped with 1020s giant sensor as being thin is more important to the market and the low sales of 1020 will most likely seal its fate. I was holding out for McLaren or 1020 follow up but ended up just getting the 930 after McLaren was axed and no leaks recently of any flagships on the horizon. Qualcomm liquid anyone...

Omg... Adventure Club too? You're the best Sam. Hope the Glitch Mob is also on your list....

Congrats to the winner...hope this week contest is as exciting as always.

Congratulations to the winner, there were many great photos this week.

OMG! This is my first entry and I got the prize! Thanks! Sam and those who appreciate this pic.

Congrats. Beautiful Shot.

Congrats, it is a amazing shot. Keep 'em coming :).

Congrats Gabriel! I also included you in my list of possible winners... I was right ;-)

Wow thx for believing in this pic. Means a great deal to me.

Holy cow, Gabriel's winning shot is fantastic!

Actually that's an horse. THX and glad you like it.

sam, it seems like the theme youre choosing focuses on the many capabilities/scenarios a WP camera can handle, good job!

Overexpo'd, boring theme.

Yes that was a little bit overexposed but the fog did some "help" too.

Sorry, I'm engineer student, I have no nightlife

Can it be a frame cut out of video recorded with lumia?

My friend got 1020 with ~41Mpx camera... My 920 with ~8.7 and can made really nice photos ( sometime better like 1020 ) because good photographer can get 100% from every device with good experience.
Windows Central Newsletter
Thank you for signing up to Windows Central. You will receive a verification email shortly.
There was a problem. Please refresh the page and try again.