Weekly photo contest: Silhouette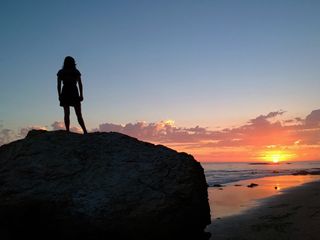 It's time for another weekly photo contest. Last week we decided to tackle the outdoors with our Windows Phone cameras. Now this week we'll try and capture silhouettes. Let's get creative!
Winner from last week
There were a ton of good entries into last week's outdoors contest, but I had to settle on the one I liked the most. Congrats to monstervinvin for winning! And congrats to everyone else who entered you're all very talented! Head to the forums to check out all entries.
Congrats to "l cs" on the above photo. It's a beautiful shot captured by his Lumia 920 and Nokia Camera for Windows Phone.
Silhouettes
Silhouettes is the theme for the photo contest this week. What's that? A dark shape in front of a light background. One of the easiest ways to get silhouettes is to have your subject directly between you and a light source – like the sun. Of course don't just use the sun as a light source, use anything you have around you! A monitor, a lamp or a fire. Experiment and get wild.
Try and get creative capturing your silhouette. And as always, have fun!
The photo above was captured by me at Crystal Cove State Park near Laguna Beach in California. I capture it with the Lumia 1020 using Nokia Camera. I then used Adobe Photoshop Express for Windows Phone to adjust the vibrance, shadows and highlights. Then I cropped it for the site.
Rules
Rules are going to be just like last week. Here they are:
Picture must be taken with a Windows Phone
Picture must be uploaded to the contest thread (linked below)
You have to tell us what device you used to take the picture, and any special software or apps you might have used. Editing your pictures is fine, this is art
Feel free to add a little back story, we want to know how the picture came to be
You must have used a valid email address to register here at Windows Phone Central, so I know how to contact the winner
Only ONE entry per week per person
Social
We're going to continue our social experiment from last week. Share any pictures you take for the contest on Instagram and Twitter using the following hashtags. It's a fun way to at a glance check out your competition and get inspiration. Plus we're building a community of Windows Phone mobile photographers!
Here's how it looks this week.
This doesn't count as your entry; it's just a fun way to track the photos on social media. Your entry still needs to be in the forums!
Prize
One winner will get a $25 gift card to the Windows Phone Store. You can use it to buy apps and games in the Windows Phone Store, Windows Store or Xbox Store.
We'll pick a winner Tuesday night (September 2) at 11:59 PM ET. Winners will be announced in a blog post for the contest next week.
Quick PSA: We set up dedicated sub-forum in the Windows Phone Central forums to keep the photo contests going forward. You should bookmark this page, so you never miss a contest.
Windows Phone Central – Photo Contests
Whoa Sam, everyone's lucky you aren't one of the competition :D lol

Damn, that photo of the contest winner looks amazing!!!

Agreed. That's one beautiful shot.

Wow that's a beautiful picture!!!

#b-e-a-uuuuuutttttiiiiffffuuuulll

Still don't know how to post in the forums...

You need to download the app Tapatalk and find the forum there. That seems to be the only way to post from phone.

Or go to www.postimage.org upload your picture, copy second link, paste it here. Use IE browser the rest might not work

That's a really beautiful picture. And worthy to be a winner.

That is an excellent shot, Sam!
Did you visit Laguna Seca when you were there?
I think I might have a picture that fits this week's theme.
EDIT: Sam, can I use your photo as wallpaper? :)

Go for it. Laguna Beach is in southern California and not near Laguna Seca. I wish it was.

Thanks :)
Oooh okay, I thought both the beach & the track are in Monterey ... My bad

Amazing winning shot!! Congrats to the winner

It would be cool if editing wasn't allowed for one of these contests. Maybe Im alone on this, but I feel that photoshopped photogragh is no longer a photograph. Yes, Im old - let me be *grump grump grump*

Not really. Editing is as much a part of the photographic process as is framing, composition, etc. All ends to a photograph.

We will have to agree to disagree. A photograph to me is about every element of a moment in time and space being captured. Even cropping changes the relationship the photographer had with the subject and therefore alters the moment. I'm not saying an altered image isn't art or is inferior in someway, I'm saying that it is important to respect and even encourage unaltered photography. I think it challenges the photographer to seek and work hard to find moments, vs creating them, which is very important. It's an aspect of the art that is dying because technology has made it easy to "fix" "bad" photos and add in elements that are popular at the time. Again, just my opinion and no slight to anyone. I'm a big fan of all aspects of photography including post processing. I'd just like to see more unaltered stuff.

That winning shot is beauuuuuutiful.

Wow, what a picture. Amazing.

The winner was well deserved.

Can anyone please tell me how to upload a picture...

Thank you everyone! I'm glad that I made it!

Hey I cs plz tell me how to upload the pic

Hi Ashish, you can only upload pictures at the thread. Not here.

At the thread I get only rply no uploadin

A contest thread will be closed after a winner is announced. So the last week contest is over. Everyone can participate in this week contest.


Click advanced in that attach files

Wow....it was indeed a winning shot....CONGRATS.

Beautiful ! Grats I cs. I will never give up. Will enter this silhouette :D

Thank you! Great! Looking forward for your new entry.

Stunning landscape shot! Where in the world was that pic taken if you don't mind me asking?

Lake Tekapo in New Zealand according to his entry. Beautiful place.

Its really nice. Congrats!!!!!

Congrats to the winner of the contest. Great pic, it is so relaxing to watch it.

Amazing n awesome pic, thanks n congrats I cs

I think those are Orchid flowers, am I right I cs??

Hi Sam, to which link pics to be sent

Good contest with lots of superb snaps.
Things would be fairer and real interesting for Windows Phone user if Editing was not allowed at all including crop and the photo must be taken within the contest dates.

hi sam! with the overflowing talents in these contests maybe next time you should reward them with xbox! lolz

I can see where this silhouette thing is going... If only I could find big enough (o)(o) to really shade the sun...

You can do it. I believe in you.

Excellent photo! Congrats I cs :)

I'm so glad we started having photo contests a few weeks ago. iMore and Android Central have been having them forever, so I'm glad we get our time in the sun to show off our PureView cameras. :D

Hey I just wanted to know can anyone use watermarked photos to this contest?? I've some silhouettes which are edited by me, captured with my 1020 but with watermarks... Or I've to share the non-watermarked photos ..???????

Editing has always been a part of the photographic art. Manipulation in the darkroom was always part of the process. You've never seen an Ansel Adams photograph that wasn't messed with in the darkroom. Part of the beauty of modern digital photography is that the tools of the darkroom are now available to everyone. Now if you can get a shot that doesn't need at least a small tweak, then accept it as a rarity.

Look at those hills at the back

Wow!! I cs..
That's an amaaaazing photograph!! I was staring at it like for a whole 45 secs.. Couldn't take my eyes off it...
Hehehe.. Well done!!!!!!!
Windows Central Newsletter
Thank you for signing up to Windows Central. You will receive a verification email shortly.
There was a problem. Please refresh the page and try again.