Weekly Xbox Upload Contest: Forza Horizon 2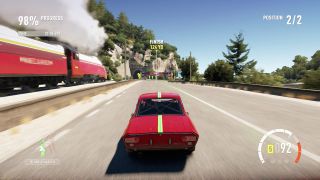 Have you said, "Xbox, record that" lately due to an epic kill? How about to some funny bug you encountered? Well, we want you to share those moments with us, and we'll give away some sweet prizes you for doing so. Each week, we'll pick one lucky winner for the week's theme on Xbox One.
Get ready for this week's edition of the Windows Central Xbox Upload Challenge!
This Week's Contest
This week we're getting an awesome treat from Turn 10 Studios with Forza Horizon 2 Presents Fast and Furious! The world of Forza Horizon is absolutely stunning and can provide for some epic photos. So here's what we want from you. This week we're looking for your most beautiful screenshot from Forza Horizon 2 on the Xbox One. You can only submit one screenshot and your submissions go here.
The contest starts as soon as you read this post and all entries must be submitted on Saturday, March 28 by 11:59 p.m. (PST). Winners will be announced (with their winning screenshot) in next week's contest post is up.
Before we get into this week's prizes let's announce last week's winners!
'Grand Theft Auto 5' Winners
Epic Moment Winner: Brian Farkas
Brian Farkas somehow managed to escape from the cops in the most elaborate way. He is now the proud owner of Ori and The Blind Forest!
Epic Fail Winner: TheBanjomatic
TheBanjomatic plays with fire and it of course gets the best of him. His failing efforts have earned him a copy of ScreamRide for Xbox One!
We appreciate all the submissions, especially the ones that made us laugh. It's always tough trying to narrow it down to just one winner. Good luck with the next contest!
The Prize
This week's prize is simple. Give us the best screenshot from Forza Horizon 2 and we'll send you a $25 Xbox card. This will also allow you to buy apps and games on Windows Phone and Windows 8.
Contest Rules
Entry must be submitted to the corresponding forum post which you can access, here.
You must have used a valid email address to register here at Windows Central, so I know how to contact the winner
ONLY one entry per week per person
If we have reason to believe the content isn't yours, we will contact the Gamertag via XBL for verification.
Screenshots via Xbox One
With the Xbox One's latest update, you can now take screenshots of your gameplay and share it with your friends. In order to get the highest quality image, we recommend uploading the screenshot to OneDrive first on your Xbox One. Then you can attach the screenshot to a comment in the corresponding forum.
Submit your screenshots HERE in our Xbox One forums!
Good luck and have fun! But most importantly, don't forget to say "Xbox, record that!"
Get the Windows Central Newsletter
All the latest news, reviews, and guides for Windows and Xbox diehards.