Weight Watchers app redesigned and "must-have"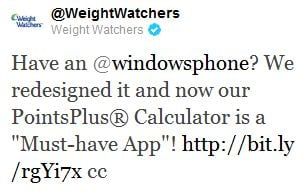 Maintaining one's diet, er...lifestyle change, can be pretty tricky when you're on the go. However, the newly-designed Weight Watchers official app, PointsPlus Calculator, makes it easier. Whether you're out to dinner or picking up groceries for the week, all you need to do is enter the nutritional information into the calculator to find out how many points-per-serving an item will be. The app will also let you log activity to see how many points you have burned by exercising. The interface is simple and sleek. PointsPlus is free to download, but is only available for Weight Watchers Online and eTools subscribers. Due to the nature of the subscriptions, users are required to log into the app on a monthly basis.
Weight Watchers is just one of a plethora of companies to release "official" apps for for WP7 in recent weeks. Microsoft likes this one so much that they listed it as one of their "must-have" apps in their Best of Marketplace. Click on the Via link below to see the others that made the list.
Download the PointsPlus Calculator here (opens Zune).
Source: Weight Watchers; Via: Microsoft (opens in new tab)
Windows Central Newsletter
Get the best of Windows Central in your inbox, every day!
"Have an @windowsphone"?The English Language is safe from no one anymore.

Maybe the social media technology specialist associate at Eight Atchers grew up where "w" isn't pronounced.... ;P

Looks okay to me. I read that as, "Have an at windows phone?"

Disclaimer - I developed PlusPoints, a competing app.First of all, I'm not sure how it is "redesigned" since it is still version 1.0.0.0 in Marketplace, unless they just submitted a change, and they're jumping the gun on their publicity (or should state that it's not yet published). Second, personally, I don't see a thing "must have" about this app. It does look nice and all, but it's a calculator with a logo. That's all. On top of that, you have to pay $12.95 a month for eTools or it won't work. Doesn't fit the definition of "must have" in my book. When I developed PlusPoints, I did so because there was no WW app. I fully expected that eventually, WW would come out with an app, and mine would end up by the roadside, a victim of a bigger name. I gave it a calculator to find points of food (same thing their app does), gave it the ability to calculate how many points you're allowed (theirs doesn't do this), and set it up to track your daily and weekly points use (theirs does neither of these functions). I expected their app to integrate with eTools, for tracking of points use. Well, I guess it does integrate with eTools, but only to authenticate you and allow you to use their calculator.I am very disappointed in the "official" Weight Watchers app. If you want to try PlusPoints, you can do so at bit.ly/PlusPoints11, or check out my web site at www.hopnet.mobi.

It's only a "must have" for fat people....

Rven for overweight people (like me) it is not a "must have". The whole PlusPoint system is a scam-like alternative to calories - the only purpose of which is so that a single company can own it.

You do know that Weight Watchers is the *only* diet ever clinically shown to be better than *not dieting at all* for weight management?I would argue that every other weight loss diet is scam-like, by comparison.By the way, it is not simply calories. The source of the calories matters in Weight Watchers, as it should. Those foods with high fiber (and therefore low glycemic indices) are probably better for weight management that isocaloric low-fiber foods.That said, the application sucks.

Like all of the diet plans, WW are skipping the most important part of any weight loss - exercise. Probably because they get the most profits from people who stay on their program forever - trying to lose weight, failing, trying again, failing again to infinity. That's why they also change their system from time to time - to make existing users interested in it again (and to prevent competitors using their points formula).Plus Points are useless to somebody who counts calories and knows how to balance various food groups. In the end, common sense "don't eat **** and do lots of exercise" diet is much better than any other alternative.

Good point on exercise being a part of any weight loss plan. On preventing companies from using their points formula, though, they can't prevent that, because formulae cannot be patented. If it can be reverse-engineered, which is what I did because initially I didn't find their formula online (it can be found now), it can be used.

This is a good simple calculator but it is lacking as a real app. Honestly, with all the online tracking that you can do from the website why would this be limited to just a calculator?

That was my point - I believe it would have been easy for them to integrate eTools with an app, which is what I expected. If that had been the case, my app would be good for people who don't pay the eTools subscription, and their app would be better for people who do. As it is right now, my app is better for all.