Wells Fargo launches its Windows 10 Mobile online banking app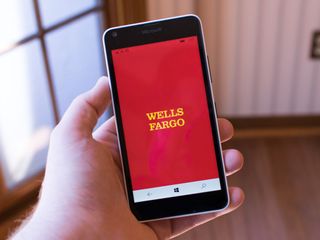 As promised earlier this month, Wells Fargo has launched its new online banking app for Windows 10 Mobile. The older Windows Phone 8.1 app will no longer be supported.
Here's a look at the list of features for Wells Fargo customers who want to use the new app:
Easy sign-on using your existing Wells Fargo Online username and password
Exceptional security features, including our Online Security Guarantee
An option to set your language preference to Spanish
View account balances, including your available balance and pending deposits
Deposit checks quickly using your Windows 10 Phone's camera
Help avoid fees and get notified of suspicious activity with text or email alerts
View your credit card transactions and manage your rewards program
Find one of our approximately 12,800 ATMs or 6,200 retail banking stores nationwide
Access money management tools, including My Spending Report
Make transfers between your accounts at Wells Fargo as well as at other Financial Institutions
Pay your bills quickly and easily with Bill Pay
Send money to just about anyone with a U.S. bank account without sharing account numbers. All you need is a mobile number or email address.
Streamlined Navigation: An improved way to find account and investment resources
Brokerage Account Overview: A consolidated view of all of your accounts, all in one place
Portfolio Page: Simplified page highlights key data and holdings details
Mobile data transmissions are safeguarded by 128-bit SSL (Secure Socket Layer) to prevent unauthorized access
Our Online Security Guarantee gives you added protection against unauthorized account access
We never transmit your account number (your accounts are referred to only by nicknames), and account information is not stored on your phone
There's no word yet if the Wells Fargo app will be adding support for Windows 10 PCs and tablets.
Thanks to Mark for the tip!
Download Wells Fargo from the Windows Store (opens in new tab)
Windows Central Newsletter
Get the best of Windows Central in your inbox, every day!
Yessssssss!
I just used the old App on both of my wp8.1 and w10m L640 and they're both working...!

I thought it was YASSSSSSSS! wait a second...why didn't they make a UWP app??

How do you know they didn't?

He said "old app" in wp8.1, merely stating that it still works on older phones.

I just replaced my live tile with the new app. You know what that means

Downloaded and deposited a check. It is indeed awesome to have WFB app available again!

This is awesome. I hope Capital One releases a Windows 10 app soon for 360 customers.

I don't think Wells Fargo plans on releasing a PNC app anytime soon

This comment deserves more than an up vote - tis funny, indeed.

Pnc is lazy. Switch to wells Fargo, bank of America, or ally.

I can't get the keyboard to pop up in the username or password field. Also, I wish the new app had hamburger menu on the left like most other Windows 10 UWA apps.

You are certainly one of the few asking for the Hamburger menu.

tape on blank part not the user name text

Hamburger menus are the worst thing about W10M, and there are a lot of really bad things about W10M. Never speak of them again!

Hamburger menus are intuitive and easy to use. Not sure what the problem is there.

Typically, location. Posted from Pornhub.

Because they are neither of those things. Windows Phone already has its "hamburger menus" in the form of the ellipsis menu. Now, many apps have both. Which settings live where? It's entirely unintuitiive. Small phones now have screens over 4.5 inches, which makes reaching the upper corners difficult for almost everyone. Windows Phone had the extremely elegant solution of pivots (and the aforementioned ellipsis menu) which were a joy to use. All that elegance has been sucked out of the platform on W10 with its hamburger menus.

Now I am set...!!!!!!!!!!...
Update: Not yet!... Not UWP App... Thank you any ways from our 95% PC's market share and 1% mobile market share community.

Him. Posted from Pornhub.

If you build it they will come

Said the architect of Guantanamo Bay... Posted from PornHub.

Unfortunately Win10 mobile is dead so no need to keep developing UWP apps for a platform that nobody wants! (as usual insert sarcasm here!) hahahahaha

HA HA....yep. The "no apps", "dead platform", "It's business" - doom and gloomers have no idea what to say when there is GOOD NEWS! I mostly use USAA and Navy Federal, but I might be replacing Navy Federal since they refuse to support Windows and I have to drag out the old GS5 to make any deposits with them. I should have a big bank with branches that I can visit and do dumb things like get quarters for laundry. ha ha. I guess, it's BofA vs. Wells Fargo unless Chase comes aboard before I make my decision.

These SAVAGES do not speak, they down vote. Posted from PornHub.

Nice, two of three banks....come on Chase.

Get this. Chase told me they had no plans for a Windows 10 App yet they plan on supporting Microsoft Wallet. WTF?

Wallet uses an open standard also used by Android and iOS. So there's very little effort to support it versus building a native app.

YES!!! I use two banks. Wells Fargo and Bank of America. I'm covered!

I would like to see Citibank on Windows 10

Yes, I need Citibank to make UWP app as well. For all countries they have business with.

Great news. Hope Chase considers doing the same.
And in reference to the Hamburger remark, I agree. I know there is a lot of negativity regarding it(perhaps because of one handed limitations), but I actually like its presence too.

Now we need them to add Tap to Pay.

Wallet support too please

Is this really an app? Everything you tap on takes you to a web page.

It's the same as android, I've been forced to use android recently and it's the same

Yea, just like most W10m apps I've noticed since installing W10M on my 1520 couple weeks ago. Depressing to say the least. But at least we're getting something..

My view is, if it lets you perform the same functionalities than all is good.

Oh boy, this is getting really exciting!

Really awesome! Just need Chase now!

Picture Ben Stein. Chase?.... Chase?.... Chase?......

One thing that worries me about the old version being discontinued is that the major market share of phones running Windows are still on WP8.1. Thus, the user rate will drop compared to their old app and the higher ups might decide to axe the UWP app altogether. We know that app usage on the desktop is low from previous stats too...

The 8.1 app maybe working for now, but will no longer be supported. This means the app can stop working without warning for 8.1 users. I'm can't verify the app as I actually a Canadian, but I can see the problem applying to many companies when it comes to UWP support.

That's not what WFB website says!

Is it different with Apple and Android? For instance, would someone still be able to use their apps if they still carried an iphone 3G or a Galaxy S?

I have the NVidia Shield controller and played with my sister's iPad before. From the Android side, support for apps across OS versions appears to be better as devs take into account high fragmentation. This is especially true for social apps like Facebook and Snapchat. Yes, Android still has some exclusives such as the games specific to the NVidia Shield platform. These are usually more niche though.
iOS has even better support because Apple has be able to upgrade multiple device generations. There is lagginess on demanding apps with older devices, but again these are mostly on intensive apps like higher end games.

Nope... It is quite simple: If your phone gets too old, it just does not work. Had that with my samsung s and my note 2 and 3... And it is somehow ok... New apps use new apis not available on older os versions...

Or maybe they're trying to force old users on W10 mobile, whether its by upgrading or buying a new phone. The thing is Microsoft can't get it's plans forward if the majority of people are stubborn and don't move along with them.

True, but Microsoft has worse record when supporting there mobile platforms. Apple is still supporting iPhone 4S (with a reduced feature set), but WP7&8 get no more updates. Some devices had their OS on life maintenance mode in less than a year after release e.g. Lumia 900. For fans like myself, we've already seen this twice with WP 7&8. I don't mind upgrading hardware every few years, but there are developers leaving as the ecosystem hasn't gained a lot of traction and the platform gets reset (more work for smaller user base). For users that find a small pool of apps limiting compared to friends/family with Android or iOS, what compels them not to jump ship on their next upgrade?
Wouldn't it be smarter to still support older devices with a limit feature set? Some ppl may say that holds the platform back, but there will always be features that can't be on every phone e.g. Continuum and Windows Hello.

Another thing is that the OS should not rely on nonessential phone functions to be required. Shouldn't things be loaded modularly like if 512 Mb devices aren't powerful enough e.g. Weaker phones don't get Cortana? Such a phone is still good for making calls, texting, and maybe FB, right?
Heck, I imagine ppl would be angry at Apple if they said to customers, "Sorry ppl, your old device doesn't have force touch so no iOS 9 for you".
I find that MS makes some weird decisions sometimes like phone features disabled because your region doesn't have Cortana support. Another is the require camera button until late into WP8.1. I know MS meant well, but it would have been smarter for their phones to have the button as an optional feature as a showcase to OEMs like the Surface line. That way more OEMs would have been more likely to give WP a try in the early days as they wouldn't need to redesign their phones from Android template.

It works just like my iOS version did now. Thank you Wells Fargo. Everyday its getting easier since I dumped iOS for Windows 10 Mobile. I'm STILL happy I did.

Right on, I got it as soon as I read the headline.

All these nice apps coming to Windows 10 Mobile...only problem is not many W10M devices are avilable. The opnes that are are old, and it is to hard to get your hands on one (from a carrier) in the US.

I think the hope is that most on 8.1 is upgraded to 10 eventually.

And when is Chase coming back.

If you have a finger print sensor like on the X3, will it support it? Posted via the Windows Central App for Android

I'm still waiting for SunTrust.

Excellent, thank you Wells Fargo! Now PLEASE support Microsoft Wallet!

and support for hello to login.

No Tap to Pay.
No Windows Hello.
Fail.

Windows 10 app.
Mobile Deposit.
WIN.

Come on chase where you at

Posted via the Windows Central App for Android Oops sorry.

I'm waiting for chase bank take action about windows 10 app. Posted via the Windows Central App for Android

Much much faster. Looks quite polished. I agree with a previous poster - the hamburger menu should be on left side. Other than that, I'm quite happy.

Cool - Hoping Tap and Pay brings a few more UK banking apps in the next few months too, this all encompassing Win10 is proving to have some legs !!!

It looks nice, but it does not display fonts correctly if you have font size increased.on your phone, so they still need to do some work, unfortunately.Even some MIcrosoft apps had this issue, but they seemed to have cleared up their apps.

I would love Chase on my tablet.

Pretty disappointing that Chase still hasn't even released a statement saying they'll be on W10M yet.

Yeah but what's even weirder is WF releasing a UWP app that's not compatible with PC's, only phones. That makes zero sense.

I know plenty of Indians that live here in Los Angeles. :)

why only mobile and not also a PC App? Seriously, does anyone know?

I can not take a picture of the check by my Lumia 640XL phone! It stops after showing the photo tip, and I can't proceed or doing anything, and I have to quit the app.