We're giving away a Lumia 950 or 950 XL - Enter now!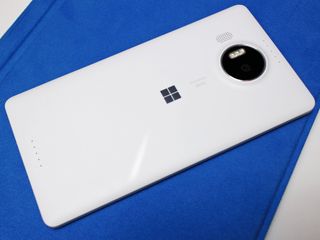 (Image credit: Daniel Rubino / Windows Central)
Our Microsoft Gems contests are still underway for a couple of weeks, but we wanted to do a giveaway that our international readers can get in on too! So now we're giving away your choice of Lumia 950 OR Lumia 950 XL to a lucky Windows Central reader! There are several ways for you to enter to win one of these phones, so keep reading for all the details.
THE PRIZE
One winner will receive their choice of a brand new Lumia 950 or Lumia 950 XL, which does not include service.
THE RULES
There are several ways to enter using the widget below. Each method has a different point value, and you can complete them all for maximum entries!
Normal contest rules apply here. One entry per method per person, and entries will be verified — so don't enter if you're not actually completing the required actions. This one's open to everyone, everywhere such contests are legal, but we can't guarantee the phone will work on your network.
In the event the winner resides outside of the US the prize may be subject to customs fees during shipping, which is the responsibility of the winner. (You know how these things go.) The contest ends on July 20th. We'll announce the winner right here shortly after the closing date.
That's it! Good luck, everyone!
Windows Central Newsletter
Get the best of Windows Central in your inbox, every day!
Good luck you all! Posted with the Nexus 6, Nexus 5, or Surface Pro 3

Can't we just win by being subscribers of central.
Seems rather complicated all this Norman rules.

Hahaha agree!! Earlier when it was comment on the post and tell us what u actually feel about the product advantages , disadvantages keept it brief etc.. That was great !! This widget thing never proved a thumbs up to me :)

Nice, let's try this as well though. You never know when is your chance. I just hope they announce the winner this time, not like the previous two giveaways. 950XL here I come

Not sure what you mean? The winner's name appears in the widget in the original contest post. That's the announcement. :)

If you show up a month later on an old article, you won't know what i mean

Still not sure what you mean. The contest JUST ended like 3 days ago, and it was posted 2 weeks ago. The winner is above.

The "tasks" he'll with their exposure. Reasonable.

I don't see a widget so I'm not sure how to enter the contest. I'd love to have the phone so any information would be helpful. Thanks. And good luck everyone.

If you're using the app, right at the bottom of the article is a "Enter Competition" button. On PC, it should be right in the article near the bottom.

Nope, no option in the app...

There Type that link https://wn.nr/bJrwNP

Try the web version,even from the app it will take you to the browser to complete the entries or simply try https://wn.nr/bJrwNP

Link
https://wn.nr/fwTcLV

Why can't i ever see an announcement about the contest winners in the app or website? Is it hidden?

They announce it on the contest forum section.
The winner is also personally contacted

The winner's name appears in the widget on the contest post. The same place you enter.

Love to get the 950xl or 950, need to upgrade from Lumia Icon and nothing new on the horizon for Windows Phones under Verizon Dynasty.

Yeh it would be nice to get theh 950XL, just ordered the 830 to replace my 635

You'll love the 830. Camera is killer. It'll get WM10 soon. Posted via the Windows Central App for Android

one more chance for a Brazilian to have a 950 :) ... thank you for that and good luck everyone

Hope to win a Lumia 950XL! :)

I would love me a new windows phone.

cmon lady luck!! bring it home to PAPA!!

I don't want that "piece of junk" even for free!!!!!

950XL may be but not L950....

You think the 950 is better than the 950 XL? why?

Yeah, (cough) bull#$@% Posted via the Windows Central App for Android

we don't want your junk opinion anyway

I have two on 950xl. Need few more to create stop motion images...

Here I am, rocking like a hurricane

Would be a nice upgrade from my 640 Posted via the Windows Central App for Android

I am eagerly waiting for the result...

Finally, sn international contest , yeay

I entered but I never win anything: contests, raffles, giveaways, casinos, lottery... you name it.

I never win anything :( just always unluck with prizes

Irony: Everyone rants about how ugly 950/ 950Xl are and come a giveaway everyone wants a piece :)

Because it's free. People like anything if it's free

Good luck to everyone. These devices make Windows 10 Mobile enjoyable!

Bring the noise! Nifty 950!

I would love to win a new 950. ...and thanks for all the great MS news over the years!

Give away 950 and 950XL, which does not include service???? Microsoft is proving they are gone mad....lol... Pathetic Microsoft...why to get some hifi mobile which does not have service... Microsoft will never grow.. Microsoft go and die / suicide somewhere...lol

guess who has no life now lol

Uh, duh, phone service. That's not Microsoft's problem to provide you phone service. Most phone giveaways don't include phone service. Oh and I wanted to point out your bad grammar.

The prize is the phone. We're not going to pay your phone bill for you. :P Also... we are not Microsoft, we're Windows Central. :)

GUYS GUYS, CHILL, I got this.

I'll want to replace my 1320 with 950xl!!!

Fingers crossed for the XL! Can't go wrong either way, though.

My Lumia 640 needs an upgrade, heres hoping!

Good luck (not to me,not gonna win anyway lol)

Please, mam - I truly need this. I am big-fan of windows mobile 10. I lost my new lumia 950 xl today ( i can show you my today's delhi police fir ). Please daniel bro - I seriously need it. Lumia 950 xl ( i am using windows mobile since nokia started making ) Please please!!! I don't want to switch to android ( currently using nokia x2-02 ) due to my lumia 950 xl lost. ( 20 mp magic to continue my photography love, and to give my valuable feedback in feedback hub + windows hello and os addicted - from office, onenote to outlook )

The referral link is not redirecting properly I suppose. Please check if its a bug. Thank you
(https://wn.nr/PJjBK3)

Thanks for giving me hope Windows Central, a chance to switch my 920.

Come on, I tried so many times without success.

too complicated plus im doing all those things already pretty much, i can live without it.

If you already follow us, you literally only have to click each option to enter. Can't get much easier. :P

G'luck everyone. Having a 950/XL would be awesome to test a UWP app I'm working on. Just wished it worked on Verizon's network.

Would love to win a xl. Live in a area now I can use att. My icon still works great though!

No facebook or instagram for me = 6 entries less

You literally just click to view the page, that's it. You don't have to follow or like anything, you just click.

Love competitions - would love to win one sometime XD So cool of you to have these things as often as you do!

I need one more 950xl,for symmetry.

I'd wish you all good luck but I won't because I want to win it. I'm selfish that way. Haha.

950 xl please , i need new phone

we need give aways like this to keep going

I think we already had one contest for 950 but I don't remember the winner announcement? There was another one for 650 also..ended the same way like for 950... Correct me if I'm wrong.. I believe this still counts as an entry.

Winners are announced on the contest forum and emailed personally

The winner's name appears in the contest widget.

Best wishes everyone! :-)

May the odds be ever in your favor everyone.

Hope to win one of these.As a belgion windowsuser i maybe get over it that we belgions have not made it to the second finale in the EK SOCCER. It would reduce a little bit the disappointness.Good luck to every windows lover on mobile.

I'd love to win one of these... best of luck to everyone :D

I just can't wait to get my hands on a Lumia 950XL!

'publicity stunt'
So what, it's still a fantastic phone. Best phone on the market now. Best way to spread the word, if more people use them. A lot of people think there are no smartphones beyond android and iphones. Once an android/ios user uses a windows phone, esp. this one, I guarantee they'll never go back.

im from venezuela, i has been always used android, then i look windows phone and its amazing, it looks so professional and fluid its amazing how can be so fluid with limited hardware, i really like it, i wanna buy one but in venezuela thats difficult, i never win in this thinks, but what can i lost from try. GOOD LUCK YOU ALL! this is a great phone that can make somebody happy :D PD. sorry for my english, i know is bad xD

Internettop40.com Coming to a PC near You! I actually prefer the Nokia 1520!

Hope I get a chance to win. I am going to buy this phone after some days. It will save money

Happy WindowsCentral Day everyone! May the odds be ever in your favor.

Gonna win it this time. :P :D

The time for a Lumia Phone came again!

I'm happy that they thought about people outside the US. Really hope to win this time. Never one a single lottery or sweepstake. Haha.

Hope this will change my HTC Radar.

Would be sweet to win one! My only gripe with the Fierce XL is the low Megapixel camera. Would by a prepaid sim for the Fierce XL and put my regular sim in the 950 or 950 XL. Ala Captain Two Phones

What is that Dennis Miller says? "Two of **** is ****." Posted via the Windows Central App for Android

I hope i win Lumia 950XL DS

Link is here. : https://wn.nr/rmCkkd

Good luck everybody and me :)

950XL is such an awesome phone. Nifty processor and plenty of RAM means its never slow and never lags. I upgraded a few months ago from my 950xl. Good luck everyone.

Great community made by WindowsCentral. Giving a chance to replace my old Lumia :)

I want the lumia 950 XL but I will use either one.

That's great.love windows central

Very Excited to Win this! :)

Still don't see the enter competition. Is this competition eligible for Africa

Open the link on a browser
https://wn.nr/bJrwNP

Would be really really happy :)

Every body wants to win it but no one buys this phone Posted via the Windows Central App for Android

Cant enter to win? Here are the link
https://wn.nr/fwTcLV

I can't believe im going to get this phone

Give us something awesome. Give us a Surface Phone!!!

I hope I win the Xl, it's currently the best phone running win10 I think

Good luck everyone! I really want the dual SIM 950XL.

I would love to win this as I just broke my digitizer on my 950 yesterday. I'm now back on my 920. Not that there's anything wrong with that! Good luck everyone!

With all the recent builds in the Insider Fast Ring, I finally came to terms with my beloved Lumia 830. Everything was good, and I was content with my babe <3. The future seemed bright for the both of us. She was fast, smooth, and I love everything about her. Then one fine day, as I was scrolling through the articles in the WC app, I saw this post. You see, I loved my 830, but the temptation was too strong not to try my luck with another phone. Curiosity killed the cat, they say. But cats have 9 lives, and losing one wouldn't matter much now, wouldn't it? So I mustered all the strength that I had, and braced myself to cheat on my beloved 830. I tapped on this post. At the exact moment my fingers came into contact with my beloved's screen, a loud sound erupted. It's from the fireworks outside, and I was startled to the point I dropped my baby. It was a bad drop, and when I thought thing couldn't get any worse, I saw "it"... As I picked up her orange, aluminium framed body, I could see the damage I had done to her, how my betrayal was reflected upon herself. A crack... Stretching from one side to another like a river spread across a map. It was horrifying, what I'd done to her. If only.. If only I didn't give in to the temptation... If only I was strong enough... And so, to my brethrens that had read through this story of mine, remember: Love your phone. Don't cheat on her.

The timing would be perfect to replace my 640. Good luck all.

I should win. I have the most sincere pumpkin patch of them all.

hmmm... let's see! am I gonna be a 10 and XL ;-p good luck everyone!

Thank you guys for the contests. Lols, I love the widget thing. Specially the ones that auto tell you if you are ineligable to enter. They also usually tell you who won, and confirm by email that you have entered. About the only thing I don't like is that it doesn't auto confirm entries you have completed in the past, especially on daily entry contests.

Oh Carl Zeiss optics, I miss you so soo much! (A feeling which ex-Nseries users would know)

every time i entered the contest and i got nothing so far.... please dont discourage me this time...

you can check my loyalty by visits ti this site from my computer, my ip address....!!

I will wait my turn just like C. Ronaldo on winning the EURO´s

Want to win, may be this the last great one from the stable of Microsoft phones

Got to get this cooooool device.

I just killed my L950XL please choose me!

please please please pick me i should have this amazing device

Hi all, Bought the 640 xl last year as i needed a new phone and the 950 xl was not due for release till november and when it became avaible, it was to close to Christmass and i was broke :( Been using Winders insider on the 640 and to be honest, i love it, i got it last May 2015 and with 1 year office trial and the 1Tb OneDrive allowance, i was spoilt. Now i have to buy more OneDrive storage, as i lost all when Microsoft is only offering 5Gb free. But i ant complaing, 50Gb is cheap and Microsoft still offers the Office 1Tb free with annual suprictions. Love to win the 950 Good luck to every one.

Lumia 950 is a superior phone. Gives you a best and pc like performance. Thanks to the windows central for the contest. Hats off to you team..

I'm not crazy enough, but if I'll win one of those Lumia (mmmm,mmmm....), I'll be a new member of " Happy Crazy People" community! Let's Rock!

I'm curious if it's better than my 830. Love this device: great design, perfect size, good camera, replaceable battery and 8.1 is way better than 10.

I'm still on 8.1 too, however from using more and more Apps on desktop, it just has highlighted how far behind some of the 8.1 apps are now....If I don't win, I'll be buying a new Lumia regardless :)

Big Thank You To WindowsCentral Fro This Giveaway! :D When you only find out about the competition 8 hours before it ends :( would have tweeting for days. Still crossing the fingers! :D

I know my chances of winning this are low but i gotta try!! I gotta try right... My windows phone is hella outdated desperatly need a newer one!!! Good luck to everyone.

A little over an hour left to go. It WILL be MINE. Bwahahahaha. BWAHAHAHA!

yeagh why isn't there any response from microsoft?

Who won! We want to knooooowwwww!

We'll announce the winner right here shortly after the closing date xD

This starts to look like a scam

Draw was over July 20th but the offer still pops up?

Give us something awesome. Give us a Surface Phone....!