We're going to see tons of game delays this year and that's OK
Go ahead and get ready, because delay season has only just begun.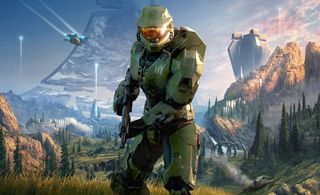 (Image credit: Xbox Game Studios)
Unless you're just now discovering the world of video games (in which case, welcome friend!) it should come as an annoyingly obvious statement that a lot of games were delayed throughout 2020. The reasons for delays last year were understandable, if disappointing, as a pandemic broke out worldwide and with its effects not totally understood, game development studios and publishers pivoted to working from home.
As we start 2021 and the pandemic still continues, I think it's incredibly important to recognize that we're going to see tons of game delays this year.
There are a few reasons why we'll be seeing more delays through 2021. Last year, games like Deathloop and Wasteland 3 were nearing their finishing lines when they were bumped back a few months. The titles we'll see delayed now might not even be close to polishing and coming together as developers realize the best call is to just go ahead and push back further while the world is still in chaos. On top of that, the launch woes of Cyberpunk 2077 and the negative attention it has drawn might embolden any internal discussions about needing more time for polish (at least, we hope so). Delays will most likely come at a more rapid pace this year, which we need to brace for.
We're just over two weeks into the new year and already, Outriders and Riders Republic have been bumped back, while Hogwarts Legacy has been delayed into 2022.
I'm not saying you should restrict your excitement, but don't pin your hopes up on a particular game making its estimated slate. Personally, I can't wait to experience the next God of War but I won't be surprised if I end up waiting until next year to play it, especially with a complete lack of gameplay footage and only a vague "2021" to go on right now.
It was frustrating that so many games during the Xbox Games Showcase went without even a vague release window but in hindsight, it was absolutely the right call. Promising a 2021 release for any game that could be subject to fluctuating development progress would've been an unnecessary impediment.
I would only bet on games that were delayed out of 2020 or were first scheduled for very early in the year to make their expected dates. There are a few titles that quite safely fall into this category — the console port of Microsoft Flight Simulator is branching off of an existing PC version and should easily make the summer, Halo Infinite was delayed an entire year into Fall 2021, giving 343 Industries plenty of time to polish and improve things as needed. Over on the PlayStation side of things, Ratchet and Clank: Rift Apart was deemed a "PS5 launch window" title, indicating it's pretty far along. I'd also be shocked if Horizon Forbidden West didn't make this year.
Regardless, with every new game that is delayed, there's a sense we need to take 2021 in stride with all of the challenges it'll present. This is the perfect time to explore games you've missed over the past generation. Knock down some games on your backlog, whether that's a shorter title or that 80-hour RPG you keep telling yourself you're going to play. If you've been waiting for the right time, this is the right time.
All in all, it's also a good time to have empathy. Developers don't like having to delay at the best of times and we are as a planet quite removed from the best of times. If your most-anticipated 2021 game (that wasn't delayed from a 2020 release) actually makes it on time, then that'll be awesome. Many won't though and if we go ahead and understand that right now, I think it'll make for a more enjoyable year.
Main
Get the Windows Central Newsletter
All the latest news, reviews, and guides for Windows and Xbox diehards.
Samuel Tolbert is a freelance writer covering gaming news, previews, reviews, interviews and different aspects of the gaming industry, specifically focusing on Xbox and PC gaming on Windows Central. You can find him on Twitter @SamuelTolbert.